OUT WITH THE OLD, WHERE'S THE NEW?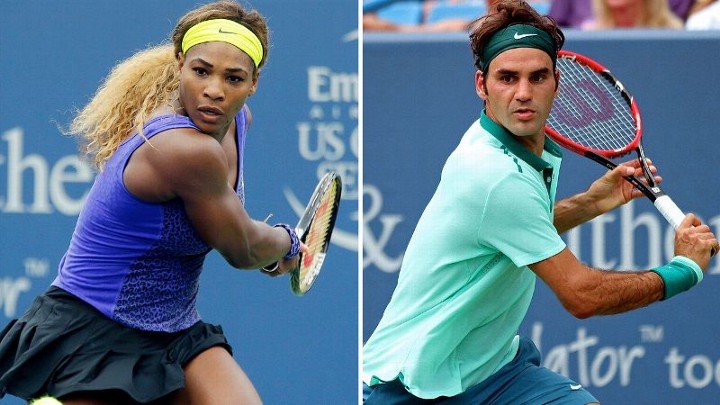 Source
For everything that has beginning, there must be an end. Most times we wish it never ends, sometimes we even pray it doesn't end. But then it has to end. Roger Federer and Serena Williams has been household names in the Tenis business, delivering optimum performances and reaching heights that most didn't think were achievable.
These two have dominated the tennis game for about two decades and overcome every obstacles on their way to cementing their places among the all time greats. And just within a flash, as if predetermined by both parties, they both decided to call time on their illustrious careers in the same year.
SERENA WILLIAMS
Raised and trained by parents, Serena turned professional in 1995 at the tender age of 14 and won her first grand slam title (US Open) in 1999 at age 18. From that moment on, she was dominant, winning all four grand slam titles between the 2002 French Open to the 2003 Australian open to achieve what was subsequently known as Serena slam.
Though she suffered a little decline due to a dip in form and injuries, she still managed to win two titles in subsequent years. In 2007, she gradually returned to form and claimed the number 1 singles ranking.
She achieved her second Serena slam between 2014-2015, winning all 4 grand slams in a row. Her power and athletism made her one of the most difficult players to contest against with her powerful serves being one of her strongest weapons.
Predominantly an explosive and aggressive player, Serena is also adept at defense, capable of counterpunching against similar opponents. Her athleticism makes sure that she's flexible, agile, quick, and covers the court while possessing a strong backhand, while her overhead hit is a masterstroke.
These are some of the rears with which she built her game and is today regarded as one of the game's greatest ever players. Her 23 singles titles is the most by any player in the open era, and is only bettered by Margaret Court all time.
She also holds the record of never being beaten in a doubles final (alongside sisster, Venus Williams), and the best win percentage (83.33%) in year-end championships. In total, Serena has won 73 titles, ranking 5th all time.
Whoever tries to fill the Serena shoes will have a huge mountain to climb.
ROGER FEDERER
The king of grass and hard Court, the Swiss burst onto the scene in 1998 as a Wimbledon junior champion. In 2003 he won the Wimbledon, his first major singles title. Between 2003 and 2009, he made 21 out of 28 major singles finals. During this span, he won three of the four majors and the ATP Finals[d] in 2004, 2006, and 2007, as well as five consecutive titles at both Wimbledon and the US Open
Federer was ranked as the singles number 1 for a record 237 weeks just as he finished as the year-end number 1 5 times. He ended his career with 103 singles titles (the second most in history), which includes 20 grand slams and a record 8 Wimbledon titles.
In 2006 the Swiss had what is considered by many as one of the best individual seasons in tennis history. He won a whooping 12 singles titles, while his match record stood at 92-5, and reaching the finals in 16 out of the 17 tournaments he participated in, in the year.
Facing stiff competition from fellow stars, Rafael Nadal and Novak Djoković, Federer held his own to consistently rank amongst the top 3. A silver medal winner in the 2012 Olympics and an 8 titles winner in the doubles category, Federer is one of best to ever grace the court.
Apart from his obvious tennis abilities, he was also known for his sportsman behavior on the court, where he displayed grace and effortless abilities on the rectangular court. This earned him the Stefan Edberg Sportsmanship Award 13 times.
Just like Serena, whoever attempts to fill the shoes of this phenomenon has his work cut out.
This is definitely the end of an era, and as the popular saying goes, the end of one is always the beginning of another. Both Serena and Roger have completed their cycle and the baton is out for the next generation. But who are these new generation ready to pick from where these legends stopped? For this article, I'm going to focus on the top seeds in both categories.
CARLOS ALCARAZ
The 19 year old Spaniard has enjoyed a meteoric rise since breaking into the top100 in May 2021. Currently ranked number 1 in the world, after winning the US Open. He is the youngest player ever to be ranked number singles player. Along with the US Open, he's also won six ATP Tour singles titles and two Masters 1000 titles.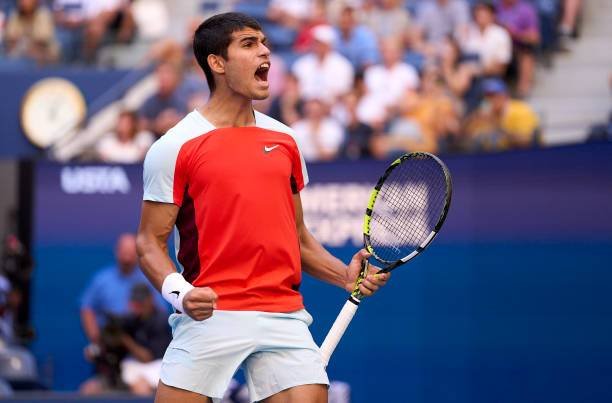 Source
The young Spaniard is agrresive with his play, though his first serve has been criticized at times. He's seen as an all rounder with his athleticism praised. He has a good sprint and fantastic counterattacking abilities which helps him take up positions that makes it hard to defend against, while his footwork has earned comparisons with Rafael Nadal.
The youngster still has a long way to go to be genuinely compared to the greats, but he possesses the traits that can propel him to those heights. It is left to him now to maintain a level head and put in the work and the sky might not be big enough to contain him.
Honourable mentions to the likes of Jannik Sinner and Casper Ruud who also have the platform and perhaps quality to climber to and stay at the top.
IGA SWIATEK
Unlike her male counterpart, Swiatek has been on the scene a little longer after clinching her first grand slam at the French Open in 2020, before adding the French Open and US Open in 2022. She is the first polish player to win a major singles titles. The 21 year old is currently ranked number 1 in the female category and is gradually exerting her dominance in the game.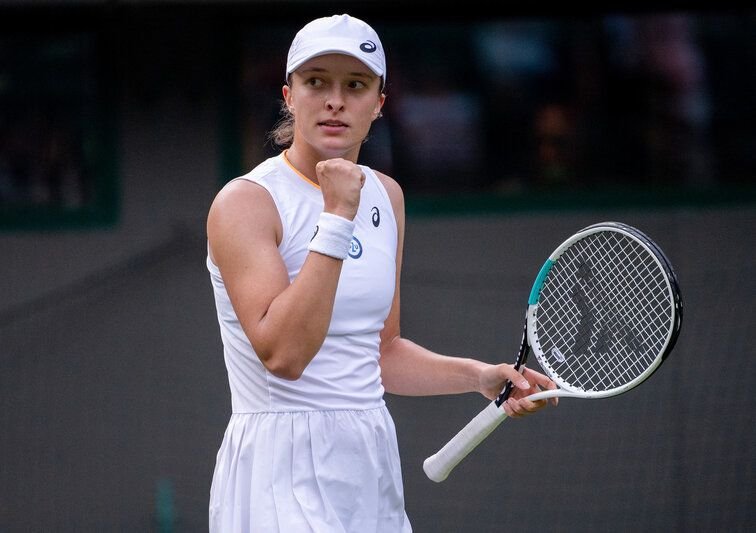 Source
At age 21, Swiatek already holds the record for the longest winning streak on the WTA Tour in the 21st century with 37 straight wins. She's won WTA 1000 titles at Indian Wells, Qatar and Miami and broke into the top10 in May 2021 after her exploits at Indian Wells and Qatar. Add the fact that he's already beat both Rafael Nadal and Novak Djoković, and he seems primed for the top.
She describes her style as "a big serve, topspin, and backhand down the line". She's popularly seen as an all round, athletic player with a fantastic first serve, good movement, speed and good footwork.
The Serena shoes are big and enormous. Swiatek has the ingredients to fill it but she has to mix them perfectly to achieve success.
Both Alcaraz and Swiatek are just at the beginning of their careers and the coming years will give a clearer picture of what they're truly made of and if they'll be able to fill the shoes left by these monumental greats.
Welcome to my blog, you can relax and be rest assured of quality content on diverse topics. You're free to air your views and opinions in the comments section, and It'll be my pleasure to learn and engage

---
---