The Game of Better Looks and Lack of Respect: A Perspective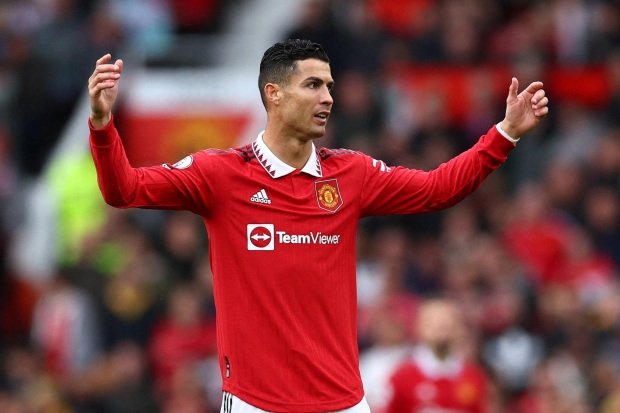 Source
He was once the club's golden jewel, swerving and waltzing his way through matches and delivering mouthwatering performances and media highlights on a weekly basis. It was a perfect marriage after being plucked as a blooming flower with prospects from his home. In a short while, he was taking over the whole world with his skills and results.
He was so cherished that his manager at first refused to part with him even for a bountiful sum. But that was over a decade ago, and after sojourning through Europe and having won everything, his return was heralded as the return of the bride to its celibate husband. A renowned serial winner and a role model to many at the club, his return should have been the throttle to drive the husband back to greatness again.
But fast forward 2 years after his return and with diminishing returns, Cristiano finds himself making more headlines off-field than on the field. He seems like a 38year old struggling with the realities of age and its accompanying diminishing returns. His mind still operates with the hunger and desire of a 22 year old which is why he's been so consistent for so long.
From scoring UCL final winners and standing on the Balon D'or podium smiling at the cameras, to having to come on in the final minutes of a game after his team has all but won the game. The mind of a 22 year old does not seem to understand the limitations of a 38 year old's body.
A quick look at the 37-year-most old's memorable moments since the end of the previous season. He missed United's preseason tour of Thailand and Australia after failing to report for preseason training on time due to family obligations. When Ronaldo returned to the team, manager Erik ten Hag chastised him for leaving Old Trafford during the second half of a friendly against Rayo Vallecano.
The Portugal captain then refused to be substituted in last month's Premier League win over Tottenham Hotspur, getting up from the bench, walking down the tunnel, and leaving Old Trafford before the final whistle. As a result, he was left out of the squad for the following game against Chelsea.
And now, he's made perhaps his most calculated dissent against the club to date. Ronaldo accused United of "betrayal" in an interview with Piers Morgan, saying he does not respect Ten Hag and that unnamed figures at Old Trafford want to force him out. Well if you had a player in his twilight, earning 500k weekly, with his huge global appeal as his biggest asset(not his footballing on the field), but one who is not in the manager's long-term plan, you would want to sell.
In contrast, to counteract the off-field issues, Ronaldo's playing highlights from this season are appropriate. He scored his 700th club goal from the penalty spot against FC Sheriff in the Europa League last month, and he also scored against the Moldovan champions at Old Trafford. And he scored once in a 2-1 Premier League victory over Everton.
So there you have it, three goals so far this season in a team that seems to be looking like a football team for once after numerous failed attempts. And of the 5 games that the team has lost this season, Cristiano has started three of them. And it's only a blind man who would argue that the team plays better when he doesn't play. The transition is better and the movement is much more fluid.
The impression that is emerging is that the veteran is no more having the attention and adulation he craves by being the centre of attraction with his performances on the pitch, so he's shifting his focus to the media. Anything just to stay in the spotlight. Just like he sold the propaganda of being underappreciated at Madrid when he left the Spanish giants.
Cristiano seems to be struggling to maintain the standards that got him to where he is and United play worse when he is in the team. It's no surprise that Ten Hag is moving forward with Ronaldo as little more than a supporting actor.
Other clubs were not interested in a player earning £500,000 per week and approaching his 38th birthday in February back in the summer. The same holds true today. In essence, United cannot even give Ronaldo away. Much of this is due to clubs being wary of signing a player whose global status is so high that he believes he can do whatever he wants. Nobody wants to bring in a player who will cause discord within the team.
If he was still Cr7 delivering 25+ goals every season and singlehandedly winning matches for his team, clubs would have overlooked his misgivings and still given him an opportunity just for the fact that he would win them games. But then, if he were still that player, he wouldn't have needed the media frenzy to force his way out of a Europa league team.
He now has the opportunity at the world cup to prove to the whole world that he is not just better looking than Rooney but still has that bite and quality that made him a golden jewel and make ETH and the United board eat their words and regret the way they supposedly treated him. Goodluck though betting on him to prove that in Qatar.
But with United, he's burned his bridges and diminished his legacy at the club, trying to create and solve a problem that was nonexistent. We know the Glazers are trash, we know the club is badly run, there was no necessity in reminding us of that. Neither did we need to know that he looks better than Rooney or has no respect for Ten Hag.
Welcome to my blog, you can relax and be rest assured of quality content on diverse topics. You're free to air your views and opinions in the comments section, and It'll be my pleasure to learn and engage

---
---