USED AND DUMPED? || THE HUDSON-ODOI STORY
At some point he was the priced jewel of the blues academy, and was sought after as a youngster to spearhead the next generation for one o Europe's biggest and most successful clubs.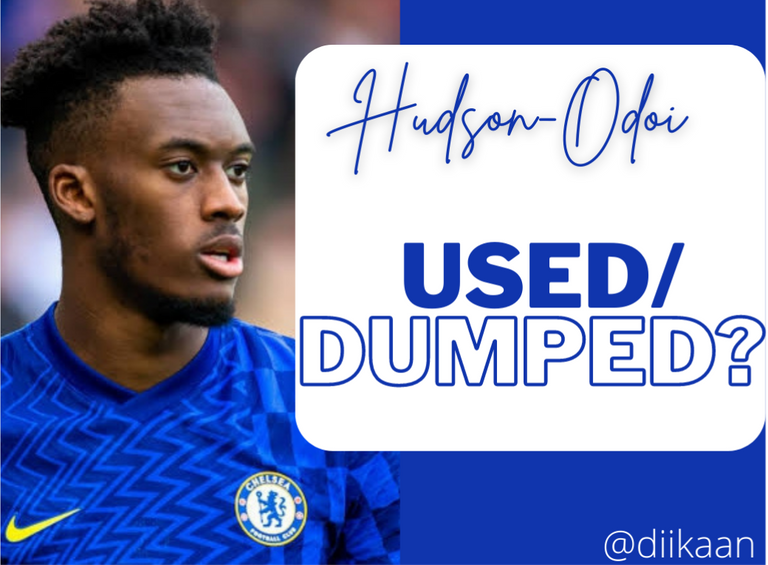 The youngster joined the blues academy in 2007 at the tender age of 7. He rose through the ranks and eventually made his under 18 debut in 2016 (at age 16). After helping the u18s to the FA Youth Cup trophy, he was promoted to the u23 at the age of 16. From that moment, he was tipped for greater things ahead of him, expected to take the league by storm and succeed as the next generation from the academy.
A blue all through as he has been at Cobham for the best part of his life. His jersey is blue, just as his blood. He had even been a ball boy and had watched and learned from some of the greats at the club and how they rose up the ranks to become cult heroes. If there was anyone of his generation that would hold the blue torch, it would be Callum Hudson-Odoi.
WHAT WE SAW
He first appeared in the first team's teamsheet in December 2017 in an EFL cup match against Bournemouth though he was an unused substitute throughout the match. His first appearance in the first team came shortly in January 2018 in an FA Cup match against Newcastle United, replacing Pedro in the 81st minute. His premier league debut coming that same month against Bournemouth. Finally the young boy from Wandsworth has made the big break.
At that point, it seemed as if he has finally broken through the thick door that restrained youngsters from stepping up to the first team. He was seen even by parents of other youngsters as the saviour their children needed, that first of many to break the jinx abd create a pathway for others to follow.
After an impressive preseason of the 2018/19 season, he was tipped by many to be a big part of the blues' season under Sarri. He even started the community shield game against Man City to show how much faith the coach had in him. He then went ahead to open his account in the Europa league against PAOK and even assisted Morata's double in their FA Cup opener against Nottingham Forest in January 2019.
That was when the vultures first started circling. Bayern started courting him and reportedly made a series of bids for his signature - which was confirmed by both Zola and Bayern's director of sport Hasan Salihamidžić - but the blues were too big to be bullied. They stood their grounds and insisted that their prized jewel was not for sale, even after the player had reportedly handed in a transfer request.
Maurizio Sarri barked and criticized Bayern's modus operandi, warning them to steer clear of his property. But it was shortlived as the Italian was relieved in the summer with Golden boy Lampard taking over. And Bayern returned again for the youngster. Chelsea held on even when there were rumours of the transfer fees rising to £85m and the youngster eventually signed a new 5 year deal.
WHAT REALLY HAPPENED
But the main reason Chelsea held on might not be because of the players quality and the future they see in him, but for the impact it was beginning to have on their academy with parents of youngsters beginning to get worried that there may not be a pathway at Cobham for their children.
There was beginning to be a concern that the likes of Ampadu(17) and Christensen were signed from Exeter and Brondby respectively, from their first teams, only to be used as loan pawns at Chelsea. It was believed that perhaps if these players had remained in those stable environments, playing week in, week out, it would've aided their progress better than what they were getting at Chelsea.
There was also the cases of the likes of Salah, De Bruyne and Lukaku who forced their way out of the club only to thrive in other teams and reach their peaks there. There was also the likes of Loftus-Cheek and the Chalobah brothers who were not getting opportunities irrespective of their evident quality and talent. Then add the fact that the blues had just acquired the services of Christian Pulisić for £58m when they already had Hudson-Odoi on their books.
The last straw was that Sarri waited until November before giving Odoi a chance in the team, even after convincing him not to go out on loan, that he's a big part of his plans. All these contributed to an unrest among the academy players' parents that could've possibly led to a mass exodus in the blues' academy. They started feeling that their children will be better served somewhere else.
Chelsea eventually dodged the bullet by convincing Odoi to stay. After Lampard was sacked and replaced with Tuchel, the youngster was reverted to wing back (more like what Conte did with Victor Moses), but gradually fizzled out of the team. Last season he was used sparingly, finishing the season with just 15 appearances.
This season as well, when there's a list of Chelsea players, Hudson-Odoi is an after thought like a u23 player. He was used to save their academy, and perhaps has been dumped back to where they really believe he belongs.
Cover image edited with Canva using free elements
Welcome to my blog, you can relax and be rest assured of quality content on diverse topics. You're free to air your views and opinions in the comments section, and It'll be my pleasure to learn and engage

---
---