(ESP-ENG) Victoria cule y fin de una gira positiva - Cule victory and end of a positive tour
Bona nit a tots! 30 07 es el dia que el Barcelona culmina su gira por terriorio estadounidense, enfrentandose al New York Red Bulls, quienes de momento estan empatados con el Montreal en la tercera plaza de la conferencia este, un rival que a priori daria mas pelea que el enfrentado el 19 07 en Miami, El Inter Miami. Pues bueno, esa suposicion no quedo en deuda, el equipo dirigido por el austriaco Gerhard Struber supuso una prueba compleja para el club cule, y en este post como de costumbre, imprimire en letras un pequeño resumen y analisis sobre lo ocurrido en los 90 minutos disputados en suelo neoyorquino. ¡Acompañame!
Bona nit a tots! 30 07 is the day that Barcelona culminates its tour of U.S. territory, facing the New York Red Bulls, who at the moment are tied with Montreal in third place in the eastern conference, an opponent that a priori would give more fight than the one faced on 19 07 in Miami, Inter Miami. Well, that assumption did not remain in debt, the team coached by Austrian Gerhard Struber was a complex test for the club cule, and in this post as usual, I will print in letters a small summary and analysis of what happened in the 90 minutes played on New York soil. Join me!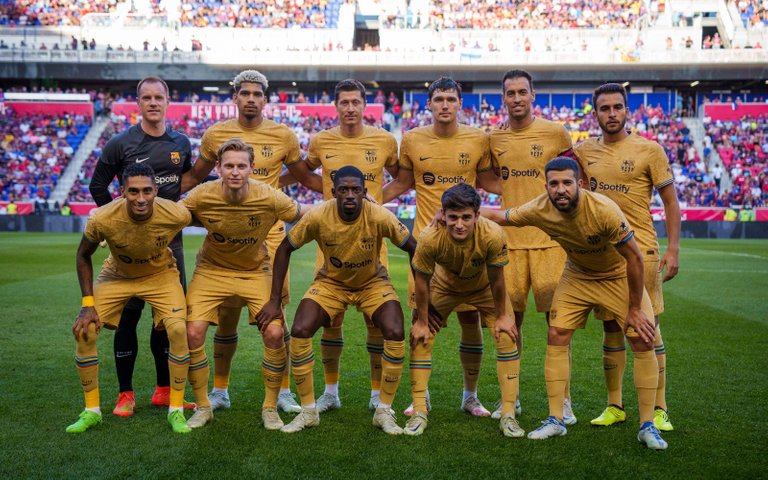 Fuente/Source
---
Un amistoso con gran seriedad - A friendly with great seriousness
Se estimaba que Xavi en este encuentro daria mas rodaje a los chicos que pocos minutos habian tenido en la gira (Collado, Casado, Abde, Pjanic) sin embargo Xavi plasmo un once inicial con todas las figuras a disposicion, dando a entender que se tomo muy en serio el encuentro, el club cule salio al campo con el tan acostumbrado 433 con los siguientes nombres:
Ter Stegen
Araujo, Christensen, Eric, Alba
De Jong, Sergio, Gavi
Dembele, Lewandowski, Raphinha
A destacar lo siguiente: Araujo sigue probando como lateral derecho (y sus actuaciones han sido sobresalientes), cuarto partido consecutivo en el que la pareja de centrales esta constituida entre el danes Christensen y el español Eric, De Jong por fin jugo su primer partido en toda esta gira en una posicion mas adecuada para el (hasta la fecha, solo habia jugado de central), y Dembele con Raphinha por los extremos (una de las cosas que mas debate e incertidumbre me genero el fichaje de Raphinha y la Renovacion de Dembele fue que solo era necesario uno de estos dos, pues en principio ambos tienen como posicion principal el extremo derecho, y por esto no serian compatibles) pues... bien, basandome hoy en lo que vi dentro del campo,bastante errado estuve, porque el brasilero y el frances conectaron de manera muy fluida y por momentos daba la sensacion que se conocen de toda la vida.
To highlight the following: Araujo continues to test as a right back (and his performances have been outstanding), fourth consecutive game in which the center back pairing is between the Danish Christensen and the Spanish Eric, De Jong finally played his first game in this entire tour in a position more suitable for him (so far he had only played as a center back, Dembele with Raphinha for the wingers (one of the things that generated more debate and uncertainty in the signing of Raphinha and the renewal of Dembele was that only one of these two was necessary, because in principle both have as their main position the right winger, and therefore would not be compatible). .. Well, based on what I saw on the field today, I was quite wrong, because the Brazilian and the Frenchman connected in a very fluid way and at times it seemed as if they had known each other all their lives.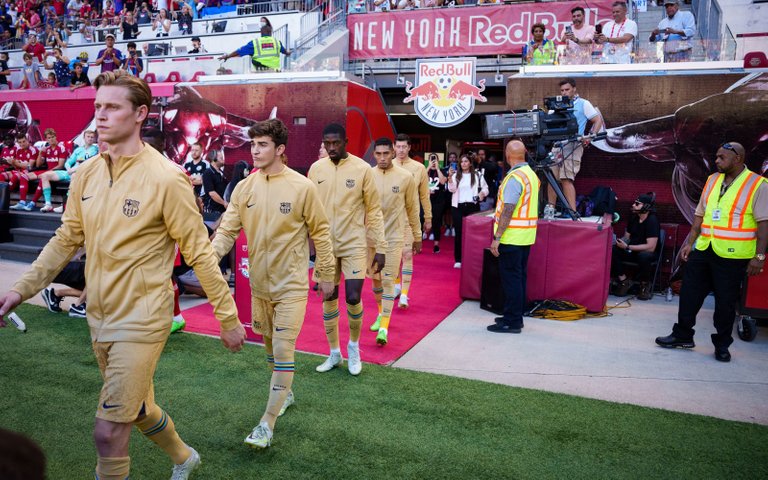 Fuente/Source
---
Intensidad,presion y sorpresas - Intensity, pressure and surprises
El equipo local iniciaba el partido con una intensidad que daba a entender que efectivamente no se tomaria el partido como un simple amistoso, durante los primeros 10 minutos el equipo neoyorquino presionaba en salida alta, fueron intensos en las transiciones de balon, y sorpresivamente llegaban al area rival,al minuto 14, el mediocampista Yearwood tomo un despeje a medias de la defensa blaugrana (que vistio de dorado el dia de hoy) y disparo, pasando cerca del arco de Ter Stegen, pero mantener tal nivel durante mucho tiempo es extremadamente dificil, y el Barca de a poco fue manejando los hilos del encuentro.
Al minuto 16, llegaba la primera combinacion que me hizo empezar a desmontar la teoria de que Dembele y Raphinha no podrian jugar juntos. Como en los viejos tiempos de Messi partiendo desde derecha abriendo para Jordi Alba y este devolviendo la pared para Messi y disparar al arco, tal cual fue este jugada, Dembele busco al extremo brasilero que estaba abierto y este se la deja servida al frances que remataba muy alto. Un aviso para lo que vendria despues...
Lewandowski se mostraba muy activo, sin embargo no lograba concretar sus chances de gol, y no fue hasta el minuto 39 que se rompia el cero en el marcador, Raphinha recibia y tenia dos opciones, enganchar y buscar el disparo con su pierna habil, o esperar a que Dembele se ofreciera como opcion de pase, el brasilero opto por la segunda opcion, y Dembele, de derecha, no perdonaba. 1 a 0 arriba el club de Xavi.
The home team started the match with an intensity that suggested that they would not take the game as a simple friendly, during the first 10 minutes the New York team pressed high, they were intense in the ball transitions, and surprisingly reached the opponent's area, In the 14th minute, midfielder Yearwood took a half-clearance from the blaugrana defense (who wore gold today) and shot, passing close to Ter Stegen's goal, but maintaining such a level for a long time is extremely difficult, and Barca gradually managed to pull the strings of the match.
In the 16th minute, came the first combination that made me start to dismantle the theory that Dembele and Raphinha could not play together. As in the old days of Messi starting from the right and opening for Jordi Alba and this one returning the wall for Messi to shoot at the goal, as it was this play, Dembele looked for the Brazilian winger who was open and this one left it to the Frenchman who shot very high. A warning for what was to come...
Lewandowski was very active, but he was not able to make his chances to score, and it was not until the 39th minute that broke the zero on the scoreboard, Raphinha received and had two options, to hook and look for the shot with his left foot, or wait for Dembele to offer himself as a passing option, the Brazilian opted for the second option, and Dembele, right, did not forgive. 1-0 up Xavi's club.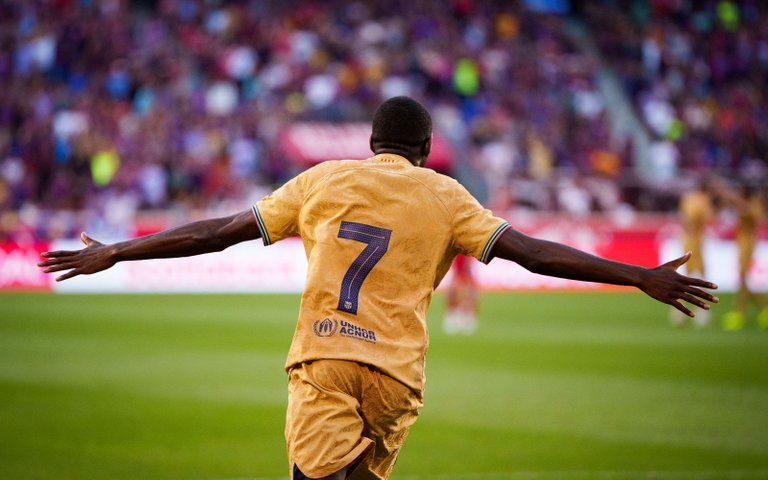 Fuente/Source
---
4 Goles en 4 partidos para el frances - 4 goals in 4 matches for the Frenchman
El mosquito pica fuerte post renovacion, en Noviembre, cuando Xavi llego, una de sus primeras declaraciones fue decir que contaba con el extremo frances y que este era uno de los mejores del mundo. A pesar que en su momento eso genero cierta controversia (Dembele solia estar mas lesionado que sano) esta declaracion hizo sentir al frances mas cautivo, mas en casa con Xavi, y su confianza se elevo demasiado. Se le nota, en el campo y fuera de el, en 5 años en Catalunya nunca se le oyo hablar en español y ahora lo hace. Son detalles que no dejan de ser importantes.
Pero siguiendo con los detalles del encuentro, el segundo tiempo fue un tanto pausado y previsible, el equipo de New York cambio totalmente su 11 inicial, mientras que en el equipo de Xavi los cambios fueron los siguientes:
Pedri por Gavi
Kessie por De Jong
Sergi Roberto por Araujo
Ansu Fati por Dembele
Balde por Alba
Nico por Eric
Auba por Raphinha
Pjanic por Sergio
No hubo mucha fluidez en el campo con estas nuevas piezas, sin embargo no hubo peligro para el arco de Ter Stegen (que seria sustituido en el minuto 75 por Iñaki Peña)
Durante algunos minutos, Lewandowski y compañia buscaron desesperadamente el gol del polaco, pero este no pudo ser posible, y Lewy fue reemplazado por Memphis, quien, minutos despues de entrar tendria una ocasion que no iba a desaprovechar.
In November, when Xavi arrived, one of his first statements was to say that he was counting on the French winger and that he was one of the best in the world. Although at the time that generated some controversy (Dembele used to be more injured than healthy) this statement made the Frenchman feel more captive, more at home with Xavi, and his confidence soared. It shows, on the field and off it, in 5 years in Catalonia he was never heard to speak in Spanish and now he does it. These are details that are still important.
But continuing with the details of the match, the second half was a bit slow and predictable, the New York team completely changed its starting 11, while Xavi's team made the following changes:
1.Pedri for Gavi
2. Kessie for De Jong
3. Sergi Roberto for Araujo
4. Ansu Fati for Dembele
5. Balde for Alba
6. Nico for Eric
7. Auba for Raphinha
8. Pjanic for Sergio
There was not much fluidity on the field with these new pieces, but there was no danger to Ter Stegen's goal (who would be substituted in the 75th minute by Iñaki Peña).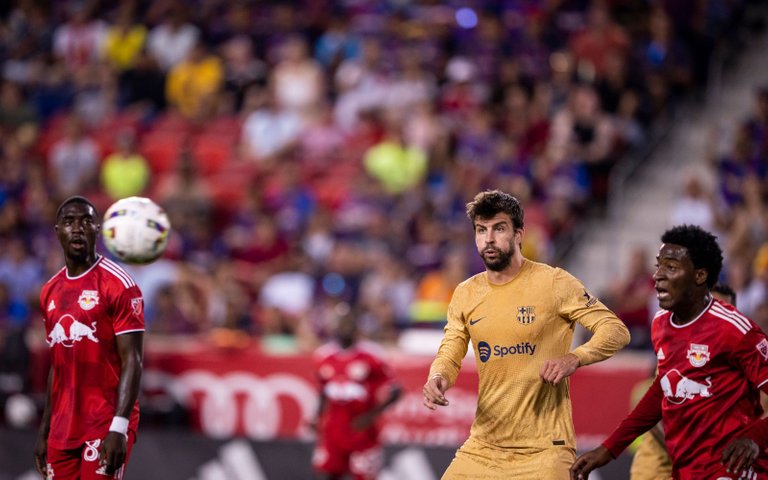 Fuente/Source
---
Fin de la gira - End of Tour
El partido se fue diluyendo, la falta de fluidez se hizo presente en los 22 jugadores sobre el campo, 22 hasta cierto momento, en el minuto 82 Nedelman es expulsado del terreno de juego por una fuerte entrada a Pablo Torre, quien minutos antes habia entrado en sustitucion de Pedri.
Esta expulsion supuso un despertar para el club cule, quien inmediatamente busco aprovechar el hombre de mas, y lo consiguio al minuto 86, Pjanic buscaba a Memphis y le envio un pelotazo largo, Memphis daba la impresion no llegaba antes que el portero rival, pero este se confunde con su defensa central y no logran retener la pelota causando un error defensivo y Memphis solo tiene que empujarla. 2 a 0 definitivo. El encuentro terminaba 5 minutos luego, pero no hubo mucho que contar en esos minutos.
¿Los destacados? Dembele y Balde.
¿Decepciones? Robert lewandowski, quien tuvo al rededor de 4 chances claras de gol, y no pudieron ser aprovechadas.
El saldo de encuentros disputados en esta gira estadounidense por el club cule fue de 4 partidos jugados, 3 ganados y 1 empatado. Saldo postivo y buenas conclusiones. Ahora, la cosa empieza a ponerse un poco mas seria: El domingo 07 en el Camp Nou se enfrentaran a Pumas de Mexico (club que cuenta en sus filas con Dani Alves) en una nueva edicion del tradicional e infaltable Joan Gamper, y como se esta volviendo tradicional e infatable tambien, el resumen y sensaciones del mismo por aqui, en la comunidad de full deportes. Gracias por acompañar y nos seguiremos leyendo!
The game became diluted, the lack of fluency was present in the 22 players on the field, 22 until a certain moment, in the 82nd minute Nedelman was expelled from the field for a strong tackle on Pablo Torre, who minutes earlier had entered in place of Pedri.
This expulsion was an awakening for the club cule, who immediately sought to take advantage of the extra man, and got it in the 86th minute, Pjanic was looking for Memphis and sent a long ball, Memphis gave the impression of not arriving before the rival goalkeeper, but this is confused with its central defense and failed to retain the ball causing a defensive error and Memphis only has to push it. 2-0 definitive. The game was over 5 minutes later, but there was not much to tell in those minutes.
The highlights? Dembele and Balde.
Disappointments? Robert lewandowski, who had around 4 clear chances to score, and could not take advantage of them.
The balance of matches played in this U.S. tour by the club cule was 4 games played, 3 won and 1 tied. Positive balance and good conclusions. Now, things are starting to get a little more serious: On Sunday 07 at Camp Nou they will face Pumas of Mexico (club that has Dani Alves in its ranks) in a new edition of the traditional and infallible Joan Gamper, and as it is becoming traditional and infallible too, the summary and sensations of the same here, in the full sports community. Thanks for joining us and we'll keep reading!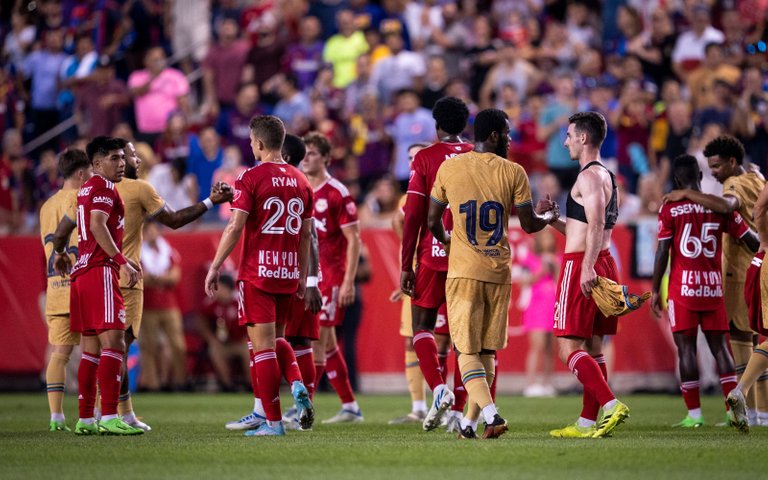 Fuente/Source
---
Ingles no es mi idioma nativo. Todos los textos traducidos con:
English is not my native language All the texts translated with: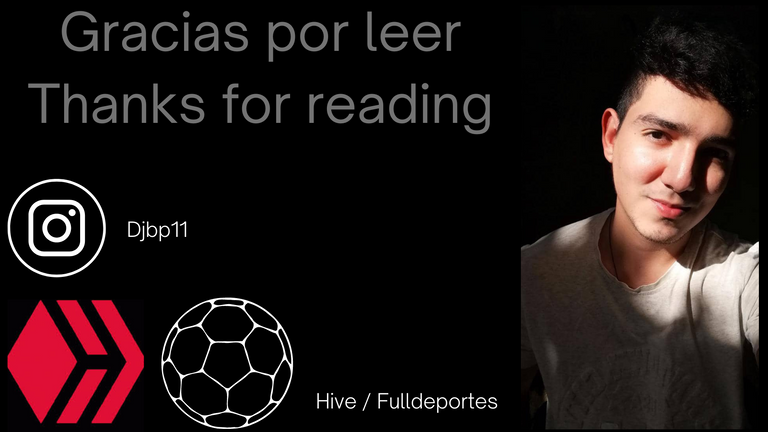 ---
---