SPORTS TOKEN AND ACTIFIT! #NEWS

ALL RESEARCH REQUIRES ALOT OF TIME PLEASE READ ALL SPORTS TOKEN HOLDERS. (Results are still under investigation by others I left this case)
Hello LeoFinance People! Imagine you are buying sports talk social token thinking that your tokens are supporting people who are staying healthy and talking about healthy activities. My short introduction is "likes to protect hive and all tribes". Recently I and whole hivepakistan community got bombarded by spam comments of glimpsytips about actifit referral links. I am placing all the spam links into comments of this post. I started investigating the interest of Pakistanis in to ACTIFIT by investigating reward pool.
Why Actifit is becoming a problem for SPORTS TOKEN HOLDERS by devaluing it?
I don't know if on international level you guys know about PAKCOIN, it was a scam (SPORTS is legit) but the similarity with SPORTS is in the ACTIFIT app they auto attach SPORTS TAG. Sounds good right?
WATCH the starting 1 min of this clip without even understanding the language URDU you will understand the problem
Now the problem is ACTIFIT is liking based on number of steps and healthy activities. But what Pakistanis are doing is just shaking there hands. It's not healthy for them and for the token value.
Link to my comment:
https://ecency.com/hive-140217/@dlmmqb/re-patrickulrich-20211225t201017504z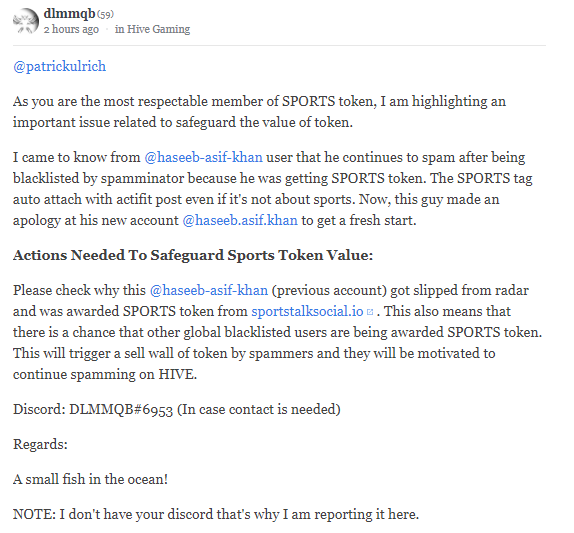 Solution:
Actifit Curators should be more careful what they are curating. Till they don't make there Artifical Intelligence strong, don't add sports tag auto. The Artifical Interlligence should be stronger to detect the difference between hand shaking and actual sports activities/walking.
If any authorities need any more details, I will be available on discord.
---
---