Today's football prediction for champions league(20/10)

As a football fan i always like to make predictions about the matches and also making little beet on it , and today i decided to shear my prediction it with u all, i have to say am god on itand i maked a little amount of money from betting,so ihope i will get it this time .
Lests start :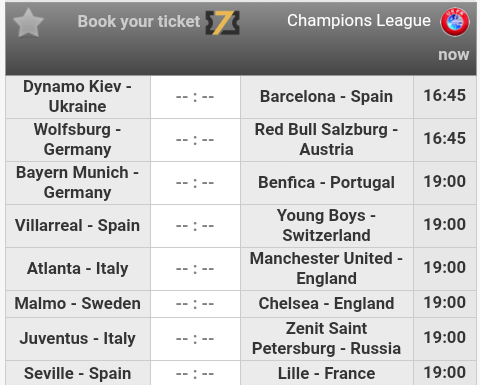 Barcelona vs dinamo kiev : barca( 3-2 ; 3-1 )
Red bull vs Wolfsburg : Wolfsburg (1-3)
Benfica vs bayer Munich : bayer( 0-3)
Young boys vs Villarreal : draw( 0-0 ;2-2)
Man United vs atlanta :
Man (3-2)
Chelsea vs malmo :
Chelsea (2-0)
Zenit snt Petersburg vs juventus : juve 0-2
Lile vs Seville : lile( 1-0)
And this is my beet for today in bet365 :
Barcelona win -bayer win more than 2 goals -young boys draw -man both team to score -Chelsea win -lile both team score under 3 .
This is my prediction and remember ist just for fun , am not responsible if you decided to make a beet on this prediction.
---
---