Tyson Fury vs. Deontay Wilder III

We're about 7 day from the fight of the century , between two of the best heavyweights boxers . Am talking about The Ring heavyweight champion, Tyson Fury, and former WBC heavyweight champion, Deontay Wilder.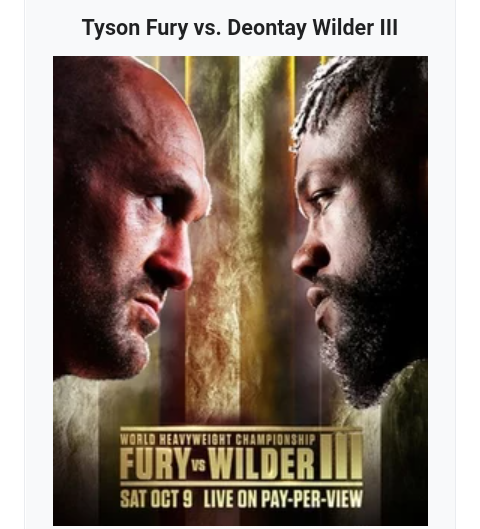 After a lots of pushing back and forth for deciding the day of this match , and after a lots of Obstacles . They finally decided to make the match happened this year . And its will also be this month .The fight is set to take place at T-Mobile Arena in Paradise, Nevada on this month October 9, 2021.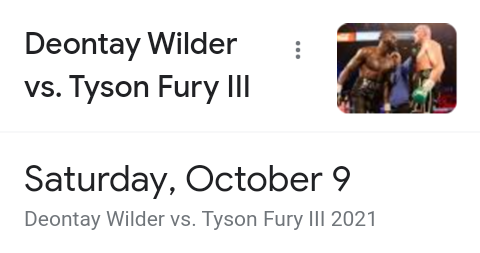 The things that make this match a historical matches is first because between two of the best heavyweight champion boxers , and second because of the big feud between those two. The feud between those two stated from the first time they clashed . Fury and Wilder first fought in December 2018, with the fight ending in a controversial draw. Both of boxers did not accept a draw then so they decide to make a rematch . so they had a rematch in February 2020, but this time Fury had came out victorious via seventh-round technical knockout , wich maked fury capture the WBC and vacant Ring magazine heavyweight titles.
But the feud didn't end there , with wilder has came up with many excuses about that match , one of them is that The suit that he Wear it upon entry, it was heavy and its maked him exhausted before the match.
And in the other side , furry didn't have any problem to make the third match , he just wanted to make an end for this chapter of he's lif. So that what Get us here.
"Salvation fight"
****Tyson Fury vs. Deontay Wilder III****
I hope your all exited for this match and i hope you enjoyed reading this post .
---
---