Chatting while finishing "Hell's Ravine" hiking route (PR-CV 147) - Fleix, Alicante ⛰️🇪🇦 (Part 3)
---
If you paid attention to the
First Part
and
Second Part
of this series, you already know this is an essential hiking route from the Spanish southeast and it's said that you come out "
baptized
" as a true hiker after finishing it.
Also you'll know this route is full of history since all these lands were occupied by the Moorish before their expelling by King Felipe III.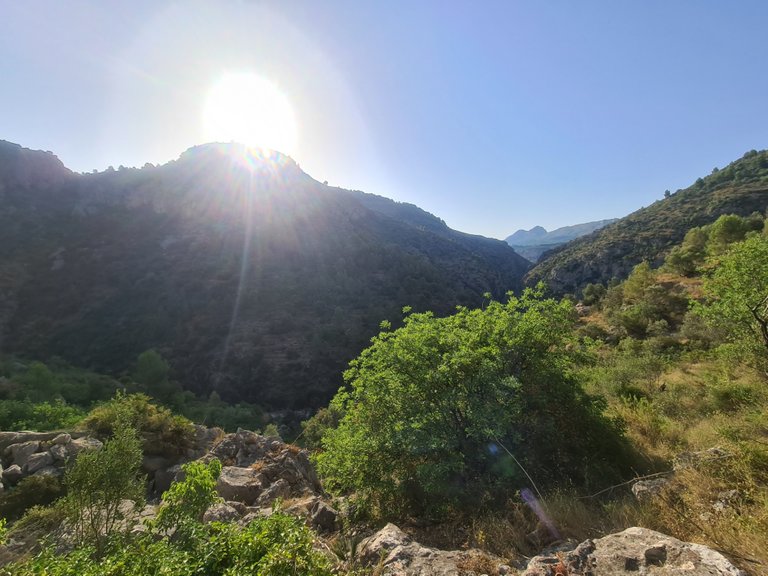 July sun warming up.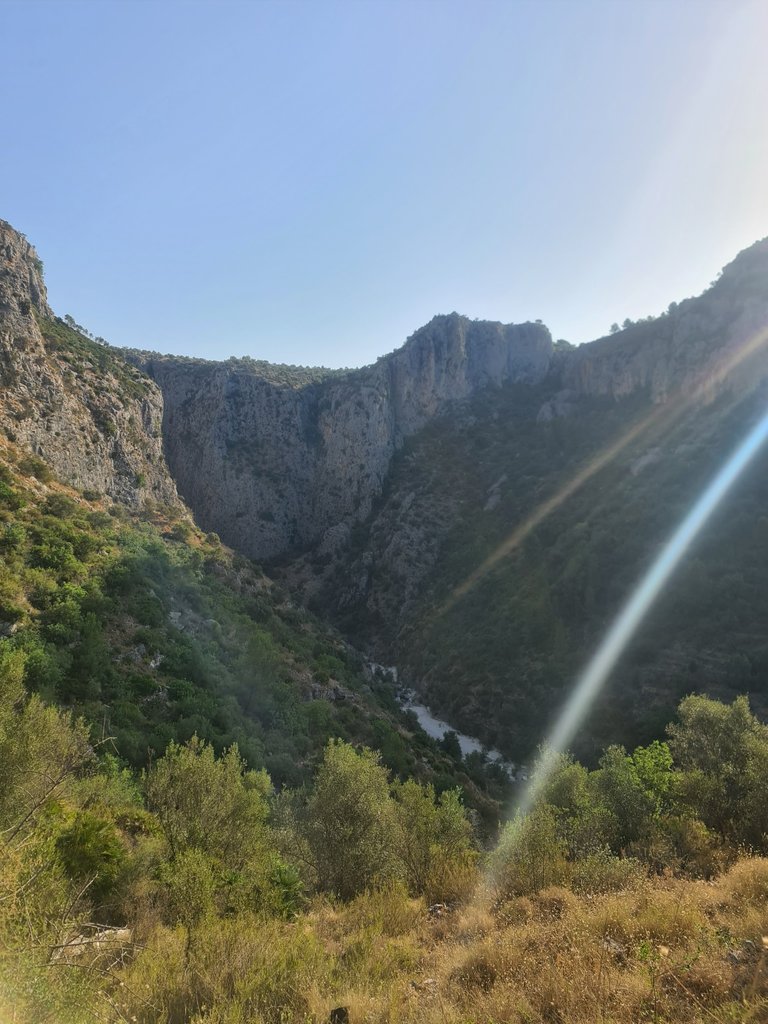 Bottom of the ravine, second time you hit it during the route (1).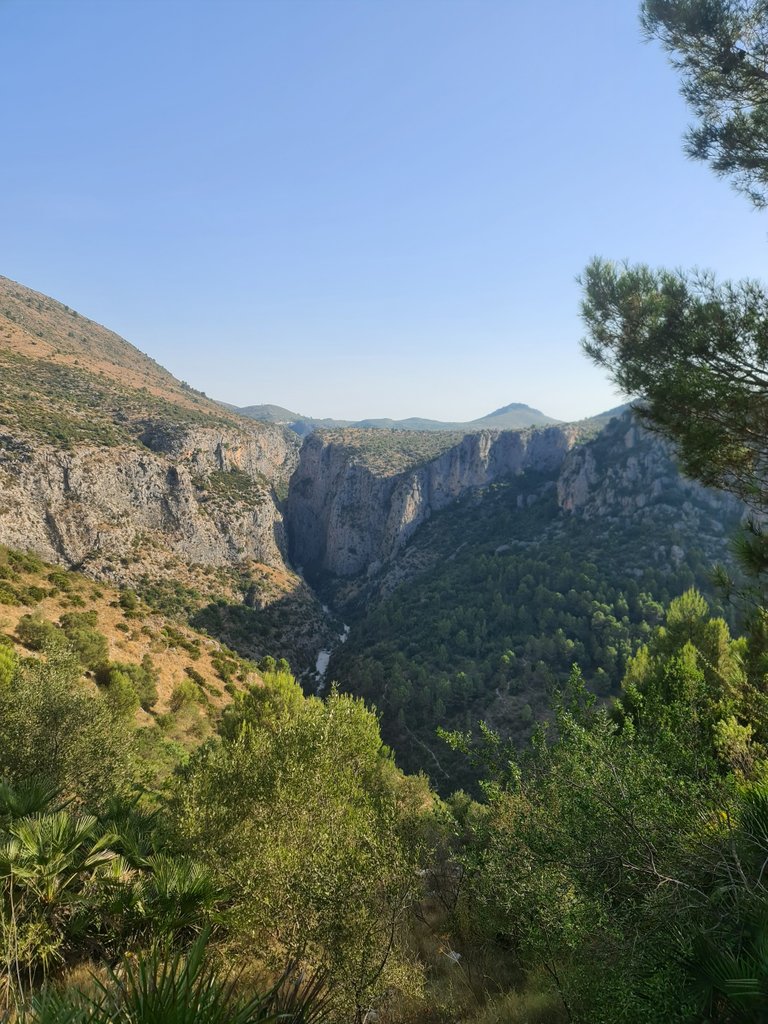 Bottom of the ravine, second time you hit it during the route (2).
As I already told you, in addition to recommending bringing many liters of water and good mountain shoes, pack something to cover your head and keep it cool and humid and thus avoid heat stroke.

Panoramic of the bottom of the ravine in the shadow and the powerful sun on the hillside path.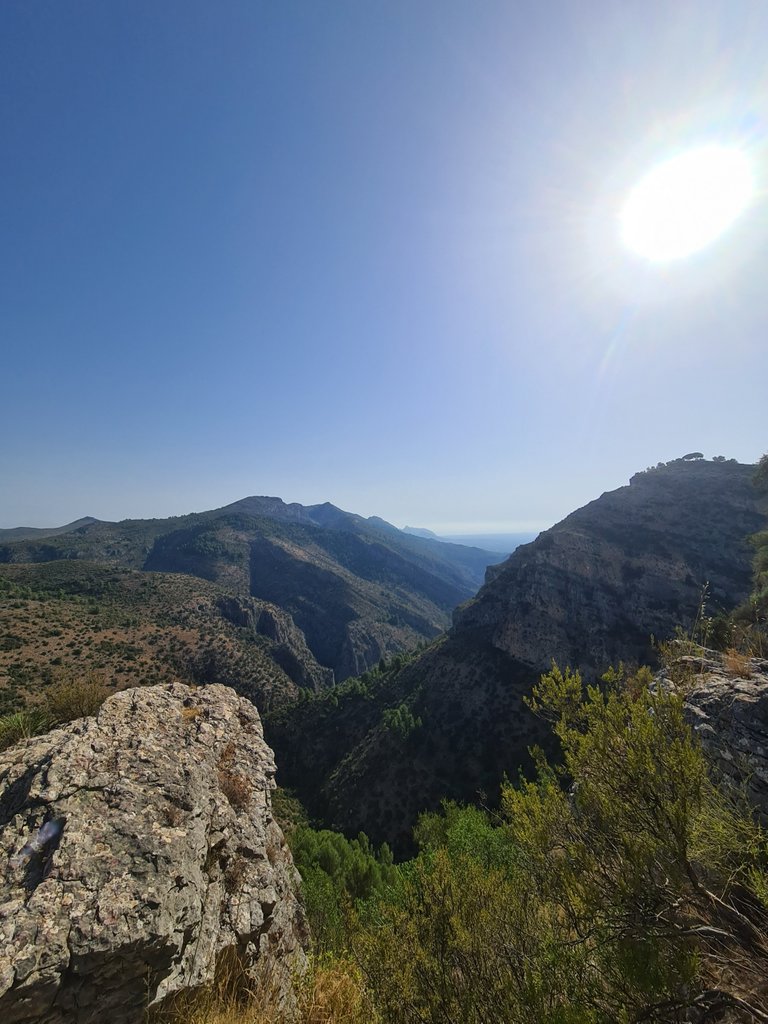 Break in an eagle's nest (eagle was standing on that rock but flew away when saw me) after climbing the hardest part of the route, third time you hit the bottom of the ravine.
YouTube Short where I keep on climbing slopes after the second time hitting the ravine:
https://youtube.com/shorts/AAoz0v5-9pA?feature=share
Clarification: when I say in the video that I was climbing slopes of 800 meters, I was referring to the accumulated altitude; the route has 800 meters (in fact the number is higher than that) of accumulated positive elevation gain (as if you climbed it vertically), so in reality to accumulate that climb you go through very long slopes for many kilometers of the route.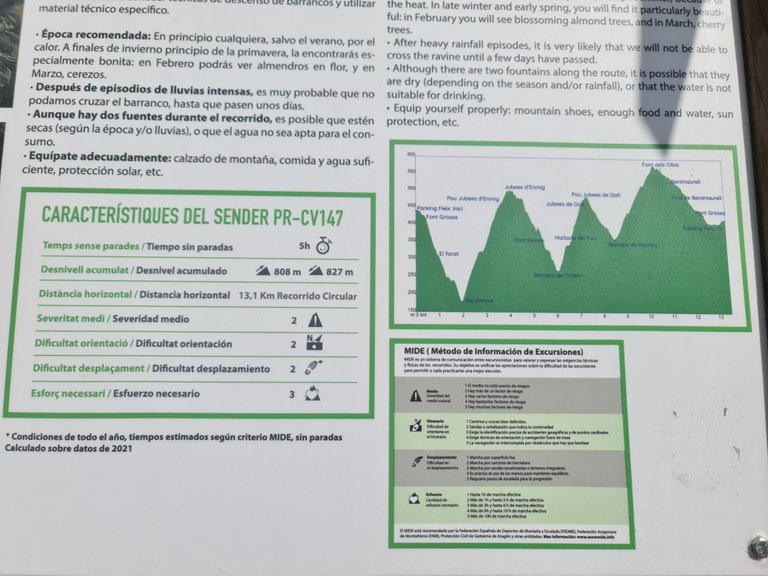 Relief of the hiking route, characteristics and recommendations.
In the video I'm chatting with you from the town of Benimaurell (town through which the last section of the route runs) to the town of Fleix (starting point), while I do the last kilometer of this route and refresh myself in the natural spring "Font Grossa".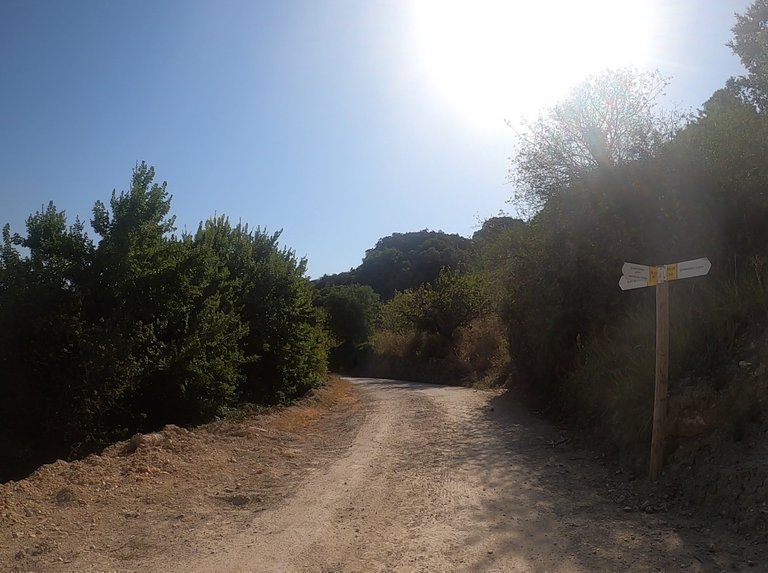 Last sign post from Benimaurell town to Fleix town (almost finishing the route).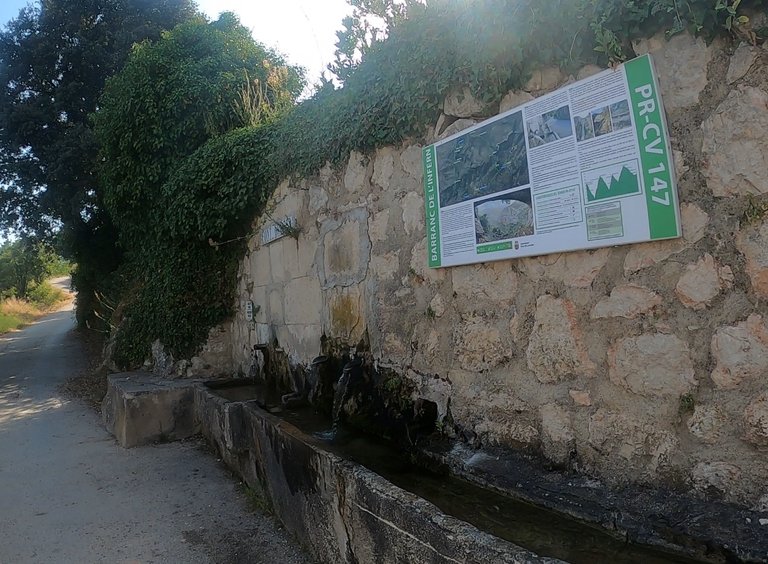 "Font Grossa" spring.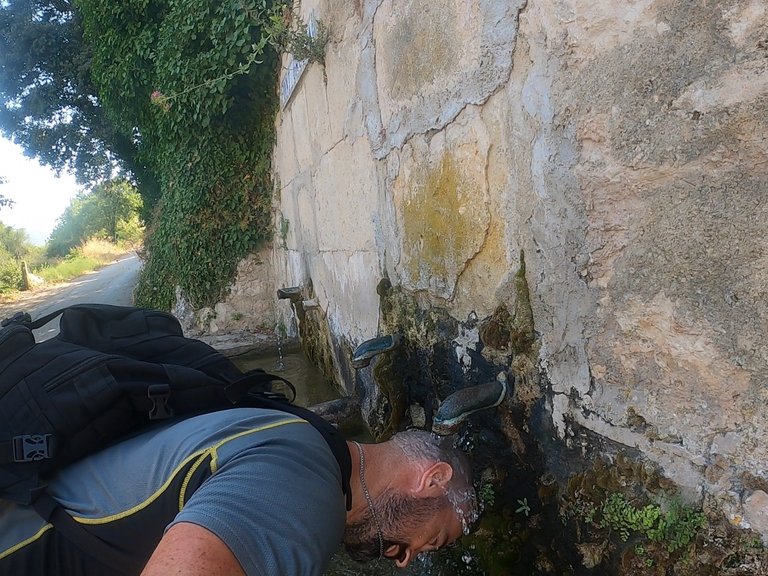 Cooling my head in the fountain.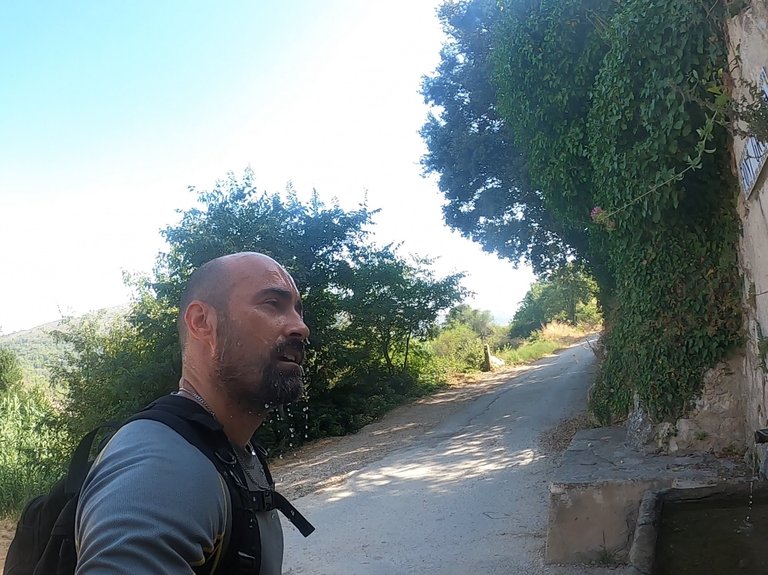 It felt really nice.
Finally, I reiterate, do not try to do this hiking route in the middle of summer unless you are completely sure of what you are doing and of your good physical condition, you are used to mountaineering and training or playing sports in extreme heat and/or cold.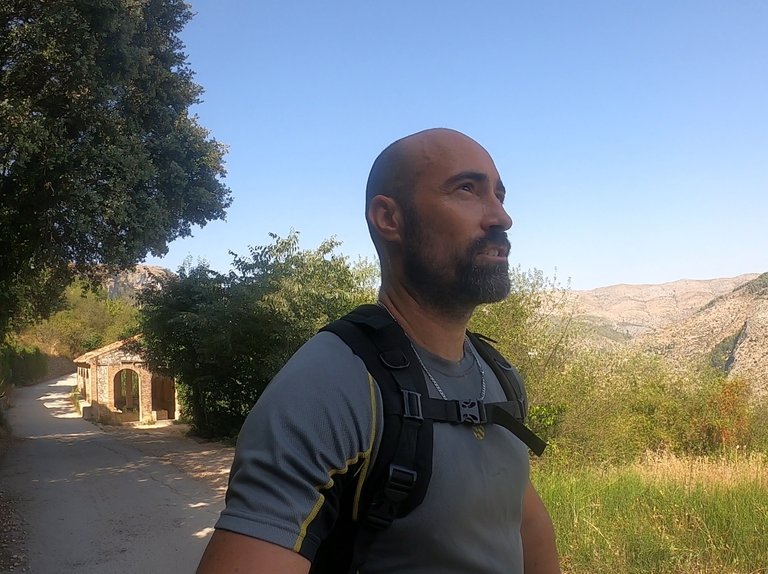 Leaving the fountain.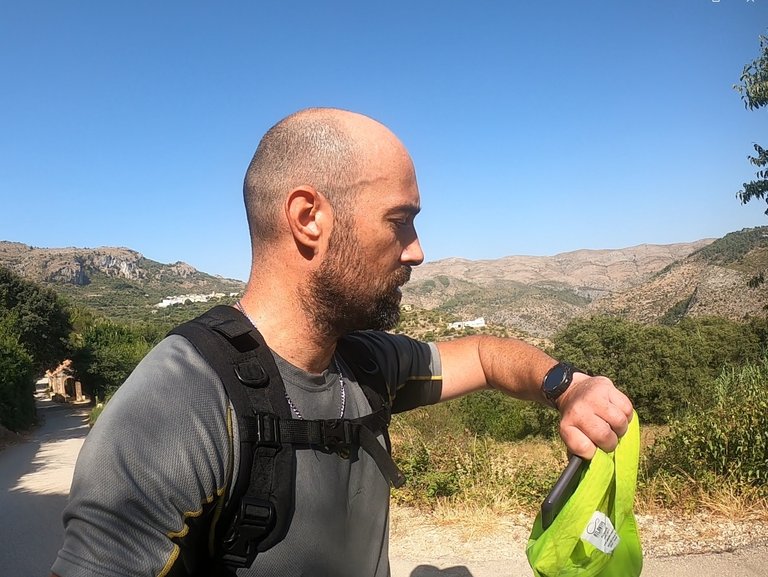 Checking my smartwatch and giving some info about my stats.
(Audio of the video in Spanish).
YouTube video recorded with my GoPro Hero 8 camera.
Video recorded at 1440p 60 fps 4:3.
Some photographs were taken with my Samsung Galaxy S20 Ultra 5G camera, some other are screenshots from my video.
YouTube short recorded with my Samsung Galaxy S20 Ultra 5G camera.
---
View this post on TravelFeed for the best experience.
---
---