Con una defensa permeable pero con mas verticalidad, los merengues se imponen en San Mamés (ESP-ENG)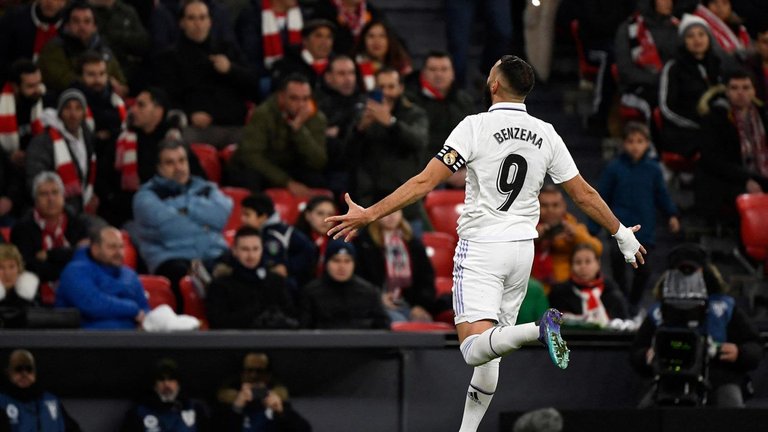 Feliz casi inicio de semana compañeros y compañeras de comunidad, nada mejor para un domingo que disfrutar de lo que el deporte nos ofrece para todas las edades y para todos los gustos, en mi caso personal decidí este domingo ponerme cómodo y disfrutar lo que la jornada 18 de la Liga Santander (Liga de España) tenia preparado, en el menú habían varias opciones muy llamativas, entre estas los encuentros de los lideres, Barcelona por su lado enfrentaba al Getafe poco antes que su perseguidor y protagonista del presente post el Real Madrid. Ambos clubes antes de dar inicio e sus respectivos partidos solo los separaban 3 puntos en la tabla de posiciones, era importante lo que cada conjunto lograra en esta jornada, sobre todo por sus compromisos en otras competiciones los cuales obligan a no permitirse equivocaciones.
Happy almost beginning of the week fellow community members, nothing better for a Sunday than to enjoy what the sport offers us for all ages and for all tastes, in my personal case I decided this Sunday to get comfortable and enjoy what the 18th round of La Liga Santander (Spanish League) had prepared, in the menu there were several very striking options, among these the meetings of the leaders, Barcelona faced Getafe shortly before his pursuer and protagonist of this post Real Madrid. Both clubs had only 3 points separating them in the standings before the start of their respective matches, it was important what each team achieved on this day, especially because of their commitments in other competitions which force them not to make mistakes.
Es momento de hablar del Madrid y es que los dirigidos por el DT Italiano C. Ancelotti debían ganar si o si este encuentro ante el Athletic de Bilbao debido a que por tropiezo en anteriores jornada, cedió su puesto como líder al FC Barcelona, los merengues han iniciado el año 2023 con el pie izquierdo y con pisada temerosa muy lejana a su versión conquistadora de Champions y liga local de la temporada pasada. Otra de las razones es el cercano encuentro este próximo jueves en la Copa del rey, siendo un partido posiblemente complicado al ser un derbi madrileño "Real Madrid-Atlético de Madrid", unos 4tos de final exigentes que requieren el máximo nivel posible, por lo cual el conseguir 3 puntos en el San Mamés tenia que ser lo menos desgastante posible.
It is time to talk about Madrid and the fact is that the team coached by the Italian DT C. Ancelotti had to win this match against Athletic de Bilbao because of the stumble in previous matchdays, they ceded their place as leaders to FC Barcelona, the Merengues have started the year 2023 with the left foot and with a fearful step far away from their Champions League and local league winning version of last season. Another reason is the upcoming match this coming Thursday in the Copa del Rey, being a possibly complicated match as it is a Madrid derby "Real Madrid-Atletico Madrid", a demanding 4th round that requires the highest possible level, so getting 3 points at the San Mames had to be as less tiring as possible.
---
Este encuentro el cual les comento daba inicio con ciertas particularidades y una de ellas eran las modificaciones que realizaría el DT merengue, observaríamos lo que en unos meses atrás no nos imaginábamos, Kroos y Modric ambos siendo suplentes, Ancelotti apostaría nuevamente por la formula que los llevo a remontar el partido ante el submarino amarillo el Villarreal, uniéndose al medio campo Dani Ceballos y en ofensiva Asensio.
This match, which I am telling you about, started with certain peculiarities and one of them was the changes that the DT merengue would make, we would see what we did not imagine a few months ago, Kroos and Modric both being substitutes, Ancelotti would bet again for the formula that led them to overcome the match against the yellow submarine Villarreal, joining the midfield Dani Ceballos and Asensio in offense.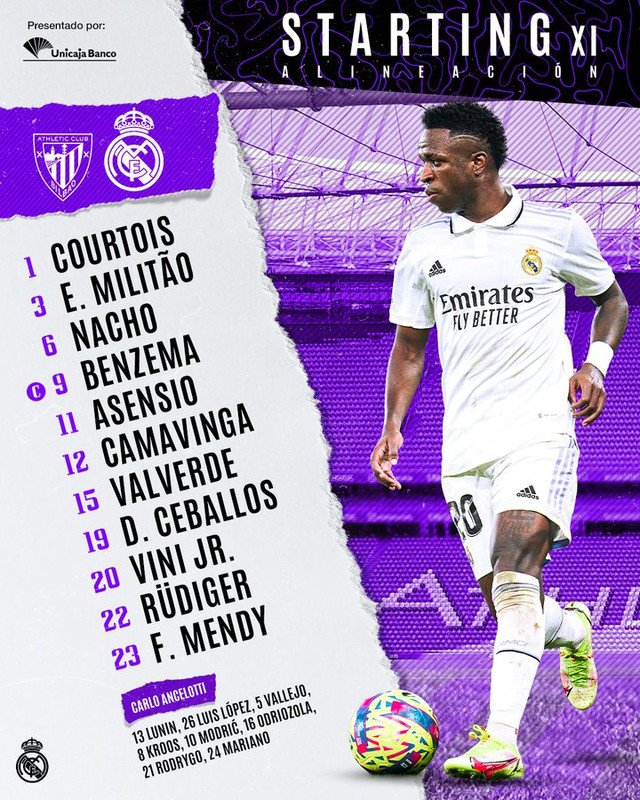 Comenzaban a correr los primeros minutos y las expectativas no eran del todo favorables del lado merengue, una vez mas el rival era el de la iniciativa desde el arranque buscando posicionarse rápidamente en campo del Madrid, se comienza a evidenciar que los rivales perciben que los Blancos no están manejando bien las presiones altas, los malos retrocesos de algunos jugadores y la poca conducción son una característica casi fija en cada partido disputado por el Madrid, por lo tanto es una debilidad que los rivales buscan aprovechar.
The first minutes began to run and the expectations were not entirely favorable for the Merengue side, once again the rival was the one of the initiative from the start looking to position themselves quickly in Madrid's field, it is beginning to show that the rivals perceive that Los Blancos are not handling well the high pressures, the bad backs of some players and the poor driving are an almost fixed feature in every match played by Madrid, therefore it is a weakness that rivals seek to exploit.
Sin embargo luego de calentar los motores merengues transcurridos algunos minutos, da comienzo a un cambio de actitud en comparación a anteriores presentaciones, un dato importante para llegar a esta conclusión son las ocasiones generadas y en especial los disparos al arco, los cuales cabe destacar llegaban aparecer incluso hasta la segunda etapa del partido. Con Asensio muy activo y sirviendo como puente en el traslado del balón, se podía sentir un juego mas fluido.
However, after a few minutes of warming up the Merengues' engines, a change of attitude began in comparison to previous presentations, an important fact to reach this conclusion is the chances generated and especially the shots on goal, which were appearing even in the second half of the match. With Asensio very active and serving as a bridge in the transfer of the ball, a more fluid game could be felt.
---
El Madrid se encontraba en mejor momento en el partido, pero el Athletic no dejaba de apretar generando sus llegadas las cuales rompían la línea defensiva con facilidad, Mendy no suele tener retrocesos rápidos dejando una defensa en varias oportunidades en inferioridad numérica.
Madrid was in a better moment in the match, but Athletic did not stop pressing, generating their arrivals which broke the defensive line with ease, Mendy does not usually have quick reverses leaving a defense in several opportunities in numerical inferiority.
Aunque mas allá de las falencias defensivas el conjunto merengue no dejaba de irse en ataque y lograrían romper el silencio en el marcador primero al minuto 24', naciendo la jugada de Ceballos para Valverde y este sirviendo un centro al área chica que cabecearía Asensio, dicha acción serviría mas como una asistencia que aprovecharía el Frances Karim Benzema de increíble manera de volea anotando un golazo con mucho significado para el 9 merengue ya que con este tanto (228) alcanzaría a Raúl como segundo máximo goleador del club en la Liga Santander. De esta manera el Madrid se colocaría adelante en el marcador luego de empezar abajo en sus últimos partidos.
Although beyond the defensive shortcomings, the Merengue team did not stop attacking and managed to break the silence on the scoreboard first at minute 24', when Ceballos played to Valverde and he served a cross to the penalty area that Asensio headed, This action would serve more as an assist that the French Karim Benzema would take advantage of in an incredible volley scoring a goal with a lot of meaning for the 9 merengue as with this goal (228) he would reach Raul as the second highest scorer of the club in the Santander League. In this way, Madrid would take the lead in the scoreboard after starting behind in their last matches.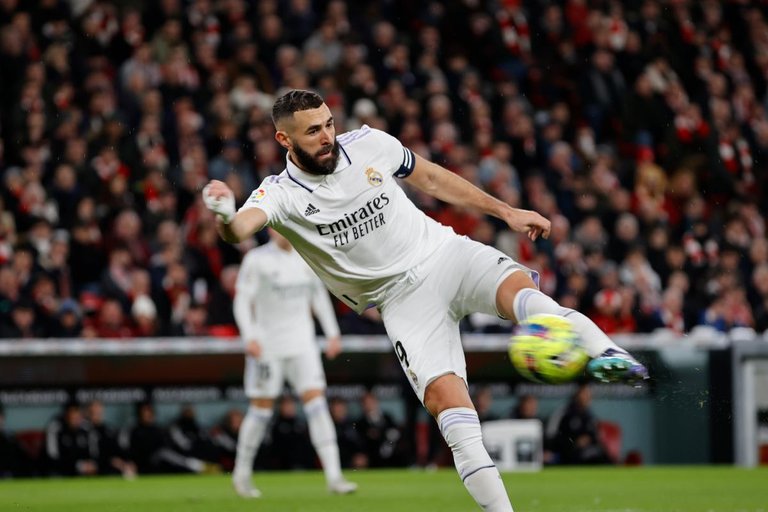 ---
A pesar del buen rendimiento merengue, el partido aun no se encontraba resuelto, luego del primer golpe blanco se hacia presente el ya acostumbrado envión anímico, ese que en muchas ocasiones a hecho salir de apuros a Ancelotti, Continuaría la tenencia de balón y las ocasiones pero sin ser efectivas aunque si favorables ya que ayudaban a mantener todo bajo control hasta el final de la primera etapa.
Despite the good performance of the Merengue, the match was not yet resolved, after the first white blow, the now customary boost in spirit was present, the one that on many occasions has made Ancelotti get out of trouble, ball possession and chances would continue but without being effective although they were favorable as they helped to keep everything under control until the end of the first stage.
---
Una vez terminado el descanso, salen los dos conjuntos de nuevo al campo sin modificaciones, el 11 inicial merengue dio buenos frutos desde lo funcional reflejándolo en el marcador que por cierto haciendo un inciso, debo admitir que me sorprendió la actuación del español Dani Ceballos en este partido, no contaba con que el jugador entrara en este partido con la misma energía y dinamismo que el anterior ante el Villarreal, esta opinión la deje plasmada en mi anterior publicación y hoy puedo decir que si mantiene este nivel puede pelear el medio campo. Dicho esto y retomando el segundo tiempo, les puedo decir que no cambiaba nada en absoluto, el control y dominio lo seguiría teniendo el Real Madrid, esto se mantendría así alrededor de 20 minutos de la segunda etapa, donde llegados a este punto ocurriría una modificación en el esquema de del Bilbao, aumentarían la ofensiva retirando dos medio campistas y en su lugar dos delanteros, esto igualaría las cosas aumentando por momentos las llegadas de los rojiblancos, a partir de los últimos 20 minutos finales aproximadamente el Madrid comenzaría a sufrir, poniendo en riesgo en reiteradas ocasiones la mínima ventaja merengue.
Once the break was over, both teams went back to the field without changes, the Merengue starting 11 gave good results from the functional aspect reflecting it in the scoreboard that by the way making an aside, I must admit that I was surprised by the performance of the Spanish Dani Ceballos in this game, I did not expect the player to enter this game with the same energy and dynamism as the previous one against Villarreal, this opinion was expressed in my previous publication and today I can say that if he maintains this level he can fight for the midfield. Having said this and going back to the second half, I can tell you that nothing changed at all, Real Madrid would continue to control and dominate, this would remain so for about 20 minutes of the second half, where at this point there would be a change in Bilbao's scheme, They would increase the offensive by withdrawing two midfielders and instead two strikers, this would even things out by increasing at times the arrivals of the red and white, from the last 20 minutes or so Madrid would begin to suffer, putting at risk on several occasions the minimal advantage of Real Madrid.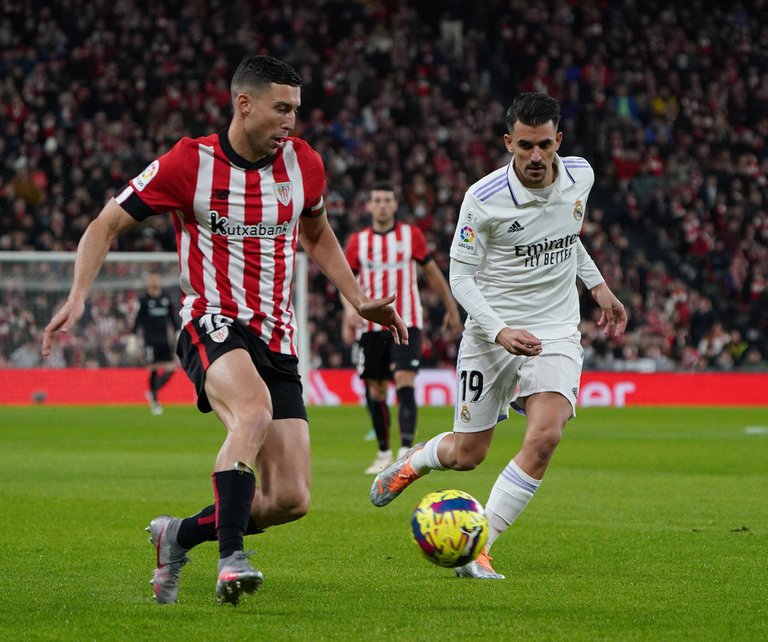 ---
Las constantes llegadas del Bilbao comenzaban a ser un problema para Ancelotti, así que se dirigiría al banco de suplentes ingresando en primer lugar a Modric quien no estuvo presente frente al Villarreal, este cambio seria en lugar de Asensio de muy buen partido aportando mucho tanto en lo ofensivo como en la creación de juego.
The constant arrivals of Bilbao were starting to be a problem for Ancelotti, so he would go to the substitutes' bench, first introducing Modric who was not present against Villarreal, this change would replace Asensio, who had a very good game and contributed a lot both offensively and in the creation of play.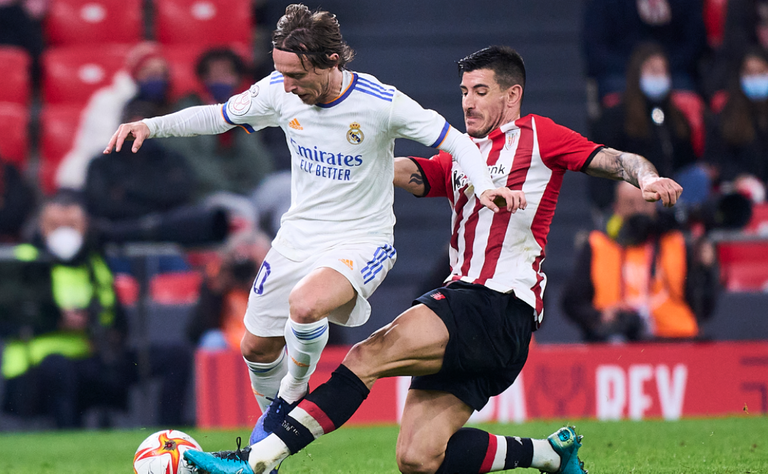 El ingreso del Croata seria de poca relevancia por su poca participación en las jugadas, estaría disperso desde su ingreso, algo no muy común por lo mostrado antes de la copa mundial.
The Croatian's entry would be of little relevance due to his lack of participation in plays, he would be scattered since his entry, something not very common for what he showed before the World Cup.
Seguirían llegando los refuerzos, esta vez por el relevo del Brasileño por Brasileño, entraba al campo Rodrygo por un Vinicius Jr muy afectado y por momentos desconcentrado desaprovechando jugados por la búsqueda de faltas a favor, el Brasileño es muy desequilibrante por su banda, pero cuando cambia la conexión con sus compañeros por actitudes como esas, suele dejar sin opciones al equipo para la creación de juego por ese carril del campo.
The reinforcements continued to arrive, this time with the substitution of the Brazilian for Brazilian, Rodrygo entered the field for Vinicius Jr, who was very affected and at times lost concentration, wasting plays by looking for fouls in his favor. The Brazilian is very unbalanced on his wing, but when he changes the connection with his teammates due to attitudes like these, he usually leaves the team without options for the creation of play on that side of the field.
Por ultimo la llegada del alemán Kroos por Ceballos, el Español lo había dado todo y era momento de un poco mas de control y enfriamiento del partido.
Finally, the arrival of the German Kroos for Ceballos, the Spanish had given everything and it was time for a little more control and cooling of the match.
---
Serian unos últimos minutos complicados para el Madrid dado que comenzaban a jugar mas cerca de su área y se arriesgaban a que en cualquier momento por algún error o pelota suelta pudiera caer el empate, a pesar de ello y pese a que el rival pueda estar en constante ataque, nunca se debe descuidar a un equipo como el Madrid donde de la nada te generan jugadas que parecen escritas y destinadas a pasar. Un Modric que no tuvo mucha relevancia desde su ingreso saca un zapatazo que recibe de mala manera Lekue y ante la astucia del otro ingresado Rodrygo para aprovechar la equivocación armando una jugada con Valverde regresándole nuevamente el balón al carioca para realizar un centro raso al área que se encontraría con otra de las alternativas escogidas por Ancelotti, Kroos ejecutaría un disparo al arco que entraría rozando el palo del arquero Unain Simon para sumar de esta manera el tranquilizante segundo gol del encuentro, siendo este un balde de agua fría para un conjunto rojiblanco que veía posible un empate.
It would be a complicated last few minutes for Madrid as they began to play closer to their area and risked that at any time by any mistake or loose ball could fall the tie, despite this and despite the fact that the opponent can be in constant attack, you should never neglect a team like Madrid where out of nowhere you generate plays that seem written and destined to happen. Modric, who had not had much relevance since his entrance, took a shot that was poorly received by Lekue and before the astuteness of the other newcomer Rodrygo to take advantage of the mistake, setting up a play with Valverde giving the ball back to the carioca to make a low cross into the area that would meet another of the alternatives chosen by Ancelotti, Kroos would take a shot to the goal that would go in grazing the goalkeeper Unain Simon's post to score the second goal of the match, being a bucket of cold water for a red and white team that saw a draw possible.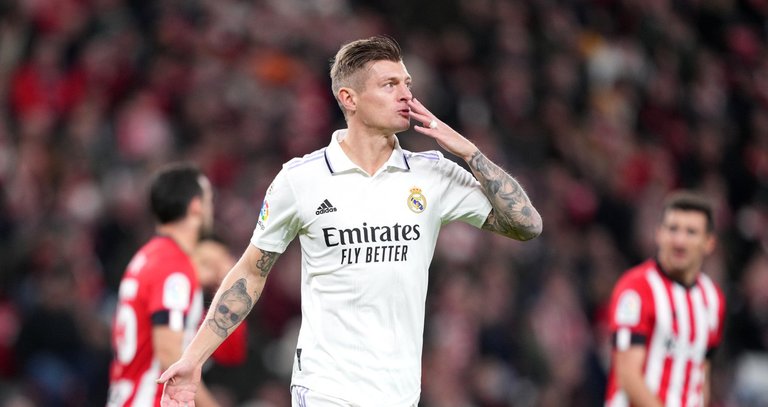 ---
El Real Madrid se estaría despidiendo este fin de semana sumando 3 puntos en liga que les permite el no perderles el paso a equipo culé que también ganaría su encentró ante el Getafe.
Real Madrid would be saying goodbye this weekend with 3 points in the league, which would allow them to keep pace with the Culé team, who would also win their match against Getafe.
Las cosas se encuentran muy igualadas en la cima de la tabla, dos conjuntos que no quieren dejar nada a la suerte tanto en la liga como en las otras competiciones en las que se encuentran activos.
Things are very evenly matched at the top of the table, two teams that do not want to leave anything to chance both in the league and in the other competitions in which they are active.
De esta manera con un fin de semana movido y recargado del buen futbol me despido no sin antes desearles un feliz cierre de semana esperando que comiencen con todas las energías el lunes para conquistar al igual que el Real Madrid todas sus metas 😁✌️, los espero en otra oportunidad Hivers!!!.
In this way with a busy weekend and recharged with good soccer I say goodbye but not before wishing you a happy end of the week hoping that you start with all the energy on Monday to conquer like Real Madrid all your goals 😁✌️, I hope to see you in another opportunity Hivers!!!!
---

---
Fuentes de las imágenes
Image sources
---
Imag 1-Imag 2-Imag 3-Imag 4-Imag 5-Imag 6
---
El texto es completamente de mi autoría
La traducción fue realizada con traductor: DeepL
El gif se realizo con el programa PhotoScape
The text is entirely my own
The translation was done with translator: DeepL
The gif was made with the PhotoScape program
---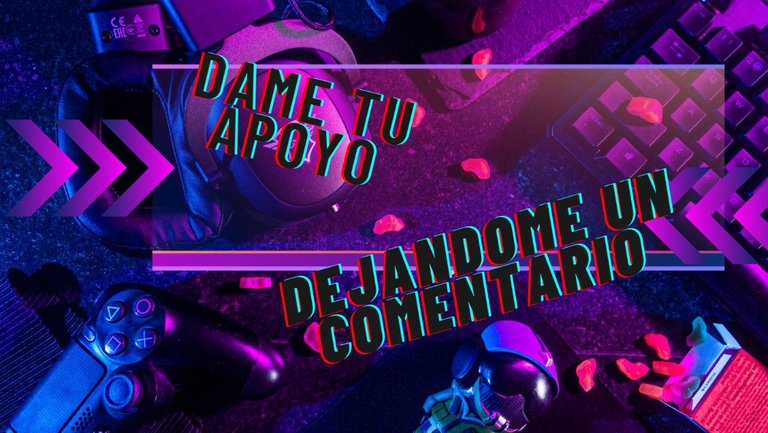 ---
---