El Real Madrid sigue invicto con buen pie en lo que va de la liga de España / Real Madrid remains unbeaten in the Spanish league so far (ESP-ENG)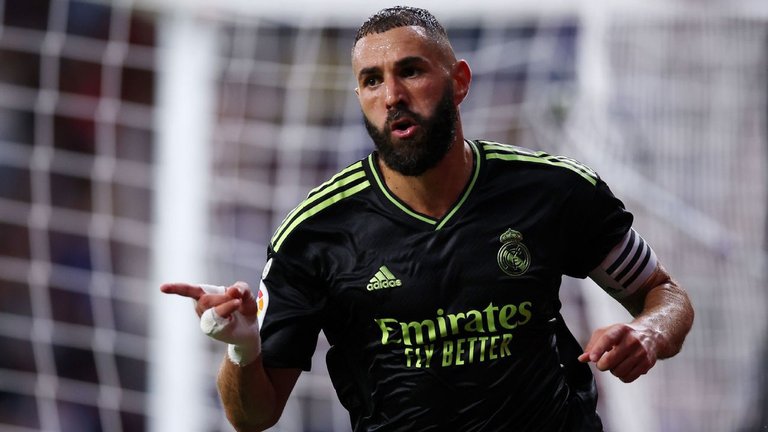 El día de ayer se escribía un capitulo mas de la nueva temporada de la liga de España, diferentes partidos fueron los que de disputaron en dicha jornada donde equipos con mucho renombre eran los protagonistas, entre estos el Real Madrid quien buscara en este arranque de temporada repetir varios de los títulos obtenidos, uno de estos precisamente la liga de España, ¿Su rival a enfrentar en esta oportunidad?, el Espanyol quien sorprendería mucho por varias razones las cuales les iré comentando y desarrollando a medida que avancemos en el presente post. El arranque de la Liga española a generado intriga entre la fanaticada de los grandes clubes, curiosidad de saber hasta donde serán capaces de llegar y lo que podrán lograr después de haber realizado movimientos en el mercado de fichajes.
Yesterday was written one more chapter of the new season of the Spanish league, different matches were played on that day where teams with much renown were the protagonists, among these Real Madrid who will seek in this start of the season to repeat several of the titles won, one of these precisely the Spanish league, his rival to face this time, Espanyol who would surprise a lot for several reasons which I will comment and develop as we move forward in this post. The start of the Spanish League has generated intrigue among the fans of the big clubs, curiosity to know how far they will be able to go and what they will be able to achieve after having made moves in the transfer market.
---
El Real Madrid es un equipo que demostró muchísimo la temporada pasada, conquistando varios títulos de suma importancia, colocando la vara muy en alto en poder superarse en la presente temporada, dejando como única opción de superación el defender dichos títulos, entre estos la antes mencionada Liga local en la cual ya ha visto acción y demostrado buen nivel logrando puntuación perfecta hasta el momento sumando 3 puntos mas ante el Espanyol.
Real Madrid is a team that showed a lot last season, winning several titles of great importance, setting the bar very high in order to overcome this season, leaving as the only option to overcome the only option to defend those titles, including the aforementioned local league in which he has already seen action and demonstrated good level achieving perfect score so far adding 3 more points against Espanyol.
---
Daria por iniciado el primer tiempo saliendo al campo un Real Madrid muy decidido a ganar y tomar control del juego, presentaría nuevamente en su alineación principal al joven Frances Tchouaméni quien desde la salida del veterano jugador Casemiro a tenido que cumplir sus funciones en el centro del campo, una tarea nada fácil debido al gran nivel y jerarquía que el Exmadridista mostraba en cada uno de sus partidos. Esta seria una de las modificaciones en el 11 inicial en comparación al que solemos ver habitualmente.
The first half kicked off with a Real Madrid team determined to win and take control of the game, presenting again in its main lineup the young Frances Tchouaméni who since the departure of veteran player Casemiro has had to fulfill his duties in the center of the field, not an easy task due to the high level and hierarchy that the former Madrid player showed in each of his matches. This would be one of the modifications in the starting 11 compared to the one we usually see.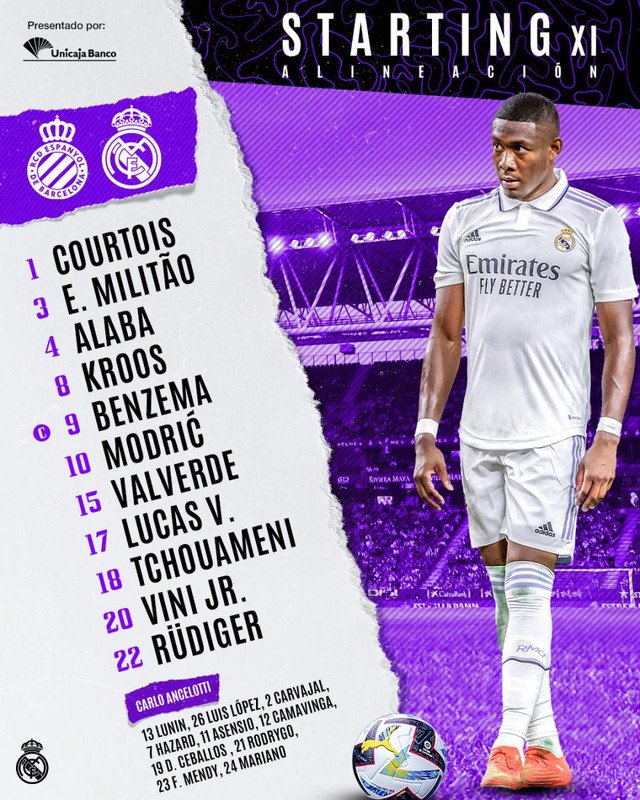 También veríamos un Alaba por izquierda en defensa en vez de defensa central, esta posición la conoce muy bien el Austriaco ya que la desempeñaba en su antiguo club el Bayer Munich, se le noto durante el partido muy suelto y con libertad de avanzar varios metros adelante en cancha, cosa que como opinión propia debilito un poco la defensa merengue en especial al momento del envión anímico que tuvo el equipo del Espanyol mas adelante avanzado el partido.
We would also see an Alaba on the left in defense instead of central defense, this position the Austrian knows very well since he played it in his former club Bayer Munich, he was noticed during the match very loose and with freedom to advance several meters forward on the field, which as his own opinion weakened the defense a little Merengue especially at the time of the moment of the boost that the Espanyol team had later in the match.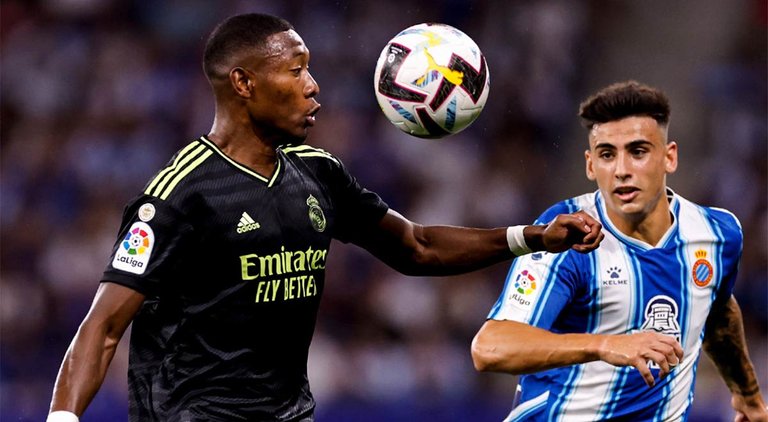 ---
Resultado de lo antes descrito traería una ventaja temprana en el marcador en el minuto 12' por parte del conjunto blanco gracias al brasileño del momento Vinicius Jr con asistencia de Tchouaméni quien de manera muy tranquila logro zafarse de la marca de varios adversarios y dejárselas al Carioca a solo un toque para concretar el gol.
As a result of what was described above, the White team took an early lead in the 12th minute thanks to the Brazilian player of the moment Vinicius Jr with an assist from Tchouaméni, who calmly managed to get away from the mark of several opponents and left it to the Carioca with just a touch to score the goal.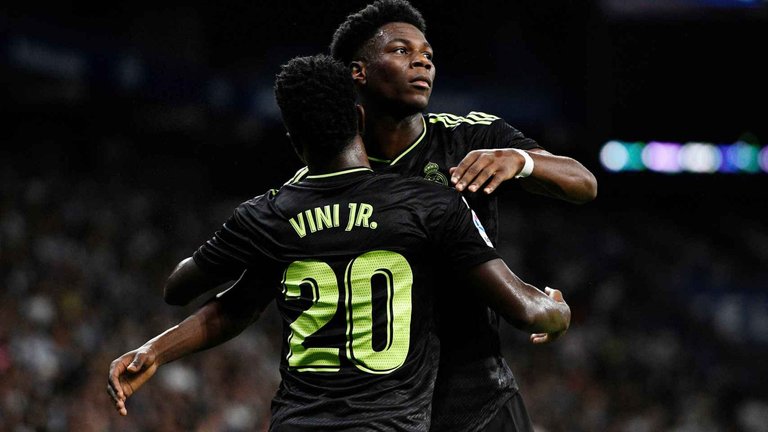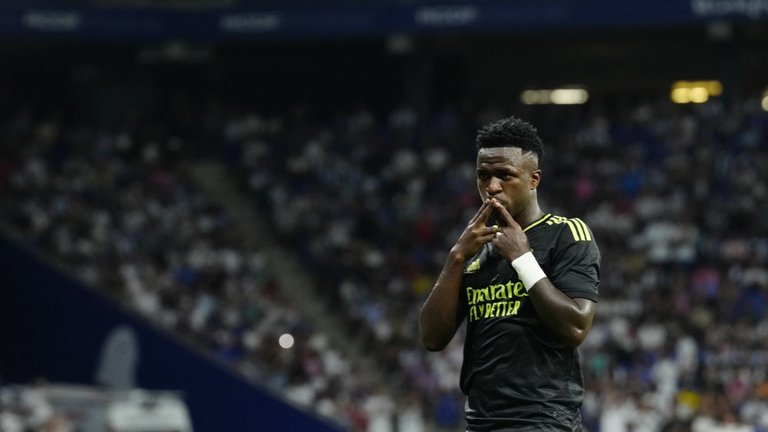 ---
El Madrid mantendría buen ritmo en gran parte del segundo tiempo, buscando dar rápidamente ese segundo golpe para un nocaut del Espanyol, sin embargo este gol mas que desanimar y desinflar al equipo rival, lo motivo a buscar una pronta recuperación y no dejar escapar al Madrid, adelantaría líneas presionando en campo merengue haciendo retroceder a los de Ancelotti a pesar de haber demostrado buen inicio de partido, fallarían un primer intento de ocasión con un golpe de cabeza de Joselu que pasaría rozando uno de los palos del arco de Courtois, este seria un aviso de lo que pasaría a continuación justo antes de dar por finalizado el primer tiempo llegaría una llegada en ataque del Espanyol por parte del recién mencionado Joselu quien haría un primer intento de disparo al arco que seria detenido por el arquero Belga pero cediendo un rebote que aprovecharía el mismo Joselu para anotar lo que seria el empate 1-1 entre estos equipos. De esta manera ambos conjuntos se irían al descanso unos con menor actitud que otros por los mostrado al final de dicho primer tiempo.
Madrid would maintain a good pace in much of the second half, looking to quickly give that second blow for a knockout of Espanyol, however this goal rather than discourage and deflate the rival team, motivated them to seek a quick recovery and not let Madrid escape, would advance lines pressing in the Merengue field making Ancelotti's team retreat despite having shown a good start to the game, They would miss a first chance with a header by Joselu that would go past one of the sticks of Courtois' goal, this would be a warning of what would happen next just before the end of the first half, Espanyol would arrive with an attack by the aforementioned Joselu who would make a first attempt at goal that would be stopped by the Belgian goalkeeper but giving a rebound that Joselu would take advantage of to score what would be the 1-1 draw between the two teams. In this way, both teams would go to the break, some with less attitude than others due to what they showed at the end of the first half.
---
Arranca el segundo tiempo y continúan siendo peligrosas las llegadas del equipo del Espanyol, el Madrid de a poco fue perdiendo espacio en el campo y esto obliga al DT Ancelotti hacer modificaciones, algunas de esta ya conocidas y realizadas en partidos complicados, renovaría el centro del campo sacando a Modrić, Kroos y en su lugar Camavinga y Dani Ceballos. Por ultimo y muy relevante, apostaría por unas de sus fichas que han sacado de tantos apuros al DT Italiano, les hablo del Brasileño Rodrygo, Ancelotti buscaría desequilibrar ambas bandas ofensivas con los Brasileños y de hecho esto daría sus frutos ya que en los minutos decisivos, seria el propio Rodrygo quien le facilitaría un centro al Frances Karim Benzema que una vez mas se convierte en el salvador del Real Madrid, anotando ese gol de diferencia que los pondría nuevamente adelante en el marcador.
The second half started and the Espanyol team continued to be dangerous, Madrid was gradually losing space on the field and this forced DT Ancelotti to make changes, some of them already known and made in difficult matches, he would renew the midfield by taking out Modrić, Kroos and instead Camavinga and Dani Ceballos. Finally and very relevant, he would bet on one of his players who have gotten the Italian DT out of so many troubles, I am talking about the Brazilian Rodrygo, Ancelotti would seek to unbalance both offensive wings with the Brazilian and in fact this would pay off because in the decisive minutes, it would be Rodrygo himself who would provide a cross to the French Karim Benzema who once again became the savior of Real Madrid, scoring the difference goal that would put them ahead again on the scoreboard.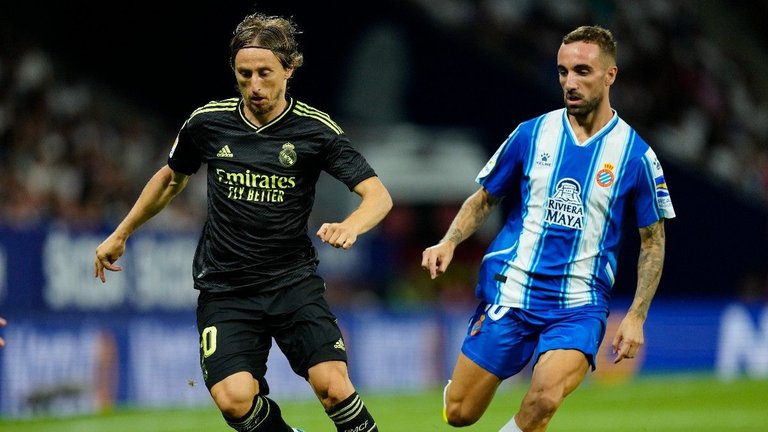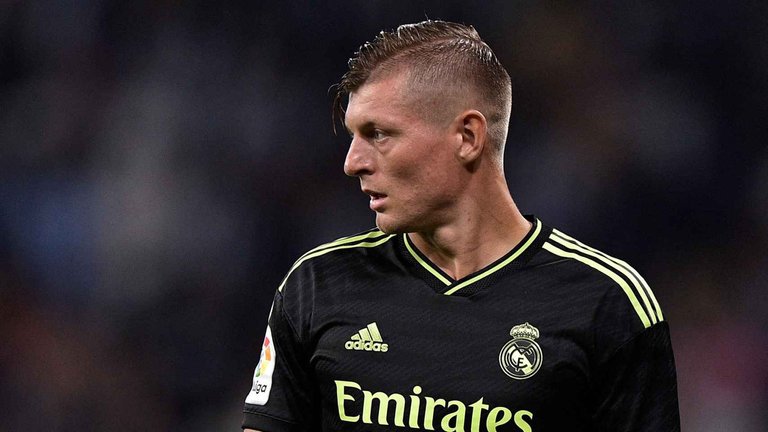 ---
El Frances estaría en principio del partido un poco alejado del protagonismo dejando oportunidad a Vinicius Jr, pero seria en los minutos finales donde su presencia seria necesaria debido a una situación generada en el área del Espanyol con una falta del arquero Lecomte hacia Dani Ceballos muy cerca del área chica, todo concluiría en una tarjeta roja para el arquero y un tiro libre a favor del Real Madrid. Lo curioso del momento seria que unos de los defensas del Espanyol (Cabrera) tomaría el lugar del arquero, esto ayudaría a que la oportunidad de anotar un gol para el Real Madrid aumentara y seria así con un disparo potente de Karim Benzema dejando el partido ya cerrado con un 3-1 en los minutos agregados.
At the beginning of the match, El Frances would be a little distant from the protagonism leaving the opportunity to Vinicius Jr, but it would be in the final minutes where his presence would be necessary due to a situation generated in the Espanyol area with a foul by the goalkeeper Lecomte towards Dani Ceballos very close to the small area, everything would conclude in a red card for the goalkeeper and a free kick in favor of Real Madrid. The curious thing of the moment would be that one of the Espanyol defenders (Cabrera) would take the place of the goalkeeper, this would help that the opportunity to score a goal for Real Madrid would increase and it would be so with a powerful shot by Karim Benzema leaving the match already closed with a 3-1 in the added minutes.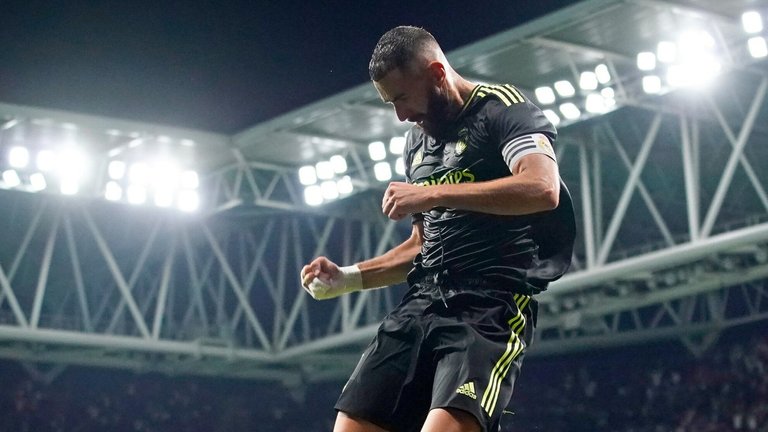 ---
No fue un partido nada fácil para el Real Madrid, por momento el Espanyol seria dominante en traslado del balón al área del Belga Courtois, pero una vez mas seria la garra y espíritu ganador del Madrid en llevar el juego hasta los últimos minutos y lograr esta nueva victoria, por algo se puso de moda la frase de "SI NO LIQUIDAS AL MADRID, ESTE LO HARA CONTIGO", nunca hay un marcador definido para los dirigidos por Ancelotti, quizás sea eso los que los a llevado tan lejos en la actualidad.
Espero que al igual que yo hayan disfrutado de este y los diferentes encuentros vividos el fin de semana, si son amantes del futbol estoy seguro de que si. Los espero en otra oportunidad del mas lindo deporte del mundo... El FUTBOL!!!.
It was not an easy match for Real Madrid, for a moment Espanyol would be dominant in transferring the ball to the area of the Belgian Courtois, but once again it would be the grit and winning spirit of Madrid to take the game until the last minutes and achieve this new victory, for something it became fashionable the phrase "IF YOU DO NOT LIQUIDATE MADRID, IT WILL DO IT WITH YOU", there is never a definite score for those led by Ancelotti, perhaps that is what has taken them so far today.
I hope that, like me, you have enjoyed this and the different matches that took place this weekend, if you are soccer lovers, I am sure that you have. I hope to see you in another opportunity of the most beautiful sport in the world.... SOCCER!!!.
---
Fuentes de las imágenes
Image sources
---
Imag 1-Imag 2-Imag 3-Imag 4-Imag 5-Imag 6-Imag 7-Imag 8
---
El texto es completamente de mi autoría
La traducción fue realizada con el traductor deepl
Gif elaborado con el programa PhotoScape
The text of this post is my own
The translation was done with the translator deepl
Gif made with the PhotoScape program
---

---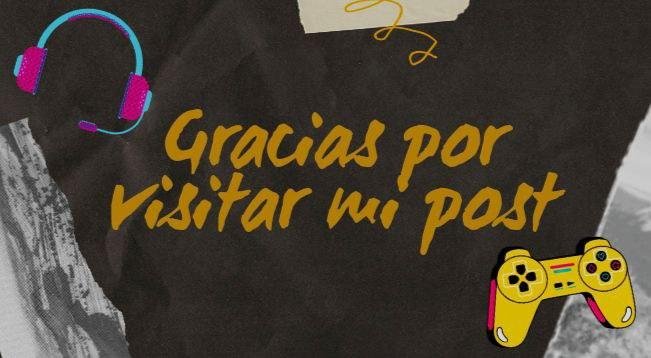 ---
---