Magia Brasileña y precisión Francesa para concretar una goleada y triunfo de la casa blanca (ESP-ENG)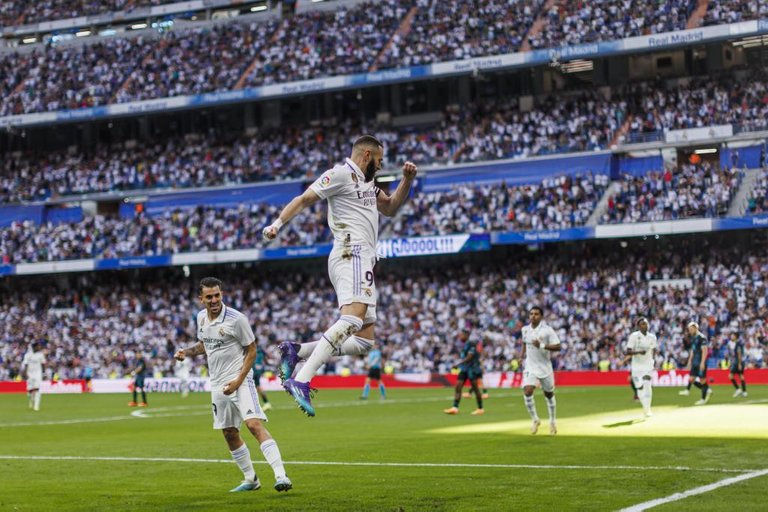 Llegamos al domingo, día de reflexión, de descanso, de organizarse y dejar todo preparado para iniciar la semana... Para nosotros los creadores de contenido aquí en Hive se podría decir que es algo similar 🤔, dependiendo en donde hacemos vida en la plataforma podemos abarcar las acciones recién mencionadas, en mi caso, el día de hoy es domingo de análisis y de compartir con toda la comunidad sumergida en el deporte y la vida activa, ¿Sobre que?. Pues de uno de mis temas favoritos el futbol y por el cual disfruto decir presente en mi blog, para esto dirigiremos la mirada a lo ocurrido el día de ayer en la Liga Santander donde se llevaba a cabo la jornada 32 en la que cada vez falta menos para conocer al gran campeón o quizás ya lo tenemos frente a nosotros y solo es cuestión de tiempo.
We arrived to Sunday, day of reflection, rest, get organized and leave everything ready to start the week.... For us content creators here at Hive you could say it's something similar 🤔, depending on where we make life on the platform we can cover the actions just mentioned, in my case, today is a Sunday of analysis and sharing with the whole community immersed in sports and active life, about what? Well, about one of my favorite topics, soccer and for which I enjoy being present in my blog, for this we will direct the look at what happened yesterday in the Santander League where the 32nd day was carried out in which each time there is less to know the great champion or maybe we already have it in front of us and it is only a matter of time.
Real Madrid-Almería, uno de esos partidos que no despierta emociones y menos si no se tiene afinidad con alguno de estos clubes, para los curiosos como yo nos llama la atención por otras razones y es el descubrir si existirá el margen de error que pueda poner fin a la duda de la interrogante anterior, lo cierto es que todo lo referente al Madrid es razón suficiente para traerlo aquí ante ustedes 😁, así que acompáñenme y hablemos de todo lo acontecido en el campo de juego.
Real Madrid-Almería, one of those matches that does not arouse emotions and less if you do not have affinity with any of these clubs, for the curious like me it calls our attention for other reasons and it is to discover if there will be the margin of error that can put an end to the doubt of the previous question, the truth is that everything about Madrid is reason enough to bring it here before you 😁, so join me and let's talk about everything that happened on the field of play.
---
Una jornada mas se disputaba, la numero 32 para ser exactos, quedando ya pocos puntos en juego que puedan hacer la diferencia en la tabla de posiciones, con un Barcelona que disfruta de los aires de la cima y con diferencia cómoda, ante un Madrid que tuvo en sus manos oportunidades de acercarse a los culés, pero que dejo escapar, este partido ante la Almería era otros en los que se esperanzaba de sumar y que su rival tropezara para poner a trabajar la calculadora de posibles escenarios.
One more day was disputed, the 32nd to be exact, with few points left in play that can make the difference in the standings, with Barcelona enjoying the air of the top and with a comfortable difference, against a Madrid that had in their hands opportunities to approach the culés, but let escape, this match against Almería was another in which they hoped to add and that their rival stumble to put to work the calculator of possible scenarios.
---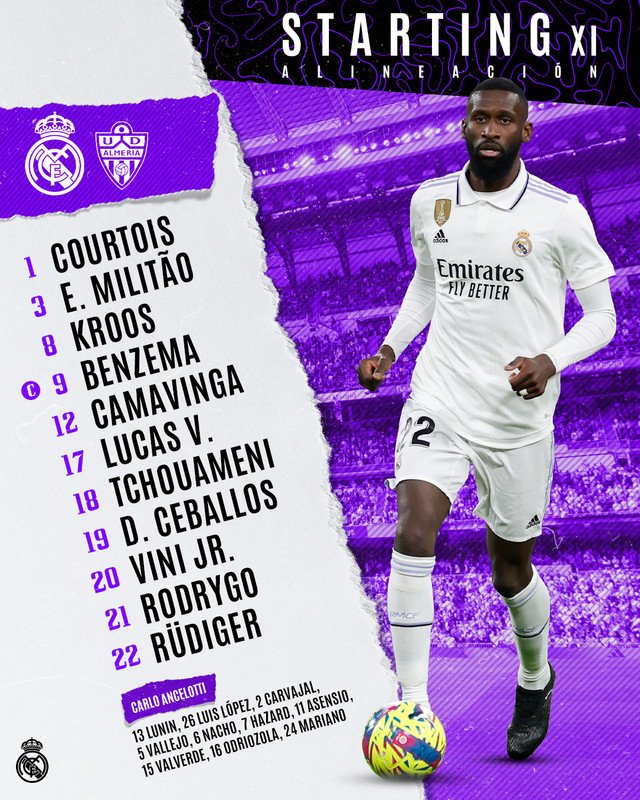 Conociendo las realidades del conjunto merengue era momento de conocer el 11 elegido por el DT Ancelotti, quien una vez mas optaba por rotar algunas posiciones en la cancha, como primera mención teníamos a Courtois que volvía a la acción luego de dejar ausente su arco por problemas de salud, el Belga es pieza primordial para la defensa merengue y eso se dejo notar en el partido de la jornada anterior contra el Girona.
Knowing the realities of the merengue team it was time to know the 11 chosen by DT Ancelotti, who once again chose to rotate some positions on the field, as first mention we had Courtois who returned to action after leaving his goal absent due to health problems, the Belgian is an essential piece for the merengue defense and that was noticed in the previous day's match against Girona.
Adelantando líneas veríamos como parte de la defensa a Lucas Vázquez en lugar de Carvajal quien estaría en el banco como una posible alternativa.
Moving forward we would see Lucas Vázquez as part of the defense instead of Carvajal, who would be on the bench as a possible alternative.
En el eje del equipo quedaría fuera de nomina el croata Modric por lesión y el Uruguayo Valverde, en su lugar Ceballos y Tchouameni encaminados por el experimentado Kroos.
In the center of the team, the Croatian Modric and the Uruguayan Valverde will be left out of the squad due to injury, Ceballos and Tchouameni will be replaced by the experienced Kroos.
Finalmente en zona ofensiva el tridente conocido por los extremos brasileños (Vinicius Jr, Rodrygo) y como punta de ataque el Frances Benzema.
Finally, in the attacking zone, the trident of Brazilian wingers (Vinicius Jr, Rodrygo) and Frances Benzema at the forefront of the attack.
Un equipo decente sin importar los nombres en cancha, el Real Madrid cuenta con respaldo en el banco por las buenas respuestas que los suplentes les vienen brindando al estratega Italiano.
A decent team regardless of the names on the field, Real Madrid has support on the bench due to the good response that the substitutes have been giving the Italian tactician.
---
Daba por iniciado el partido y como era de esperarse el Madrid tomaba rápidamente el control del juego aprovechando desde el minuto 1 las bandas para trasladar rápidamente el balón a zona rival. La primera ocasión seria merengue con el protagonista de costumbre Vinicius Jr que mostraba su facilidad de desbordar y regatear que a diferencia del partido anterior, esta vez contaba con su socio Benzema que recibía esta primera asistencia del Brasileño, terminando todo en manos del arquero Fernando Martínez, este era el primer indicio de como transcurriría el partido.
The match kicked off and as expected, Madrid quickly took control of the game, taking advantage of the flanks from minute 1 to quickly move the ball to the opponent's zone. The first chance would be Merengue with the usual protagonist Vinicius Jr who showed his ease of overflowing and dribbling that unlike the previous match, this time he had his partner Benzema who received this first assistance from the Brazilian, ending all in the hands of the goalkeeper Fernando Martinez, this was the first indication of how the match would go.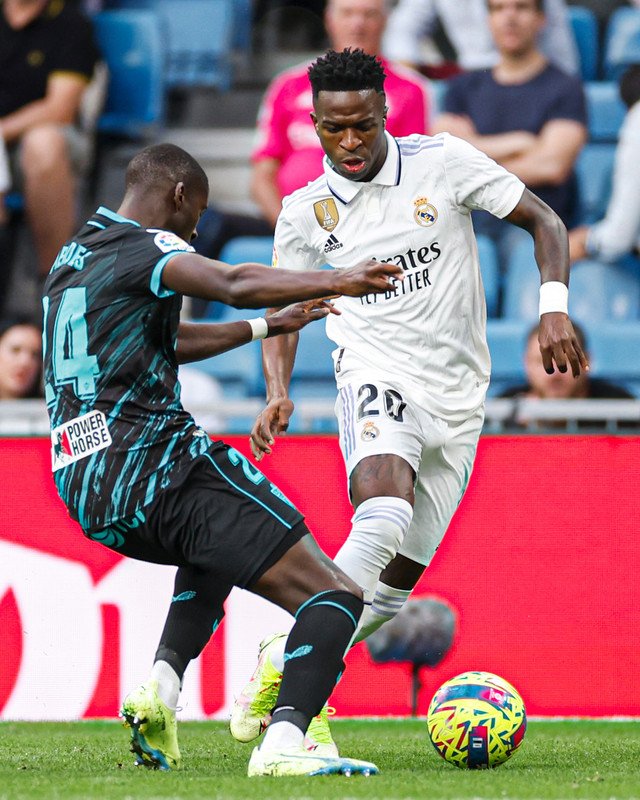 Con una jugada calcada a la anterior el Madrid volvería llegar a los alrededores de Martínez, esta vez con mas efectividad del Frances aprovechando la asistencia del habilidoso Vinicius con parte externa del botín, la casa blanca lograba sumar en el marcador a penas pasado 4 minutos.
With a similar play to the previous one, Madrid would again reach the area around Martinez, this time with more effectiveness from Frances taking advantage of the assistance of the skilled Vinicius with the outside of the boot, the white house managed to add to the scoreboard after just 4 minutes.
---
El reencuentro de la dupla Brasil-Francia estaba haciendo mucho daño por la banda izquierda, eran constantes las llegadas del Madrid por esa área, sin embargo esta jornada traería inspiración en algunos y uno de estos era Rodrygo, ese jugador que cuando esta en su máximo nivel es impresionante las cosas que puede llegar a lograr a pesar de su corta edad, enfrentando escenarios con tal calma como lo son los duelos de la Champions League, con la actitud de un jugador experimentado. El jugador Brasileño que buscaría el balón hasta el centro del campo para juntarse con par de pases con Lucas Vázquez, la jugada terminaría con Rodrygo por banda derecha siendo marcado por Samu Costa, este se libraría de dicha marca con una pisada de balón increíble dejando en el sitio al jugador del Almería, para finalmente ser asistidor una vez mas para el cazador del área chica Benzema que finiquitaba la jugada con gol en el minuto 17', las cosas se colocaban 2-0 muy temprano en el partido sin una cercana reacción del Almería.
The reunion of the Brazil-France duo was doing a lot of damage on the left flank, Madrid's arrivals were constant in that area, however this day would bring inspiration in some and one of these was Rodrygo, that player that when he is at his best level is impressive the things he can achieve despite his young age, facing scenarios with such calm as are the Champions League duels, with the attitude of an experienced player. The Brazilian player who would look for the ball to the center of the field to join with a couple of passes with Lucas Vázquez, the play would end with Rodrygo on the right flank being marked by Samu Costa, he would get rid of that mark with an incredible ball stepping leaving the Almería player in place, to finally be an assistant once again for the hunter of the small area Benzema who finished the play with a goal in the 17th minute, things were placed 2-0 very early in the match without a close reaction from Almería.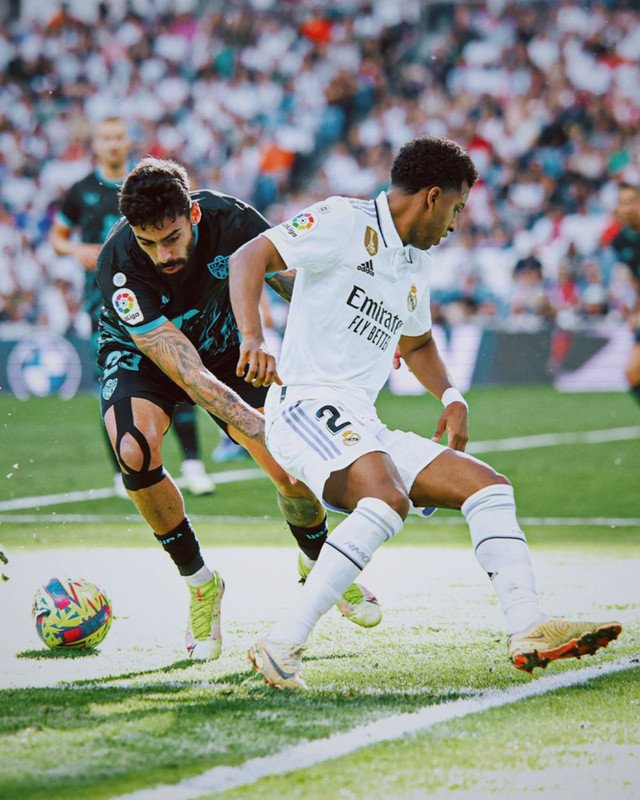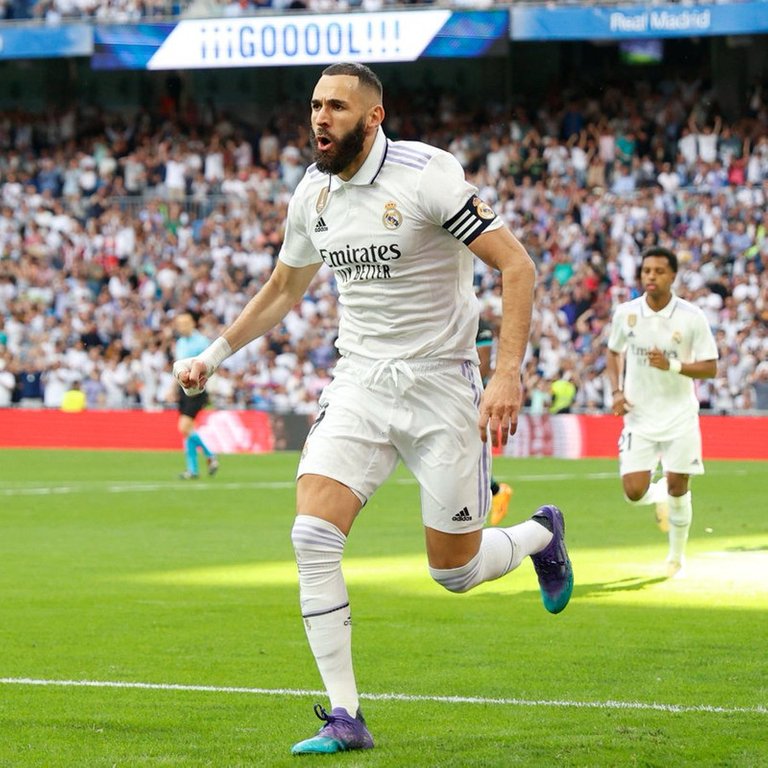 ---
Esta vez las cosas estaban saliendo tal y lo planeado, las modificaciones estaban rindiendo y ayudaban a obtener el resultado positivo que tanto se quería, pero como si el buen momento de los Brasileños no era suficiente dolor de cabeza para los Indálicos, llegaría la sentencia de penal para hacerle aun mas redondo el partido al conjunto blanco, lucas Vázquez sufriría una falta al borde del área donde el arbitro no dudaría en pitar y cambiar la acción por penal, el encargado de una posible sentencia del partido seria no otro sino Karim Benzema que desde los 12 pasos mostraría su acostumbrada seguridad engañando al arquero y anotando el 3-0 del partido en el minuto 42' y su triplete que seria significativo ya que el delantero merengue se convertía en el 4to máximo goleador histórico de la Liga Santander superando a Hugo Sanchez.
This time things were going as planned, the changes were working and helping to get the positive result that was so much wanted, but as if the good moment of the Brazilians was not enough of a headache for the Indálicos, the penalty sentence would come to make the match even more rounded for the white team, Lucas Vázquez would suffer a foul on the edge of the area where the referee would not hesitate to whistle and change the action for a penalty, Karim Benzema would be the one in charge of a possible sentence of the match and from the penalty spot he would show his usual security deceiving the goalkeeper and scoring the 3-0 of the match in the 42nd minute and his hat-trick that would be significant since the Merengue striker would become the 4th highest scorer in the history of Liga Santander surpassing Hugo Sanchez.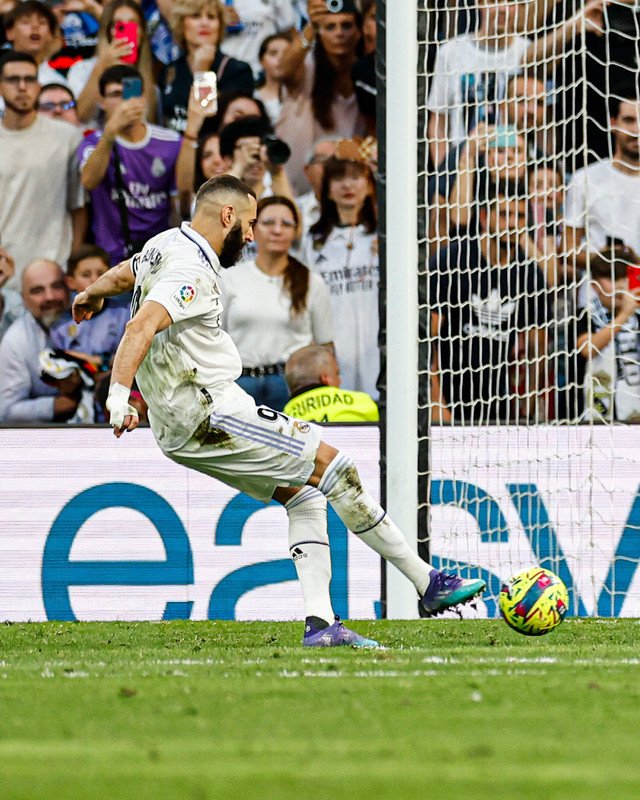 ---
La Almería no presentaba resistencia ante las arremetidas merengues, sin embargo el primer tiempo no se despediría en blanco, luego de un despiste en el marcaje por parte de Rüdiger y Kroos que perdían la referencia de Lázaro que entraba al área totalmente solo para anotar el descuento e ir a vestuarios con un 3-1.
Almeria had no resistance to the Merengues' attacks, but the first half would not end in blank, after a mistake in the marking by Rüdiger and Kroos that lost the reference of Lazaro who entered the area all alone to score the discount and go to the locker room with a 3-1.
---
Llegaba el segundo tiempo y el Madrid no cambiaba su actitud que a pesar el resultado, seguiría buscando el abultarlo aun mas y la verdad es que el equipo tenia buen ritmo y dinámica, todo parecía resultarle sobre todo por lo iluminada que estaba su ofensiva. La cuenta para la casa blanca no acabaría aquí y es que los goles también vendrían desde fuera del área, en este partido la titularidad de Rodrygo le resultaría muy eficiente a Carletto, el Brasileño lo intentaría desde la distancia luego de recibir el pase al medio de Ceballos y sacaría un disparo al ángulo increíble e inesperado firmando el 4-1 en el 47'.
The second half arrived and Madrid did not change their attitude that despite the result, they would continue looking to increase it even more and the truth is that the team had good rhythm and dynamics, everything seemed to work out, especially because their offense was so well lit. The account for the white house would not end here and the goals would also come from outside the area, in this match the starting lineup of Rodrygo would be very efficient for Carletto, the Brazilian would try from a distance after receiving the pass to the middle of Ceballos and would take a shot to the incredible and unexpected angle signing the 4-1 in the 47'.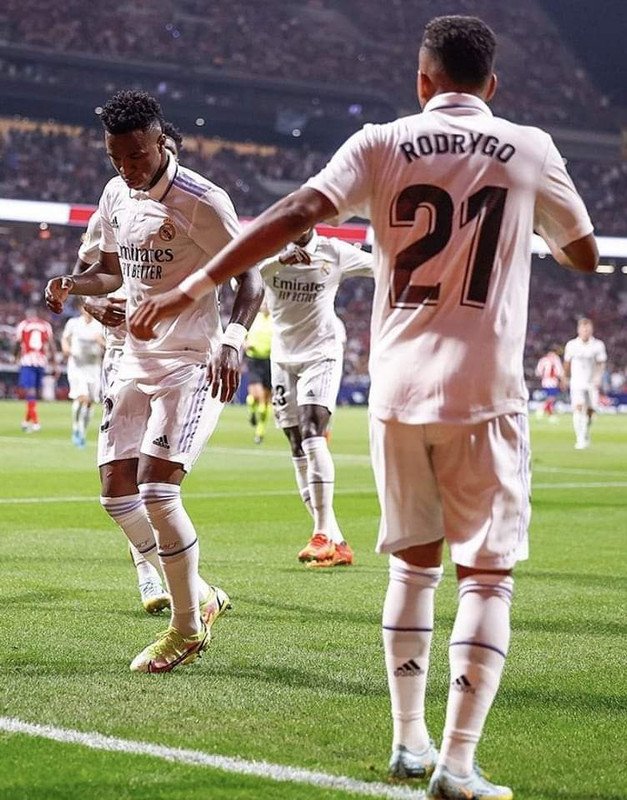 ---
El Almería ya con el objetivo de no acabar mas goleado que de dar vuelta, seguiría resistiendo el tener en las cercanías de su área a un Madrid que parecía no tener piedad...o al menos eso daba a entender ya que de manera muy extraña saldría una jugada por el conjunto visitante donde en una salida merengue cometería un error Kroos en un pase muy corto, el Alemán que suele ser muy preciso tendría su momento de desconcentración el cual seria interceptado por Lázaro que en conjunta jugada con Portillo, este centraría un balón aprovechando para marcar de cabeza Lucas Robertone en el 61', un 4-2 engañoso por lo vivido en gran parte del partido que sin embargo no dejaba de ser descuento en el marcador derivado por desconcentraciones de los merengues, quizás por la comodidad del resultado o sensación de superioridad.
Almeria, with the objective of not ending up with more goals than to turn the game around, would continue to resist having a Madrid team that seemed to have no mercy... Or at least that's what it seemed, since in a very strange way a play would come out for the visiting team where Kroos would make a mistake in a very short pass, the German, who was very precise, would have his moment of lack of concentration which would be intercepted by Lazaro, who in a joint play with Portillo, would cross a ball that would take advantage of the ball to the goal, The ball was crossed by Portillo and Lucas Robertone headed the ball in at 61', a 4-2 score that was misleading for what had been experienced in most of the match, but it was still a discount on the scoreboard due to the lack of concentration of the Merengues, perhaps because of the comfort of the result or the feeling of superiority.
---
Seguidamente del descuento del Almería vendrían jugadas de peligro del Madrid que por fueras de juego y falta de precisión, no se concretaron, entre estas unas muy buenas secuencias de pases donde el balón terminaba estrellándose en el poste. El marcador se mantenía intacto por el resto de la segunda etapa.
After the Almeria's discount, Madrid had some dangerous plays that, due to offside and lack of precision, did not materialize, including some very good passing sequences where the ball ended up crashing against the post. The score remained intact for the rest of the second half.
El conjunto de la Almería sometido por un inspirado Madrid donde sus delanteros tenían uno de esos días brillantes donde sacan a relucir todo su talento, otra de las situaciones destacables es la salida obligada de Vinicius por molestias, una alerta para Ancelotti por los compromisos para la casa blanca que están la vuelta de la esquina, el Real Madrid necesita a todo su arsenal si desea conquistar títulos esta temporada.
The Almeria team subdued by an inspired Madrid where their strikers had one of those brilliant days where they bring out all their talent, another remarkable situation is the forced departure of Vinicius due to discomfort, an alert for Ancelotti for the commitments for the white house that are just around the corner, Real Madrid needs all its arsenal if it wants to win titles this season.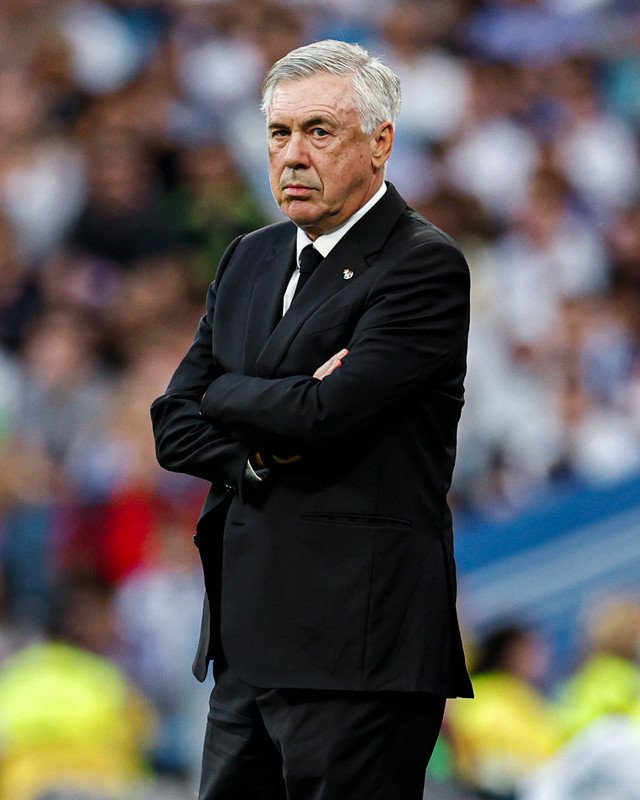 ---
Así colegas de comunidad dio como culminada este partido de la jornada 32, una Liga Santander convirtiéndose en un cuento con un final ya esperado, pero que no deja de ser un compromiso mas con el que el club merengue debe dejar su mejor versión y mientras queden jornadas pendientes ahí estaré para tener contenido y colocarlo en la mesa de debate y conocer sus puntos de vista. Con esto solo me queda desearles un feliz domingo y poder vernos muy pronto en una próxima oportunidad!!!
So colleagues of the community gave as culminated this match of the 32nd day, a Santander League becoming a story with an expected end, but it is still a commitment that the club must leave its best version and while there are pending days there I will be there to have content and place it on the table for discussion and know their views. With this I can only wish you a happy Sunday and I hope to see you soon in a next opportunity!
---

---
Fuentes de las imágenes
Image sources
---
Imag 1-Imag 2-Imag 3-Imag 4-Imag 5-Imag 6-Imag 7-Imag 8-Imag 9
---
El texto es completamente de mi autoría
La traducción fue realizada con traductor: deepl
Gif elaborado con el programa PhotoScape
The text is post is entirely my own.
The translation was done with the translator: deepl
Gif made with the PhotoScape program
---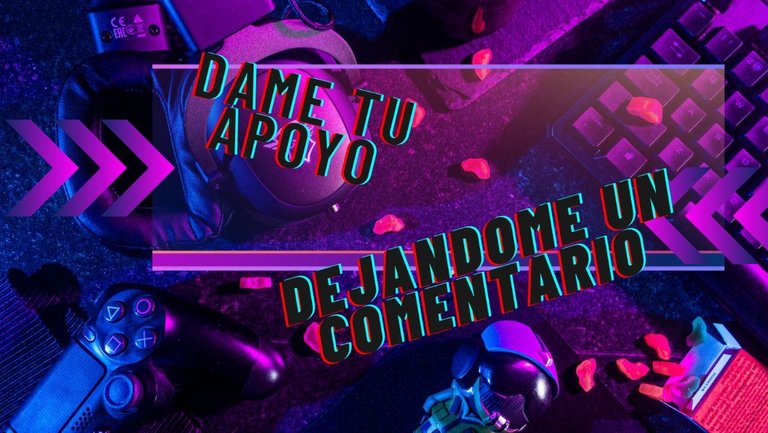 ---
---