Anderson Silva's Legendary 16 Wins Streak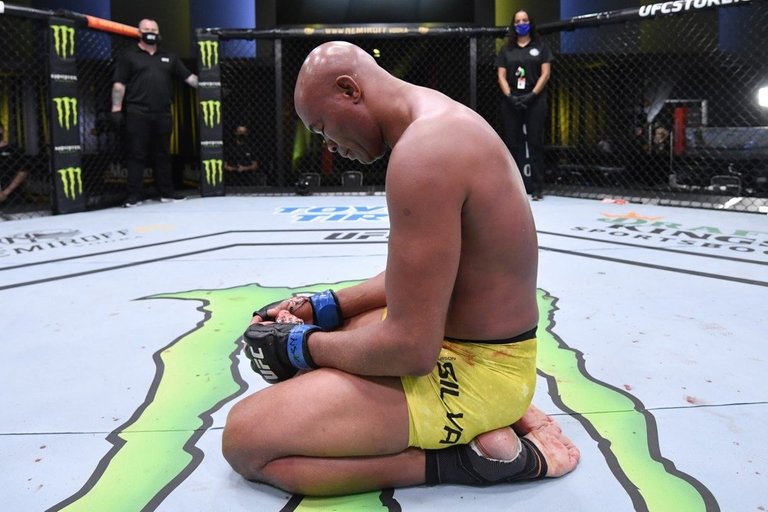 I haven't' always been a fan of MMA.
I daresay, that I even considered it barbaric, cringe and boring once.
It took me one special fight, to realize it was all about martial art, and martial artists.
One fighter, in particular, changed my mind in my early 20s. I still remember the first time I saw "The Spider" fighting. It was pure poetry, it felt like an artist painting a canvas, expressing his art tapping into the "flow state".
I had no idea that someone could fight with so much ease, precision, and it was just a beauty to witness.
It's true, that at the time, UFC wasn't as popular as today, and the overall game wasn't as always as dynamic as today.
The way Anderson Silva effortlessly took care of Forrest Griffin, this was something out of this world, and never seen at the time. Even for I, a casual, I could understand that there was something different about The Spider.
In retrospect, nobody in 2006 could have expected Anderson Silva to run through each and every opponent, with so much ease, like a video game player with cheatcodes.
Anderson Silva vs Chris Leben
This was a comical fight to watch. Chris Leben looks like an amateur, against a master, the way he falls in such a cartoonish way, and after having talked shit, made the victory even sweeter.
Chris Leben was always a character from The Ultimate Fighter series season 1, a brawler and it was a clear change in UFC's strategy to get legit kickboxers and fighters, we could clearly see an enormous gap in the skill level.
Anderson Silva vs Rich Franklin
At the time Rich Franklin was a fan favorite, the crowd cheers their champion, who had reigned over the division for nearly 500 days. Enters Anderson "The Spider" Silva, the crowd boos him.
The fight itself, felt like someone smashing the same button over and over again. In MMA, fighters didn't know how to defend the Muay Thai clinch, and Anderson Silva used it to his advantage with 26 knee strikes, that ended the fight.
Anderson Silva becomes UFC middleweight champion
Anderson Silva vs Travis Lutter
We now realize that The Spider can do it all! Flying knees from space, evasive footwork, and completely obliterating Lutter on the ground, with a triangle choke on one side, and (now illegal) elbows raining down, it's a quick fight, Anderson Silva is still champion.
Anderson Silva vs Rich Franklin 2
We were told that now Rich Franklin worked on defending the Muay Thai clinches, "great" I thought, let's see what happen.
Rich Franklin gets mauled, Anderson Silva evades him like he was Ali, the crowd goes crazy, The Spider quickly ends the fight, but the ref decides to keep the fight going for another round, only for Silva to just finish the fight as will.
Incredible performance, solidifying his mysitique.
Anderson Silva vs Dan Henderson
At the time people thought that Hendo could give the champion a run for his money, but in a really comical fashion, The Spider takes his back, lock the legs to prevent the breathing, throws a few punches and chokes him.
Wow, that was easy...
vs James Irvin
Wow, that was so quick! Again, Anderson Silva is in the flow state, and whatever he tries, nails it.
Silva block & holds James Irvin leg, one punch, the fight is over.
At the time people thought, "who will ever defeat The Spider?"
vs Patrick Côté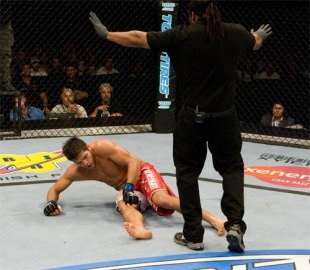 src
Patrick torn his ACL, Anderson wins the fight. Almost as if it was destined to happen
vs Thales Leites
Anderson changed his strategy, maybe he was bored at the time, and decides to drag the fight, and evade Thales the entire fight.
Dana White didn't like it for one bit, we can start feeling a stalemate between him and the UFC owner.
It's all about the money...
He still won the fight, but lost a part of his audience that night.
vs Forrest Griffin
Anderson had something to prove to everyone, and the UFC matched him up with another fan favorite, it was bound to be quick, and easy.
That was the first time I saw Anderson Silva in a fight, and I remember thinking it was staged. I had very little experience about combat sport, and thought MMA or WWF were the same.
After watching it again a few years later, I realized that Anderson was just too quick to my naked eye, and connected all his shots, with a precision that was just unmatched.
I think he really convinced everyone that night, that he was the best.
vs Demian Maia
Silva had always a problem with authority, and I suspect that there were a lot of pressure on him to bring on a good show, instead The Spider decides to ridicule Maia, keeps on evading, running around, and the crowds, the commentators, and Dana White finally turns on the #legend (see what I did here).
vs Chael Sonnen
This fight was memorable, I think Dana White tried to give a matchup to Silva, that could ends his reign once and for all.
What better way to do it but with a wrestler? There is an intense build up, coupled with massive promotion, Chael Sonnen does his usual antics, and the fight is bigger than ever.
Chael, almost won the fight. Again, it looked very suspicious at the time, as he lost in the last round, in the very last seconds with a triangle choke, coming out of nowhere.
Anderson Silva is still winning, and people can't believe it.
vs Vitor Belfort
This was a move from the Karate Kid, the crane kick! Before the fight, The Spider had a chat with Steven Seagal, and they practiced jokingly the kick.
That's how the fight ended, I kid you not.
Anderson Silva is still middleweight champion on the world.
vs Yushin Okami
They fought once before that, but this time around, Anderson Silva has reached the prime of his career; I don't think he will ever be stopped (but eventually did a few years later), his aura of invincibility has reached another level in recent years, it's hard to know for how long he will be able to maintain this.
vs Chael Sonnen 2
As everyone thought the first fight was a fluke, everyone wanted to see the rematch.
This time around, Uncle Chael maybe didn't take enough steroids, and clearly got outclassed, attempt a reversed backfist and get punished.
Anderson Silva is still middleweight champion.
vs Stephan Bonnar
You can see that Stephan is jacked to the gills. I am sure everyone fighting The Spider, and Silva's himself, were all on roids, nonetheless, it's another flawless performance by the champion, it's his last win before losing for the first time in 7 years against Chris Weidman, for this is a story for another time.
Check this honest interview by Stephan Bonnar:
Anderson Silva made the sport exciting to watch, and I don't think there are any other fighters like him nor there never will be, though Israel Adesanya might be his logical successor, when we look back at the history of MMA, I can't think of anyone else that can embody Martial Art, as The Spider does.
Thanks for reading!
Cheers to @cryptoandcoffee for the #legends challenge!
Ed
(let me know if a video doesn't play in your country)
---
---