Triad Combat: MMA vs Boxing - The Circus is in Town

https://files.peakd.com/file/peakd-hive/edprivat/23u5ti84n9Wsckd5j2sZxbB3DSM9HXzQTFexX6wdV9C9VNSNF4TBsojdttLwZ1VLC6BBs.webp
Last weekend was held an event that did not necessarily need coverage, but has made waves as there were nothing to watch on Saturday (except one of the greatest fight of all time with Kamboro Jr vs Lopez); Triller, the company that organized "Triad Combat"; the first cross MMA Boxing event; was boasting the next day, get ready for the sale pitch.
Have you ever wonder how well would do an MMA fighter against a boxer with a specific set of rule?
One might think this is a stupid idea, as one sport wouldn't translate well into another, but the casuals, the masses, apparently love the concept, the same way they loved watching Youtube celebrity against whoever.
I imagine a bunch of execs in a brain storm room:
"What other shape for the ring can we still do?"
"Octagon"
"It's already taken"
"Square"
"Taken also, boxing ring, remember?"
"How about a motherfucking triangle"?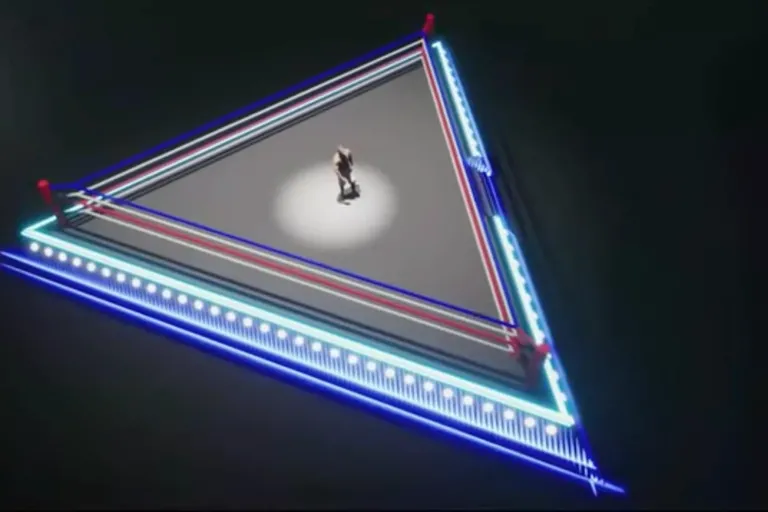 src
The man must have felt a genius, and they all applauded, and agreed for a triangle ring. Though they could have checked if it wasn't already copyrighted
Must I speak about the rules? Well, it's pretty close to boxing, but with smaller gloves, wearing boxing shoes, no takedown allowed, no kicks, no elbows; clinch allowed if there is aggression, and the ref separate if the action is stalling in the clinch.
You would think that it advantage the boxers a little, but the glove size difference seems to be a big change; no "peek a boo" style possible anymore, like tyson, and even the shoulder roll becomes slightly less effective.
On the other hand, the MMA fighters, don't have all their weapons, and have to change their footwork to a more boxing style.
I am trying to intellectualize it, but it was really just pure entertainment, a little bit crass at times, and like any accident on the side of the road I just couldn't stop watching.
The highlight of the evening was Rampage Jackson representing the MMA crew, having a friendly banter with Shannon Briggs representing the boxers, the both of them showing good comedic timing.
I seriously wouldn't be surprised if these two gentlemen have their own TV show, a road trip series, arguing constantly like two old Muppets show characters.
https://twitter.com/FiteTV/status/1464771980478099459
Alright, so other than that, how was the event?
Well, I don't really remember. I mean, I watched some fights, but the commentators, the general atmosphere, and the fighters, were trying their best to entertain, sometimes to their own demise, but was it THAT bad?
Actually no, I was surprised that the shortness of the rounds (2 minutes), made it easy enough for the audience to digest, there were of course a few mistakes, unnecessary punishments, but more on this in a minute.
Platinum Mike Perry, the ex UFC fighter had the best night, with a win by split decision and big fat check of $250k.
He is still a big fan favorite, and beating Seals was a bit of a miracle, even by split decision. He showed a lot of heart, and probably raised his stock up.
Now let's talk about the embarrassing moment of the evening with Frank Mir the ex UFC fighter vs Kubrat Pulev; let's watch the finishing sequence:
Keep in mind that this is happening round 1, I don't know if Frank has even trained for this, surely he is showing out of shape, and punched out, the referee isn't doing his job, it looks so bad for a first event, and this is your main event, this is what people will remember when they go home, they'll have the image of Mir doing the chicken dance like a Mortal Kombat character, the only thing missing was "Finish him!" written on the screen 😁
His opponent Kubrat Pulev showed true sportsmanship, by restraining himself from assasinating poor Frank with a Ko punch, and saved him some brain trauma. The referee Dan Miragliotta froze, and forgot to stop the fight, while Frank was clearly compromised.
The sentence that defines the man, is how he answers the interview.
"This isn't war, this is sport"
Truth is, Triller will carry on taking MMA fighters out of retirement, out of their primes, that shouldn't fight, and match them up against boxers, and they are going to keep on calling it MMA vs Boxing, and make tons of cash; they sold out a 20k people arena last Saturday night, not too bad for a first event.
Also, the second part of the show, was a Metallica Concert, so it's hard to know if that's how they manage to fill up a baseball stadium, or if people were here to witness the birth of a new hybrid sport.
Only time will tell if it's just another gimmick from Triller, or if this one sticks to the wall.
There was a point system and at the end of the night, it determined who won between team MMA and team boxing. MMA won, but it doesn't matter, everyone won, especially fighters that have been past their primes.
It's hard to imagine what a name like Kubrat Pulev (his last fight was against Anthony Joshua) would gain from fighting a BJJ practitioner like Frank Mir, and I don't think we've learnt something that we already didn't know, but I guess it fits a certain need from an audience always looking for something else to binge.
---
---