UFC 261 PREVIEW: USMAN vs MASVIDAL 2 - Sat, Apr 24, 10:00pm - Jacksonville Arena 💪 BACK TO LIFE
This weekend will have a feeling of déja-vu. We've already seen Kamaru "The Nigerian Nightmare" Usman and Jorge Masvidal fight once, but the stakes are different. For one thing, as it's often the case in MMA, the roles have changed, and now the popularity of Jorge Masvidal have recently dwindled, whereas Kamaru Usman has slowly gain in popularity, especially since he stopped trying to trash talk his opponents, and showed more of his personality.
Still, Jorge is a big seller, and it makes sense financially for him to get a rematch, even after a whole year of inactivity.
This isn't the only exciting fight for this event, as we have fun and compelling women matchups, I kid you not, it will probably steal the show this Saturday night.
The Chinese phenom Zhang Weili is facing the beloved Rose Namajunas, and "The Bullet" Valentina Shevchenko defends her belt against Jessica Andrade for a flyweight title bout.
The audience will be back on Saturday, with 15 000 spectators, which will definitely change the recent atmosphere of the fights, and give us a sense of urgency, might even encourage not to leave it in the hands of the judges.
If you have a minute, go check the Pre-Fight press conference to give you an idea of the current vibe.

Welterweight - Main event: Kamaru Usman (18 - 1 - 0) (c) vs. Jorge Masvidal (35-14-0)
When Jorge Masvidal lost against Kamaru Usman at UFC 251 last July 2020, and as much as the champion won decisively by unanimous decision, lots of questions were raised after the storm. Would have Jorge been more competitive should he was given a full camp instead of replacing Gilbert Burn on short notice?
Various sources claimed that Jorge was indeed training and ready to fight when he received a call from Dana to take the fight on 6 days notice, but the game changer might have been the gruelling 20 - 25 pounds weight cut.
This time around, Masvidal had way more time to prepare for his opponent, and will be around 180 pounds 2 days prior to the weigh in, it will play a major role in his resilience and his conditioning.
What can he do differently this time around? We know that Kamaru will have a far superior wrestling than Jorge, and will probably be less heavy than during their first fight, that might not serves him too well in grappling exchanges.
He will also not run out of gas that quickly, and it might help him fight back, stall, and apply some anti-wrestling technique.
One thing for sure, his defence will have to be flawless, and he is known to get sloppy in later rounds, and even sometimes a little bit careless, because he doesn't mind trading, even if it means testing his chin.
Finally, Masvidal will have to apply a pressure that could matches Kamaru's intensity, as it's probably his only path to victory, when facing "The Nigerian Nightmare", he will have to be first to strike, and bring the fight to him.
Jorge's stand up is fantastic (though fell short against Wonderboy at one time), it might give him an edge if he manages to mix it up,the Nigerian Nightmare tremendously improved his boxing in recent fights, has been very active since they faced, and his probably one of the most "laser-focused" champion of his generation. In other word, a tall order for the kid from Miami, I am sure he also realises that it's probably his last chance for a run at the title, and will be all in.
If Masvidal win, this would really be the most epic underdog story since Randy Couture. Realistically,
there's very little chance for it to happen, but I just love the narrative at play. If Usman wins, good on him, as he isn't the champ we wanted, but he is the one the welterweight division deserves.

Women Strawweight - Co-main: Zhang Weili (21-1-0) (c) vs. Rose Namajunas (10-4-0)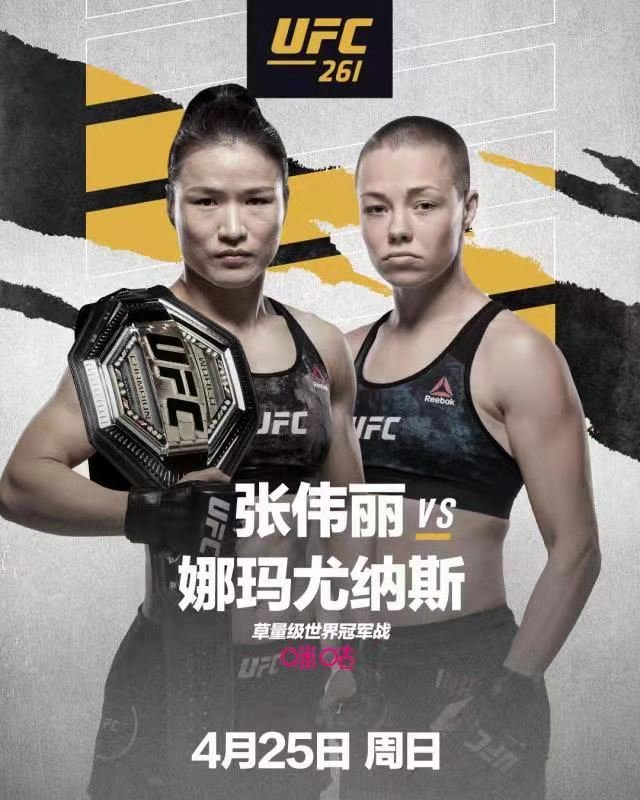 What happens when the most exciting Chinese fighter of her generation wins the UFC belt and become the new champ?
Money, new markets, more money, more fans, merchandising, and tons of more money. Don't misunderstand me, Zhang Weili did not get gifted this belt, and fought Johanna Jędrzejczyk (good luck pronouncing her name) in what has become my favorite female fight of all time, and reshaped Johanna's face into a modern art sculpture.
There is nothing more satisfying than watching a fighter having reached her/his full potential and makes things look easy, across all area of the game, and it is clear that the 31 years old has done that by winning the title swiftly, is currently on a 21 fights win streak (your heard right!!!) and will have all the ingredients to stay the champ for a long time to come.
I don't think people realise how much work Zhang Weili put in: it seems that Magnum's only concern is to train, eat sleep. Rince and repeat.
I guess this might be the type of sacrifice required to become a champ. She will be facing the former champ, that might not have the same record as Weili, but will still give her some problem, I suppose.
I am saying "I suppose", because Weili seems to be made of a different mould, and we might witness one of the biggest steamroll of MMA history. If not, Rose could use her fluent striking to her advantage, once she is in the groove, she is unbeatable. I just don't know if she has the mental toughness to face the Chinese monster that is Zhang Weili. Everybody remember the first fight against Andrade, when she got slammed into the ground like and folded like a chair. I still have ptsd at night 😱... Good luck Thug Rose!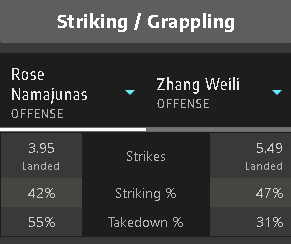 Women Flyweight - Title bout Valentina Shevchenko (20-3-0) vs. Jéssica Andrade (21-8-0)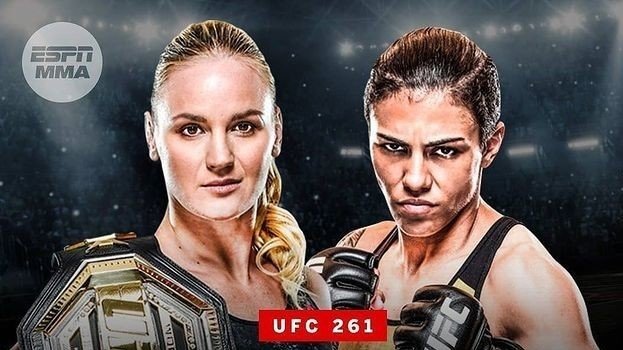 Valentina is like a Tesla. Very precise and power efficient, with a technique way above the competition, her key to victory is probably to play rotating angles, as Andrade has the tendency to march forward like a tank.
We know that Shevchenko's footwork might give some problems to the Brazilian fighter, and if Jessica Andrade loses the exchange on their feet, she might be able to create some damage in the clinch where she excels. It's just easier said than done, Valentina is very elusive and not scared of grappling, though she might think twice before engaging in a take down that could get her on the fence against a bulldog.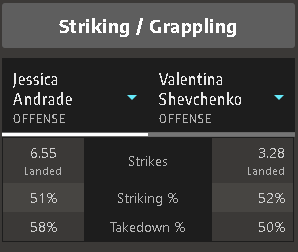 Unsurprisingly, the Vegas odds are in favour of the champion with Andrade +295 and Shevchenko -376. For you casuals, here is a video of what she did to Jessica Eye
Middleweight: Uriah Hall(17-9-0) vs Chris Weidman (15-5-0)
If I could pick only one fight to convince you of the combined brutality and sheer awesomeness of MMA, I would probably pick a Uriah Hall fight, and one in particular.
The year is 2013, the current Middleweight champion isn't Anderson Silva anymore, but Chris Weidman who just made history by defeating the legend.
A new emerging fighter makes notice with one of the most devastating kick in the history of MMA, that will probably have repercussions on his mental for years to come. Uriah Hall becomes already the subject of all conversations.
A lot of people thought that maybe Uriah was "too good for his own good", and it will eventually cause his downfall. After that devastative knockout, Uriah struggled to pull the trigger at some key moments in his career, probably scared of ending someone else's career. Empathy is rare in this business.
It will for years to come create an aura of anxiety around the fighter, and high expectations that he never managed to truly fulfil.
I've learnt by going through his Wikipedia, that his first loss was to Chris Weidman, the one that defeated Anderson Silva in 2013. It would be an incredible end of a cycle for him on Saturday, to face the man that gave him his first loss in 2010 at Ring of Combat 31.
I don't think I need to give an intro for Chris Weidman, he seems to be in a good place, and defeated Uriah once 11 years ago, it's surely will give him an edge. At the same time, Chris hasn't been the same for a while, and I just wish him the best on this one 😁. His wrestling got him to win the first fight, if he applies the same game plan, it might not be enough against an improved Hall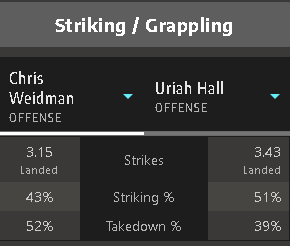 The odds are in favour of Uriah Hall (-135), Chris is the underdog (+155).
Light Heavyweight: Anthony Smith (34-16-0) vs. Jimmy Crute (12-1-0)
Anthony Smith has been surprisingly good as a commentator for UFC, a very articulate man, with a good personality, that really makes you wanna vouch for the guy. It's a real pity that he loses so often since he fought Jon Jones that brought him into the limelight in 2019.
Lion Heart is no rookie, and it's going to be his 14th fight in the UFC, this time it's not a old legend like Rua or Texeira that he is facing but a young buck called Jimmy Crute. Check this guy out:

Jimmy won decisively against Modestas Bukauskas via KO(punches) as you can see in the video above, and I hope that Anthony put some extra glue on his veneers, just in case.
In a recent interview, Anthony Smith admitted that he "faced 10 Jimmy Crute(s) in his career" and that there is nothing that he has not seen before.
I like the confidence, I don't have any prediction for this fight, I just hope that Anthony Smith can smoothly transition to the second stage of his life, fatherhood, commentating, and maybe hang the gloves.
Oh my god! I've just checked, he is only 32 years old?? Why do I feel that he is 43? Is it the amount of damage he receives each fights? Is it because he can always be seen picking up teeth between rounds? He won 2 out of his last 5, it's just enough to hang in there, and hopefully not be a punching bag.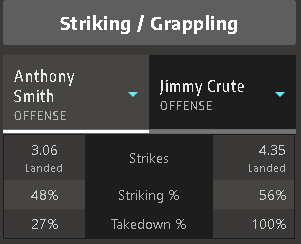 Prelims and Early Prelims
Welterweight - Alex Oliveira (22-9-1, 2NC) vs. Randy Brown (12-4-0)
Welterweight Dwight Grant (10-3-0) vs. Stefan Sekulic (12-3-0)
Middleweight Karl Roberson (9-3-0) vs. Brendan Allen (15-4-0)
Featherweight Pat Sabatini (13-3-0) vs. Tristan Connelly (14-6-0)
Bantamweight Danaa Batgerel (8-2-0) vs. Kevin Natividad (9-2-0)
Lightweight Rodrigo Vargas (11-4-0) vs. Zhu Rong (17-3-0)
Flyweight Qileng Aori (18-6-0) vs. Jeff Molina (8-2-0)
Women Strawweight LiangNa (15-4-0) vs. Ariane Carnelossi (12-2-0)
---
---