UFC 261: The Power Of The Crowd 👭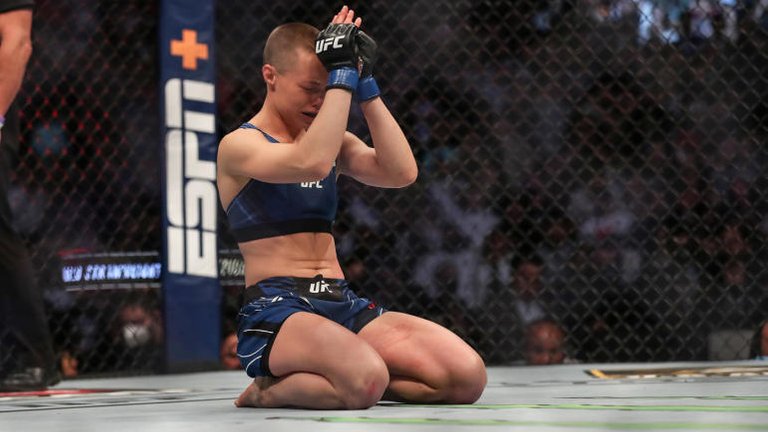 We often jokingly talk about the importance of energies (and its strange work at play), how much we give a little bit of ourselves when we perform in front of a live audience, weather it's as a fighter, a musician, a magician, DJ, speaker, or just a journeyman on a front stage: It's about the reciprocity, the exchange, and this relationship is what defines us as a specie.
What we witnessed yesterday, (apart from a sacrifice to the gods), is the reason why we need to be together, we cannot function without one another, and there is something magical (and sometimes tragic) when a group of people believe in something together, chant, love, hate, cry together,
UFC 261, represented an important shift during the pandemic, for the first time in more than a year, 15 000 people were allowed back to witness fighting history inside an arena, and it changed everything.
I did not realised how much MMA depends on its audience, until yesterday night.
The Pressure and the Love of The Crowd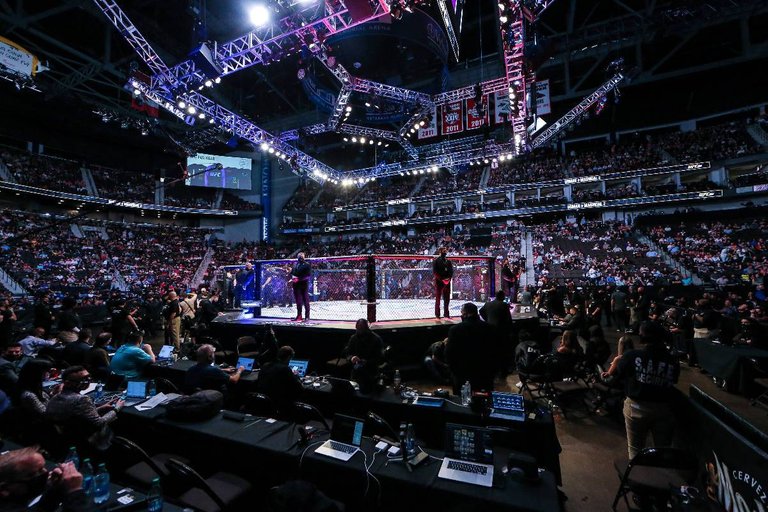 source
The UFC really went out of their way during the pandemic, by providing constant events every week, managed to keep the business going, and entertain the fans all around the world with no crowd, buying a freaking Island in Abu Dhabi to create a special bubble for fighters to entertain the masses, and probably lost money in the process, or at least did not make as much as they normally do...Boohoo.
If they gained fans during these hard times, I cannot imagine the feeling of a new MMA fan watching an event with a crowd for the first time. It's almost as if we were not watching the same sport anymore.
Put aside the barbaric nature of the sport, it's a coliseum where 2 accomplished fighters give it all on the mat, and the crowd reaction often shaped fights.
For years, newly acquired fans (that we call "casuals" in the hardcore fan circle) would often not understand the true nature and dynamics of fights, booing the grappling and work on the ground, and embracing the sheer violence, the "stand and bang" mentality that gave us iconic fighting moments throughout the last 20 years. It also gave us very tragic episodes, like Anderson's Silva's knockout versus Chris Weidman, or Ronda Rousey's KO to Holly Holm.
After this Saturday I have now no doubt on the impact of a crowd on an event, and it now makes sense that any government wouldn't want people coming together, but create division, as we are truly remarkable when we come united, but more on this later in my conclusion, let's dive back in the event and what made it special.
Marty From Nebraska Has Become Kamaru From Nigeria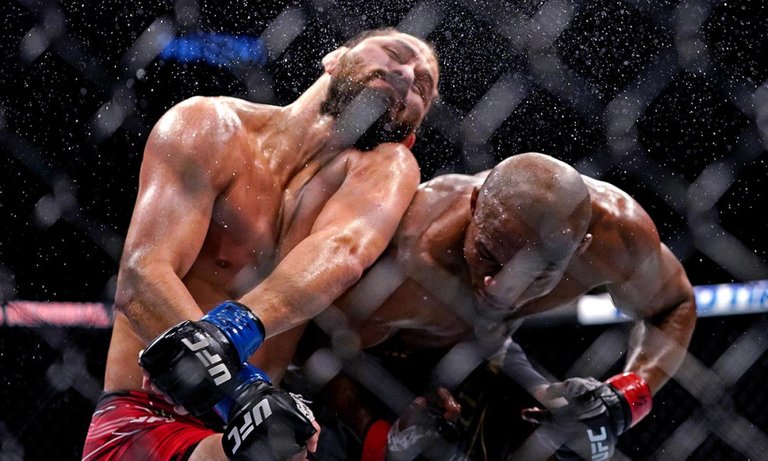 source
Marty, the kid from Nebraska, with a name that the coaches could not pronounce so they just called him Marty, that worked twice as hard as anyone else during his wrestling sophomore years, the kid that did not miss one sparring day, one round, that did not rest, became Kamaru Usman on Saturday Night.
When he isn't trying to trash talk, Kamaru Usman is clearly the best Welterweight in the world, and there is absolutely no doubt about that anymore. We learnt that since their last fight, Kamaru's stand up game improved even more, and he now looks unbeatable, clearly levels above anyone else in the division.
I have to salute his composure, the crowd was clearly vouching for Jorge Masvidal, but it had absolutely no effect on him. I would even dare say that he used that energy to his advantage, and fed off it.
From the first round, it's clear that "Gamebread" Masvidal has absolutely no business in a title fight against the "Nigerian Nightmare", Kamaru looked twice as fast, fluid, a jab that hit like a baseball bat, and Jorge could just be seen smiling during the first round, truly no answer to any of Kamaru's offence.
It took 2 rounds, for the current champion to knockout Jorge Masvidal with a straight that I have now watched probably a dozen times:
COLBY IS DONE FOR pic.twitter.com/1Badoc7h6O

— ʀoᴄᴋʏ𝚂𝚉𝙽🧗 (@barny706) April 25, 2021
Congratulation to Kamaru, for this incredible performance. Now we will have to wait for the dust to settle in the division, before finding out who can challenge the current champion.
The Bullet Hits Hard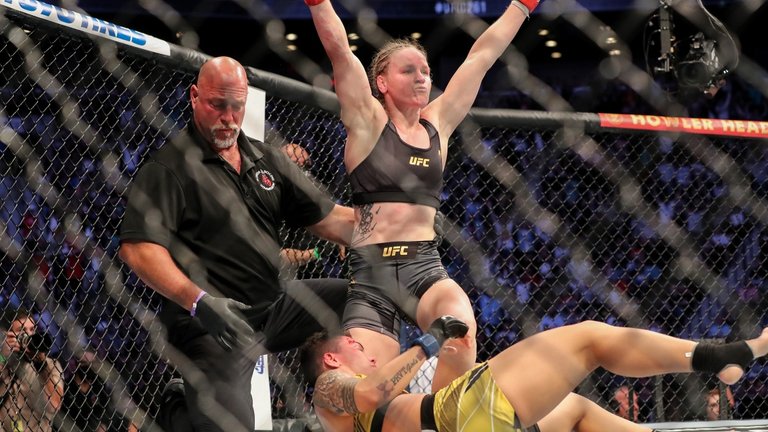 source
We already knew the outcome of this fight before it started, Shevchenko has been the perfect champ in her 5 title defences, and this fight was no different, and even better.
Valentina, much stronger than her opponent, took her down 7 times at ease, bloodied her up and painted a masterpiece on the canvas.
On a level all her own!

🏆 @BulletValentina | #UFC261 pic.twitter.com/0HgJICY27x

— UFC (@ufc) April 25, 2021
I don't recall being as impressed as I was watching her fight tonight, at 33 years old, the Kyrgyzstan fighter is clearly in her prime and fought a PERFECT fight. The fight ends in the 2nd round at 3:19, a win labelled "mounted triangle position" but I thought it was more of a crucifix, raining down elbows on Andrade.
She then proceed to dance, gracefully, smiling like a killer. Can we now talk about GOAT?
THUG ROSE SHOOK THE WORLD!!!!!!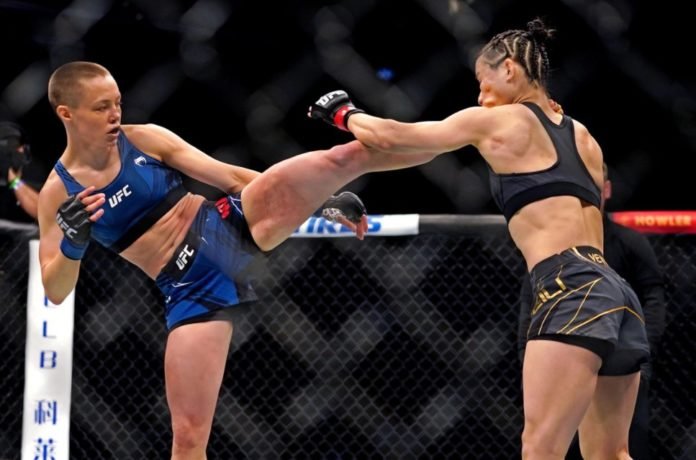 source
Before the fight started, I was scared for Rose Namajunas. She clearly wasn't.
It's one thing to have an almost perfect record like Zhang Weili had, it's another thing to be able to deliver a perfect performance the way Rose did this Saturday. From the walk out, it is clear that the
crowd seems to have a massive effect on the current champion, that makes a heart shape to the camera, but the audience wants none of it.
What the fans want, is to embrace their underdog, Thug Rose, that seems to be laser focused entering the octagon. Zhang Weili asked her if she wants to touch gloves before starting the fight, Rose make a sign that she won't touch gloves and asked her not to even try, it's brief, but a clear sign that Thug Rose is here to win, no matter what.
The first round starts, and Rose is so light on her feet, dances around the Chinese champion, with the most amazing footwork I have ever seen in MMA. Zhang Weili seems puzzled, I was not expecting her to freeze like this, Rose is so elusive and elastic, and already makes Weili think of the leg kick, while preparing to load a high kick. The video with the finishing sequence was taken down so I found a commentary by "The Weasle" instead, pure poetry:
TOO EASY.

THUG ROSE IS BACK. #UFC261 pic.twitter.com/oBHQTJWykt

— UFC (@ufc) April 25, 2021
Now let's Talk About the Freak Accidents
I feel bad for the people that bought a ticket, what are the odds to have 2 accidents one after the other would happen the same night, I truly wonder if the pressure of the crowd had an effect on the outcome of the fight, I can tell from experience that performing in front of thousands live, and millions on TV is a one of a kind experience, you aren't in the driving seat anymore as if you are witnessing the event like everyone else, and it can really become overwhelming for certain.
With 1 minute left in the first round, Anthony Smith throw what looks like a calf kick but just a little under the knee, that seems to completely neutralize the nerve ending of Jimmy Crute. It's been used in recent years very efficiently against Cejudo, or Suga Sean O'Malley, but it could also be from an previous injury that we aren't aware of.
Jimmy Crute tries to stand of the what-seems-paralysed limp leg, and after one successful take down where he managed to keep Anthony on the ground, they quickly come back up and split, it's now obvious that there is something wrong with Jimmy's leg.
The bell ring to signify the end of the first round, Jimmy is trying to reach his stool; but clearly still struggle to walk after a minute, the leg is till limp. The ref look at him walking and decide to stop the fight, Anthony Smith has won by TKO. Fair enough...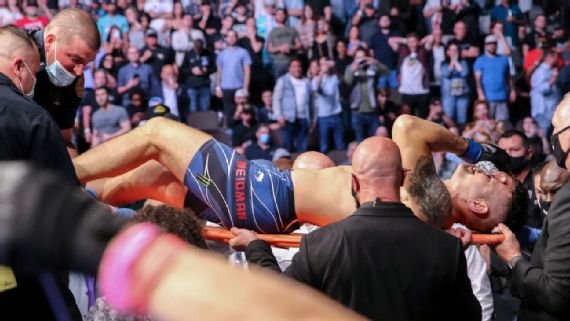 Karma has a weird way to express itself, and Chris Weidman fell all it's power in the first seconds of the 1st round against Uriah Hall. Everyone remembers how Chris ended Anderson Silva's career with a broken tibia (WARNING GRAPHIC) at the prime of Silva's career, and Weidman just felt the return of the Karmic balance, with exactly the same accident, this time on his end, from the first kick of the fight, that Uriah checked.
Hall decides not to celebrate, politely and out of respect, and offers Chris the possibility of a rematch. In all honesty, as much as Chris is one of the best fighter in the world, still to that day, I don't think you can come back from a shattered leg like this one. I wish him the best in his recovery, he felt so prepared for this fight, and in a good place since he moved to North Carolina, I truly hope that he can forget what seems to be the most painful injury in recent years.
In conclusion
Everyone takes away what they want from a sporting event, this one had his fair load of suspense, competition, tragedy, and upsets.
In the world we live in, outside of that entertaining bubble that Zuffa (UFC) has created, it is a true testimony that a large group of people, when together, can have the power to move mountains or obliterate it, and I am sure that "The Power That Be" clearly understands that.
It's no surprise that the very fabric of our reality is been at stake since the beginning of the pandemic and we are witnessing a key moment in human history; I of course do not want to over politicize what is just "Opium for the masses", and I clearly don't romanticize it, but imagine what the world could accomplish if we weren't being constantly compartmentalised, sanitized, put in our boxes?
What if we say "Enough of this shit", and decide to fight back? That's what that event made me wonder.
Nothing like the roar of a crowd 🗣

We missed these moments. #AndStill pic.twitter.com/ns1Yt3BoHo

— UFC (@ufc) April 25, 2021
---
---