UFC 266: Volkanovski vs Ortega - Nick Diaz Returns against an old rival
Disclaimer: It's about MMA 😁
---
Alright!
Fellow MMA fighters, dear circus watchers, and everything between these two, welcome to this UFC 266 Preview, I will be your host @edprivat, and let me tell ya something, we have a very entertaining night of fights coming up this weekend.
As a headliner, we have the 2 coaches of The Ultimate Fighter season 29, Alexander Volkanovski vs Brian Ortega which is going to be a possible banger, then the Bullet Valentina Shevchenko will face
Lauren Murphy, another contestant trying to claim her invincibility, and the return of the one and only Nick Diaz, against another Legend Robbie Lawler, I will then pick few other fights that I think are interesting to watch.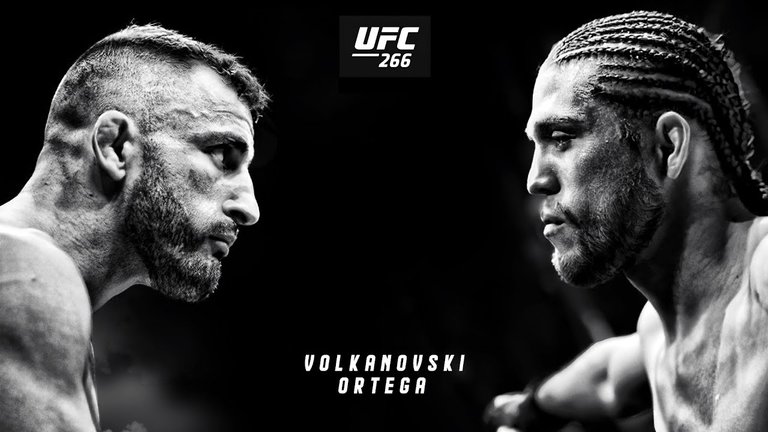 Featherweight·Main event
Alexander Volkanovski (22-1-0) vs Brian Ortega (15 - 1 - 0 , 1NC)
I really enjoy that moment in a fighter career, where speculations run wild, and everything seems possible
for them in a near future. This is that junction where Alexander and Briand meet, they both are in their "prime", and will probably show the best version of themselves.
Let's start with the current champion, Alexander "The Great" Volkanovski, I don't think I"ve ever had the opportunity to talk about him too much in the past, but I should make amend, and admitting that it took me a long time for getting on the hype train. Let's look at his last 5 fights, and not forget that he is on a 19 fights win streak:
He beat the champion Max Holloway twice via decision, and I think this is the reason why I did not jump on that train yet, because they weren't decisive victories for me, and I even give one of this fight to Holloway.
Before Holloway, he fought another ex champion via decision, but this time it was a little bit more empirical for me.
He also defeated Chad Mendez with a TKO (punches) round 2, and beat Darren Elkins via unanimous decision.
Needless to say that the ex-rugby player has the mindset of a champion, leaving a very narrow margin for error to his opponents, and with a high fight IQ, seems to always find a path to victory.
The man that he is facing, is also a very interesting puzzle. Brian Ortega grew up in the Section 8 housing project of San Pedro, and started martial arts at the age of 5, began training Brazilian jiu-jitsu with Rorion Gracie, a BBJ grand master and prominent member of the Gracie family, for becoming a monster on the ground under his tutelage.
He will very quickly get awarded the nickname of "T-city", for "Triangle City" (his triangle choke being impossible to defend against). Like Volkanovski, he only has 1 defeat, against the previous champion Max Holloway, where he got out boxed in a 4 round gruesome beatdown.
This has really slowed down his ascension to the top, before his loss, he was on a tare, knocking out Frankie Edgar of all people, in only one round, and showing abilities that no one thought he had.
I think Brian Ortega is probably one of the most talented fighter of his generation, and could very well dethrone Volkanovski with a sound gameplan, oriented toward the ground.
Even if Volkanovski try to wrestle him, Ortega has just a wide variety of weapons in his arsenal, and the way he transitions from a guillotine to a triangle choke, in the flow state, is pretty much a thing of beauty, I don't think I've seen such an aggressive guard before, maybe Tony Ferguson.
I am not gonna give you any prediction, I really it could go both ways, I am really curious to see what sort of improvement Ortega made since his last loss, he seemed to have changed a lot against "Korean Zombie", but will it be enough to beat the current champion? I think it is. Boom I gave you a prediction anyway 😁 , T-City can win this with some crazy sub!
https://www.si.com/.image/c_limit%2Ccs_srgb%2Cq_auto:good%2Cw_700/MTg0MDI4MTI5MTA1MjkwOTUz/valentina-shevchenko-preview.webp
Women Flyweight·Co-main
Valentina Shevchenko (21-3-0) vs. Lauren Murphy (15-4-0)
What is there left to say about Valentina Shevchenko?
She literally mopped the floor with the flyweight division, defeated Jéssica Andrade with vicious elbow strikes, Jennifer Maia, Katlyn Chookagian, Liz Carmouche, Jessica Eye that almost lost one eye that night, Joanna Jędrzejczyk, Priscila Cachoeira, in other word, the who is who of the flyweight division, and the only stain on her resume are her loss to Amanda Nunes, but we can't really hold her responsible for this, it was at bantamweight, and showed that she belongs to the flyweight division, and has the frame for that.
She is probably my favourite fighter, male or female. The form of her striking is one of a kind, and I tried just for fun, to do her open workout, I can admit with no shame that I couldn't do half of what she was doing. Her kickboxing skills are what makes her special, the succession of kicks she manages to do while keeping balance is probably what makes her so deadly on her feet, and then she showed lately how much her ground game has improved.
She is facing Lauren Murphy, a crafty veteran which career showed a resurgence in recent years, with now 5 victories against Joanne Calderwood, Liliya Shakirova, Roxanne Modafferi, Andrea Lee, Mara Romero Borella!
Listen, I could be telling you that Lauren has no chance, that she probably will get murked in 2 rounds, facing someone far better technically, but this is MMA ladies and gents!
Don't we all love this "Rocky" moments? Isn't it what we live for?
So for a second, I would like to dream, that Lauren, after being beaten up for 3 rounds, will find the strength to come back from the shadow realm, and win with a "Hail Mary" overhead...Good Luck Lauren!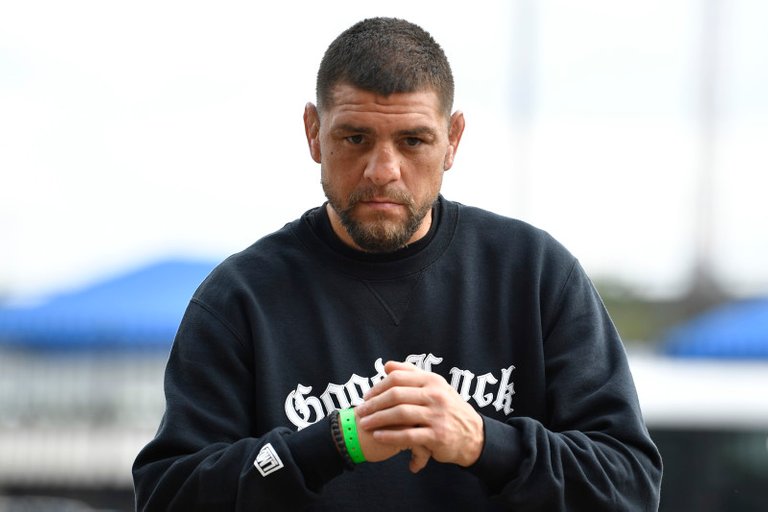 Welterweight
Nick Diaz (26-9-0) vs. Robbie Lawler (28 - 15 - 0 , 1NC)
This is clearly the reason fans will tune in: Nick Diaz, is probably one of the most polarizing fighting personality in the MMA world.
He gave to the fan, really incredible moments in StrikeForce, and while his relationship with the UFC was rocky at times, there is always something special about witnessing a human being, doing what he was meant to do on his earth, and Nick was meant to fight.
It's a burden that he hates, and will probably never advise someone else to start a fighting career, but
this is the life that chose him, early on, at 20 years old:

Nick Diaz is back, and I hope he can continue to do what he loves in life, finding inner peace, and making truckloads of cash for it.
I also have a particular affection for the fellow fighter he is facing, our friend Robbie Lawler. I don't think the man needs any introductions, if you are reading this, you aren't a "casual", so let's not pretend that you don't remember that Nick Diaz and Robbie lawler faced each other 17 years ago, which means, that we are all, very very very very old now.
Watching this fight, reminds me how UFC came a long way since the early years. It's incredible to see how Nick Diaz was confident for his age, I think it caught Robbie Lawler off guard, he was probably not ready to face such an angry kid:
I truly hope that Robbie won't be gun shy, with 4 losses in a row, I don't even know if he still wants to fight anymore, I don't think I would neither to be honest. Robbie didn't fight in 2021 yet, so he might have taken advantage to work on his mindset, because he still has all the skills, even at 39 years.
Let's hope this one doesn't turn out like an exhibition, they both have something to prove, even at their age.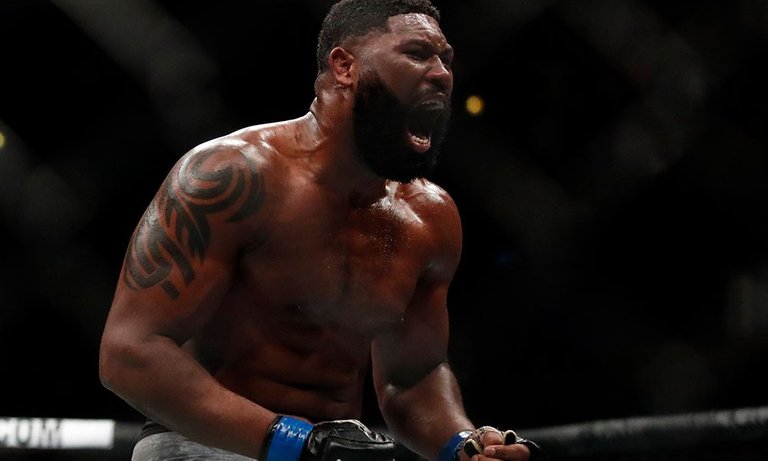 Heavyweight
Curtis Blaydes (14-3-0,1NC) vs. Jairzinho Rozenstruik (12-2-0)
The last fight I want to focus on today, is important for the future of the division. It's been years that we were waiting for having an exciting Heavyweight division, it's safe to say that 2020 and 2021 showed some changes, great matchups, rivalries, and a new African champion.
Curtis and Jairzinho both lost to Ngannou in dramatic fashion, and will have something to prove tomorrow night, if they want to take a shot at the champ once more.
Jairzinho might have the edge on this one in term of power, but won 3 out of his 5 last fights, Curtis Blaydes is coming out of a loss against Derrick Lewis after winning 4 in a row, we can expect him to play it safe by focusing on wrestling "Bigi Boy", but it's easier said than done when your target is weighing in at 254 lbs.
MMA maths are telling me that Curtis will probably not be able to come close to Rozenstruik, and we can expect that Curtis will get knocked the F out, convince me otherwise in the comment sections if you will.
The rest of the card and prelims is very juicy, check it out:
Women Flyweight
Jéssica Andrade (21-9-0) vs. Cynthia Calvillo (9-2-1)
Bantamweight
Marlon Moraes (23-8-1) vs. Merab Dvalishvili (13 - 4 - 0)
Lightweight
Dan Hooker (20-10-0) vs. Nasrat Haqparast (13-3-0)
Heavyweight
Shamil Abdurakhimov (20-5-0) vs. Chris Daukaus (11-3-0)
Women Flyweight
Roxanne Modafferi (25-19-0) vs. Taila Santos (17-1-0)
Lightweight
Uroš Medić (7-0-0) vs. Jalin Turner (10-5-0)
Women Flyweight
Manon Fiorot (7-1-0) vs. Mayra Bueno Silva (7-1-1)
Middleweight
Karl Roberson (9-4-0) vs. Nick Maximov (6-0-0)
Welterweight
Matthew Semelsberger (8-3-0) vs. Martin Sano (4-2-1)
Featherweight
Jonathan Pearce (10-4-0) vs. Omar Morales (11-1-0)
I will close today with the Cold Open of UFC 266, always get me pumped up with the narration. I hope you enjoyed this post, if you aren't interested about MMA and scrolled all the way down, hey you, it's nice to see you there too 😁
Ed
---
---