UFC 271: Adesanya vs Whittaker 2 PREVIEW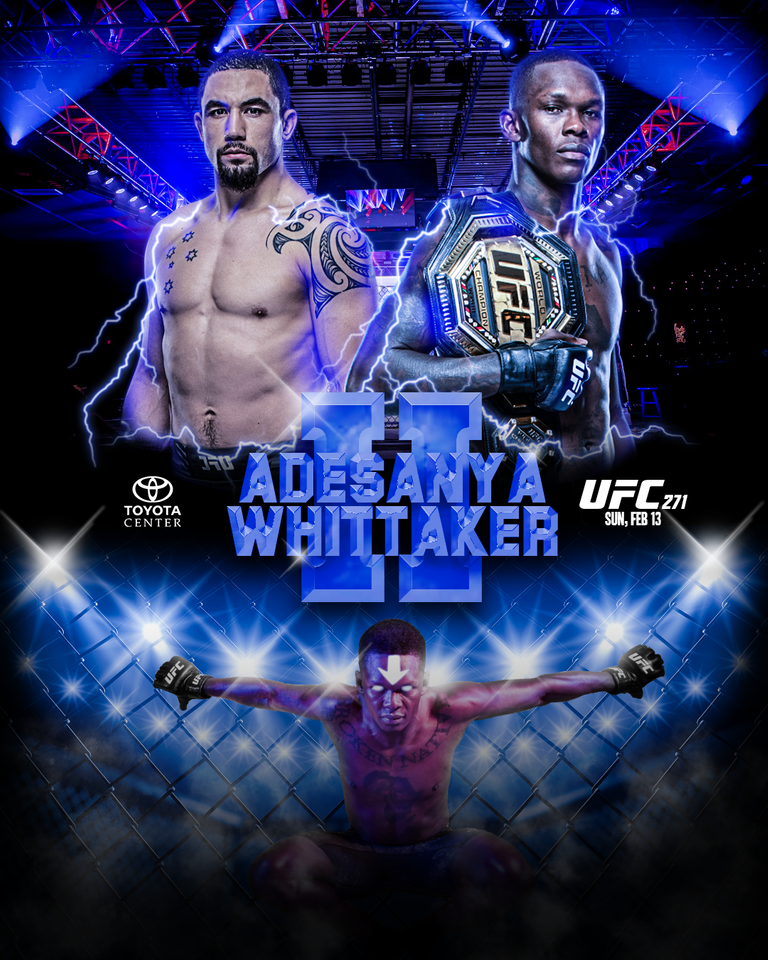 Fellow sportsmen and women, fellow pugilists, now is the time for one big event, with action, drama, surprises, and most definitely blood for your entertainment only, it's UFC 271; "Bobby Knuckles" will attempt to avenge the bad, shameful loss he conceded to our homie genius "Super Gyno", aka the "Last Assbender".
On the same card it sounds like an anime cosplay show, you got names like "Bam Bam", "The Black Beast", "The Killa Gorilla", "The Happy Warrior", "The Pitbull", and also Derek Brunson 😆.
I don't think I want to cover the entire card because I need to get my life back HIVE thank you very much, but let's go to at least 1k words of nonsense about MMA! Let's GOOOOO!
Israel Adesanya (21 - 1 - 0) vs. Robert Whittaker (24 - 5 - 0) Not so very often, throughout MMA history, there is a rematch that excites me: GSP vs Matt Serra, Mcgregor vs Diaz, Usman vs Covington, Ngannou vs Miocic, Cormier vs Miocic, each and every time you know that you could witness something very different the second time around.
It doesn't undermine what the winner did the first time around, but we all know that in the top tier competitive world, athletes very rarely make the same mistake twice.
In other words, you can have the chance to watch a great combination of perfectly executed game plan, flair, and a bit of luck in action, that would be remembered for at least a whole week before people move on with their lives, which in today's world is an eternity. 😌
The way Adesanya won back in 2019, was not a fluke. It was perfectly thought moves, a night that could have turned wrong for the current champion, but he capitalized on every movements, and made history.
In retrospect, Robert Whittaker was probably under too much pressure that night, and overcommitted a few times, which he paid with a heavy price.
Izzy's finishing sequence, is probably up there with the one Conor did against Alvarez, and the other one Cowboy Cerrone did against Rick Story.
What I find fascinating, is that Izzy has been laying the same "traps" a few times now, this finishing combo is very similar to the one he did against Costa minus the humping.
If like me you enjoy listening to highly intoxicated MMA gurus, here is our brother Dan Hardy with an explanation on how Izzy sets the trap, and reaps the rewards merely touching the opponent with the counter left.
Listening to Dan Hardy speaking, it really helps catching what the naked eye cannot see, those little intricate combinations that only a professional fighter would notice, I always take so much info from his videos.
What I didn't hear him talk about, is the way Whittaker just lunge forward when trying to close the distance with his jab & overhand, he makes it very obvious, and it's kind of out of character.
The first 2 minutes of the first round, he manages to keep that kickboxing bounce on his legs, but after a few leg kicks, he obviously is losing very quickly some agility. It's of course very easy to judge from my couch 😄, Adesanya is just so fast, coming quick in and out, by the time Robert is trying to come close, Izzy is already gone a long time ago and preparing his next attack.
That's why I am so curious to see if he will manage to make the adjustment, he also admits that the magnitude of the event might have gone to his head, only time will tell if he managed to fix what he did wrong that day.
If he can manage to stay more composed in the first rounds, doesn't try to replicate what Kelvin Gastelum nearly did by firing that big overhand but tiring himself in the process, we might have a fight of the night, 5 rounders.
Izzy might just be too good for anyone to even worry him at middleweight.
During the press conference yesterday, Izzy was wearing a necklace with an NFT of the finishing video sequence against Whittaker as a pendant, which is a brilliant move, just shows how ahead of the game he is in the way he markets himself.
Now, it has nothing to do with fighting, but Robert Whittaker plays Skyrim, and even has an NPC made in his name by a modder, therefore I have to just mention it, because it matters very much, I am sure some of you might enjoy and understand. Brilliant!
Heavyweight·Co-main
Derrick Lewis (26 - 8 - 0, 1NC) vs Tai Tuivasa (14 - 3 - 0)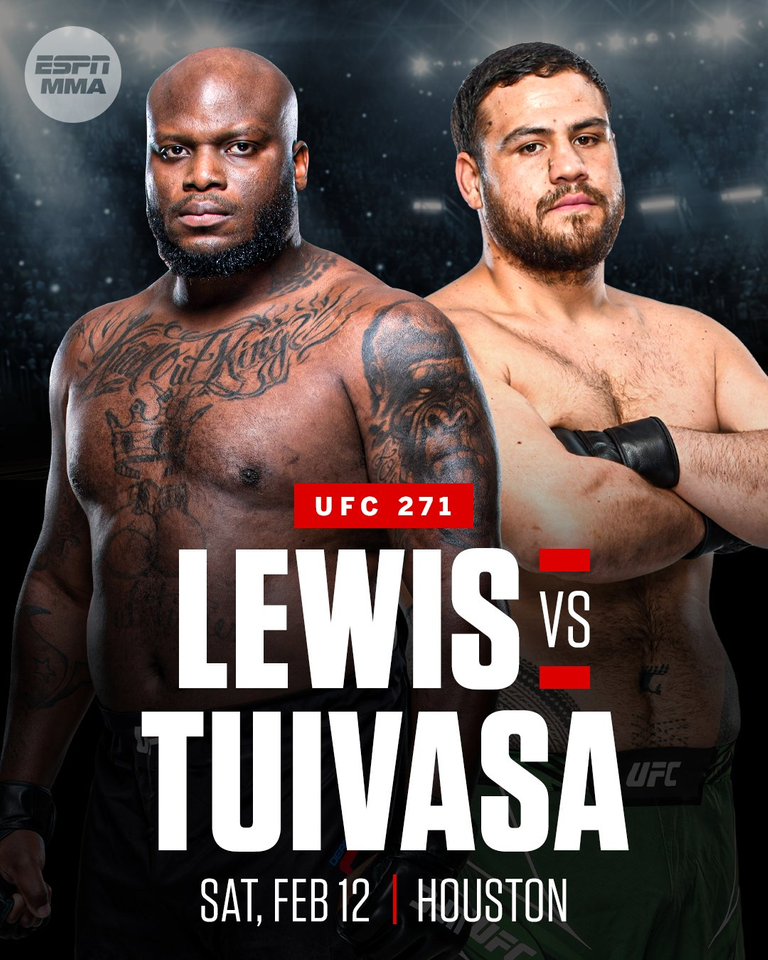 It's rare to have 2 characters equally as polarizing and fun as Bam Bam & The Black Beast can be.
On one hand, you have the current fighter with the most knockouts in UFC history against an emerging talent, with the same type of punching power, and the same body type, reach, weight, and physical abilities.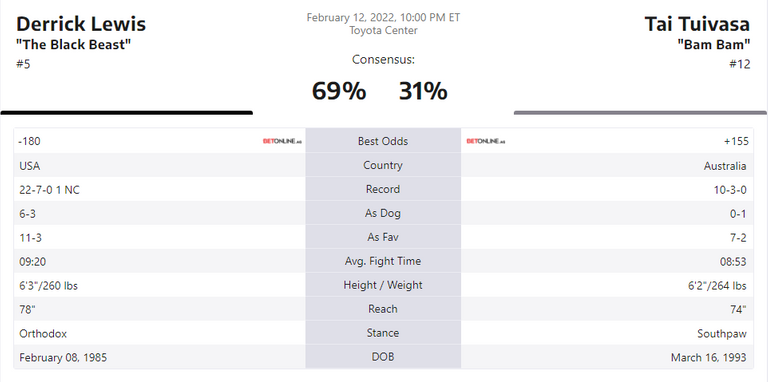 Not surprising that Lewis is the odds favorite, the proof is in the pudding and Tai Tuivasa still have a lot to show after losing 3 in a row in 2018- 2019, only to come back strong with 4 wins in 2020-2021. The fight will probably won't go to the ground, as this is where they are both the most efficient: Standing & taking each other's head off.
We might expect a knockout in round 1 or round 2, they both don't have the biggest cardio, so if the fight drags out in a 3rd round, we might get some action slowing down and some boos from the audience.
Derrick Lewis will probably win this one, as he only loses against crisper strikers or wrestlers, he will also have the advantage to be at home in front of his audience, though it didn't help him against Cyril Gane who won by TKO in round 3.
Edit: The fight is official for the big guys.

Middleweight
Jared Cannonier (14 - 5 - 0) vs. Derek Brunson (23 - 7 - 0)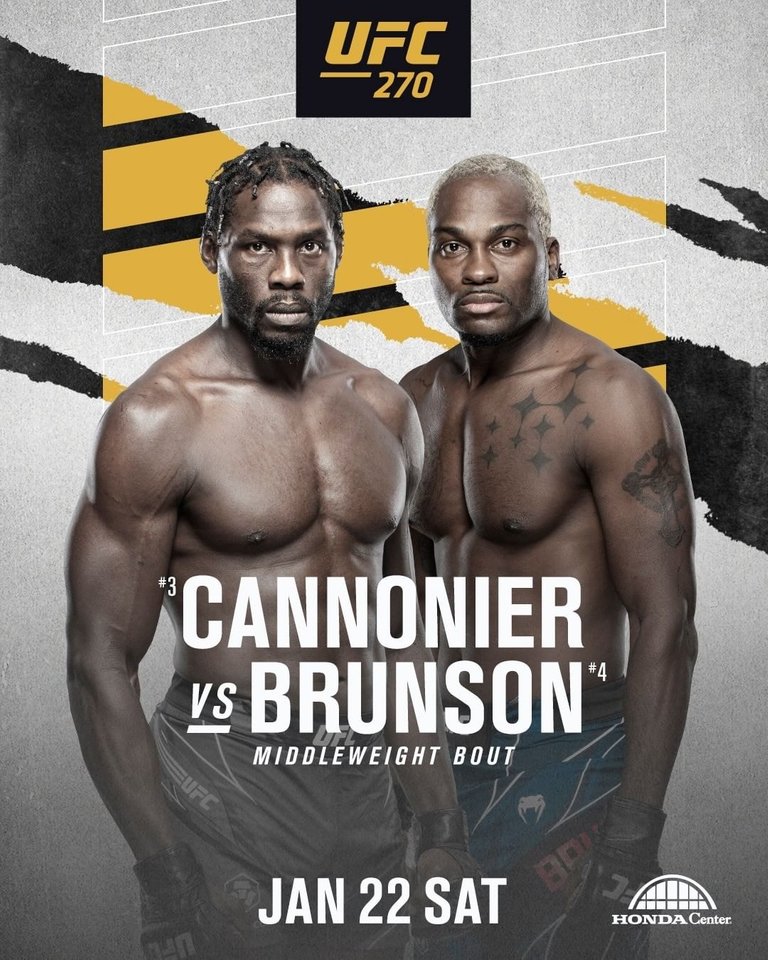 src
This one was booked on Jan 22nd but got postponed, I think Brunson has an advantage on the ground, but does he? I mean, Jared Cannonier is super strong, and showed that he has power.
I always bet against Brunson, so this time around I'll be fully aware that this is a probable next title contender in the division, has a really good track record against top notch talents like Till, Holland or Shahbazyan, so I got to give this one to Brunson just for what he managed to accomplish recently.
Do not underestimate Cannonier, that just had wins against Gastelum, Silva, and Hermansson; but lost against Reyes, Błachowicz and Whittaker, that should give you the necessary info to make the right call on the betting deck.
Exclusive news that arrived on the 12th:
Alexander Hernandez was complaining about not being on the main event, which I totally understand, here is what he had to said:
We have to wait four months and then I'm on the early f*cking prelims. I mean, that incites such a rage in me so I'm coming to make a statement. I'm so fired up about that. I'm so pissed off and I'm so motivated, so I'm really eager to make a statement."
You damn right my G, I think Dana heard you, because the fight got bumped up to the main card, which is totally deserved, let's get into it.
Lightweight
Alexander Hernandez (13 - 4 - 0) vs. Renato Moicano (15 - 4 - 1)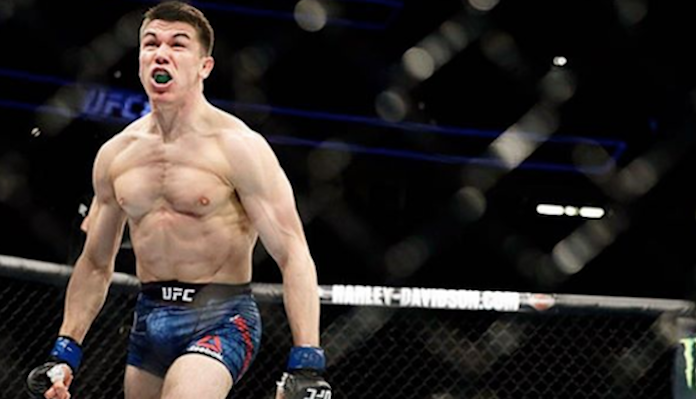 Hearing how fired up Hernandez is, I wouldn't bet against the dude, but on paper this is a good matchup, one of these 50/50 fights.
When looking at both of their track records, both fighters coming up a mix bag of fights, with some wins and some losses.
Moicano will probably have a versatile game plan, a longer reach, attacking the legs and body, transitioning to the ground in later rounds but he has been knocked out before, 3 times in recent memory; Alexander has knock out power, and even if he has a weird bouncy stance that shifts his center of gravity from one side to the other side, I still think a big overhand could seal the deal.
I am calling a very specific win: Alexander wins in 2nd round by massive overhand.
Women Flyweight
Roxanne Modafferi (25 - 20 - 0) vs. Casey O'Neill (8 - 0 - 0)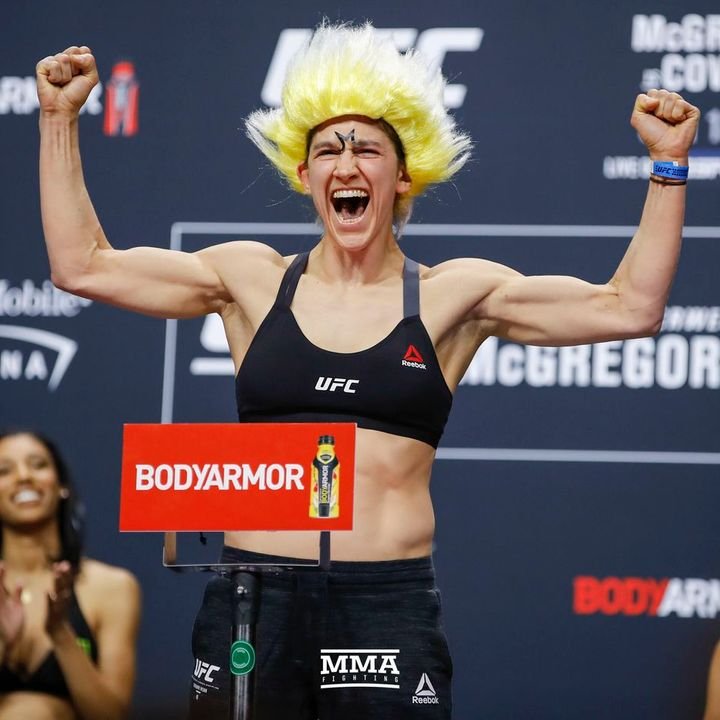 Look at this gal wearing the M on her forehead & the wig like Vegeta during the ceremonial weigh in back in the days.
If you don't understand the reference, it's because she is a big Dragon Ball Z fan, and a true martial artist.
Let that sink in for a minute: 25 wins & 20 defeats.
It's probably harder to be a fighter when you're losing that many times, so it just shows her true passion for the pugilist art, and while she admits now that she doesn't enjoy it as much as she did back in the days, it's now time to celebrate her, this will be her last walkout, her last fight, after an incredible, gritty, hard fought career, that exemplifies the motto "never give up".
As an (old) fighting enthusiast that arrived to the party on the late, I can only be amazed by her tenacity, and longevity as her first fight was in 2003!
She won her 5 first fights in a row as a pro, when she moved to Japan to improve her fighting skills, it's really a story out of a movie.
Her career has been full of ups and downs, between 2010 and 2013 she lost 6 in a row, something that would have discouraged many to just hang up the gloves.
Roxanne didn't do it for the money (at least I don't think so haha), but for the true love of the sport, and as much as I don't like getting into that "woke talk", being a martial artist as a girl in the early 00's was just harder than today, I can't imagine how many times she got ridiculed, beaten up, and must have felt like she just missed out on her true career path, as she is also a very smart woman.
She didn't. She kept on standing, spit a tooth out, and fought again.
This is incredible determination, that can only be remembered for what it is: Inspiring.
Now, I think she is ready for her retirement. We need more people like her out there, if you don't understand what I am saying, just check the way she talks, not much brain damage throughout the years, and that's exactly why she should stop fighting.
Is she going to win this fight? I don't even want to talk about that haha, she is facing an amazing prospect with Casey O'Neill, we know how this goes sometimes, it can be a very quick night for Roxanne.
While we're at it, just check out O'Neill's resume in the UFC, there is a reason why she is being heavily pushed.
Wow it was supposed to be a short one, I hope you're still reading, let me know in the comment section which fight you're looking forward to, another veteran is fighting on the card, let me know if you can find his name.
Bantamweight
Kyler Phillips (9 - 2 - 0) vs. Marcelo Rojo (16 - 8 - 0)
Lightweight
Bobby Green (28 - 12 - 1) vs. Nasrat Haqparast (13 - 4 - 0)
Heavyweight
Andrei Arlovski (32 - 20 - 0, 2NC) vs. Jared Vanderaa (12 - 6 - 0)
Women Flyweight
Roxanne Modafferi (25 - 20 - 0) vs. Casey O'Neill (8 - 0 - 0)
Flyweight
Alex Perez (24 - 6 - 0) vs. Matthew Christopher Schnell (15 - 5 - 0 , 1NC)
Light Heavyweight
William Knight (11 - 2 - 0) vs. Maxim Grishin (31 - 9 - 2)
Bantamweight
Mana Martinez (9 - 2 - 0) vs. Ronnie Lawrence (7 - 1 - 0)
Light Heavyweight
Carlos Ulberg (5 - 1 - 0) vs. Fabio Cherant (7 - 3 - 0)
Middleweight
AJ Dobson (6 - 0 - 0, 1NC) vs. Jacob Malkoun (5 - 1 - 0)
Bantamweight
DouglasSilva de Andrade (27 - 4 - 0 , 1NC) vs. Sergey Morozov (17 - 4 - 0)
Welterweight
Jeremiah Wells (9 - 2 - 1) vs. Mike Mathetha (3 - 0 - 0)
---
---