UFC 272: Friends Once, Now Foes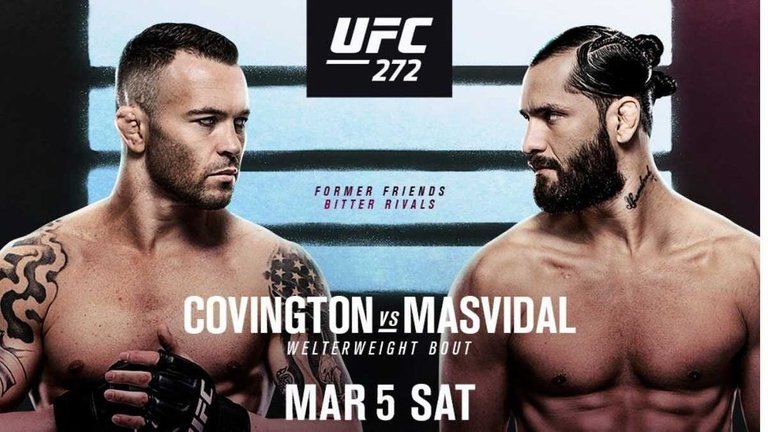 A compelling story, is everything we fight for.
That's why we get into watching these characters. Is it like Pro Wrestling?
Not far from it. Of course, it's real blood, and true martial artists performing, but are they legit trying to take each other's heads off?
Of course they do. Have you ever been punched in the face?
You can't really fake that. If you've never been punched before, the first reflex would be for your eyes to start watering, balls sweating, your heart rate will start increasing and depending on your level of anger (and alcohol in your blood), you'll be pumped with adrenaline, everything else becomes just a blur.
What I am trying to say, is that everything that you trained for, often goes out of the window after the first punch.
Wrestlers revert to takedowns, Muay Thai fighters rain down with elbows, and gangsters flip birds.
Best friends also become enemies, once that first punch is thrown.
If life was a movie for Jorge Masvidal and Colby Covington, this fight is probably the grand finale.
Let's go back to Miami, Florida, the year is maybe 2014.
A young Jorge "Gamebred" Masvidal, just recently made it to the UFC, and is training with his friend and "the future of the welterweight division" Colby Covington.
They live together, drink together and probably bang the same chicks, Colby sleeps on his couch, in the video you can see them trying to touch the ceiling with their heads for 45 minutes, just 2 kids in their 20s, enjoying life and not thinking too much, certainly not about their eventual rivalry.
Would they have expected becoming UFC stars 8 years later, and arch enemies?
How could they go from being best buddies, to publicly insulting each other, and what if it was all an act, a show?
Main Event - Welterweight Division
Colby Convington vs Jorge Masvidal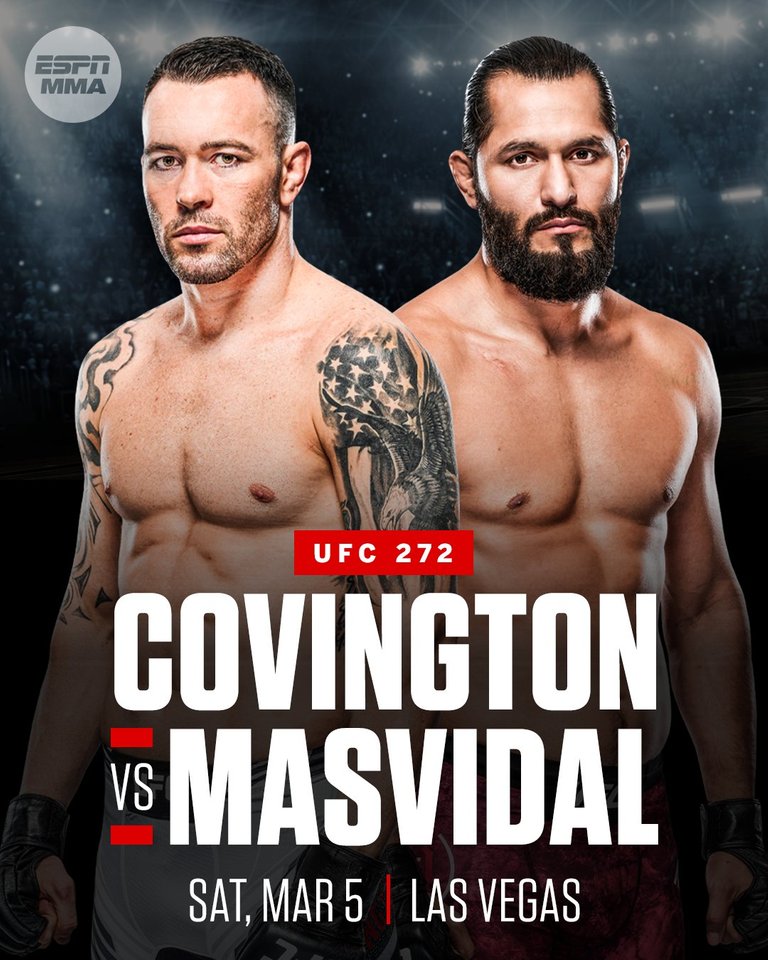 You will hear from everyone & anyone that they know what happened between Colby and Jorge.
You'll hear people telling you exactly what is going on, that it's a story about money, a trainer that wasn't properly compensated, a rivalry that was never meant to be, that it's about competition, but truth is, no one knows what the fuck is going on, and we probably never will.
We've been told for 2 years now, that this fight was bound to happen. And on paper, apart from the story that we are being told, it's such a compelling interesting matchup.
First, they both know very well each other's attributes, skills, and have even taken some of each other's style while training together at ATT, meaning that you will find a little bit of Colby's wrestling in Jorge's, and a bit of Jorge's stand up game in Colby's combination.
They have sparred thousands of rounds together throughout the years, and while we saw something similar between Ngannou and Gane not so long ago, this time around, it's a long relationship that will probably have had a bigger impact, especially on Covington that was younger at the time, as Masvidal was more established after becoming a Youtube sensation with Kimbo's Backyard fights.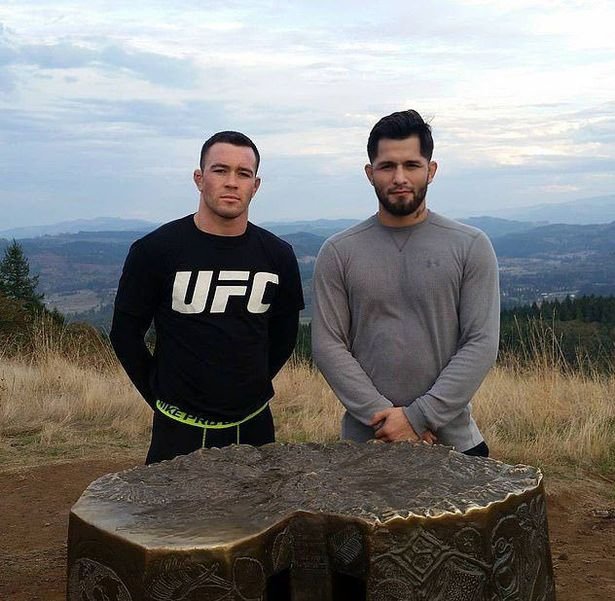 When looking into the first few years that Masvidal had at 155, he wasn't a flash knockout artist, won by decisions sometimes, but still had a very crisp stand up game. One combination that he particularly enjoys doing, is to open with a kick then throw a straight & hook, interestingly Colby has shown the same type of combo, probably something that Masvidal showed him.
Who would have thought that "Gamebread" in 2022, would be known as the fastest knockout in UFC history:
But people tend to forget that Jorge is also a student of the game.
I like what Dan Hardy says about him:
Every time I watch Masvidal's striking, I am impressed. I see something new, something I did not notice before.
I have to agree with that statement, I don't think Jorge is a normal human being. A bit like Adesanya, he has stored thousands hours of footage of fighting in his brain, and always know how to read his opponent, and adjust on the fly. He also has a killer instinct, and I am not ready to accept yet, that he isn't improving anymore.
If he wins this fight, he is one step closer to a title contention again, though I understand no one wants to see him being knocked out by Kamaru Usman for a second time, and it would probably take another win for him to secure any chance for a run.
On the other hand, Colby Covington is no clown. Yes, his whole personality that he created as a Trump supporter & a dorky bachelor, is a (brilliant) comedic act that he built upon, but rest assured that Colby "Chaos" is one of the best fighter in the welterweight division.
First, his NCAA wrestling pedigree is no joke, it would explain why Kamaru Usman did not try to take him down in their 2 bouts, Covington has some submissions, and ground & pound:

I believe that Covington true secret weapon, is his pace & cardio.
This where he can really shine, the same way he did against RDA or Lawler.
When he dictates the pace of a fight, and lead the dance, he can impose his superior wrestling on his opponent, which adds up after a few rounds. That type of pressure is the backbone of wrestlers that transitioned to MMA.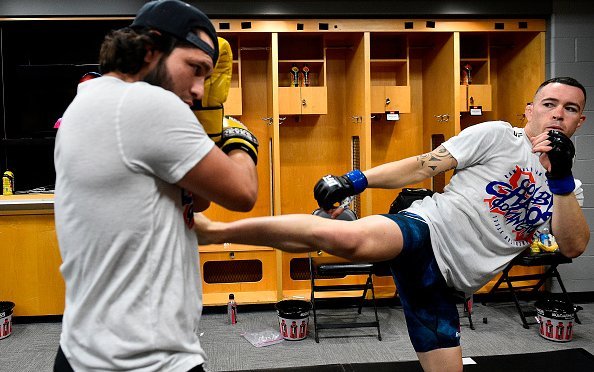 src
On his feet, while he hasn't shown knockout power, there has been a major improvements thanks to Masvidal's striking coach Paulino Hernandez, the very same coach that reported having only been paid a portion by Covington.
Whether the story is just a shtick, here to add fuel to the fire and create drama, or stems from a real feud, is unknown, though it seems clear that Colby Covington wasn't really like by everyone at American Top Team (ATT).
Also, this isn't the whole story, a lot of people seem to think that Masvidal was also getting too big, too much of a personality for Dan Lambert, and the feud took such a proportion that they both had to move out of their gym, that made them who they are. Eventually Masvidal got called back in, strangely enough.
I personally think that there is a little bit of truth in everything that Colby says, whether it's really him supporting Trump (Masvidal is also a Trump supporter for that matter), or talking about how their friendship really changed once he won the interim Welterweight belt, in one of his most recent interview, it's hard to tell where Colby draws the line between his character and his real personality, it's also understandable that his antics probably didn't fly with brash teammates like Joanna Jedrzejczyk.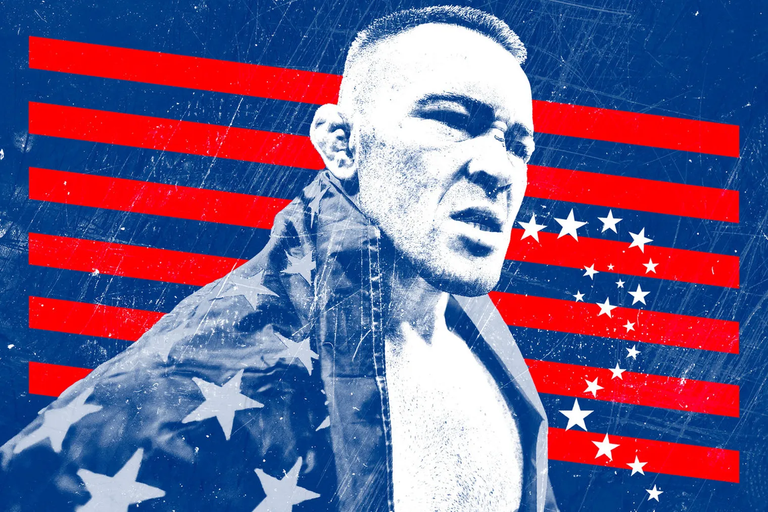 It seems like Colby has burnt all bridges with his previous teammates, and unless it's a highly sophisticated stunt, and that everyone is on it, it seems more likely that Colby really took it too far, while realizing that he would benefit more from being in a smaller gym, where all eyes are on him, and all the attention can be provided.
In term of the Vegas odds, it's understandable that Covington is heavily favored, it's all about the level changes that adds to his game plan, so Masvidal still has a puncher chance, but the MMA math are clear, it seems like Chaos could win this one by decision, if he stick to the plan.
But then again, Masvidal has surprised us many times, and it's MMA, where anything can happen.
Oh I forgot to talk about the rest of the card! Watch out for "Thug Nasty" versus Edson Barboza, it's going to be a fun one!
How about you, are you still friend with people you hanged out 8 years ago?
---
---