UFC 274 Preview: Oliveira loses belt, Thug Rose gets her revenge fight, and Tony Returns....

What's up fellow sportsmen, and women, I can't really let that one slip, we have such an amazing event this weekend, I need to get my theories out, for your entertainment of course.
For those that aren't familiar with UFC or MMA, I think this is a good weekend to start watching.
It's my opinion, but the lightweight division is the most competitive division, and probably the best. Why so Ed? Because the average size and weight for a human is 5'9 in height and 155 lbs in weight, (look into it!) so you have the biggest pool of talent to pick from.
It's also clear that at this size, fighters are faster than welterweights or middleweights (except Izzy), and have more knockout powers than bantam or featherweight, just the perfect combination of speed and power.
So when the champion Charles Oliveira is facing one of the best talent of his generation, you gotta watch.
We also have Tony Ferguson returning against Michael Chandler, I cannot explain how much respect I have for both, that should be a banger, though I would have enjoyed an easier fight for Tony, that's just the game.
At last, Thug Rose is putting her Strawweight belt on the line against someone she lost against once, Carla Esparza.
Lightweight·Main event
Charles Oliveira (32 - 8 - 0,1NC) vs. Justin Gaethje (23-3-0)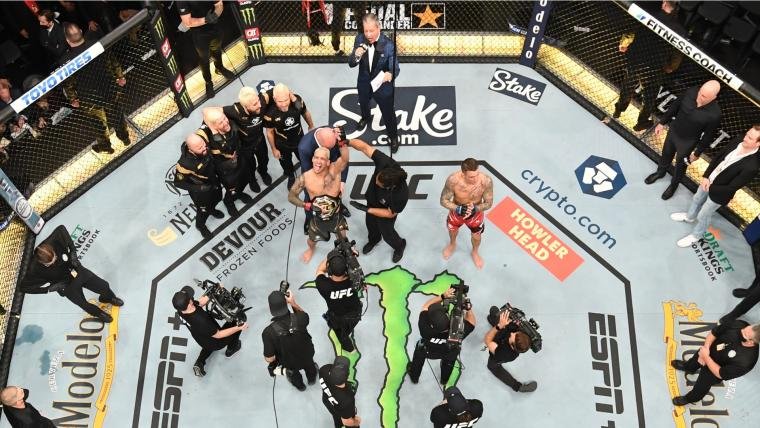 Who expected Do Bronx to become champ? I certainly did not. Don't misunderstand me, he is a beast, fantastic grappler and BJJ practitioner, Charles is now on a 10 wins streak. Unbelievable...
He now has defended his title once, and is on his way to defend it a second time.
While I am writing the post, Charles just missed weight. He will have 5 minutes to cut half a pound.
If he misses weight, the title will be vacant... Unbelievalbe...
And if Justin win on Saturday, he will be the only fighter elligible to get the belt.
On the other hand Justin Gaethje is no joke, I remember watching his fight against Michael Johnson, I couldn't believe how Justin was marching forward, nearly got knocked out, and eventually won the fight in an incredible turn of event.
This is Justin's gameplan, in a nutshell: Bring the fire and get burned.
Hold on...Something is happening. It's Charles Oliveira on the scale once more, he is about to attempt to make weight, we remind our audience that he had one hour to cut half a pound.
Comission: "155,5 lbs."
It's official, Charles just missed weight, it never happened for a fighter before, as far as I know.
Charles Oliveira is officially stripped from the belt, and won't be able to regain his belt, even if he wins.
Wow, talk about a downer...
Women Strawweight·Co-main
Rose Namajunas (12-4-0) vs. Carla Esparza (19-6-0)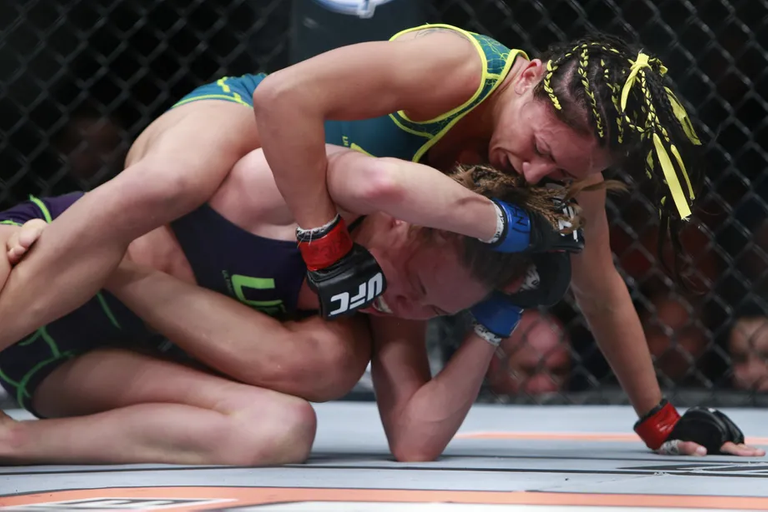 If you want to know how Rose fought last time, the fight is currently available on youtube. If you're reading this post in the future, it might not be the case anymore.
What you need to know, is that this fight was 8 years ago and a lot of things have changed since. Let's check it out, to see what we can learn from it:
That night Carla became champion, and didn't retain the belt very long. She was the veteran at the time, Invicta champion, and Rose was only 3-1.
Here we are 8 years later, and Rose has beaten the current competition, she is now allowed to avenge her loss against Carla that has been on a 5 wins streak, they both have improved tremedously since their first bout, quite interesting to see these young fighters growing before our eyes (not so different from watching Joe Lauzon, a very long time ago!).
Everyone is counting on Rose to win, but maybe wrestling is her cryptonyte, only time will tell. One thing for sure, Thug Rose is a great champion, and conduct herself in respectful manner, which is a breath of fresh air compared to "The Boogie Woman" Joanna Jędrzejczyk.
Esparza is the underdog, meaning that's where your money should be if you wanna win big.
According to Sports Interaction, Namajunas is the -280 favorite while Esparza is the +185 underdog. That means a wager of $280 on Namajunas will net you $100, and a $100 bet on Esparza will rake in $185.
Lightweight
Michael Chandler (22-7-0) vs. Tony Ferguson (26-6-0)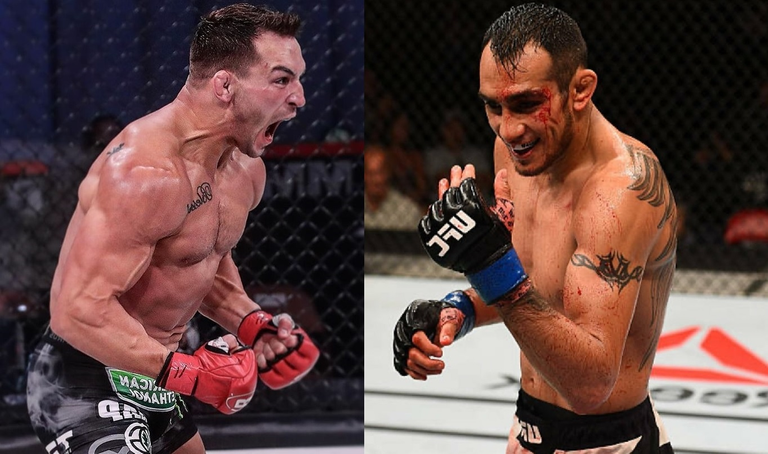 I think after his last fight against Justin Gaethje, Michael Chandler earned the fans respect.
I don't know if he'll have another crack at the title anytime soon, especially after losing against Oliveira for the vacant belt a year ago (time does fly), but his stocks are at an all time high.
If he was a little less eager to get "in the line of fire", he might have more chances to win fights. Instead, we have witnessed Chandler giving the fight away against Gaethje, taking way too much damage, and I also feel that we've seen something similar against Oliveira, even if he nearly knock out the ex champ (Oliveira just lost the belt 10 minutes ago by missing weight).
He is fighting a fan favorite, Tony "El Cuycuy" Ferguson, I remember watching him when I started BJJ, and couldn't believe that someone could be that much "in the flow state" with his attacks, imanari rolls, elbows, just really entertaining to watch! Tony is now 38, it's his last fight on the contract, and he threw a pebble in the water in his last interview:
He compares Dana White to a drug dealer, probably not the best move when you have one fight left on your contract. One thing for sure, Tony seems focused, and serious.
---
Light Heavyweight
Maurício Rua (27 - 12 - 1) vs. Ovince Saint Preux (25 - 16 - 0)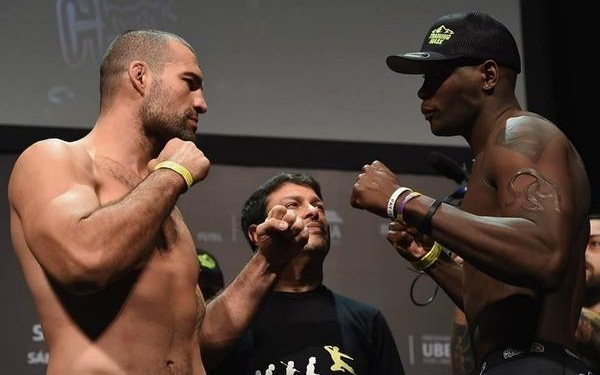 Shogun Rua is still fighting, and is 40 years old...We are talking about a PRIDE FC legend, that fought Akira Shoji at Pride Bushido 1 in 2003.
The way he stomped his head to the ground, classic! Only in Pride you would see something like that!
Shogun won some fights in the UFC, but lost a whole bunch too, facing the "who is who" of the company.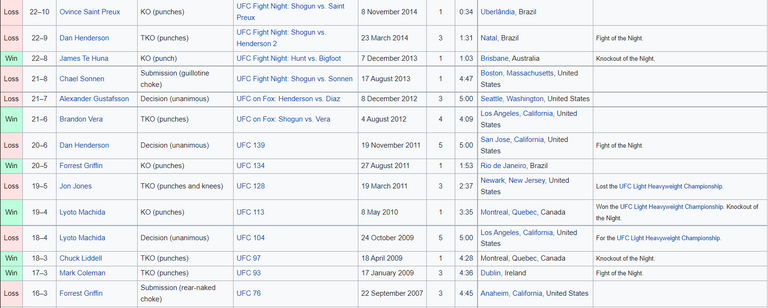 And the list goes on, I didn't want to include all his fights. As you can see, they've already fought before, and Shogun took a whole bunch of unecessary punches, thanks ref:
Oh it was Mario Yamazaki referring the fight, it all makes sense now, he was fired not so long after this event, if I remember correctly.
Should Shogun even be fighting? How improved could he be, at 40 years old?
Lightweight
Donald Cerrone (36-16-0,2NC) vs. Joe Lauzon (28-16-0)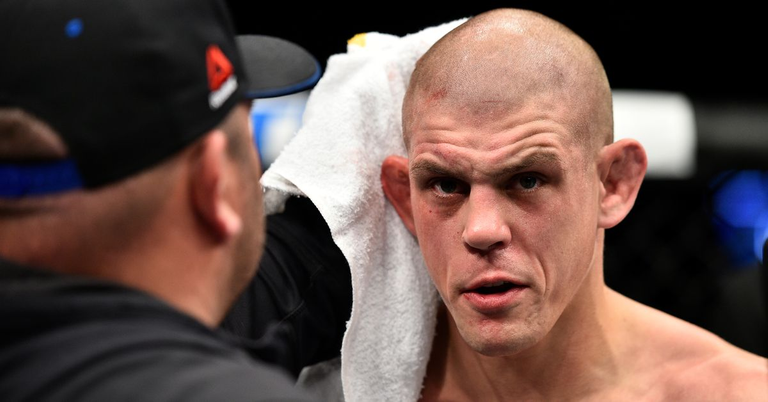 The friendliest face of MMA 😆
Man, if you haven't watched the UFC for the last 10 years, you would probably recognize most of the names on this card. None of that fancy dyied hairs à la O'Malley, but some shaved head, chewing tobacco, and double digit records, it's almost like watching 2 uncles fight at the street corner.
You know who is Donald Cerrone, and of course, who forgot Joe Lauzon, one of the biggest upset in MMA history against Jens Pulver, a long long long long time ago, I was still wearing baggy shorts at the time, and so did you.
That girl can't believe it!
Anyway, very happy to watch these 2 old farts getting at it, it's probably the only circumstance where that sentence doesn't sound outright suspect, or maybe it does...
I don't want either of them to win, I would watch them making a barbecue and shooting beer (Budweiser) bottles in front of Cowboy Cerrone's trailer.
And don't miss out the prelims too!
Ed out...
Edit:
There is a rumor ongoing, that the mechanical scale at the weigh in was decalibrated and wrong around about 0.5 lbs, meaning that everyone that weighed themselves with the digital scale bakstage was 0.5 lbs under the mechanical scale, of course it would mean that the comission, the UFC, and Dana White fucked up big time, and that Charles actually made weight, and shouldn't have been stripped off the belt.
---
---