Was Rose groomed by Pat Barry?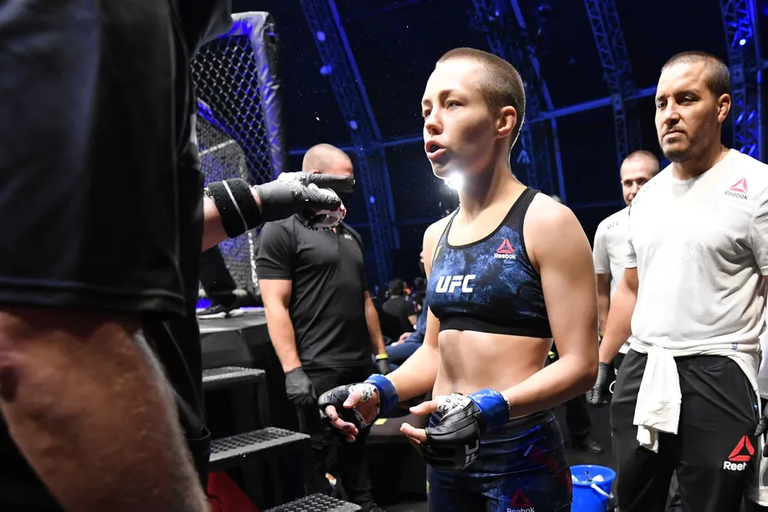 If you have watched the fight between Rose vs Carla Esparza last week, you probably know that Rose didn't win the fight, that we have a new champion, and that the fight was a lackluster non-fight.
His coach & partner Pat Barry was getting under a lot of fire after the fight, and was invited on the Ariel Helwani show to explain what went wrong during the fight.
What we ended up with, is a one hour interview, of the weirdest type, with so much to cover that it would be interesting to have a body language specialist breaking it down.
During this interview, Pat is "controlling" the conversation and seems a little bit off, it's hard to tell if he was on something, He has of course an history of addiction, but I surely don't want to make speculations without any proof.
Nonetheless, Pat is acting weird, doesn't blink, and Rose can be seen in the background folding the laundry, glancing at the camera over Pat's shoulder.
It's unclear if she is the one that didn't want to talk, or if it's Pat idea, trying to preserve his girlfriend/fighter's confidence, but after 20 minutes in the interview, Ariel start asking the hard questions, (there has always been a rumour on the internet, that Pat met Rose when she was 14 years old, as he was 27 years old at the time, 13 years older than her) and offers the opportunity to Pat to explain himself on that subject, which he categoricaly refused, claiming that it will just make the matter worse.
Rose eventually spoke up about her recent fight, but again Pat Barry ended up interejecting all along, and even asking Ariel if it was Pat's interview, or Rose's.
Again, you can think that it's just a coach trying to protect his fighter, or it could also be perceived as gaslighting.
The live chat is getting progressively more insulting, Pat made things much worse in less than an hour, and ever since that interview, the internet has been giving a new surname to Pat "The Predator" Barry.
It didn't take too long before UFC fighter & shit stirrer Sean Strickland to start speaking out about the whole conendrum, then Matt Mitrione (Pat's good friend) getting in the conversation:
Of course, the internet is already siding with Sean Strickland, and calling Pat a groomer, all sort of other names too.
Pat Barry often defends himself claiming that they only started dating when Rose was 18 years while he was 31 years old.
Fact of the matter is, it has been seen many times in the past, young athletes, students, can be easily impressed by authority figures, and get their feelings all mixed up, it's up to the Sensei to make the student understand that this is not the type of relationship a master should have with his student.
Did Pat Barry took advantage of the situation, and Rose's youth? This is what the internet seems to believe, and the interview above did not help to cement another narrative.
What do I personnaly think? Well, Rose and Pat have been together for 12 years now, and seem to be happy together, it's always easy to judge a situation without knowing the truth from all parties, it's also difficult to make assumptions, especially when the public is speculating, for lackthereof knowledge. So my opinion for now, is that I am being very cautious to make sure I don't defame. 😄
Only time will tell if Sean or Matt Mitrione (see video above) are right, I believe that the rumors, & the online pressure will become harder to handle for Pat & Rose, they seem not to enjoy the limelight, now every MMA youtube comments on the internet are mentioning "Pat the groomer", it probably won't take long before the truth comes out on that subject, not an easy fucking subject to talk about, but still, I think if it's something that happens commonly in the MMA world, it needs to stop and they all need to be exposed.
Alright Hive people, now it's your turn to give me your opinion. What y'all think?
---
---