MI EXPERIENCIA SACANDO MUSCLE UP / MY EXPERIENCE TAKING OUT MUSCLE UP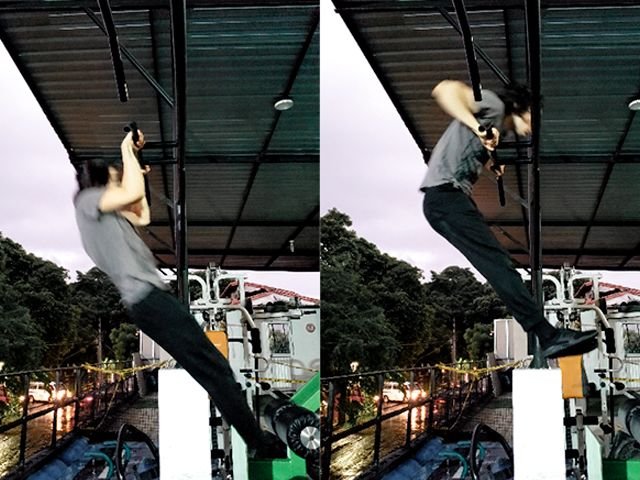 Un saludo a todos ustedes comunidad de Hive, espero se encuentren muy bien. El dia de hoy les comentaré mi experiencia sacando el Muscle up de Calistenia, ya que el de Crossfit suele ser más sencillo por el uso excesivo del balanceo, mientras en Calistenia se busca usar el minimo impulso posible para lograrlo (cabe destacar también que cuando se hace Freestyle se suele usar el Muscle up que hacen los gimnastas, este Muscle up es puramente técnica y balanceo, requiere muy poca fuerza). Aclarando estos puntos importantes, empiezo a comentarles mi experiencia.
Greetings to all of you Hive community, I hope you are doing well. Today I will tell you about my experience doing the Calisthenics Muscle up, since the Crossfit Muscle up is usually easier due to the excessive use of the swing, while in Calisthenics we try to use the minimum possible impulse to achieve it (it is also worth mentioning that when doing Freestyle we usually use the Muscle up that gymnasts do, this Muscle up is purely technical and swinging, it requires very little strength). Clarifying these important points, I begin to tell you about my experience.
Lo primero que les comentaré es que yo ya tengo una buena base de fuerza, ya que llevo años entrenando de manera general y toda la fuerza que he podido desarrollar me ayuda mucho a la hora de comenzar a entrenar este movimiento. Les comento que soy una persona que le gusta informarse de la mejor manera posible para poder entrenar de la manera más eficiente posible.
The first thing I will tell you is that I already have a good base of strength, since I have been training for years in a general way and all the strength that I have been able to develop helps me a lot when I start training this movement. I would like to tell you that I am a person who likes to be informed in the best possible way to train as efficiently as possible.
Al principio me centre más que todo en hacer dos ejercicios, uno de ellos se conoce como "High pull up" (dominada alta) y el otro sería dominadas con lastre (dominadas con peso añadido, ya sea discos de pesas o mancuernas, etc.). estos fueron los ejercicios principales que mantuve aproximadamente entre 1 y 2 meses.
In the beginning I focused mostly on doing two exercises, one of them is known as "High pull up" and the other would be weighted pull ups (pull ups with added weight, either dumbbells or dumbbells, etc.). These were the main exercises that I did for about 1 to 2 months.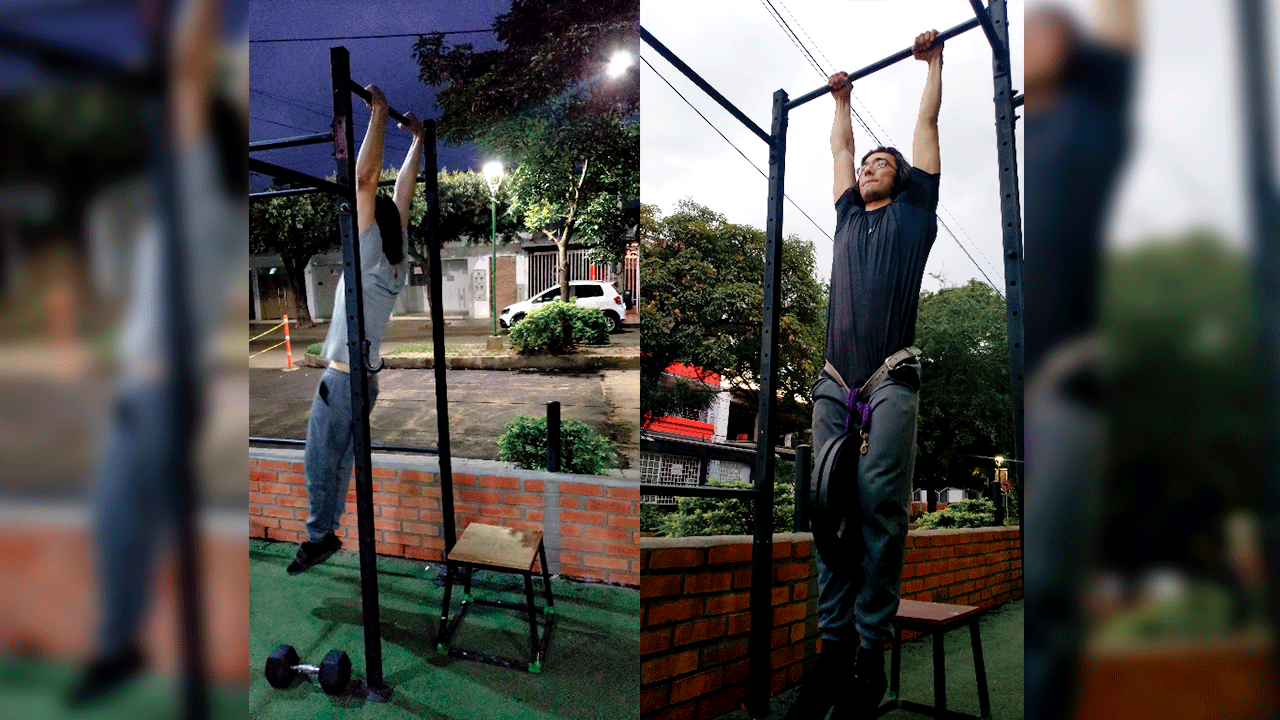 En ese tiempo decidí poner las dominadas altas en comparación a hacer intentos de Muscle ups como hace mucha gente, decidí irme por lo seguro, dominadas altas y dominadas con lastre, estas dominadas con lastre normalmente hacia entre 3 y 6 repeticiones para moverme en rangos de fuerza máxima, me mantuve haciendo eso y siempre buscaba añadir una repetición más y con las dominadas altas me movía entre un rango de 2 a 3 repeticiones siempre tratando de que sean lo más explosivas posible.
Con las dominadas altas mi meta era ir adquiriendo más altura y que mantuviera una técnica lo más estricta posible, al final conseguir llegar la barra hasta por debajo del pecho.
At that time I decided to put in the high pull ups as opposed to doing Muscle ups attempts like many people do, I decided to go for the safe thing, high pull ups and weighted pull ups, these weighted pull ups I usually did between 3 and 6 reps to move into max strength ranges, I kept doing that and always looked to add one more rep and with the high pull ups I moved between a range of 2 to 3 reps always trying to make them as explosive as possible.
With the high pull-ups my goal was to get more height and to keep my technique as strict as possible, in the end to get the bar to below my chest.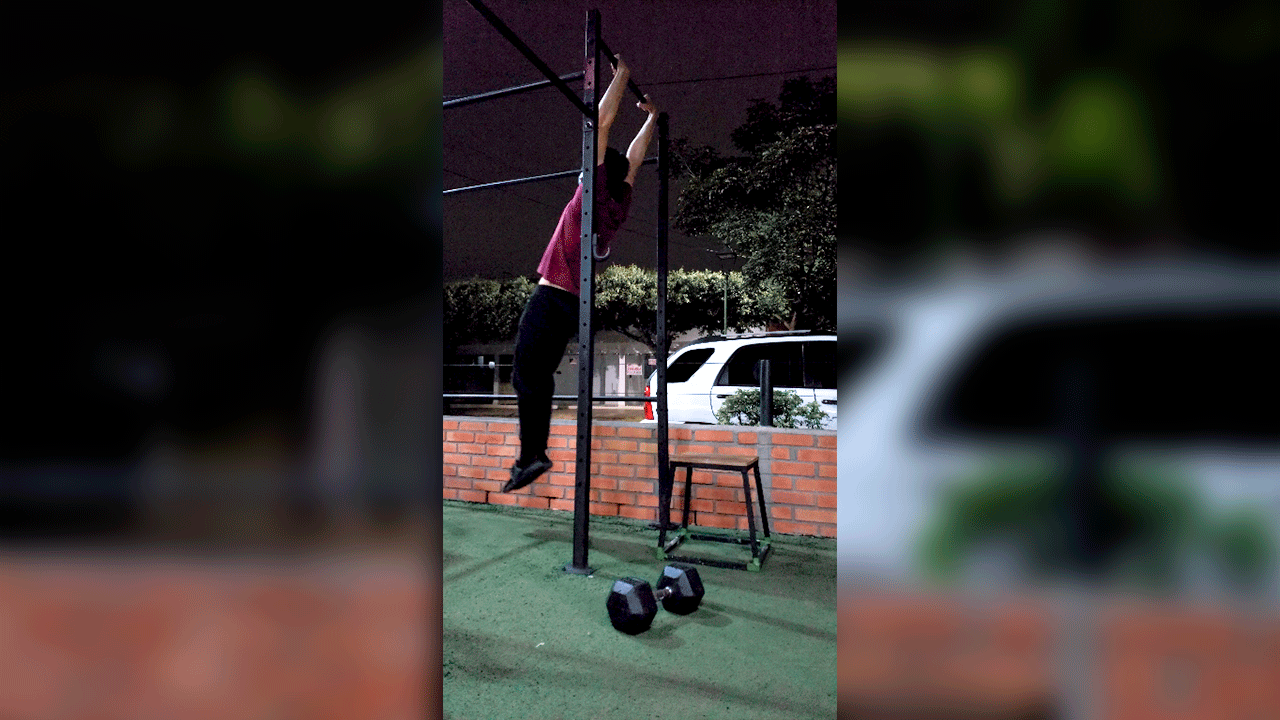 También me gustaba hacer "Dips" (Fondos en paralela) pero para mí no era tan prioritario, ya que por lo que pude investigar el Muscle up es un ejercicio que requiere más fuerza de jalón que de empuje.
Bueno pasaron como 2 meses y decidí intentar un record en dominadas con lastre, lo pude hacer bien y supe de una vez que con el peso que levante ya podía hacer un Muscle up según la información que había visto. Entonces un día decidí probar a intentar Muscle up y me salió, lo pude lograr, pero antes de ese intento, unas semanas antes también hice 2 intentos de los cuales me salieron bien, pero con bastante dificulta y era la versión del Muscle up más fácil, la cual se trata de justo cuando empiezas a subir te ayudas con un impulso de las rodillas. Aquí les dejo la versión del Muscle up estricto (todavía hay mucho por mejorar).
I also liked to do "Dips" (parallel bottoms) but for me it was not such a priority, because from what I could investigate the Muscle up is an exercise that requires more pulling strength than pushing.
Well, about 2 months passed and I decided to try a record in weighted pull-ups, I was able to do it well and I knew at once that with the weight I lifted I could do a Muscle up according to the information I had seen. Then one day I decided to try to try Muscle up and I did it, I could do it, but before that attempt, a few weeks before I also made 2 attempts of which I did well, but with a lot of difficulty and it was the easiest version of the Muscle up, which is just when you start to climb you help yourself with an impulse of the knees. Here is the version of the Strict Muscle up (there is still a lot of room for improvement).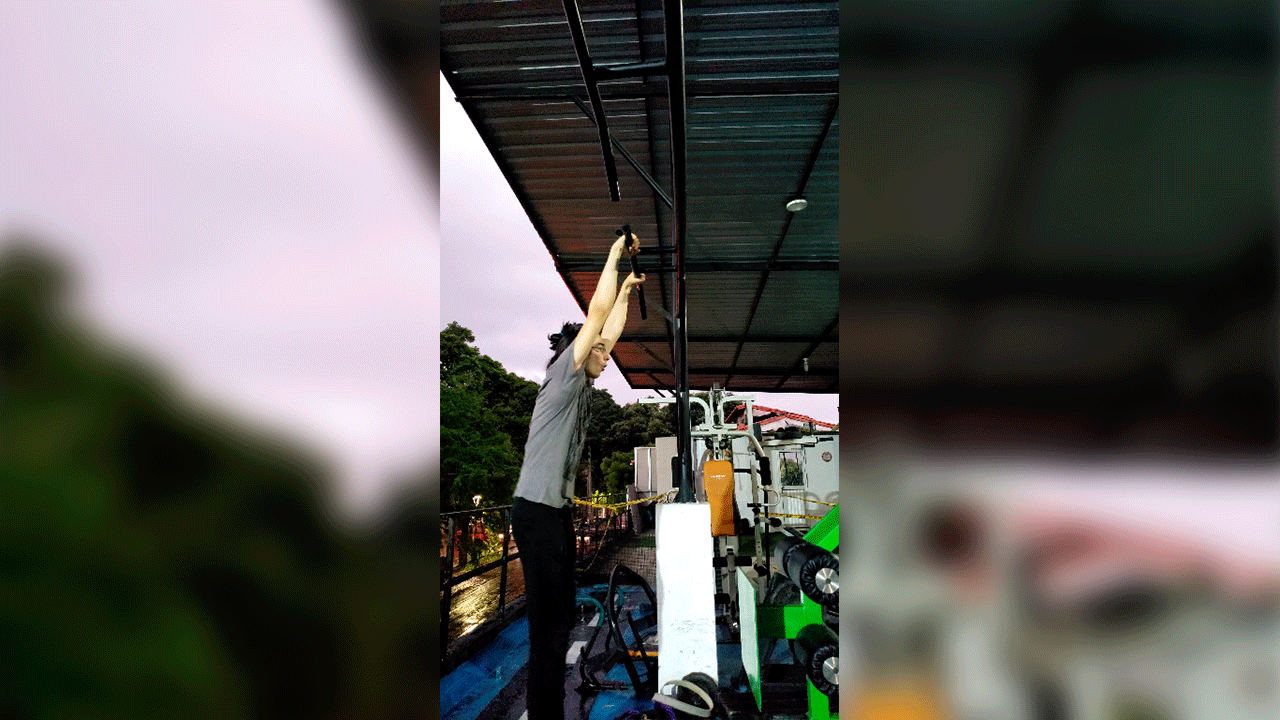 Luego de hacer ese intento de Muscle up y que haya podido lograrlo, decidí perfeccionar mi dominada con lastre y también empecé a hacer repeticiones de Muscle up 2 series de 1 repetición y así, también seguía haciendo dominadas altas, más que todo para seguir mejorando mi explosividad y técnica, pero mi prioridad eran las dominadas con lastre.
After doing that Muscle up attempt and that I was able to achieve it, I decided to perfect my weighted pull-up and I also started doing Muscle up 2 sets of 1 repetition and so, I also kept doing high pull-ups, mostly to keep improving my explosiveness and technique, but my priority was the weighted pull-ups.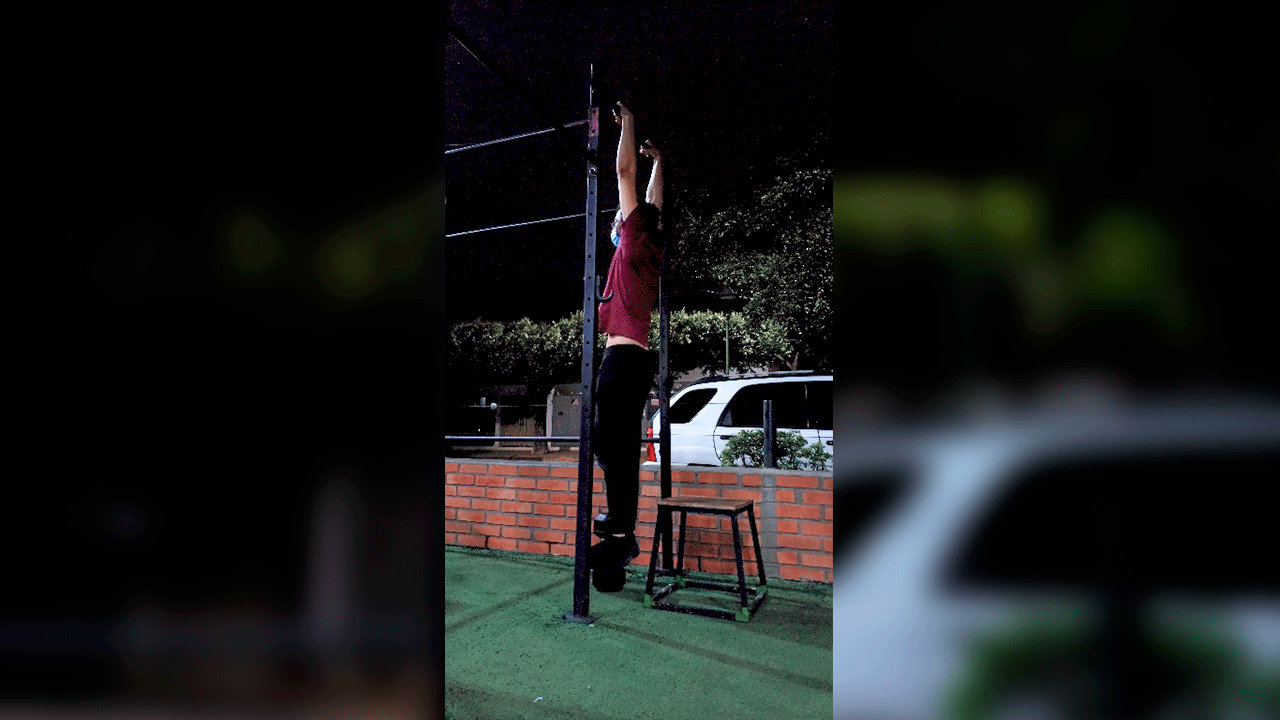 Gracias por leerme, los gifs fueron hechos con Photoshop y las imágenes fueron sacadas con mi Samsung Galaxy S9, pidiéndole el favor a personas del gym, el texto en inglés fue traducido con DeepL.
---
---