The white house dances to the rhythm of the samba, Real Madrid won and leads alone in the Champions League (Eng/Esp)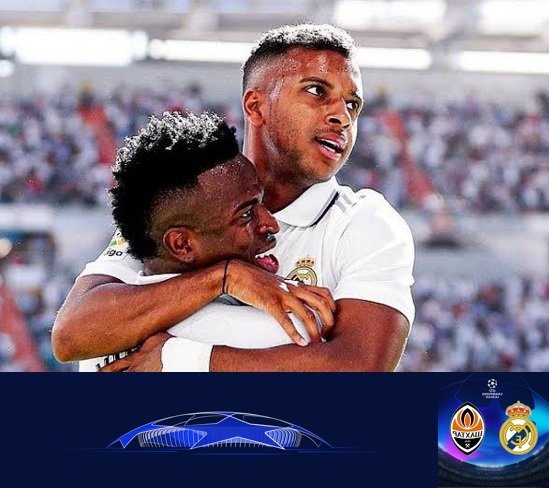 Hello friends of hive, fans of sports, especially the king of sports, in the afternoon today matchday 3 of the group stage of the Champions League was held, Real Madrid beat the Ukrainian Shakhtar Donetsk two goals for one and that in my opinion Madrid gave us a great display of football, even thought they could've of scored many more goals, they failed a bit in the definition time.
Hola amigos de hive aficionados a los deportes en especial al deporte rey, en la tarde hoy se realizó la jornada 3 de la fase de grupos de la Champions League, el Real Madrid venció dos goles por uno al Shakhtar Donetsk ucraniano y que en mi opinión el Madrid nos regaló un gran despliegue futbolístico, aunque pudo marcar muchos más goles falló un poco en la definición.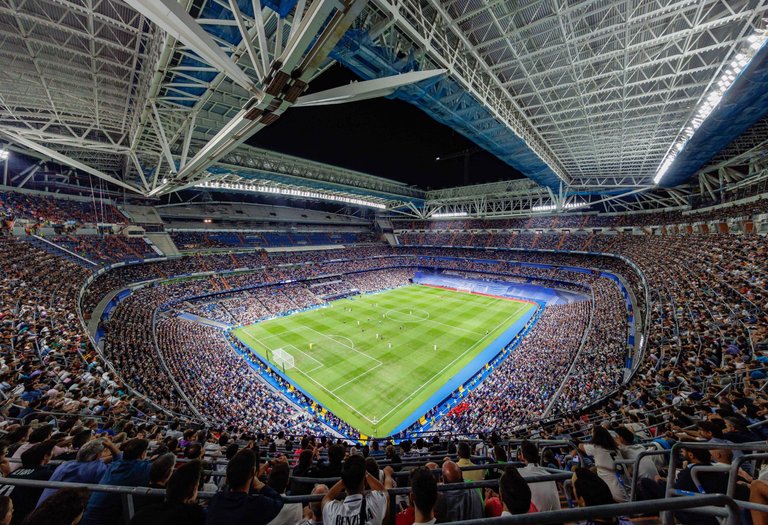 Estadio Santiago Bernabéu
Source/Fuente
In a full Bernabeu, the magical nights of champions returned to the stadium that wore its best gala this Spanish night, the alignments were the following:
En un Bernabéu a reventar volvían las noches mágicas de champions al estadio que lucía su mejor cara esta noche española, las alineaciones fueron las siguientes: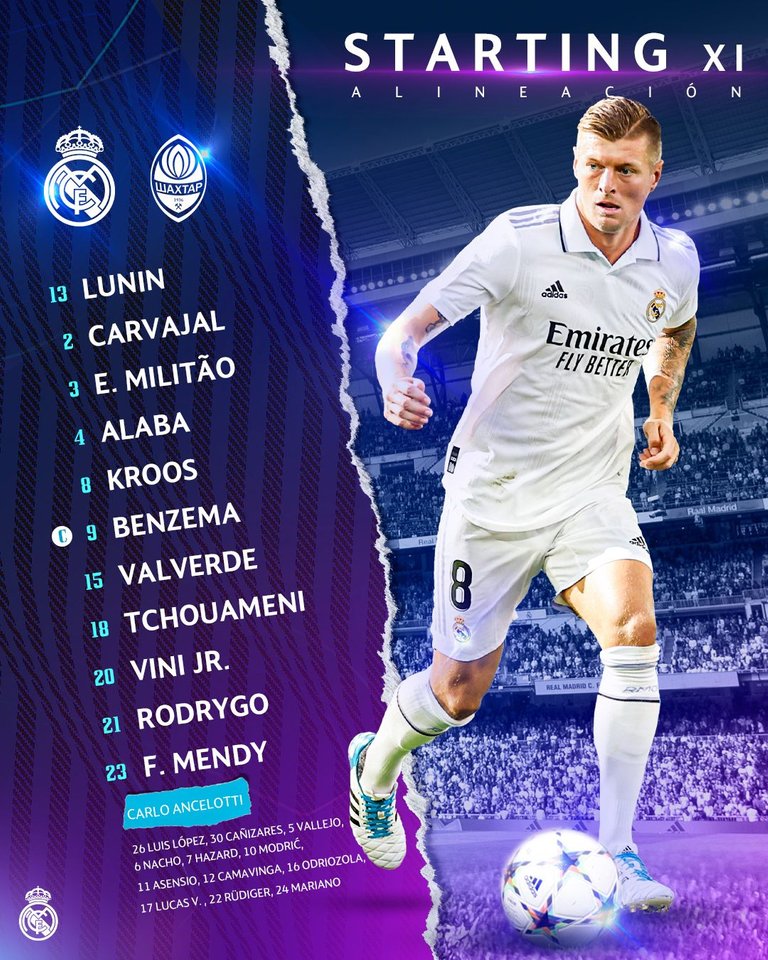 Real Madrid C. F.
Source/Fuente
FC Shakhtar Donetsk
Source/Fuente
And it is that tonight there was definitely a samba concert and display at the Bernabeu, these Brazilian boys Rodrygo and Vinicius Jr., have taken over the Madrid forward who, together with Benzema, is a trident to scare all their rivals, it has been a delight to watch these guys give free rein to the famous tiki-taka of the white house and how little by little they have been gaining prominence, so much so that Benzema has been momentarily off the spotlight, but we know that Benzema the cat is an essential piece and that this trio is a true festival of football and that will continue to improve with the passing of days.
Y es que esta noche definitivamente se bailo samba en el Bernabéu, estos chicos brasileños Rodrygo y Vinicius Jr., se han apoderado de la delantera del Madrid que junto con Benzemá es un tridente que mete miedo a todos sus rivales, ha sido un deleite observar a estos chicos dar rienda suelta al famoso tiki-taka de la casa blanca y como poco a poco han ido ganando protagonismo, tanto que Benzemá ha quedado momentáneamente en segundo plano, pero sabemos que el gato Benzemá es pieza imprescindible y que este trio es un verdadero festival de futbol y que seguirán mejorando con el paso de los días.
Source/Fuente
It has been the great success of Ancelotti to surround Benzema with these two football beasts, Ancelotti, who knows Madrid like few do, has known how to give identity to this team and keep it at a great competitive level, as being the reigning champion of the competition, another who is demonstrating a high level performance and who fits wonderfully with this trident, is Fede Valverde the Uruguayan has been the perfect assistant for the strikers a great association generating a large number of goal balls for the strikers.
Ha sido el gran acierto de Ancelotti rodear a Benzemá con estas dos bestias del futbol, Ancelotti que conoce al Madrid como pocos tienen la dicha, ha sabido darle identidad a este equipo y mantenerlo en un gran nivel competitivo, al que es el vigente campeón de la competición, otro que está demostrando un gran nivel y que se acopla a las mil maravillas con este tridente, es Fede Valverde el uruguayo ha sido el asistente perfecto para los delanteros una gran asociación generando una gran cantidad de pelotas de gol para los delanteros.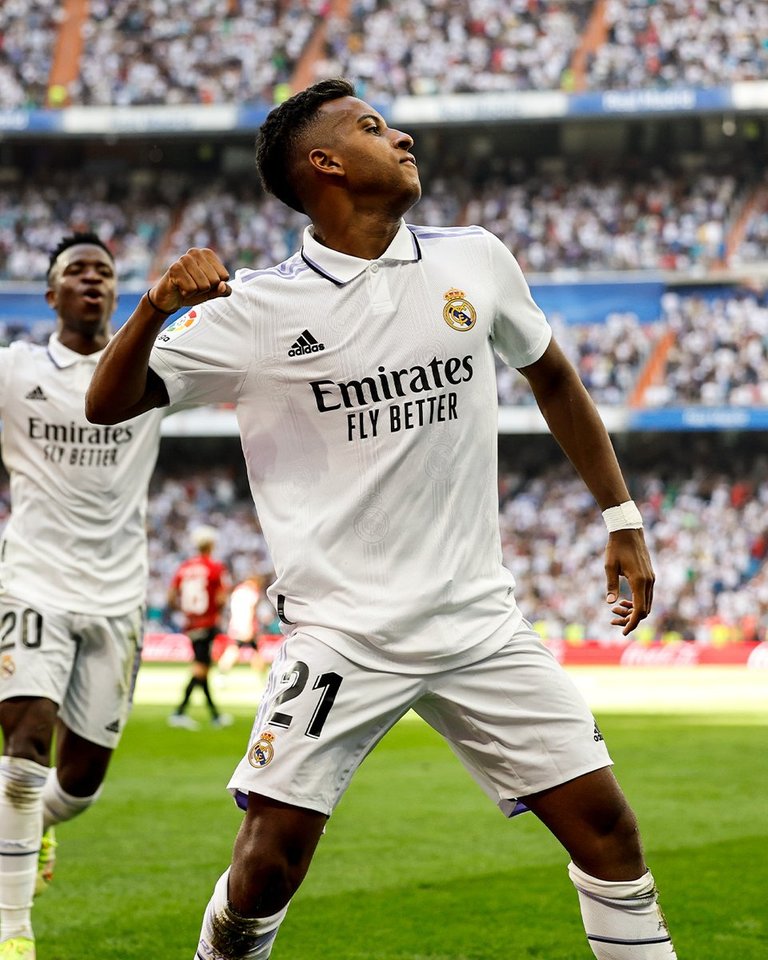 Source/Fuente
Everything was defined in the first half, the three goals, the first by Rodrygo at minute 13', the second for Vinicius at 28', all displaying Madrid's tiki-taka, this trio generated so many scoring opportunities that it is impressive that the final scoreboard was not much more bulky, at minute 39' Zubkov discounted for the Ukrainians with a nice half-volley goal in the area, but Shakhtar had little hope since Madrid's samba concert was overwhelming.
Todo se definió en la primera parte, los tres goles, el primero de Rodrygo al minuto 13', el segundo para Vinicius al 28', todos haciendo gala del tiki-taka del Madrid este trío generó tantas oportunidades de gol que impresiona que el marcador final no haya sido muchísimo mas abultado, al minuto 39' descontó Zubkov para los ucranianos con un lindo gol de media volea en el área, pero pocas esperanzas tenia el Shakhtar ya que el concierto de samba del Madrid era apabullante.
First goal/Primer gol
Source/Fuente
Que jugada armo el Madrid. Y gol de Vinicius pic.twitter.com/nW320Y4YjW

— Videos de fútbol 2022 (@Videosdefut22) October 5, 2022
Second goal/Segundo gol
Source/Fuente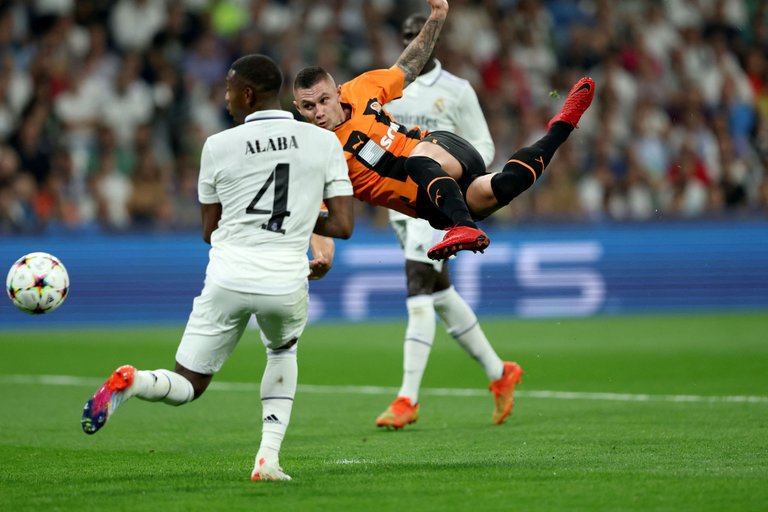 Zubkov scores/Zubkov anota
Source/Fuente
In this way, the Spaniards alone lead group F, with 9 points going undefeated and it does not seem that Real Madrid will have any difficulties in qualifying first, on matchday four it will be Shakhtar who will host Real Madrid at the Pepsi Arena Stadium in Warsaw, Poland, on October 11, that is, next Tuesday, will Madrid dance samba again in Poland? I think so 😊.
De esta manera los españoles lideran en solitario el grupo F, con 9 puntos marchando invictos y no parece que vaya a tener dificultades el Real Madrid en clasificar primero, en la cuarta jornada será el Shakhtar quien reciba al Real Madrid en el Estadio Pepsi Arena en Varsovia, Polonia, el día 11 de octubre, es decir, el próximo martes, ¿volverá a bailar samba el Madrid en Polonia?, yo creo que sí 😊.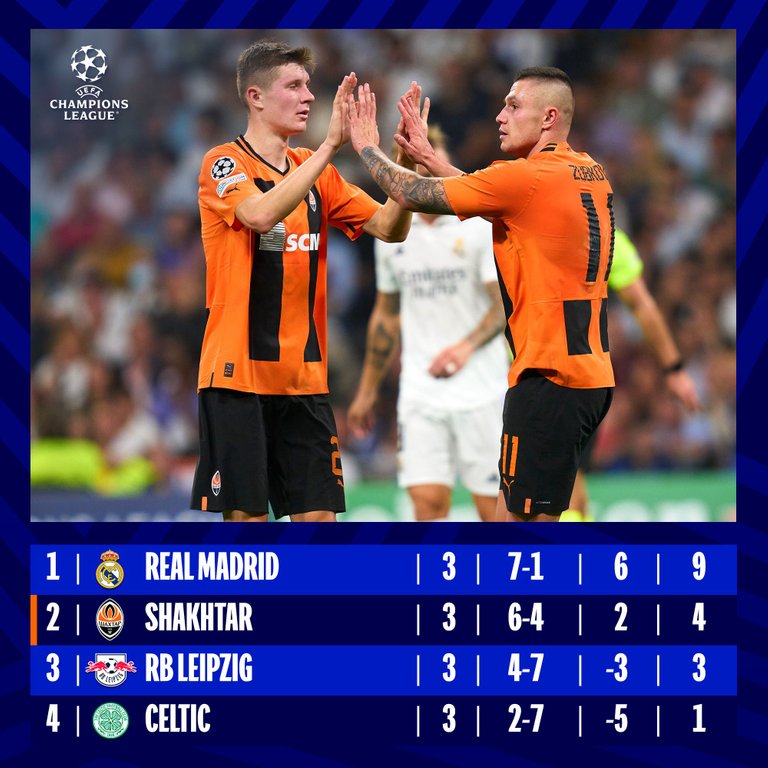 Classification group F/Clasificación grupo F
Source/Fuente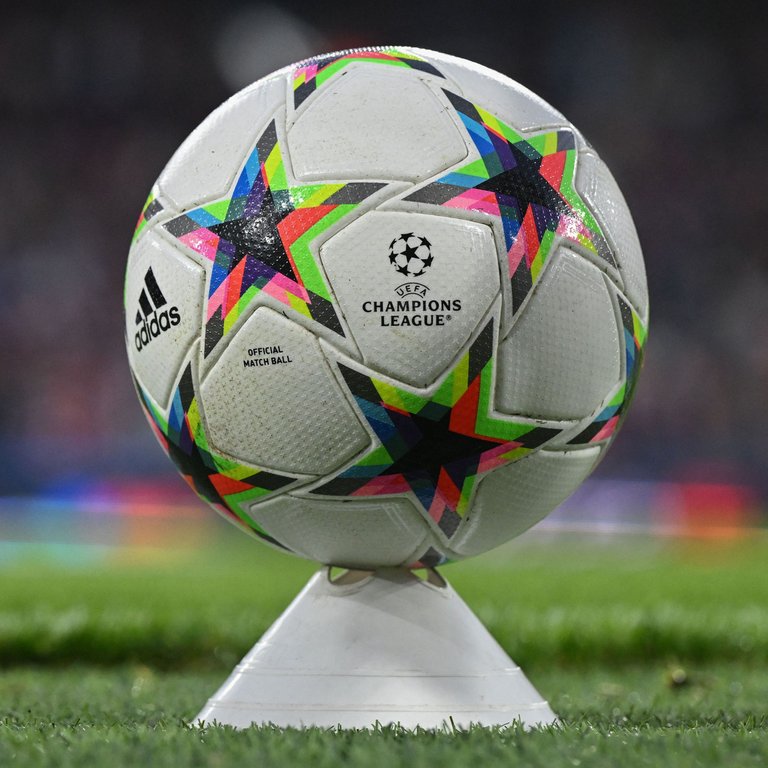 Source/Fuente
Thank you for your attention!
¡Muchísimas gracias por su atención!
---
---