Un gran ambiente en "Pueblo Nuevo" aunque no se logró el G4, resumen de la última jornada del torneo FUTVE (es/en)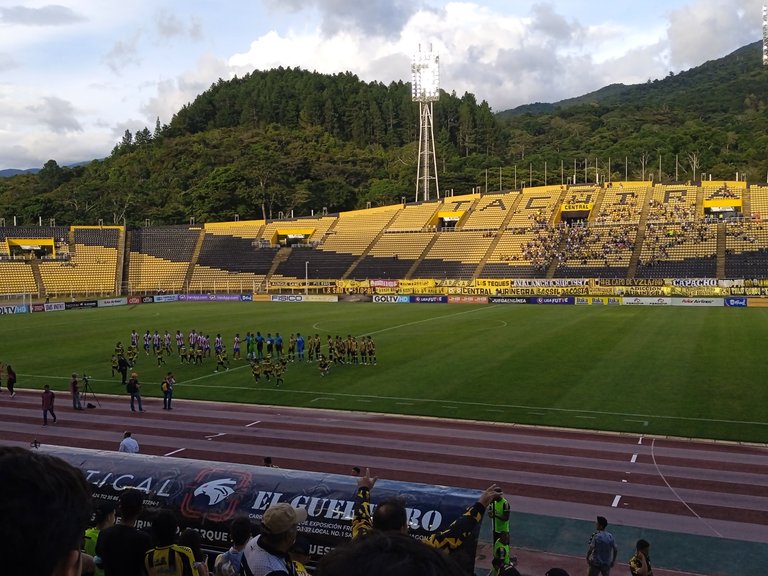 Hola hivers fanáticos del deporte, en la tarde de este domingo 18 de septiembre se jugó lo que fue la ultima jornada del torneo del fútbol venezolano y que terminó de definir que equipos irán a Copa Libertadores del próximo año, como de costumbre asistimos mi padre y yo al estadio a disfrutar del encuentro y esperar que se dieran los resultados y lograr la clasificación anhelada al G4, una empresa realmente complicada pero teníamos fe y como siempre apoyamos al equipo en las buenas y en las malas.
Hi hivers sports fans, on the afternoon of this Sunday, September 18, what was the last day of the Venezuelan soccer tournament was played and it finished defining which teams will go to Copa Libertadores next year, as usual, my father and I went to the stadium to enjoy the match and wait for the results to come through and achieve the long-awaited classification for the G4, a really complicated task but we had faith and as always we supported the team through thick and thin.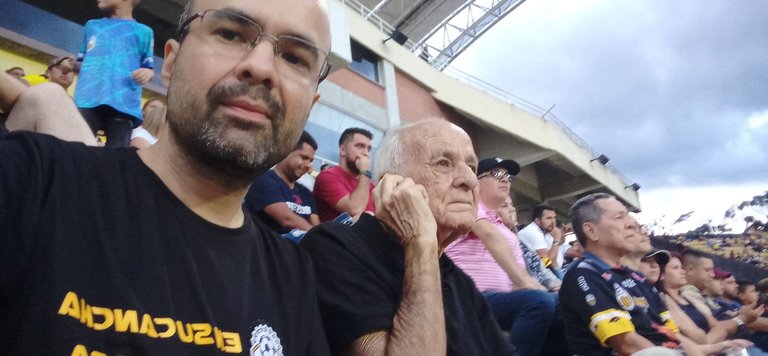 Un buen ambiente con una asistencia importante de fanáticos al estadio, hasta el famoso "fantasma de la B" se dio cita en el estadio para acechar al Estudiantes de Mérida, una tradición ya entre los hinchas aurinegros en estos clásicos, todos los elementos en su sitio para dar apoyo el carrusel aurinegro hoy en este clásico andino, el mas antiguo del fútbol venezolano.
A good atmosphere with a significant attendance of fans at the stadium, even the famous "ghost of B" came to the stadium to haunt the Estudiantes de Mérida, a tradition already among the aurinegros fans in these classics, all the elements in their site to support the black and yellow carousel today in this Andean classic, the oldest rivalry in Venezuelan soccer.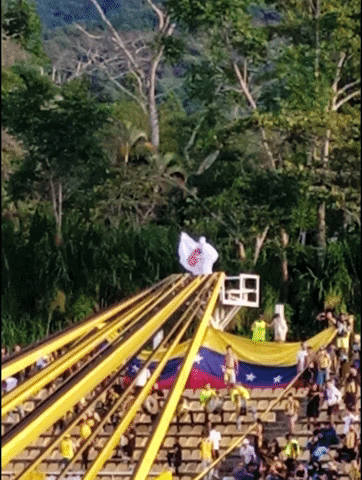 👻 El fantasma de la B 😂
Los equipos formaron de la siguiente manera:
The teams formed as follows: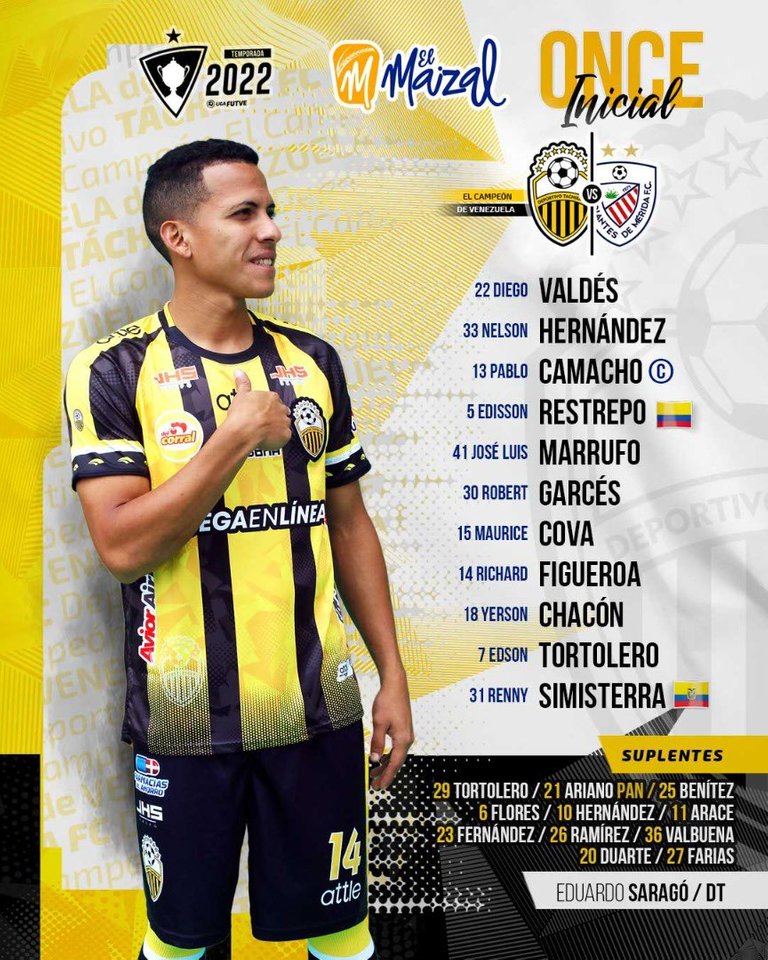 Deportivo Táchira FC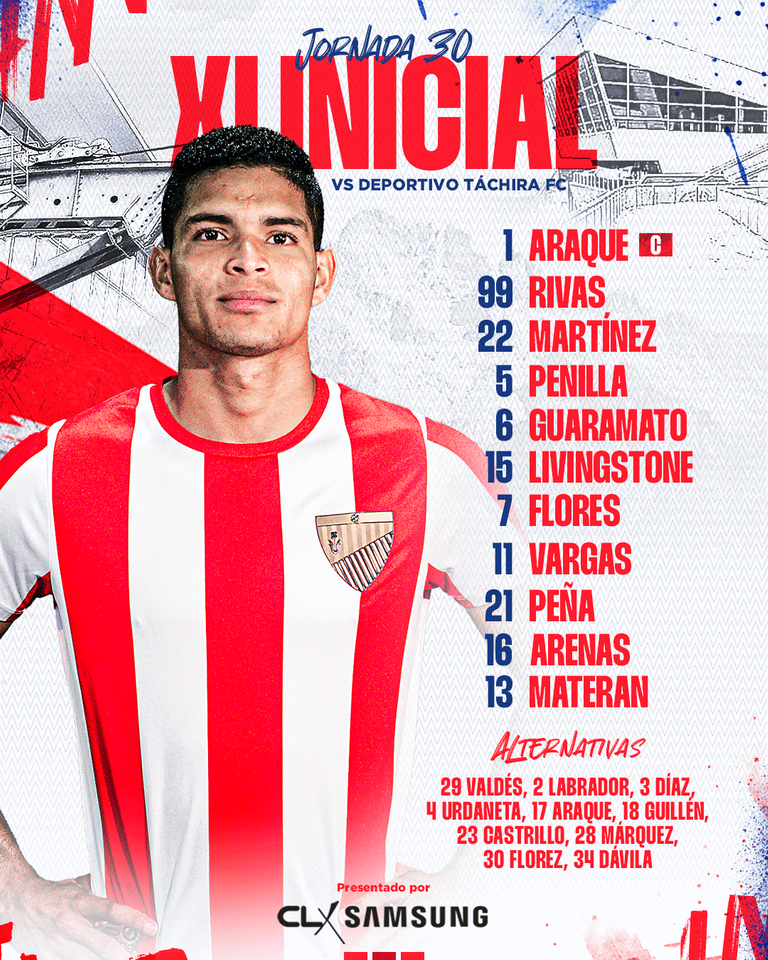 Estudiantes de Mérida FC
El elenco merideño de entrada sorprendió a todo el estadio, alguien comentaba en la tribuna "salieron picantes los merideños", apabullantes dominando el balón con pases veloces precisos y desbordando en velocidad por las bandas, apenas al minuto 4' sería Ángelo Peña entrando al área chica con su zurda dejaba sin chances al arquero Valdés, que hoy fue titular ante la ausencia del arquero Varela que fuera convocado por el profesor Pekerman para los amistosos que disputará la Vinotinto en suelo Europeo ante Emiratos Árabes e Islandia próximamente.
The team from Merida from the beggining surprised the entire stadium, someone commented in the stands "this team came out spicy", overwhelmingly dominating the ball with precise fast passes and overflowing with speed down the wings, just at minute 4' it would be Ángelo Peña entering the area taking it on his left foot left goalkeeper Valdés without a chance, who was the starter today in the absence of goalkeeper Varela who was summoned by Professor Pekerman for the friendlies that Vinotinto will play on European soil against the United Arab Emirates and Iceland very soon.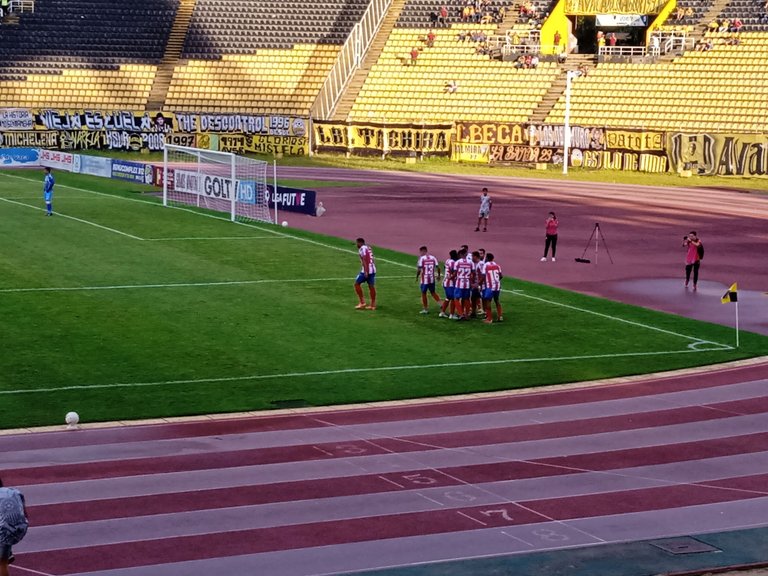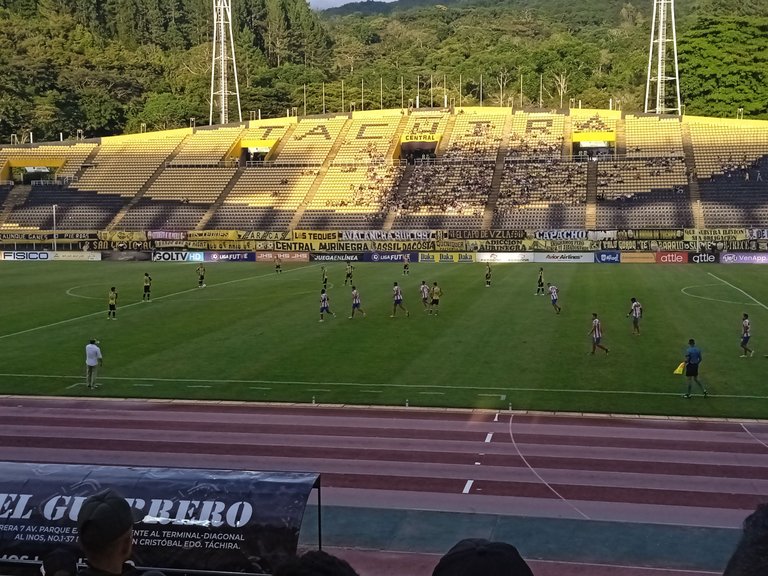 De esta manera muy temprano para desazón del pleno tachirense se ponía en ventaja el cuadro visitante, y empezaba a verse muy complicado el panorama para los de casa, poco a poco Táchira aunque con mucha dificultad y poca lucidez en la cancha se iba encontrando y así al minuto 30' tras un centro perfecto del delantero Edson Tortolero, encontró el cabezazo con potencia y ubicación del defensor lateral izquierdo "Teto" Hernández, y ponía el empate en el marcador a buena hora, no pasaría mucho tiempo y el Táchira voltearía el marcador al minuto 43' Maurice Cova robaba el balón en la media luna del área rival y lograba batir al arquero Araque, para irse a las duchas ahora ganando el encuentro dos goles por uno.
In this way, very early, to the chagrin of the Táchira fans, the visiting team took advantage, and the panorama for the home team began to look very complicated, little by little, Táchira, although with great difficulty and little lucidity on the field, found itself and thus at minute 30' after a perfect cross from striker Edson Tortolero, he found the header with power and location from the left-back defender "Teto" Hernández, and put the tie on the scoreboard at a good time, it would not take long and Táchira would turn the score around at minute 43' Maurice Cova stole the ball in the crescent of the rival area and managed to beat goalkeeper Araque, to go to the showers now winning the match two goals to one.
Durante el entretiempo tuve la oportunidad de reencontrarme con una gran amiga de la universidad, Rossanita que estaba de visita puesto que ya no vive en el país y esta de visita fue una maravillosa casualidad encontrarnos hoy en el estadio y ponernos al día y retomar el contacto 😊, esto es algo muy común en el estadio siempre nos encontramos con alguien, cada domingo para el tachirense no hay mejor que subir al estadio a hinchar por sus colores amarillo y negro.
During halftime I had the opportunity to meet again with a great friend from university, Rossanita who was visiting since she no longer lives in the country and this visit was a wonderful coincidence to meet today at the stadium and catch up and get back in touch 😊, this is something very common in the stadium we always meet someone, every Sunday for the people there is no better than going to the stadium to cheer for their yellow and black colors.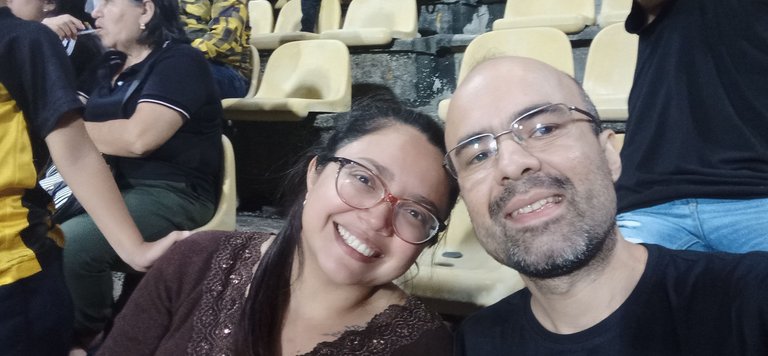 El segundo tiempo no fue bueno para el aurinegro se le volvía a ver aletargado y falto de ideas, cediendo balones muy fácilmente y perdiendo los balones divididos, una ineficacia que empezaría a cobrar factura al 64' cuando fue expulsado el mediocampo Robert Garcés tras fuerte entrada sobre Armando Araque, esto obligo al profe Saragó a reordenar el equipo con las sustituciones, esto no daría frutos y al minuto 83' José Flores marcaba el empate para los blanquirojos y daba cifras definitivas al encuentro, un Táchira que nunca encontró la manera de hacerse del dominio del encuentro, y así termino una temporada regular en la que se vino en picada el equipo a partir de la mitad del calendario y no logró nunca recomponerse.
The second half was not good for the black and yellow, again lethargic and lacking in ideas, giving up balls very easily and losing the divided balls, an inefficiency that would begin to take its toll at 64' when midfielder Robert Garcés was sent off after a strong tackle on Armando Araque, this forced Professor Saragó to reorder the team with the substitutions, this would not bear fruit and at minute 83' José Flores scored the tie for the white and red and gave definitive figures to the match, a Táchira that never found a way to do dominance of the match, and thus ended a regular season in which the team fell into a tailspin from the middle of the calendar and never managed to recover.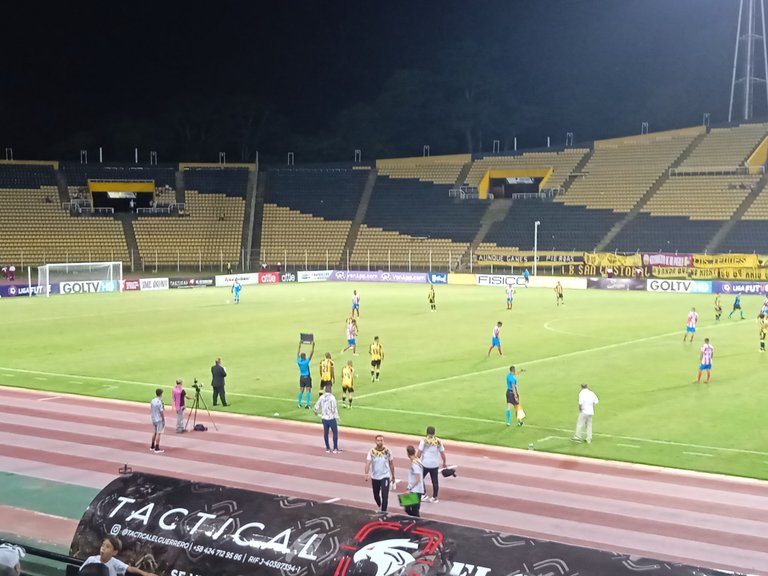 Las sustituciones/The substitutions
| Min. | Sale/Out | Entra/In | Equipo/Team |
| --- | --- | --- | --- |
| 45' | Gregory Materán | José Flórez | Est |
| 45' | Luis Arenas | Armando Araque | Est |
| 64' | Richard Figueroa | Francisco Flores | Tac |
| 64' | Edson Tortolero | Robert Hernández | Tac |
| 65' | Christian Flores | Ángel Urdaneta | Est |
| 75' | Nelson Hernández | Azmahar Ariano | Tac |
| 75' | Yerson Chacón | Marlon Fernández | Tac |
| 79' | Jesús Vargas | Sebastián Dávila | Est |
| 79' | Ángelo Peña | Rafael Castrillo | Est |
| 87' | Renny Simisterra | Rafael Arace | Tac |
El resto de la jornada vio al Carabobo FC hacerse con el cuarto y ultimo cupo al G4 para disputar por la estrella, junto con el Zamora líder a pesar de empatar a uno con Hermanos Colmenarez en La Carolina, Metropolitanos y Monagas que perdieron sus respectivos encuentros en la jornada, al Deportivo La Guaira no le alcanzó su victoria frente a Metropolitanos y de esa manera se acomodó en el quinto lugar de la clasificación y un Táchira que pasó de un cuarto lugar y depender de si mismo al sexto lugar a final de las 30 jornadas.
The rest of the matchdate saw Carabobo FC take the fourth and last place in the G4 to compete for the championship, along with the leader Zamora despite drawing to one with Hermanos Colmenarez in La Carolina, and Metropolitanos and Monagas who lost their respective matches. Deportivo La Guaira did not achieve its victory against Metropolitanos and thus settled in fifth place in the classification and a Táchira that went from fourth place and depending on itself to sixth place at the end of the 30 matchdates.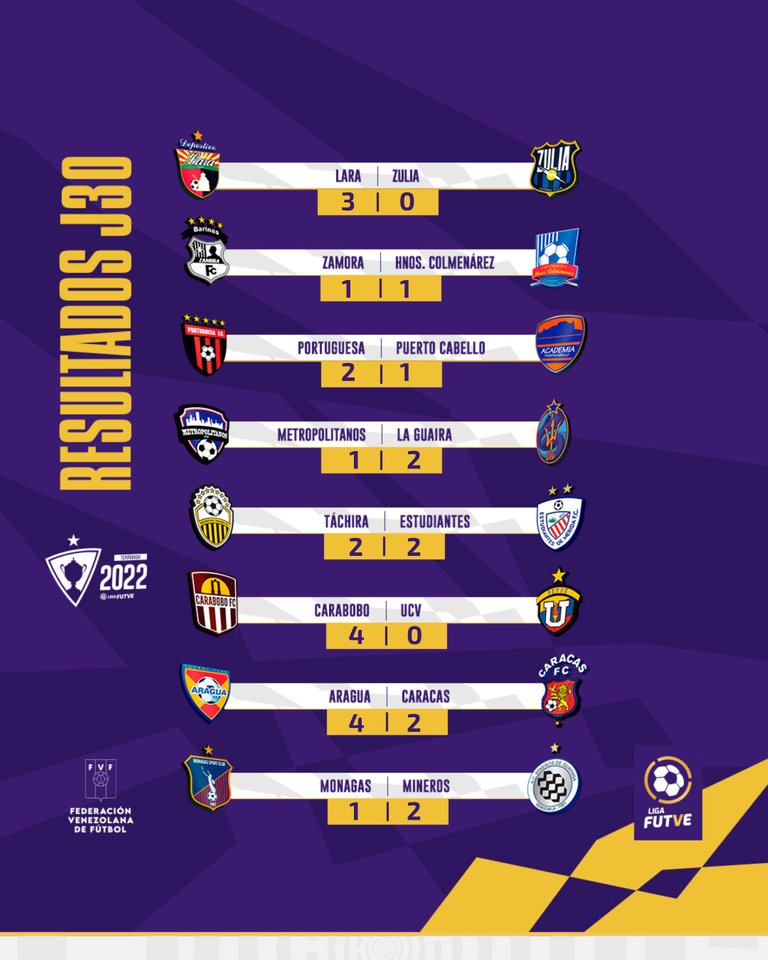 Por otra parte, el último cupo para el G12 y disputar los cuatro boletos para la Copa Sudamericana quedó en manos del Deportivo Lara, que derrotó tres goles por cero al Zulia FC su rival directo en Barquisimeto, y la sorprendente victoria del ya descendido Aragua FC cuatro goles por dos ante un mermado Caracas FC.
On the other hand, the last quota for the G12 and to dispute the four tickets for the Copa Sudamericana was in the hands of Deportivo Lara, who defeated Zulia FC, their direct rival in Barquisimeto, three goals to zero, and the surprising victory of the already relegated Aragua FC four goals for two, against a depleted Caracas FC.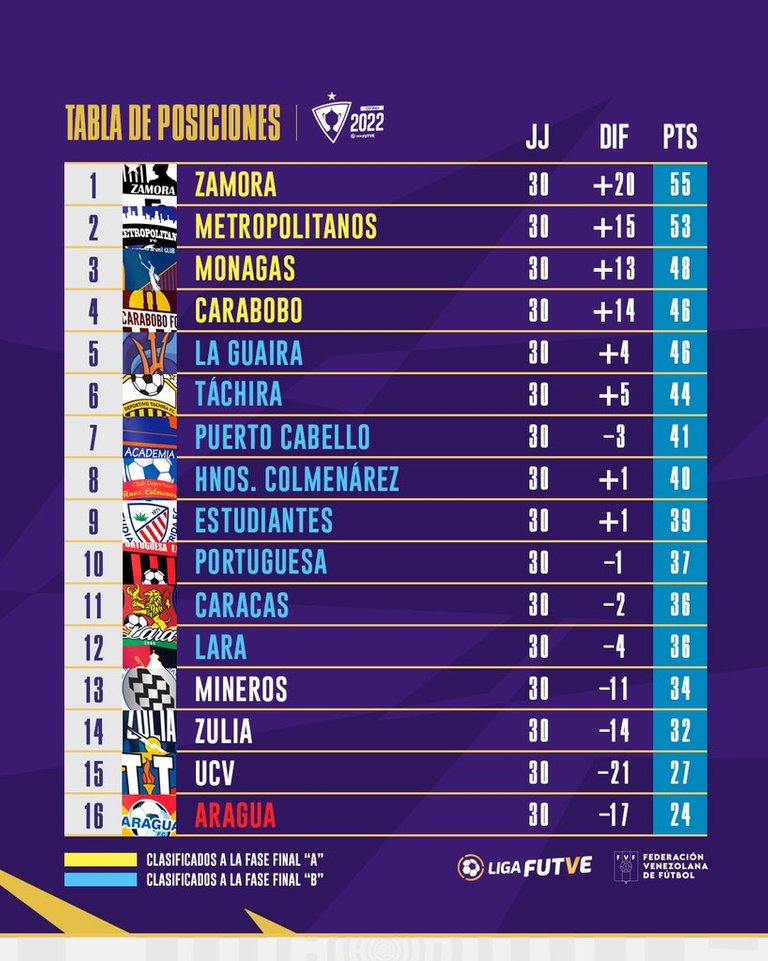 Inmediatamente finalizada la jornada se realizó el sorteo de los dos grupos que conformarán los 8 equipos que integran el G12 y que buscarán su pase a Copa Sudamericana, los dos primeros de cada grupo obtendrán dichos pases al final de cada cuadrangular que dará inicio el próximo 30 de septiembre, y donde seguiré apoyando al glorioso Deportivo Táchira que deberá recomponerse y sudar a full la camiseta amarilla y negra para conseguir ese boleto a competición internacional.
Immediately after the matchdate today, the draw was made for the two groups that will make up the 8 teams that make up the G12 and that will seek their pass to the Copa Sudamericana, the first two of each group will obtain said passes at the end of this next phase that will start on the next September 30, and where I will continue to support the glorious Deportivo Táchira that will have to recover and sweat the yellow and black jersey to get that ticket to international competition.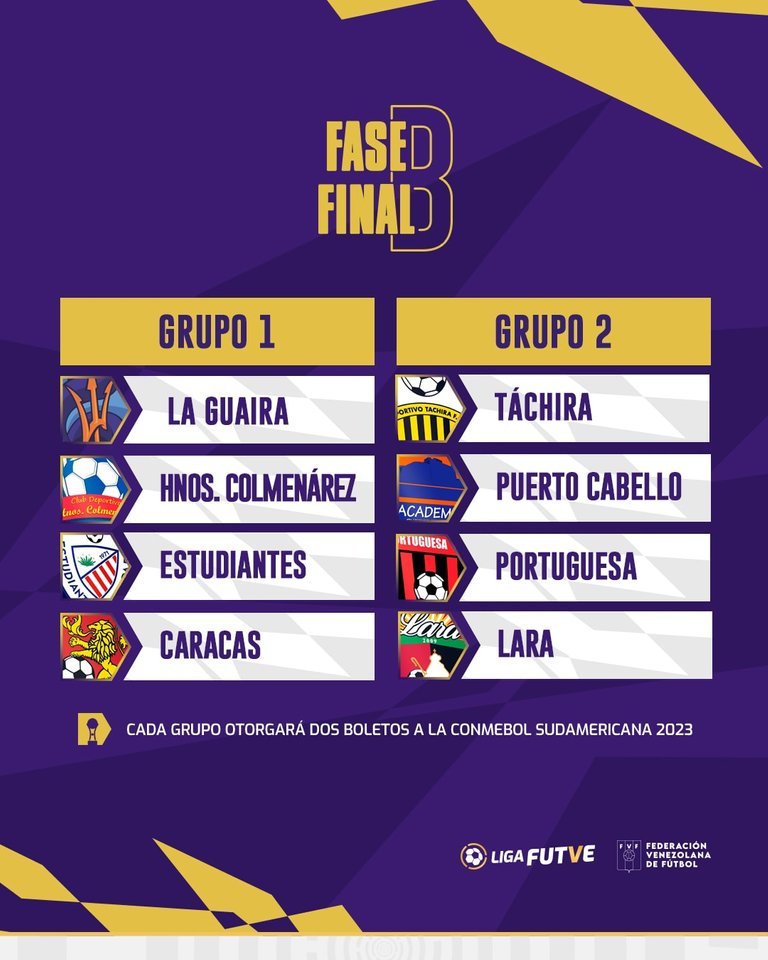 ¡Gracias por leer, hasta la próxima!
Thanks for reading, until next time!
---
---