Iceland at the euro 2016 with their lovely thunderbolt fans
Iceland first appearance in the Euro's will never be forgotten as it will always be a memorable one for them and the fans at Euro 2016. The determination, courage and fearless football they played to reach the quarterfinals in the Euro's 2016 was something they will never forget so soon with their excitable host, commentator and their incredible fans, the tournament was richer for their presence and also a memorable one.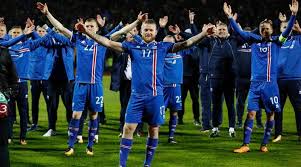 source
Iceland qualifying for the Euro tournament, many would have believed that the team would be an easy access at Euro 2016 early stages. But the team proved everyone wrong with a surprising first game in group F, with their amazing gameplay as well as its great fans, who dominated stadiums with their wonderful thunderous Viking clap and also went ahead to qualify for the knockout stages.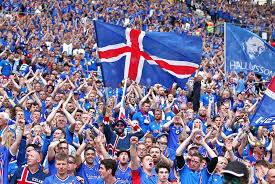 source
When a nation with the population of around 330,000 people made its debut in a major competition for the first time in history, it's an incredible and tremendous experience for the Icelandic nation and a great opportunity to upgrade their sport domestically as a whole.
Iceland has a wonderful and eventful journey in the Euro's in France, with the likes of Birkir Bjarnason's equalising against Portugal and Arnor Ingvi Traustason scoring the winning goal in the last seconds against Austria that year, it was awesome.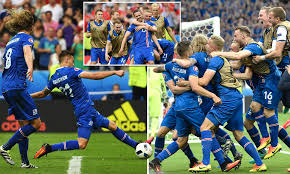 source
The most memorable match that will never be forgotten , was the 2-1 win over England in the round of 16 and how convincing it really was despite been a goal down in the early four minutes.
Despite being a goal down that early, Iceland responded with two goals in the next 14 minutes from Ragnar Sigurdsson and Kolbeinn Sigthorsson, which will definitely be a game that will live in memories for years to come.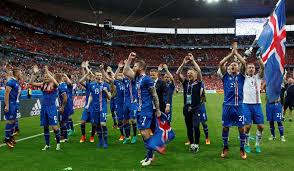 source
That win and result no doubt, will definitely go down to be one of the biggest surprises in the history of the competition hosted in France and making it to the last eight on their debut at a major tournament is an incredible and awesome performance for Icelandic football federation.
The fans with the Vikings clap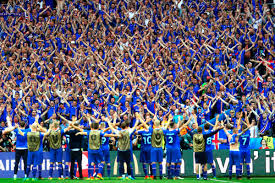 source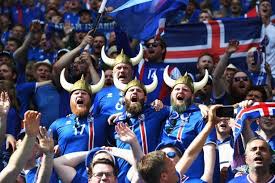 source
The Viking thunder Clap is a football chant performed with a loud shout and a clap by the Icelandic fans and would definitely go down in history after performed in the Euro 2016 in France.
However, the chant and the clap has gone viral and have been performed by fans of a number of clubs all over the world as it has been adopted by many countries worldwide.
---
---