College football midseason

         As expected, BYU lost to Baylor last week. The Bears were the superior team. Baylor did welcome the Cougars to the Big 12 family, so at least the overall sentiment was positive. It's unlikely BYU will return to the top 25 unless they run the tables and win their bowl game.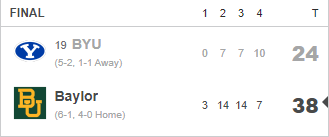 Penn State was on a bye week, so they are back in action. BYU will move on to play against their Pacific Northwest cousins this weekend. Well, cousins in name only. It would be sad if BYU cannot win over a Washington State in disarray, with their coaching staff fired.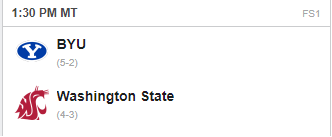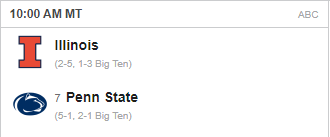 The surprise
         This year, there seem to have been a decent amount of "upsets" each week. Sure, a lot of it is rank trading in the SEC, but they still add to the excitement. To my excitement, at least.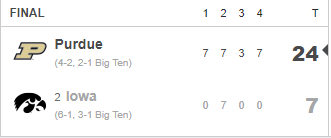 I'm not sure what happened to the Hawkeyes. I guess this is what happens when you put too much into defense. Don't let that turnover number deceive you. Those happened within the last few minutes of the game when Iowa gave up. So much for that. It makes me a bit annoyed that Penn State lost to them.
Expected, but respectable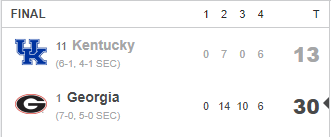 Most of us expected this outcome, but Kentucky played a respectable game. Better than some, of course (laughs in Arkansas). I do believe we will see Kentucky in the limelight in the next several years.
Speaking of which...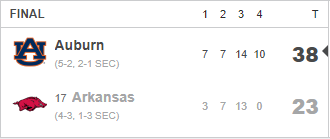 And here we are...I recall saying that Auburn would win against the Razorbacks. Lo and behold, it came to pass. The rank and SOS trading continues.
They did it again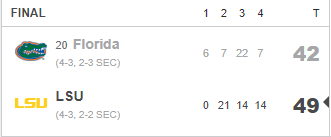 Looks like Florida is going down the drain since their attempt to thwart Alabama. Good for LSU, except for their head coach. I guess bringing the school one national championship is not good enough to keep your job over there.
         Remember Les Miles? Something similar happened to Ed Orgeron. He's gone by the end of this season. Don't feel sorry for him though, he was paid millions to be the LSU coach. It would seem LSU wants the next Nick Saban, but I don't know if they will be able to pull it off any time soon.
Bouncing back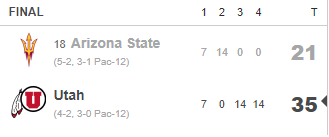 As for the Cougar's local rivals, they did well against Arizona State. The local consensus has always been the better the rival does, the better it feels when you beat them. So yes, I like seeing the Utes doing well when they aren't playing against BYU. The sad part is, the Pac-12 is a mess this year, but it is what it is.
---
         All right, this week marks the midpoint of regular season. Still plenty of college football left. The playoff picture is getting clearer. I'm adjusting my expectations, but still hoping for the best for my teams.
---
---