College football season second half
         Midseason left me with mixed feelings about the teams I support. It's not all bad news, but it could be better. I guess I'll start with the good news first.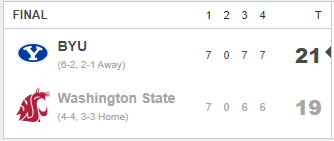 That game was too close for comfort, but I'm glad BYU pulled out a narrow win. Despite having most of the lead coaching staff fired, Washington State put up a good fight. Hilariously, this win pulled BYU back in the top 25. While that may seem undeserved, it's worth noting that BYU is 4-0 against the Pac-12 this season. In fact, they would have the top standing if they were part of the conference. Even the Ducks are 3-1 in Pac-12 as of now.
         Cougars will play against the Cavaliers at home this weekend. The fans will see the return of Bronco Mendenhall. Except, he is not on our side this time. I've seen various talks between fans about giving him a warm welcome. I don't see why not. Sure, he wasn't the best coach for BYU overall, but his record wasn't shabby either.
         I hope the home field advantage is enough for the Cougars to offset Virginia's offense. The current BYU squad doesn't feel like the kind that can stop a team that cranks out over 500 yards per game. However, the chance is still good.
         Should BYU come out with a win, they will remain in the top 25. There may even be a chance that they could pull it off against USC in LA at the end of the season. So, fingers crossed for a 10-2 finish in the regular season.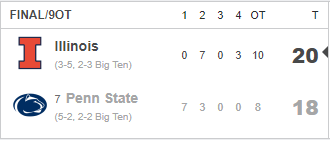 This game disgusted me and it exposed Penn State as an overrated team this season. Yeah, it's the first time ever in college football that two teams went to 9 overtimes. Yes, you read that correctly, NINE overtimes. All that to lose at home.
         If you look at the stats, Illinois had 3 turnovers. None of which the Nittany Lions could capitalize on. Add that to the fact Penn State even missed a field goal during the match. Way to lose the game!
         Penn State will play against Ohio State this weekend. There's no way they can win. Not only that, I doubt they could keep up with either of the Michigan schools fighting for dominance. The best I can hope for them at this point is to finish with a 7-5 in the regular season.
         Anyways, let's move on to the upsets last week.
Those dang field goals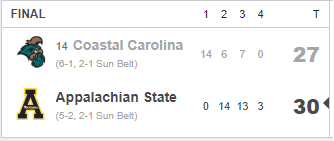 Something about those dang field goals this season. They be upsetting every team out there. Even Alabama had a taste of defeat because of one. Coastal Carolina isn't out of the top 25 yet, but winning the Sun Belt might be challenging now.
Another one bites the dust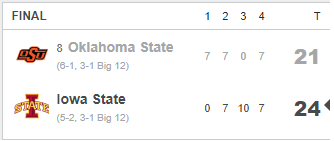 Just like that, Oklahoma State is no longer one of the undefeated teams in the country. The Sooners is the only team with a perfect record left in the Big 12 after this game.
         Since Big 12 does the round-robin conference games, everyone will play each other. This is unlike other conferences where one could luck out and skip several opponents. It's hard to say who will be in the conference championship even now. I guess we shall see.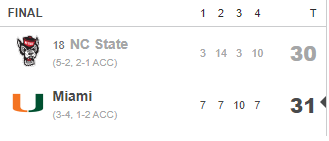 NC State hasn't made much noise since they pulled the upset against Clemson. As it turned out, Clemson isn't very good this year. I reckon NC state won't hold the number 2 spot in their division of the ACC for long. Not with Wake Forest dominating the conference right now.
---
         The Playoff picture is becoming clearer and clearer. There are some big games that will shake up conference standings. Stay tuned.
---
---