The Week of Many Upsets (College Football Week 10)
         This past weekend in college football was upsets galore! It definitely made everything more interesting. It also gives me some more stuff to talk about as the season winds down.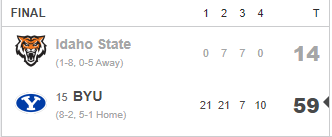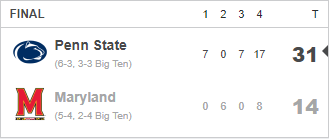 For the teams I'm rooting for, it was a boring weekend playing against opponents they should win. I'm glad they did. Now, let's move on to the more fun stuff.
You call this a Playoff contender?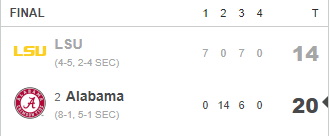 You know the media loves Alabama, but they don't look dominant to me at all. Never mind the fact they struggled against a sub .500 LSU. The worst part, the Crimson Tide put up a grand total of 6 rushing yards against the Tigers. That's right, you read it right, SIX! Aside from LSU sacking the quarterback 4 times, it makes you wonder what was going on. I can't see this team with a #2 ranking. Don't get me started on Ohio State and Oregon.
Plot twist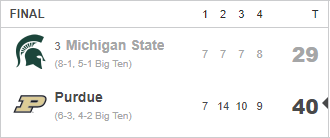 As Spartans fans started to get excited about taking the Big Ten, Purdue ruined the party. This seemed almost too typical of Michigan State. They do very well up to a certain point and then they proceed to drop the ball. With this loss came new possibilities that would affect the Playoff selections. The possibility of a one-loss Ohio State winning the conference became ever closer.
Welp...I'm at loss for words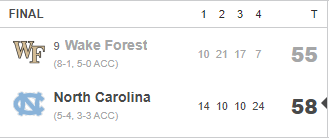 I guess ACC is not going to have a representative in the Playoff this year. I kind of hoped Wake Forest would pull through and show how biased the committee is. This upset did not instill me with that confidence.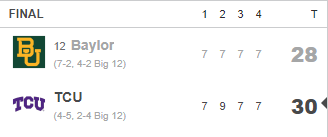 I guess when your team got nothing to lose, you can pull off great upsets. TCU fell off the radar despite some of their more successful years in the Big 12. Can't say I have much to add here. I am actually looking forward to BYU playing these guys again in 2023.
SEC win-trading continues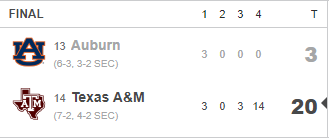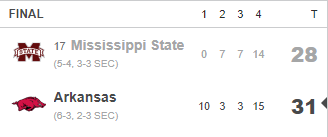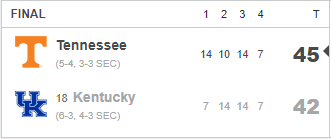 This is the only conference where you can rack up 3 losses and still find yourself ranked. Because you know, your conference is so "tough". To be fair, Texas A&M has been doing pretty well. I can see them winning the rest of the season and end up in a NY6 bowl.
         Even Kentucky has proved themselves to be no pushover as everyone first thought. Despite the loss, most people would agree it's a vast improvement than most years.
Expected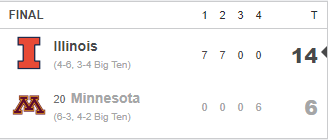 Remember how I mentioned about fillers in rank #21-25? Yeah, I figured Minnesota was going to lose, to Illinois no less. You can't be that good when you lose to the team that lost to Rutgers. Yes, that includes Penn State.
Respect the Broncos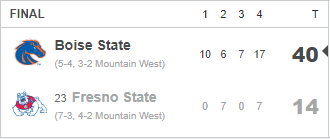 I'm not a Boise State fan, but they've always been my favorite "underdog" in any fight. Put them up against anyone, there's a good chance they might win. Alas, a smaller and less lucrative market is what keeps these guys down.
         I, for one, cannot wait when they expand the Playoffs. I would love to see the Broncos go in there, wreck a team or two and lose in the semi-finals or championship. It will balance out the bias and provide heaps of entertainment.
---
         Anyways, college basketball also started, and there are plenty of scoops there. For now, I'll still focus on college football unless I find something interesting.
---
---