Campo Júpiter / Jupiter Field | ESP-ENG
CARDENALES AL ROJO VIVO / RED-HOT CARDINALS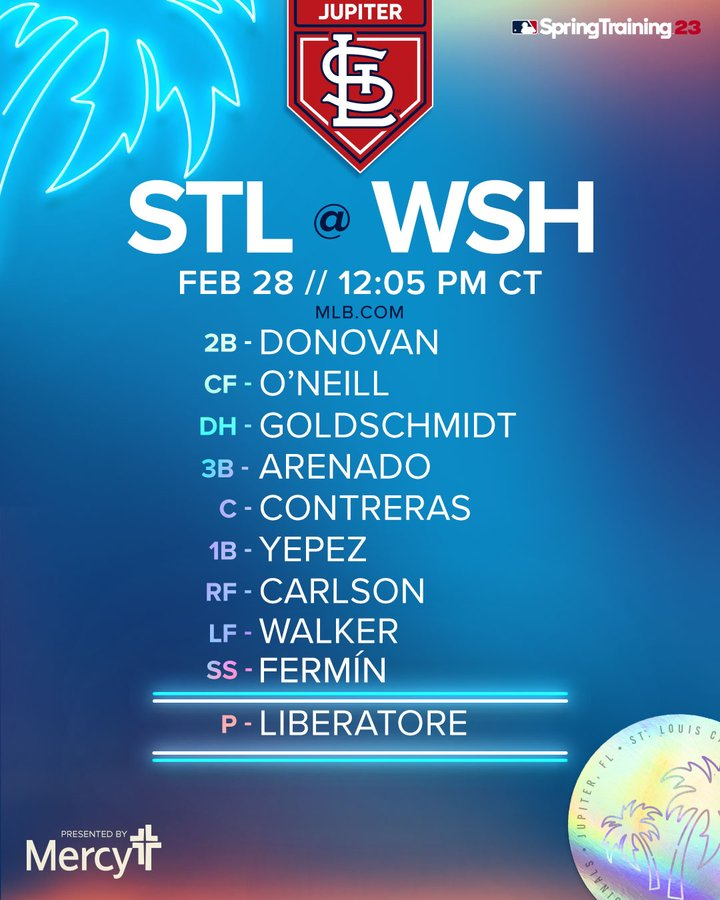 Source
Ya entrando en el desenvolvimiento de los diferentes equipos en estos entrenamientos primaverales en este 2023, no podemos empezar este recorrido sin dejar de observar a la escuadra de los Cardenales de San Louis, los 11 veces campeones mundiales inician sus actividades con varias expectativas y varios retos para esta temporada, que son bastante interesantes de estudiar y que de una manera u otra marcan un inicio a lo que será un nuevo ciclo con distintas caras nuevas, sin su principal figura detrás del plato como lo fue Yadier Molina y lo que sera la ultima temporada para un lanzador como lo es Adam Adam Wainwright, que ha dejado en esta organización todo un legado, este tipo de movimientos en el roster esta divisa está acostumbrada a sacar adelante con bastante éxito, y los ha llevado en el pasado, a conseguir campeonatos, dando pie a que son más que un equipo de béisbol.
Already entering the development of the different teams in spring training in this 2023, we can not start this tour without observing the squad of the St. Louis Cardinals, the 11-time world champions begin their activities with several expectations and several challenges for this season, which are quite interesting to study and that in one way or another mark the beginning of what will be a new cycle with different new faces, Without their main figure behind the plate as was Yadier Molina and what will be the last season for a pitcher such as Adam Adam Wainwright, who has left a legacy in this organization, this type of roster moves this currency is used to get ahead quite successfully, and has led them in the past to achieve championships, giving rise to the fact that they are more than a baseball team.

CAMPO JÚPITER / JUPITER FIELD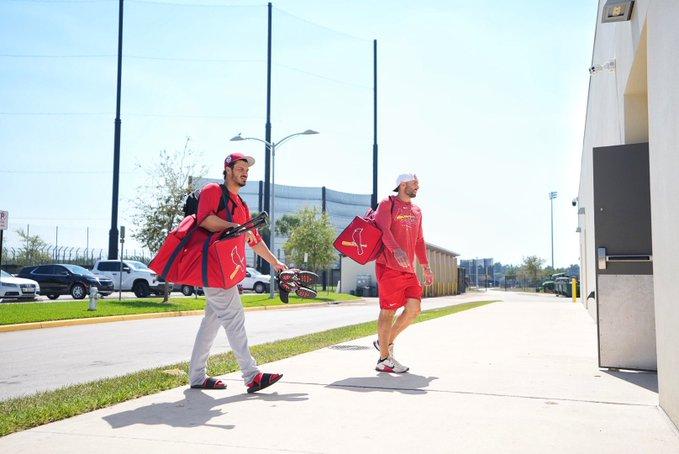 Source
El campo Júpiter en Florida, sede de los entrenamientos primaverales y juegos de exhibición del conjunto de los Cardenales de San Louis, ha sido testigo de sendas victorias de manera consecutiva de este equipo, que ven como una vez más saca adelante una temporada con las ausencias de diferentes figuras por diferentes motivos, mostrando de que son una organización netamente integra y que está preparada para continuar en el tiempo y cerrar ciclos, así como también a abrirlos, para batallar una vez más en su acostumbrada división ''Central'' de la Liga Nacional y defender ese título divisional de la temporada pasada que prácticamente ganaron a pura constancia y dedicación.
Jupiter Field in Florida, home of the St. Louis Cardinals' spring training and exhibition games, has witnessed back-to-back victories by this team, which has once again pulled through a season with the absence of different players for different reasons, showing that they are a clearly integrated organization and that they are prepared to continue in time and close cycles, as well as to open them, to battle once again in their usual ''Central'' division of the National League and defend last season's divisional title that they practically won by sheer perseverance and dedication.
Las victorias 12 carreras por 7 frente al conjunto de los Mets de Nueva York y 5 rayitas por 3 en contra de los Nacionales de Washington, han significado de que el equipo de los Cardenales, están sumamente preparados para esta nueva temporada, aunque todavía es muy temprano para afirmarlo, este tipo de compromisos sirven de mucho para estudiar y analizar varios aspectos de juego de tu equipo, sabiendo compenetrar las nuevas piezas y los nuevos jugadores que vienen desde tus granjas, que ya vienen dando esos pasos, que no los conducen a otra parte si no al equipo grande en este mes de Abril.
The victories 12 runs for 7 against the New York Mets and 5 runs for 3 against the Washington Nationals have meant that the Cardinals are extremely prepared for this new season, although it is still too early to say it, this type of commitments are very useful to study and analyze various aspects of your team's game, knowing how to integrate the new pieces and the new players coming from your farms, who are already taking those steps that will not lead them anywhere else but to the big team in April.
---
Source
Desde el montículo se han visto bien, y en el caso del último partido frente a los Nacionales no fue la excepción, 2 entradas perfectas del joven lanzador Matthew Liberatore significó un buen trabajo y una excelente presentación de solo 28 lanzamientos, los cuales fueron muy efectivos, siendo esto lo que siempre ha caracterizado a estos equipos de San Louis, de poseer, formar y llevar muy bien a sus lanzadores, para fortalecer aún más el equipo como tal, en esta área, que es la que le ha generado grandes resultados a lo largo de su historia como organización, perteneciendo además en una liga como la es la del viejo circuito, caracterizada por ser netamente de pitcheo por excelencia.
From the mound have looked good, and in the case of the last game against the Nationals was no exception, 2 perfect innings of young pitcher Matthew Liberatore meant a good job and an excellent presentation of only 28 pitches which were very effective, being this what has always characterized these teams of St. Louis, to own, train and take their pitchers very well, to further strengthen the team as such, in this area, which is the one that has generated great results throughout its history as an organization, also belonging to a league such as the old circuit, characterized by being purely pitching par excellence.
---
https://twitter.com/Cardinals/status/1630575391587835906@Cardinals
Source
---
Todo eso ha sido responsabilidad de la gerencia, al traer el sustituto ideal para suplir una baja, la ausencia de un jugador que los acompañó durante casi 20 temporadas y que era prácticamente el director de la orquesta en el terreno de juego, Wilson Contreras ha llegado a este equipo y que si nos colocamos a ver, tiene todos los atributos para continuar con ese legado, talento defensivo, buen bate y la particularidad de ser latino al igual que Molina, contando además con la experiencia suficiente para asumir este rol y este reto, en una organización tan ganadora y de tanta tradición en las grandes ligas.
All this has been the responsibility of the management, to bring the ideal replacement to fill a casualty, the absence of a player who accompanied them for almost 20 seasons and who was practically the conductor of the orchestra in the field, Wilson Contreras has come to this team and if we look at it, he has all the attributes to continue with that legacy, defensive talent, good bat and the particularity of being Latino like Molina, also having enough experience to assume this role and this challenge, in such a winning organization and with so much tradition in the big leagues.
---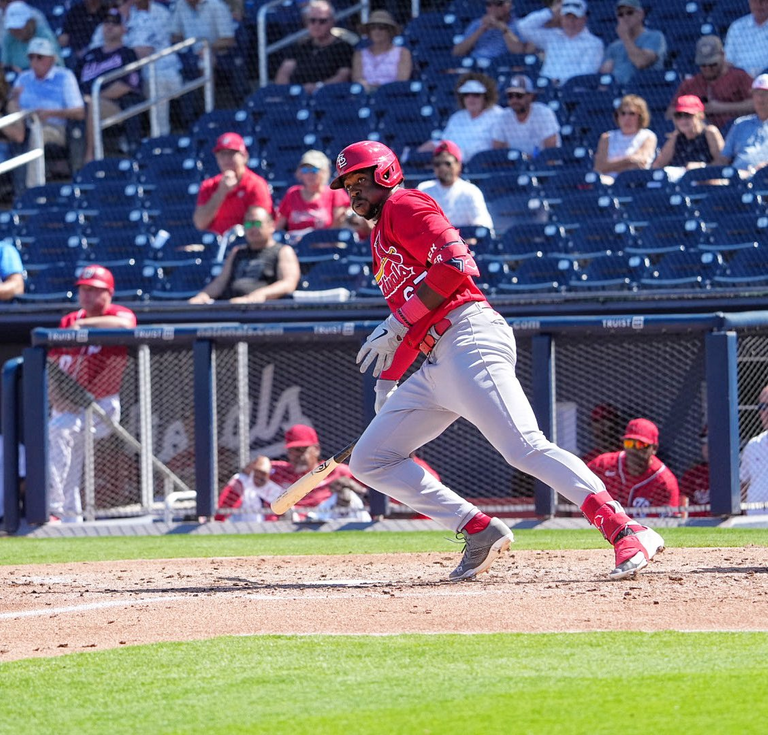 Source
En el plano ofensivo las figuras en estos 2 compromisos han sido ahora 3, Nolan Arenado, Paul Goldschimdt y se le agrega la joven promesa de solo 20 años de edad, Jordan Walker, el prospecto número 1 de la organización ha mostrado en el terreno de juego todo lo que se ha dicho de él, buenos lances defensivos en los jardines y buen bate, lo que le adiciona al equipo y a la alineación una nueva pieza que les será de gran ayuda en este largo camino en la temporada, que aunque dicen que aun no esta listo para ser su debut en el equipo grande para el día inaugural, creo será cuestión de tiempo para que de el gran salto que todo los fanáticos y técnicos del equipo están esperando de él.
On the offensive side the figures in these two games have now been 3, Nolan Arenado, Paul Goldschimdt and now we add the young promise of only 20 years of age, Jordan Walker, the number 1 prospect of the organization has shown on the field everything that has been said of him, good defensive throws in the gardens and good bat, This adds to the team and the lineup a new piece that will be of great help in this long road in the season, although they say he is not yet ready to make his debut in the big team for the opening day, I think it will be a matter of time for him to make the great leap that all the fans and technicians of the team are waiting for him.
Lo mostrado por las figuras ya consagradas con el bate como lo son, Nolan Arenado y Paul Goldschimdt en estos juegos primaverales y sobre todo en este último, donde el equipo rojo se impuso ante los Nacionales, han resultado muy buenas noticias, entre los 2 han ligado de 6-5, con 2 jonrones y 2 carreras impulsadas, además de 2 anotadas, agregando que los cuadrangulares fueron de manera consecutiva, esto nos dice que ya están a tono, y que no necesitarán de muchos encuentros de preparación para mostrar todas sus cualidades para la causa de los dirigidos por Oliver Marmol, siendo estos la base de la alineación para competir en este 2023 en la Liga Nacional.
The performances of Nolan Arenado and Paul Goldschimdt in these spring games and especially in this last one, where the Reds won against the Nationals, have been very good news, both have hit 6-5, with 2 home runs and 2 runs batted in as well as 2 runs scored, adding that the homers were consecutive, they tell us that they are already in tune, and that they will not need many preparation games to show all their qualities for the cause of Oliver Marmol's team, being these the base of the lineup to compete in this 2023 in the National League.

TODO MARCHA BIEN / EVERYTHING IS GOING WELL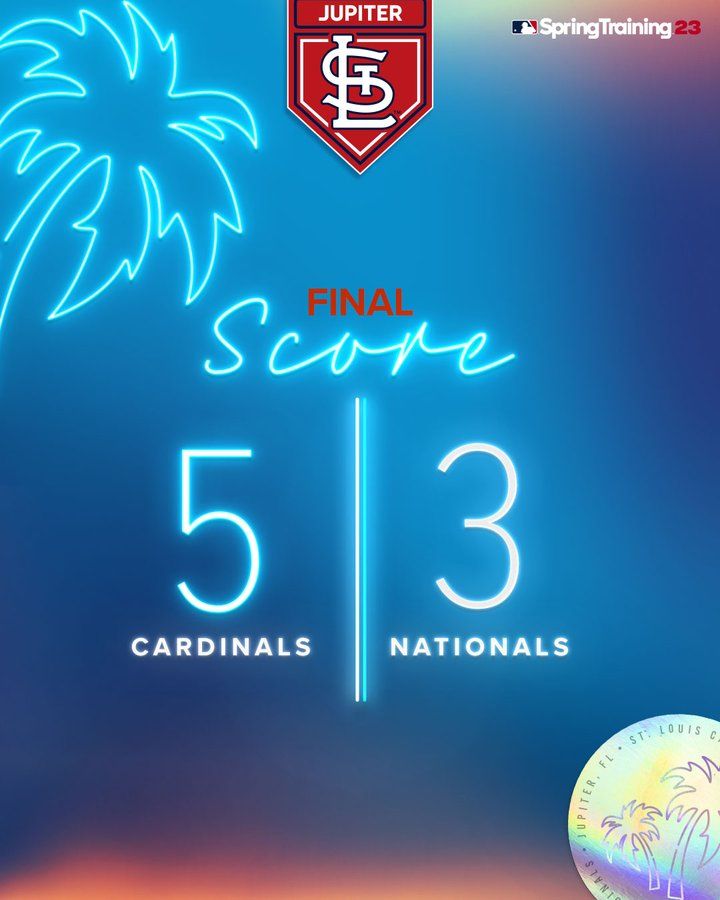 Source
Con la victoria conseguida sobre los Nacionales da síntomas de que todo marcha muy bien, con un excelente registro de 3 ganados 1 solo partido perdido, ha de ver de que todas sus piezas hasta ahora están funcionando con plena eficiencia y suma normalidad, acudiendo a las expectativas del equipo de que lo que han traído de nuevo a la organización y las que piensan sacar a competir por primera vez les va a funcionar.
With the victory over the Nationals showing that everything is going very well, with an excellent record of 3 wins and only 1 loss, it has to be seen that all their pieces are working with full efficiency and normality, meeting the team's expectations that what they have brought back to the organization and plan to bring out to compete for the first time will work for them.
Como todo equipo competitivo y ganador al mejor estilo de los Yankees de Nueva York, tienen cubierto casi todos los frentes, y agregando además, que tienen aproximadamente 4 prospectos en sus granjas que en cualquier momento dan el salto al equipo grande, siendo esto de gran valía, debido a que son jugadores netamente del equipo desde sus inicios y no les costará mucho ponerlos a jugar cuando sea necesario.
Like any competitive and winning team in the best style of the New York Yankees, they have almost all fronts covered, and in addition, they have approximately 5 prospects in their farms that at any moment make the jump to the big team, being this of great value, because they are players of the team from its beginnings and it will not cost much to put them to play when necessary.
Entre ellos destaca el mencionado jugador Jordan Walker, jardinero y jugador de posición en el cuadro, específicamente la tercera base, le siguen Masyn Winn campocorto de tan solo 20 años de edad, en tercer lugar tenemos al lanzador Gordon Graceffo quien ha tenido buenos números y ya debería estar listo en cualquier momento para estar con el equipo grande, otro lanzador que a pesar de que aún no ha conocido la victoria en casi 20 inicios, ha reflejado un control magnífico, que lo ha llevado a tener una efectividad de 2.39, estos 4 prospectos encabezan una listas de jóvenes promesas que en un futuro no muy lejano serán los encargados de tomar el lugar dejado por otros jugadores importantes y empezar un nuevo ciclo.
Among them stands out the aforementioned player Jordan Walker, outfielder and position player in the box, especially third base, followed by Masyn Winn shortstop of only 20 years of age, in third place we have the pitcher Gordon Graceffo who has had good numbers and should be ready at any time to be with the big team, another pitcher who although he has not yet known the victory in almost 20 starts, has reflected a magnificent control that has led him to have an effectiveness of 2. 39, these 4 prospects head a list of promising young players that in the not too distant future will be in charge of taking the place left by other important players and start a new cycle.

---
HASTA LA PRÓXIMA / SEE YOU NEXT TIME
---
Mi Twitter: @EnirsonPirela
---

Imagen editada en Canva / Image edited in Canva Original public domain - Source
---
---