Campos cortos en MLB 2023 / Short fields in MLB 2023
LOS MEJORES, SEGUNDA PARTE / THE BEST, PART TWO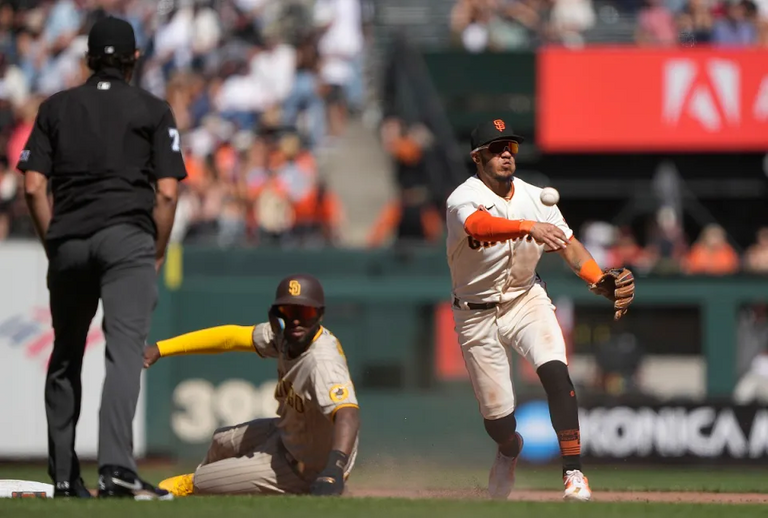 Source
Siguiendo con el análisis de las posiciones en el campo de juego en MLB, de cada uno de los equipos para este 2023, nos vamos a la que es una de las favoritas para muchos, el campocorto, siendo yo proveniente de un país de netamente talentoso en esta locación en el campo como lo es Venezuela, me dedicare de realizar un estudio de la misma, y que deben tener los jugadores para ser verdaderamente exitosos en esta nueva temporada, combinando su talento defensivo y ofensivo, basándose además en sus actuaciones previas, para ver de manera más clara sus proyecciones para este mes de Abril, cuando se le inicio a una nueva zafra en el mejor beisbol del mundo, como lo es el de la grandes ligas.
Continuing with the analysis of the positions in the field of play in MLB, of each of the teams for this 2023, we go to which is one of the favorites for many, the shortstop, being me coming from a country of clearly talented in this location in the field as it is Venezuela, I will dedicate myself to make a study of the same, and what the players must have to be truly successful in this new season, combining their defensive and offensive talent, also based on their previous performances, to see more clearly their projections for this month of April, when a new season begins in the best baseball in the world, as it is the major league.

CAMPOS CORTOS EN MLB 2023 / SHORT FIELDS IN MLB 2023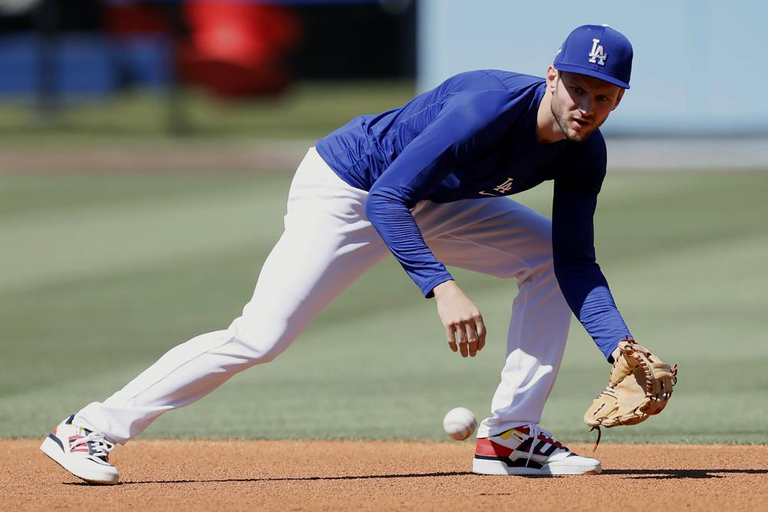 Source
Partiendo ahora desde el punto de que los campocortos en esta era son buenos bateadores, y no son del todo defensivo, les voy a hablar de 3 paradores en cortos que tienen de ambos atributos pero con un grado que es el ideal, sin mucho aparataje, pero que cumplen de manera perfecta ese rol, de ser íntegros y de tener algo más que fuerza y defensa, y es que les hablo del shortstop Trea Turner, quien aparenta ser solo un jugador muy bueno en la defensa pero resulta, que también es bueno con su bate, no tanto como para decir que es de poder, o poder ocasional, pero si con una habilidad y el talento necesario, como para estar siempre en las bases que es lo que realmente se requiere, partiendo de otro punto, de que los jugadores de fuerza son los encargados de traer las carreras.
Starting now from the point that shortstops in this era are good hitters, and are not entirely defensive, I'm going to talk about 3 shortstops who have both attributes but with a degree that is ideal, without much equipment, but that perfectly fulfill that role, to be upright and have more than strength and defense, and I'm talking about shortstop Trea Turner, who appears to be only a very good defensive player but it turns out that he is also good with his bat, not so good as to say that he is a power player, or occasional power, but with the ability and talent necessary to always be on the bases, which is what is really required, based on another point, that power players are responsible for bringing in the runs.
Y es que todo esto es tan cierto, que Trea Turner en los 2 últimos años, ha estado con un total de 3 equipos, Nacionales, Dodgers y Phillies, y para esta temporada de 2023, estará con su cuarta divisa en este lapso de tiempo, dando evidencia de que los que le digo es tan importante, que ha sido un jugador muy solicitado, debido a que va bien, con el bate, al ser un jugador de líneas, buen corrido en las bases, robador de bases, y el talento defensivo que no puede faltar, manteniendo la pelota en juego siempre, dándole a su equipo siempre el chance de anotar carreras, departamento que estas últimas temporada ha liderado con suma facilidad.
And all this is so true, that Trea Turner in the last 2 years, has been with a total of 3 teams, Nationals, Dodgers and Phillies, and for this season of 2023, will be with his fourth currency in this time span, giving evidence that what I say is so important, that has been a very sought after player, because he goes well with the bat, being a line drive player, a good base runner, a base stealer, and the defensive talent that can't be missed, keeping the ball in play at all times, giving his team a chance to score runs, a department that he has led with ease this past season.
---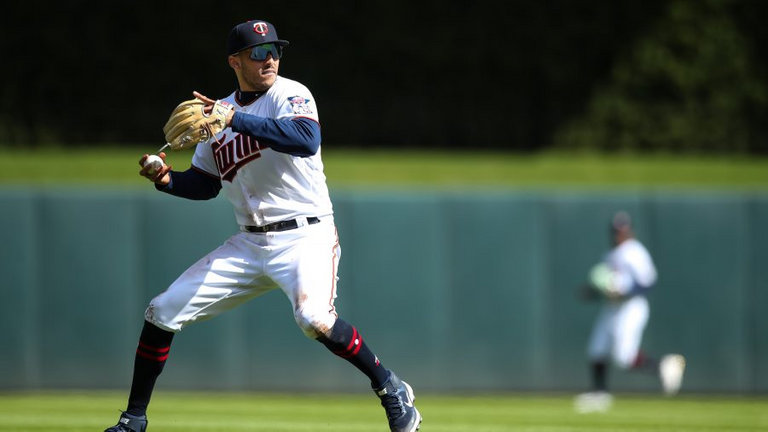 Source
En la segunda casilla nos encontramos con el jugador que en estas últimas semanas, ha sido toda una controversia, el señor Carlos Correa, debido a la alta solicitud de varios equipos, por haberse declarado agente libre, y no haber logrado un acuerdo con los diferentes equipos la cual lo pretenden, para luego, volver con su novena original, los Mellizos de Minnesota, y finalmente firmar con ellos, las cosas que lo alejaron de los otros 2 pretendientes, no tienen nada que ver con su rendimiento, puesto que su talento está más que claro, bateo y defensa, conexiones oportunas, que lo llevan a ser un buen bateador de líneas, y con algo de poder, que agregando esto a cualquier lineup, es de suma importancia, debido a que bateara en momentos claves del juego.
In the second box we find the player that in recent weeks, has been a controversy, Mr. Carlos Correa, due to the high demand of several teams, for having been declared a free agent, and not having reached an agreement with the different teams which wanted him, and then return to his original ninth, the Minnesota Twins, and finally sign with them, The things that kept him away from the other 2 suitors, have nothing to do with his performance, since his talent is more than clear, batting and defense, timely connections, that lead him to be a good lineup hitter, and with some power, that adding this to any lineup, is of utmost importance, because he will hit in key moments of the game.
---
https://twitter.com/MLB/status/[email protected]
Source
---
En el plano defensivo, vemos que Correa también es muy bueno, y combinado a lo excelente de su bateo, podría ser la pieza que más importancia podría tener en este 2023 para los de Minnesota, puesto que necesitaran las mezclas de ambas cosas por parte del jugador boricua, para poderle darle caza a Chicago y Cleveland en una lucha de 3 equipos, para conquistar el banderín del centro de la Liga Americana, sus lances defensivos los venimos viendo desde su época con los Astros de Houston, y llevaron a ese equipo a tener los atributos defensivos necesarios para alcanzar el campeonato en 2017.
Defensively, we see that Correa is also very good, and combined with his excellent batting, he could be the most important piece for Minnesota in 2023, since they will need a mix of both from the Puerto Rican player, to be able to give chase to Chicago and Cleveland in a 3-team fight to conquer the pennant of the center of the American League, his defensive throws have been seen since his time with the Houston Astros, and led that team to have the defensive attributes necessary to reach the championship in 2017.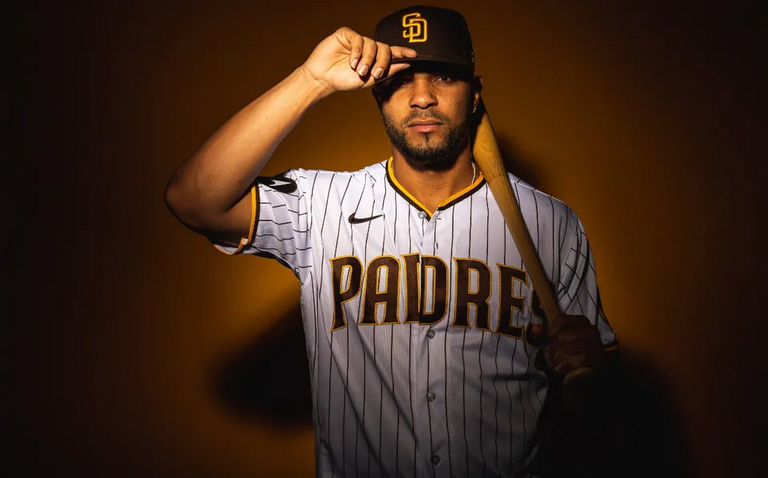 Source
Ahora en una nueva plaza, le toca turno al campocorto de Países Bajos, Xander Bogaerts, con más experiencia y 2 títulos de Serie Mundial en su haber conseguidos con el equipo de los Medias Rojas de Boston, Xander llega a los Padres de San Diego para añadirle más nivel a un equipo que está completamente constituido por puras estrellas, la mayoría latinoamericanas, el jugador caribeño, tiene lo que quizás le hacía falta a este equipo de los Padres, seguridad, experiencia y buen bateo en las paradas cortas, no es que Fernando Tatis Jr. no la tuviese, pero debido a las constantes lesiones y problemas extradeportivos, la organización decide traerlo para darle solidez a esa posición, con alguien que naturalmente la juegue como lo hace el.
Now in a new position, it is the turn of the shortstop from the Netherlands, Xander Bogaerts, with more experience and 2 World Series titles to his credit achieved with the Boston Red Sox, Xander comes to the San Diego Padres to add more level to a team that is completely made up of pure stars, mostly Latin American, the Caribbean player, has what perhaps was missing to this team of the Padres, security, experience and good batting at shortstop, not that Fernando Tatis Jr. It's not that Fernando Tatis Jr. didn't have it, but due to constant injuries and extra sporting problems, the organization decided to bring him in to give solidity to that position, with someone who naturally plays it like he does.
Cuando me refiero a ser natural, me refiero a que sea un jugador natural de esa posición, eso en el béisbol, es fundamental, puesto que es un jugador que desde sus inicios siempre jugó en esa posición, y más en la línea central, la cual abarcan, campocorto, segunda base y center field, que son el eje de un equipo en cuanto a defensa respecta, con la llegada de Xander le añade seguridad en el cuadro interior, sin dejar de agregar, que también tiene la mezcla de ser un jugador de bateo y defensa, con ese toque técnico que no sobresale pero que tampoco es muy bajo, siendo este, lo que más necesita el equipo de San Diego para esta temporada de 2023, y así llegar hasta la Serie Mundial, cosa con lo cual se quedaron cortos la temporada pasada al caer en la Serie por el Campeonato de la liga Nacional frente a los Phillies de Philadelphia.
When I refer to being a natural, I mean that he is a natural player of that position, that in baseball, is fundamental, since he is a player who since his beginnings always played in that position, and more in the center line, which include, shortstop, second base and center field, which are the axis of a team in terms of defense, with the arrival of Xander adds security in the infield, Xander also has the mix of being a batting and defensive player, with that technical touch that does not stand out but is not too low, which is what the San Diego team needs the most for this 2023 season, and thus reach the World Series, which they fell short last season when they lost in the National League Championship Series against the Philadelphia Phillies.

NI TAN CORTA / NOT SO SHORT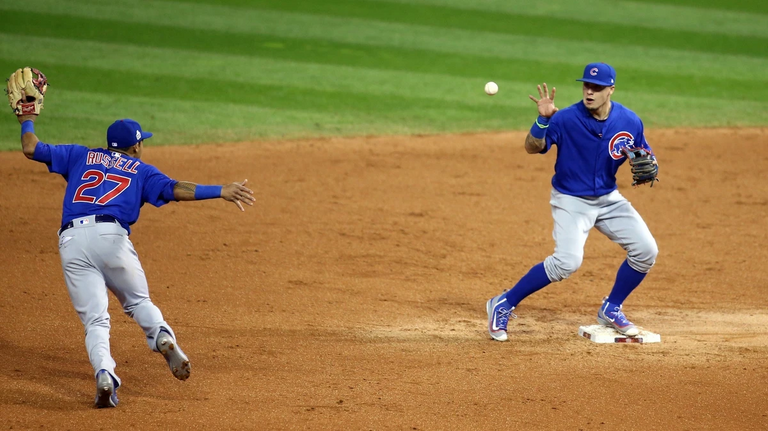 Source
Aquí la lista también es más amplia, y existen más nombres por lo cual podríamos decir: porque no están en los primeros 3 lugares.? pues es debido a lo que hablamos anteriormente, no tienen esa mezcla o ese toque de no tener ni tan mucho y tan poco, osea, el bateo necesario y la defensa necesaria que te ayuden en el campo, como la especie de equilibrio perfecto que te ayudarán de gran manera y a llegar hasta donde siempre o todos quieren llegar, alcanzar el campeonato de la Serie Mundial del 2023.
Here the list is also more extensive, and there are more names so we could say: why are not in the top 3 places? because it is due to what we talked about before, they do not have that mix or that touch of not having so much and so little, that is, the necessary batting and the necessary defense to help you in the field, as the kind of perfect balance that will help you in a great way and to reach where always or everyone wants to reach, reach the championship of the World Series in 2023.
En la lista de los mejores en esta posición para este 2023 están, Bo Bichette, Francisco Lindor, Tim Anderson y Wander Franco, que si nos ponemos a ver a ciencia cierta, si, son igualmente de buenos que los que le acabo de hablar en esta publicación, pero son más conocidos por su bate que con su guante, son mas bates alegres que buenos fildeadores, habiendo un desbalance a la hora de evaluar de qué es lo mejor para sus respectivos equipos, no habiendo ese balance que estos 3 tienen y que los hacen de esta forma, los tres mejores campocorto en la actualidad en todo el béisbol de las grandes ligas, que sin duda para esta próxima temporada, no nos van a decepcionar.
In the list of the best in this position for this 2023 are, Bo Bichette, Francisco Lindor, Tim Anderson and Wander Franco, that if we see for sure, yes, they are equally as good as the ones I just talked about in this publication, but they are more known for their bat than with their glove, they are more happy bats than good fielders, There is an imbalance when it comes to evaluating what is best for their respective teams, not having the balance that these 3 have and that make them the three best shortstops in Major League Baseball today, and without a doubt for this upcoming season, they will not disappoint us.

---
HASTA LA PRÓXIMA / SEE YOU NEXT TIME
---
Mi Twitter: @EnirsonPirela
---

Imagen editada en Canva / Image edited in Canva Original public domain - Source
---
---