Digno / Worthy | ESP-ENG
DIGNO / WORTHY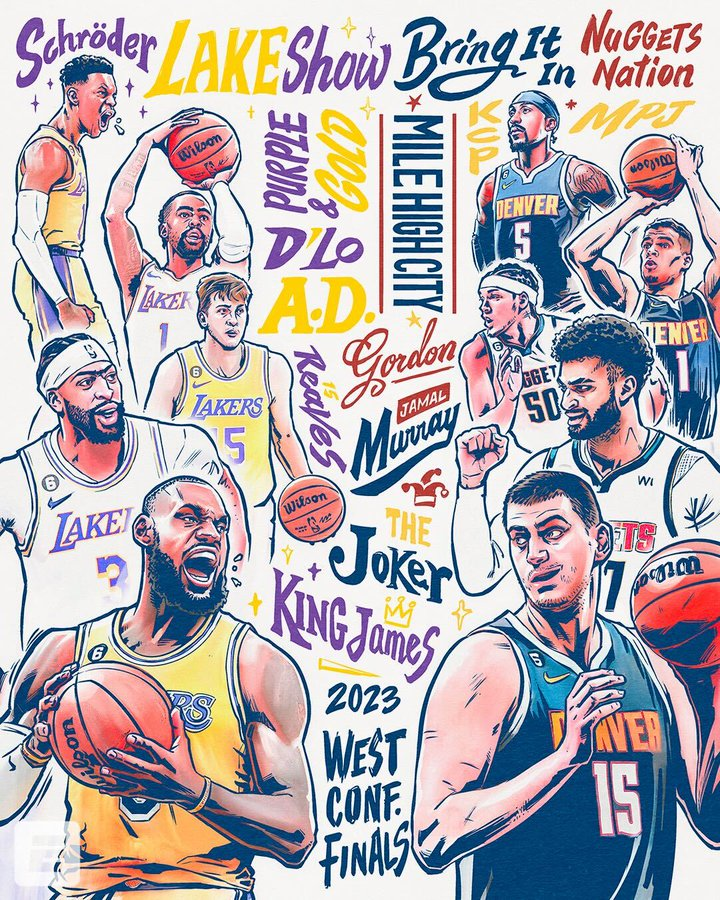 Source
Si bien el equipo de los Denver Nuggets arrasó en la conferencia del ''oeste'' durante esta temporada, muy pocos saben la razón de ello, o mejor dicho, no habían visto tal desempeño en la cancha con tanto detenimiento como los propios fanáticos de la ciudad, es decir, el enfoque de muchos siempre estaba en otros equipos, que son los que mayormente destacan en este lado de la liga, pero este día martes, en el primero de la serie de esta final de conferencia frente a los Ángeles Lakers, pudimos darnos de cuenta, como fue que llegaron hasta aquí, observando un basketball muy dinámico y enfocados en llegar al jugador con la mejor posición de tiro, en en el mayor de los casos desde el área de los tres puntos.
Although the Denver Nuggets team swept the ''western'' conference this season, very few know the reason for it, or rather, they had not seen such a performance on the field as closely as the fans themselves. the city, that is, the focus of many was always on other teams, which are the ones that stand out the most in this side of the league, but this Tuesday, in the first of the series of this conference final against the Los Angeles Lakers We were able to realize how they got here, observing a very dynamic basketball and focused on reaching the player with the best shooting position, in most cases from the three-point area.

LA CLAVE / THE KEY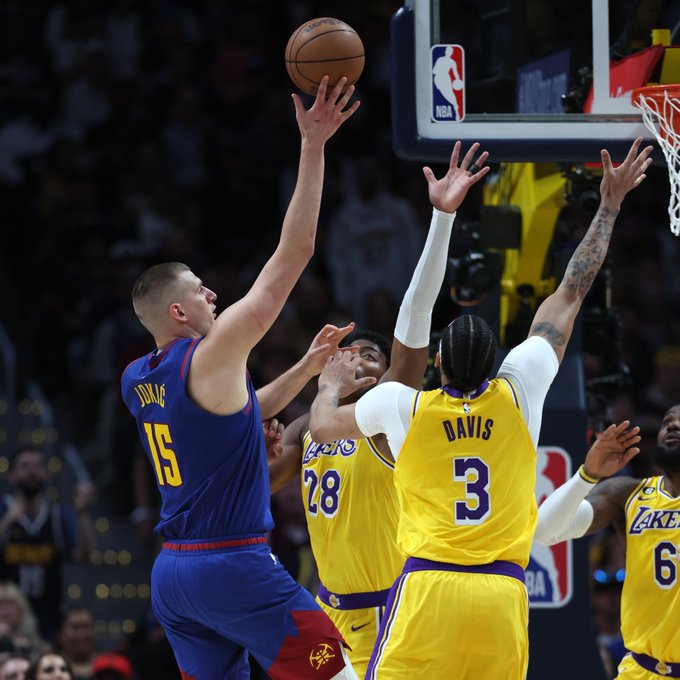 Source
A lo mejor se estarán preguntando, otro equipo como los Warriors que solo anota desde el área de los tres puntos.? y Nikola Jokic.? donde queda.? pues resulta que este caballero hace de todo, y es el eje fundamental del equipo de Denver, siendo uno de los mejores asistidores de este equipo, pues acumula un historial de triple dobles muy llamativo, teniendo dentro de él, un número de asistencias muy relevante, que no son muy común en un jugador de su estatura, haciendo de esto un fuerte que muy pocos quintetos posee.
You may be wondering, another team like the Warriors that only scores from the three-point area? and Nikola Jokic? where is he? it turns out that this gentleman does everything, and is the backbone of the Denver team, being one of the best assists of this team, as it accumulates a history of very striking triple doubles, having within it, a number of very relevant assists, which are not very common in a player of his stature, making this a strength that very few quintets has.
Un triple doble en el baloncesto es cuando un determinado jugador alcanza la cifra de dobles dígitos en tres categorías, en puntos, rebotes y asistencias, y este día martes el jugador Europeo tuvo registros que avalan el desempeño de su equipo hasta ahora, 34 puntos, 21 rebotes y 14 asistencias, para guiar de gran forma a los suyos a conseguir el primer triunfo en esta serie 132 a 126, que los coloca en una buena posición de cara a lo que se viene frente a los comandados por LeBron James.
A triple double in basketball is when a certain player reaches double digits in three categories, in points, rebounds and assists, and this Tuesday the European player had records that support the performance of his team so far, 34 points, 21 rebounds and 14 assists, to guide his team in a great way to achieve the first win in this series 132 to 126, which puts them in a good position for what is coming against those led by LeBron James.
---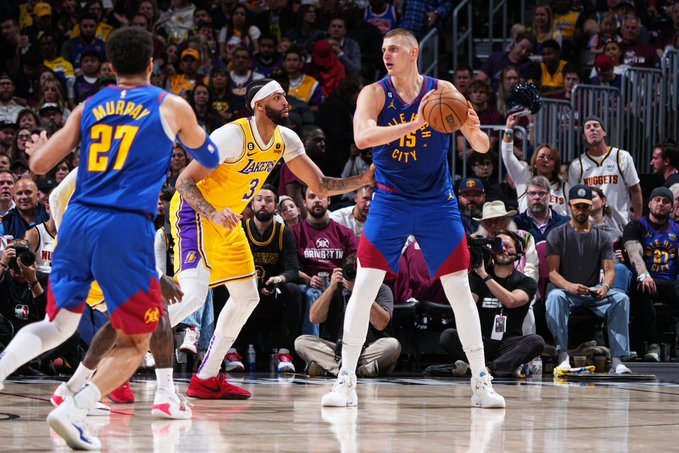 Source
Lo más importante sin duda son los puntos conseguidos por cada jugador, puesto es lo que aporta un determinado elemento dentro de la cancha de manera individual, motivando a los suyos a estar en el partido siempre, pero hay otras dos categorías que son igual de importantes para la consecución de los puntos, yo diría que en el caso de Denver es la más importante, las asistencias y los rebotes, porque.? porque no vienen de un solo jugador, vienen de un conjunto y eso los hace más efectivos.
The most important thing, without a doubt, are the points obtained by each player, since it is what a certain element contributes to the field individually, motivating his team to always be in the game, but there are two other categories that are just as important. As for the achievement of points, I would say that in the case of Denver it is the most important, the assists and the rebounds, why? because they don't come from a single player, they come from a group and that makes them more effective.
Si vemos a un Jamal Murray y Aaron Gordon quienes acompañaron al Serbio durante todo este partido, y no dejando de mencionar a Michael Porter y a Bruce Brown esto es maravilloso, puesto que son jugadores que anotan más de 15 puntos por partido, algo que muy pocos se pueden dar el lujo de decir o tener, porque estamos hablando de que los 5 jugadores que inician cada cotejo hacen esto, haciendo que los de Denver sean muy fuertes, porque eso es garantía, de que cada noche cuando mínimo tendrás casi 100 puntos en el tablero de anotaciones, esto es algo soñado.
If we see Jamal Murray and Aaron Gordon who accompanied the Serbian throughout this game, and not forgetting to mention Michael Porter and Bruce Brown, this is wonderful, since they are players who score more than 15 points per game, something that very little they can afford to say or have, because we are talking about the 5 players who start each match do this, making those of Denver very strong, because that is a guarantee, that every night at least you will have almost 100 points in the scoreboard, this is something dreamed of.
---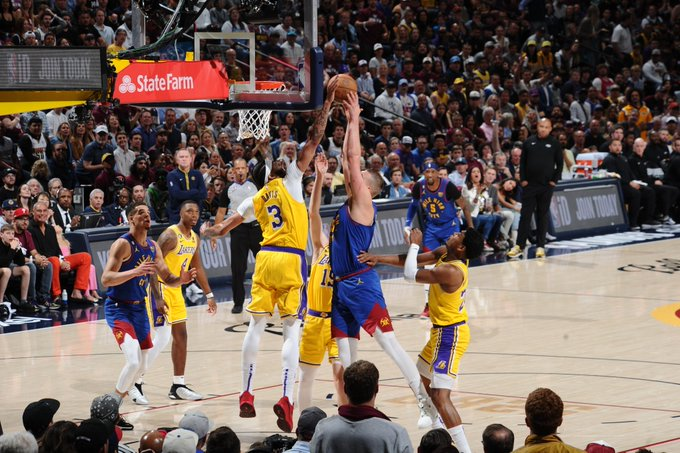 Source
Pero todo esto no se hace solo, y es obra del jugador Serbio, ustedes se preguntarán de nuevo, como así.? todo las jugadas ofensivas de los Nuggets pasan por las manos de Jokic, o por lo menos en un gran porcentaje, haciendo que gracias a su estatura todo sea más sencillo, el es alto, y para ser tan alto no es tan lento como los otros de su tamaño, es muy dinámico y su elasticidad y lo largo de sus brazos, hacen que pueda distribuir o atacar al aro de una manera tal, que no puede ser detenido.
But all this is not done alone, and it is the work of the Serbian player, you will ask yourself again, how? All the Nuggets' offensive plays pass through Jokic's hands, or at least in a large percentage, making everything easier thanks to his height, he is tall, and for being so tall he is not as slow as the others Due to its size, it is very dynamic and its elasticity and the length of its arms make it possible to distribute or attack the hoop in such a way that it cannot be stopped.
La categoría de ser un buen asistidor se la podríamos dar a Jamal Murray o Aaron Gordon, pero tener a un jugador que te asista a 14 compañeros aparte de los ya mencionados como lo hizo el dia martes Nikola Jokic, es algo que se suma de gran manera al resultado final de un compromiso, recuerden que la asistencia se le apunta al jugador que la ejecuta cuando al compañero receptor le llega el balón y este logra completar el canasto, no solo es pasar la esférica, sino que, es tener esa visión de juego en ese momento para ejecutar tal acción, y apoyado en las características físicas ya mencionadas de este jugador, el aporte desde este punto de vista es sencillamente brillante.
We could give the category of being a good assister to Jamal Murray or Aaron Gordon, but having a player assist you with 14 teammates apart from those already mentioned, as Nikola Jokic did on Tuesday is something that adds greatly. way to the final result of a commitment, remember that the assistance is given to the player who executes it when the receiving teammate receives the ball and he manages to complete the basket, it is not only passing the ball if it is having that vision of the game in that moment to execute such an action and supported by the already mentioned physical characteristics of this player, the contribution from this point of view is simply brilliant.

LA DIFERENCIA / THE DIFFERENCE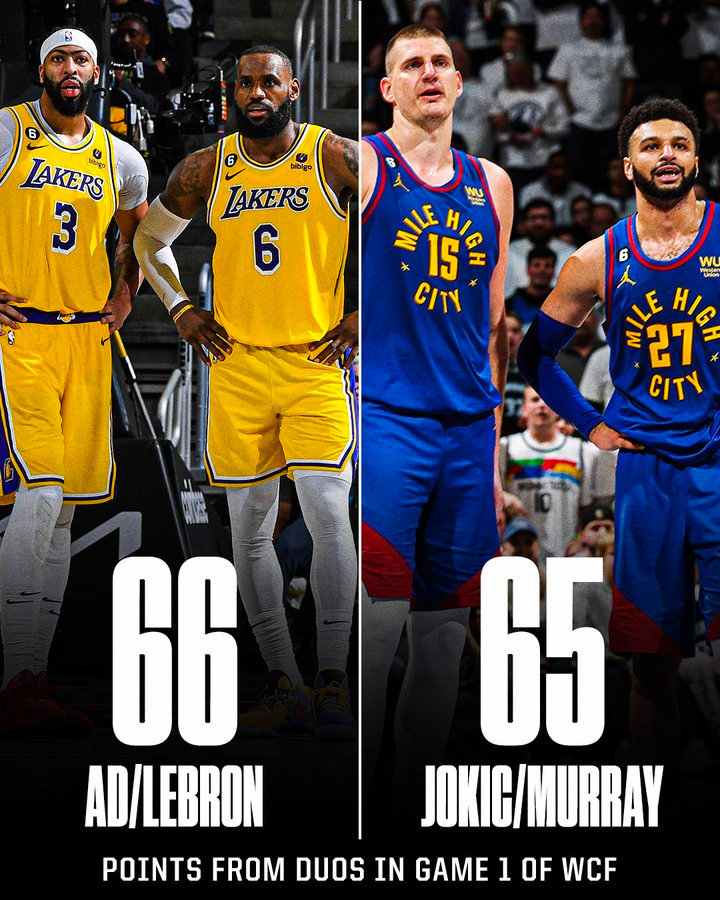 Source
Dicho esto ahora probemos algo, si tu tienes a 2 asistidores buenos en un equipo como es el caso de Denver y a eso le agregas a un elemento mas como es el caso de este jugador Europeo, estamos hablando de que no solo tienes talento individual si no también colectivo, Murray y Gordon te podrían aportar unas asistencias promedio, unas 12 entre ambos, pero si le agregamos 14 mas, como es el caso de Jokic, estaríamos hablando que en un solo jugador te estaria generando 34 puntos y 28 mas por medio de las asistencias, es decir estaría involucrado en situaciones que llevan a sumar mas puntos.
That being said, now let's try something, if you have 2 good assisters in a team like Denver and to that you add one more element like this European player, we are talking about not only having individual talent but also Also collectively, Murray and Gordon could provide you with average assists, around 12 between them, but if we add 14 more, as is the case with Jokic, we would be talking about a single player generating 34 points and 28 more through the assists, that is to say, he would be involved in situations that lead to adding more points.
Es algo así como que este jugador te genera juego ofensivo y defensivo y en gran porcentaje, por la mínima serian 28 puntos generados si sus compañeros logran encestar desde el área de los 2 puntos, y estariamos hablando de muchos mas, si partimos del punto de que sus compañeros están desde el área de los 3 puntos y logran encestar, llegaríamos a la conclusión de que no solo serian 28 si no que estaríamos observando en el resultado final de las estadísticas unos 32 o 35 puntos mas, sumando sus 34 puntos de manera personal y los 35 producto de sus asistencias, para un total de 69 puntos generados por el en diferentes facetas, esto es algo magnifico.
It is something like this player generates offensive and defensive play and in a large percentage, for the minimum it would be 28 points generated if his teammates manage to score from the 2-point area, and we would be talking about many more, if we start from the point of that his teammates are from the 3-point area and manage to score, we would come to the conclusion that there would not only be 28 but that we would be observing in the final result of the statistics some 32 or 35 more points, adding his 34 points in a way personal and the 35 product of his assists for a total of 69 points generated by him in different facets, this is something magnificent.
---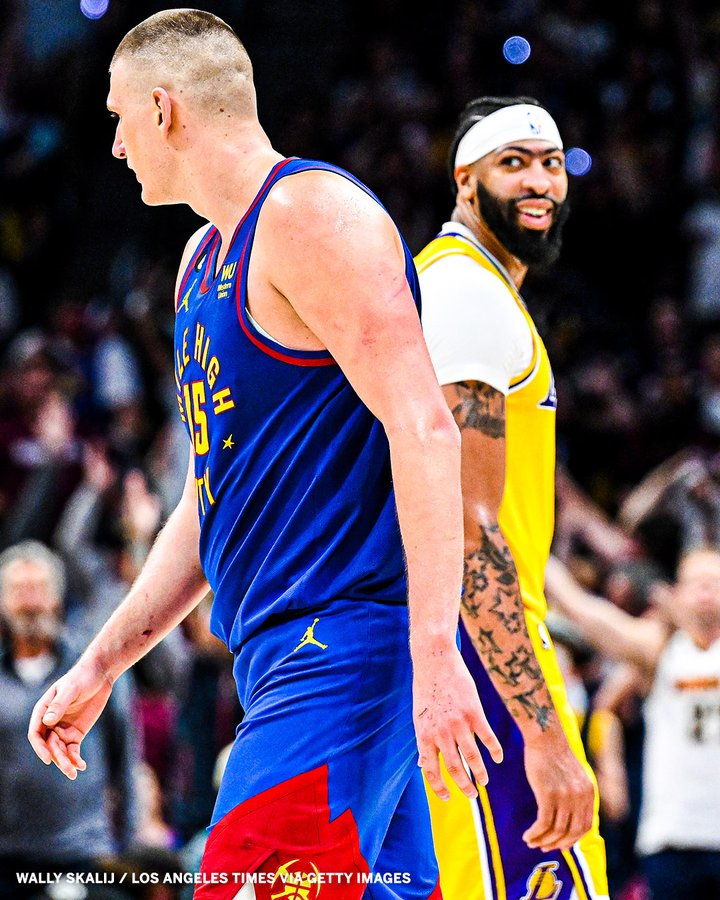 Source
Se necesitara mas que a un elemento para parar a este jugador tan talentoso como lo es Nikola Jokic, Anthony Davis y los Lakers deberán trabajar mas si quieren contener lo que este jugador genera en ofensiva dentro de la cancha, un 15 de 32 desde el área de los tres puntos fue generado por Jokic gracias a sus asistencias y 36 rebotes en colectivo en la primera mitad en la cual 13 fueron ofensivos, en gran parte fueron también de el, siendo la misma cantidad que todo el resto del equipo de los Lakers, esto dice mucho, ya se vera en el juego numero 2 el dia jueves, no sera una tarea sencilla; por ahí nos seguiremos leyendo, tenemos NBA para rato y a un muy alto nivel.
It will take more than one player to stop this talented player like Nikola Jokic, Anthony Davis and the Lakers will have to work harder if they want to contain what this player generates offensively on the court, 15 of 32 from the area of the three points was generated by Jokic thanks to his assists and 36 collective rebounds in the first half in which 13 were offensive and in large part were also his, being the same amount as the rest of the Lakers team, This says a lot, it will be seen in game number 2 on Thursday, it will not be an easy task; We will continue reading there, we have the NBA for a while and at a very high level.

---
HASTA LA PRÓXIMA / SEE YOU NEXT TIME
---
Mi Twitter: @EnirsonPirela
---
Imagen editada en Canva / Image edited in Canva Source
---
---