Porque no son considerados.? parte III / Why They are not considered part III | ESP-ENG
EL HOMBRE DE LA POLÉMICA / THE MAN OF CONTROVERSY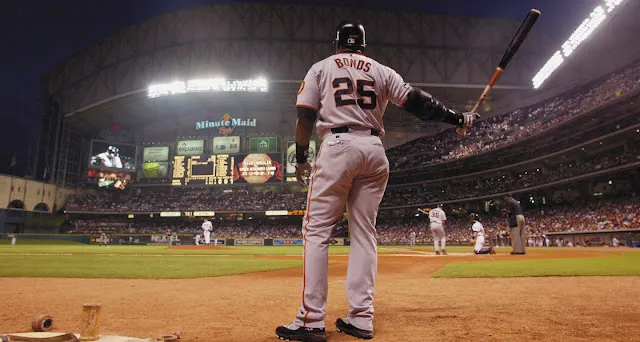 En el circulo de espera / In the waiting circle Source
El batazo más importante en el béisbol es el jonrón, no nos queda la menor duda, diferentes hombres han conectado cuadrangulares, cuyas cantidades son las que siempre nos referencian, 500 para un grupo, 600 para el otro y una muy importante que es la cifra de los 700 bambinazos, en la cual solo están 4 nombres, Barry Bonds, Hank Aaron, Babe Ruth y el orgullo latinoamericano Albert Pujols, llegar hasta ahí se necesita más que fuerza, es combinar muchos factores, habilidades, talentos que se tienen que juntar para que un pelotero profesional llegue a conectar muchos batazos de este alto calibre, es un tema que ya ha sido muy discutido pero que vale la pena seguir estudiando a más profundidad.
The most important hit in baseball is the home run, we have no doubt, different men have connected home runs, whose amounts are always referenced, 500 for a group, 600 for the other and a very important figure is the 700 home runs, in which there are only 4 names, Barry Bonds, Hank Aaron, Babe Ruth and Latin American pride Albert Pujols, Babe Ruth and the Latin American pride Albert Pujols, to get there you need more than strength, is to combine many factors, skills, talents that have to come together for a professional baseball player to connect many hits of this high caliber, is a topic that has already been discussed a lot but it is worth further study in more depth.

PORQUE NO SON CONSIDERADOS.? PARTE III / BECAUSE THEY ARE NOT CONSIDERED? PART III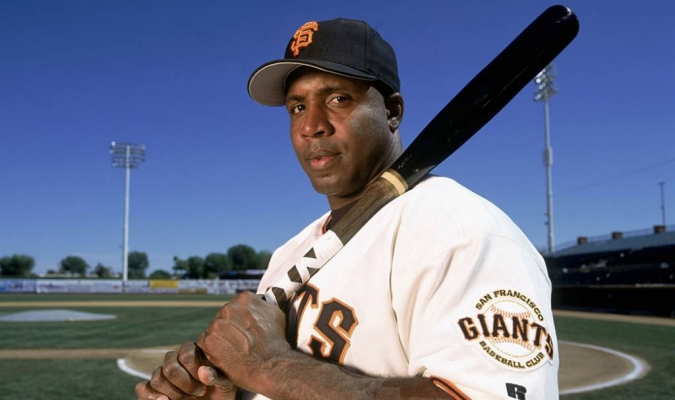 Barry Bonds Source
Un registro muy importante como lo es el de los cuadrangulares y que haya destronado a Aaron y a Ruth causo mucho impacto en el béisbol, significó que el nuevo rey del jonrón iba a ser otro, luego de muchos años al ver siempre la referencia de estos 2, marco a muchos y a que esta marca iba a ser muy difícil de superar, saliendo luego a la luz un poder insospechado de una de las estrellas del béisbol de los años 90', que más que probado estaba su talento pero no a la magnitud de conectar esa cantidad de cuadrangulares por temporadas incluso, obtener una de hasta 73 jonrones, superando otras marcas más.
A very important record as it is the home run record and that has dethroned Aaron and Ruth caused much impact on baseball, it meant that the new home run king was going to be another, after many years to always see the reference of these 2, it marked many and that this mark would be very difficult to overcome, then coming to light an unsuspected power of one of the baseball stars of the 90's, that more than proved his talent but not to the magnitude of connecting that amount of home runs per season, even getting one of up to 73 home runs, surpassing other brands more.
Pero a que vamos con todo esto que ya se sabe.? Al final del cuento se logró señalar a Bonds como culpable, por haberse apoyado en el uso de las sustancias prohibidas, para conseguir tales registros, cosa que coincidía, porque sus números eran y siempre desde sus inicios en el béisbol fueron buenos, pero lo llevaban a ser un jugador promedio, pero no hasta tal punto de imponer este tipo de marcas, pero acaso Bonds no podía hacerlo.? o solo esos 2 nombres eran los únicos en poder lograrlo, no se podía argumentar la ya experiencia de Bonds a ser más selectivo en el plato, o la cercanía de la barda del jardín derecho del nuevo parque de los Gigantes de San Francisco.
But what are we going to do with all this that is already known? At the end of the story, Bonds was pointed out as guilty, for having relied on the use of banned substances to achieve such records, which coincided, because his numbers were and always have been good since his beginnings in baseball, but they led him to be an average player, but not to the point of imposing this type of marks, but perhaps Bonds could not do it. ? or only those 2 names were the only ones who could do it? you could not argue Bonds' experience to be more selective at the plate, or the proximity of the right field fence of the new San Francisco Giants' park.
---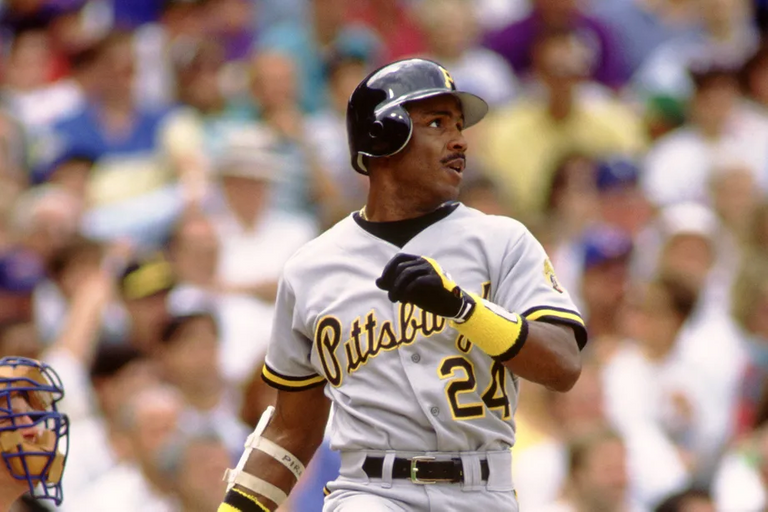 En Pittsburgh / In Pittsburgh Source
Desde que comenzó su carrera profesional con los Piratas de Pittsburgh, su habilidades con el madero eran indiscutible, me recuerdo que era toda una sensación en esa ciudad, verlo conectar cuadrangulares y batazos como dobles y triples, y a su vez ser rápido en las almohadillas, que poco a poco fueron marcando una tendencia en la Liga Nacional, hasta tal punto de despertar el interés de otros equipos como el de los Gigantes de San Francisco quienes posteriormente se harían de sus servicios.
Since he began his professional career with the Pittsburgh Pirates, his skills with the lumber were indisputable, I remember that he was a sensation in that city, seeing him connect homers and hits like doubles and triples, and at the same time being fast in the pads, which gradually were setting a trend in the National League, to the point of arousing the interest of other teams such as the San Francisco Giants who later would get his services.
Y no es para menos que el conjunto de los Gigantes se interesara en él, el hombre era capaz de conectar 40 cuadrangulares por temporadas y en una temporada lograría lo que pocos en ese entonces habían podido lograr, conectar el famoso 40-40, la cual consiste en dar 40 cuadrangulares y robar 40 bases en una misma temporada, números que lo hacen una súper estrella y una pieza muy completa que le aportaba muchas cosas al equipo, dejando muestras de su indudable talento, ahora con actuaciones más llamativas, estos son la muestra de que no todo es la fuerza, y de que no todo abarca a lo que al final se le señaló, costándole el ingreso al salón de la fama del béisbol de las grandes ligas.
And it is not for less that the Giants were interested in him, the man was able to connect 40 homers per season and in one season he would achieve what few at that time had been able to achieve, connect the famous 40-40, which consists of giving 40 homers and stealing 40 bases in the same season, numbers that make him a superstar and a very complete piece that contributed many things to the team, leaving samples of his undoubted talent, now with more striking performances, these are the proof that not everything is strength, and that not everything encompasses what in the end was pointed out to him, cutting off his entrance to the hall of fame of major league baseball.
---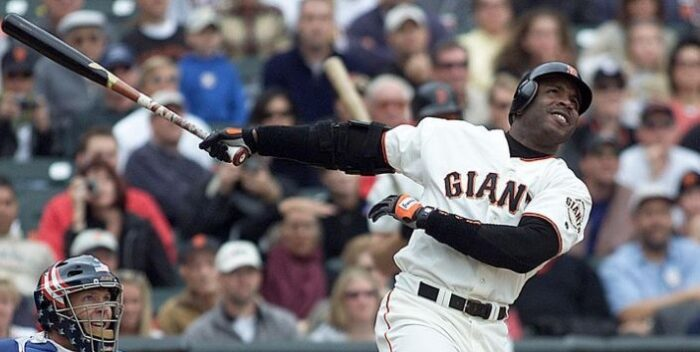 En San Francisco / In San Francisco Source
Con el equipo de los Gigantes ya en la parte final de su carrera, adquiere un poco más de paciencia en el plato y se vuelve más selectivo en el home, esto no fue muy llamativo, puesto que estaban en escena 2 factores más relevantes para muchos, el nuevo parque de los Gigantes, con una barda del jardín derecho más cerca de lo normal y el ritmo muy acelerado de conectar cuadrangulares en menor tiempo, que lo llevó a romper marcas individuales para un bateador en una sola temporada de 61, 62, y 73, pero porque Bonds llega a hasta este punto.? haciendo un análisis, y técnicamente hablando, esto se logra con 3 cosas, Paciencia, vista, y contacto, más allá de la fuerza, que sin un buen contacto no lograrías jamás los numeros que impuso Bonds.
With the Giants team already in the final part of his career, he acquires a little more patience at the plate and becomes more selective at home, this was not very striking, since there were 2 factors more relevant to many, the new Giants park, with a right field fence closer than normal and the very accelerated rhythm of connecting homers in less time, which led him to break individual records for a hitter in a single season of 61, 62, and 73, but why Bonds reaches this point. ? making an analysis, and technically speaking this is achieved with 3 things, Patience, sight, and contact, beyond the force, that without a good contact you will never achieve the numbers that Bonds imposed.
Un jugador por muy corpulento que sea, no puedes jamás llegar a estos registros, sin un buen contacto, sin tener buena vista y tener la capacidad que tuvo Bonds en su época en San Francisco de ser tan paciente, logrando acumular centenares de boletos, evidenciando una vez más, de que su talento estaba en la inteligencia y en saber qué lanzamiento podía hacerle swing y a cuáles no, para explotar así a los lanzadores contrarios, al obligarlos a que le lanzaran en donde a el mas le convenia, muestra de ello, los pasaportes hacia la primera base, conseguidos por el mismo, que en una temporada llegó a alcanzar hasta 232, teniendo un aproximado de hasta 150 por campaña.
A player no matter how big he is, you can never reach these records, without good contact, without having good eyesight and having the ability that Bonds had in his time in San Francisco to be so patient, managing to accumulate hundreds of tickets, demonstrating once again that his talent was in intelligence and knowing which pitch he could swing at and which not, He was able to exploit the opposing pitchers by forcing them to throw where he wanted them to throw, as evidenced by the number of passports to first base, which in one season reached 232, with an approximate of up to 150 per season.

UNA PRUEBA MÁS / ONE MORE TEST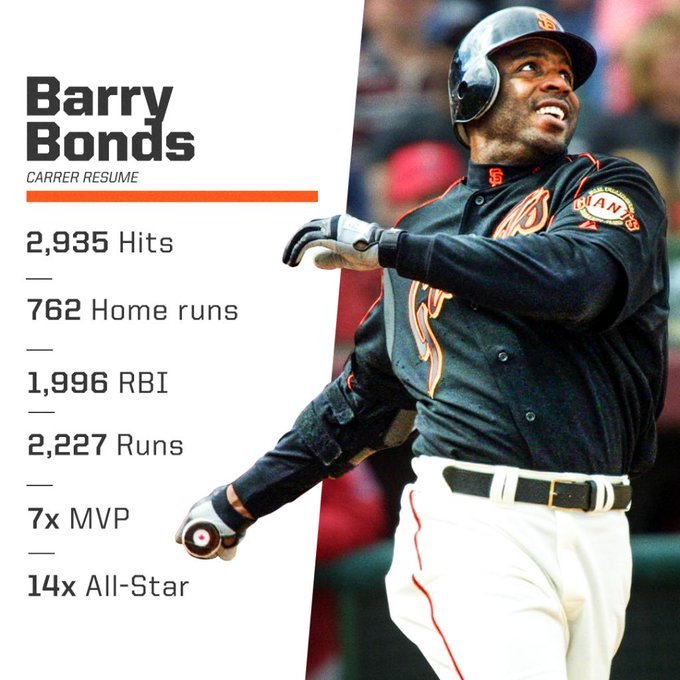 Registros personales / Personal records Source
Todo recae en la fuerza que tiene que tener un bateador para poder chocar una pelota, para que este la pueda depositar en las gradas de los jardines, pero realmente no es asi, cuantos bateadores no conocemos que son de fuerza y se viven ponchando, Jose Canseco en el pasado, al igual que Frank Thomas, jugadores contemporáneos con Bonds, y en la actualidad hay muchos, se podra tener mucha fuerza, pero llegaríamos al famoso dicho coloquial, ''si la agarra la desaparece'' esta es una prueba más de que para ello no se necesita tal atributo, es si la llega a agarrar, por eso el arte de batear es mas que eso y se tendrían que combinar diferentes factores para que un bateador sea exitoso en cuanto a cuadrangulares.
Everything falls on the strength that a batter has to have to hit a ball, so that he can deposit it in the stands of the gardens, but it really is not so, how many hitters do not know that are of strength and live striking out, Jose Canseco in the past, as well as Frank Thomas, contemporary players with Bonds, and today there are many, you can have a lot of strength, but we would arrive at the famous colloquial saying, ''if he catches it, he disappears'' this is one more proof that for that you do not need such an attribute, it is if he catches it, that is why the art of batting is more than that and different factors would have to be combined for a hitter to be successful in terms of home runs.
Para mi y para muchos analistas de este deporte, el aspecto más relevante de todos es la paciencia y ser selectivo en el home, y esto lo tenía Barry Bonds desde hace mucho tiempo atrás y antes de llegar al punto de quebrar las marcas, es esa reaccion tambien de hacer el swing en el momento justo, a ese lanzamiento que has elegido, y por el cual estás preparado, lo tienes mentalizado en tu cerebro, eso radica en la inteligencia de cada jugador, es por esto, que ningún jugador puede aprovecharse de este juego con estas sustancias, si no se tiene esa inteligencia, llegando a la conclusión que con el chico de California también se fue injusto al dejarlo por fuera, cuando todos sabemos que las marcas y registros algun dia alguien las van a alcanzar.
For me and for many analysts of this sport, the most relevant aspect of all is patience and be selective at home, and this had Barry Bonds for a long time ago and before reaching the point of breaking the marks, is that reaction also to make the swing at the right time, to that pitch you have chosen, and for which you are prepared, You have it mentalized in your brain, that lies in the intelligence of each player, that is why no player can take advantage of this game with these substances, if you do not have that intelligence, concluding that with the boy from California was also unfair to leave him out, when we all know that the marks and records someday someone will reach them.

---
HASTA LA PRÓXIMA / SEE YOU NEXT TIME
---
Mi Twitter: @EnirsonPirela
---

Imagen editada en Canva / Image edited in Canva Original public domain - Source
---
---