2020 Tokyo Olympics - Men's Artistic Gymnastics
Those of you who are following me know I love tennis and that's the main sport I'm posting about, but I also love athletics and artistic gymnastics as well. The reason I mainly post about tennis is that the structure of a tennis year is very different from gymnastics or athletics.
This year is special as we have the Olympics, with a delay of one year. It's a miracle we still have the games organized and I am firmly convinced the only reason is for Japan to be able to collect some funds from broadcasting the event and cover some costs. The financial loss is enormous so far, but that's not the main topic of my post.
5 years ago I was waiting for the event to start as I love both men's and women's artistic gymnastics. I remember men's was quite at the beginning and I could not be more happy. The vault was first and the third or fourth gymnast participating was a French guy, who broke his leg, his tibia, I mean he broke both bones and his lower leg stood 90 degree from the upper part. I'm not sensitive when it comes to medical emergencies as life has thought me to be tough, to help in any case instead of faint and cry, but watching this poor guy crash his leg was too much. I could not watch the event anymore. I was afraid someone else will fell and I have to witness the horrible scene again. So that was it for me.
This year however is different. Today I was able to enjoy the competition almost from the star, missed a few minutes at the beginning.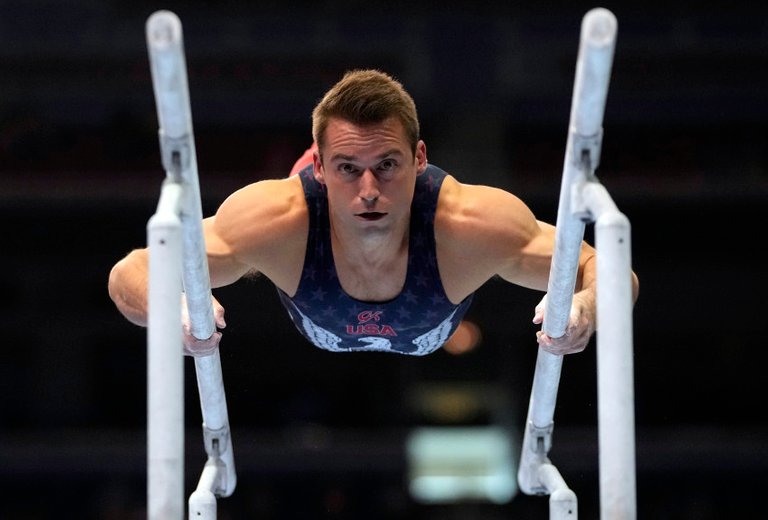 source
Artistic gymnastics is a spectacular and wonderful sport that is evolving at a breakneck speed. What was exceptional and unseen at the last Olympics is outdated now. The difficulty of the elements are growing and growing, so one may wonder if there's an upper limit, or where is this going to end?
There are a few superpowers in this sports, countries with a long history and those are participating every four years, except for those countries where they could not keep up, among which my country as well, but that's another discussion, maybe for another post.


source
Today took place the teams competition and as you can see on the screenshot above, this is how things stand.
These three countries had something to say in men's gymnastics over the years and it looks like they still do. There are other countries with good team but the first three are the ones that count.
It was a very tough competition, the bar was set high. One good thing I have to mention from the start is, unlike in other years, there were no major incidents, no visible accidents. None of the competitors fell or hurt themselves, which is very good.
Russia or ROC
For those of you who don't follow sports, ROC means Russia. Unfortunately Russia has been banned from major competitions due to that huge doping scandal and this was a way to let clean Russian athletes participate. They are not able to use the national anthem, not use their country's name. ROC stands for Russian Olympics Committee. So far there are no doping cases known, but I'd say it's still very early, I bet we're going to hear about some soon. But let's go back to the event.
Russian gymnasts are famous in gymnastics, have won a lot of medals of every color and they were able to win gold in Tokyo. The tension was high, till the last minute and I don't envy the last competitors for a very good reason.
In teams' competition all the team members are participating and there's a well defined participation order.Usually they start with the best one, to give confidence to the rest of the team. A good mark can encourage the whole team, while a bad or not so good mark can discourage them. This is a good strategy, however, it has a downside as well. The last participant, who may not be the best, has the most pressure on himself, as his evolution may decide what color the medal of the team will be, or if the team gets a medal at all.
The last two Russian participants for example stepped out of the floor space, which means 0.3 penalty. Imagine the stress they went through and with them the whole team.
While waiting for the last teammate's mark, two of the Russians were already crying and when they saw they got the gold, none of them could hold back their tears.
Japan
The Japanese team was the title holder, or the gold medalist in 2016 in Rio. The pressure was high as they had to defend their position against Russia, who took silver in Rio. The Russian team's dominance became clear pretty soon and from there the Japanese were fighting, trying to get ahead of the Russians but with no success.
China
China was third in Rio and was not able to advance on the ladder, not one place. They came third and kept the bronze medal. I'm a bit surprised because in a communist country winning is not an option, that's a duty and there are consequences in case results are missing.
The most spectacular event is always the horizontal bar. I just love to watch men competing on the horizontal bar. This time fortunately no one made huge mistakes and the result was fantastic.
Unfortunately the Romanian team had one participant, a 40 year old gymnast, who was not able to qualify for the finals. Once Romania had a strong team, both men and women. Today there's no gymnastics of this level in Romania. It's a shame, but nothing happens without a reason.
I'm looking forward to see the individual competition for both women and men. It's going to be absolutely amazing. I have no favorite, so I'm going to watch it emotionless. That's the best way, let the best win.

---
---