2021 Internationaux De France And What Makes Figur Skating So Enjoyable
Ever since I was a little girl I loved figure skating very much. As soon as I become a teenager I got myself a pair of skates and was at the skating rink three times a week. I remember once the fog was so dense we could not see the other end of the skating rink but it did not matter as it made it more fun.
It's a sport that can be practiced all year round if you have access to a skating rink but championships are not so many. This is why you have to make the most of it and enjoy it when you can.
Today I had the pleasure to watch the ISU Grand Prix of Figure Skating, 2021 Internationaux de France event that not only brought back a lot of nice memories but also made me think of how much figure skating has evolved over the years.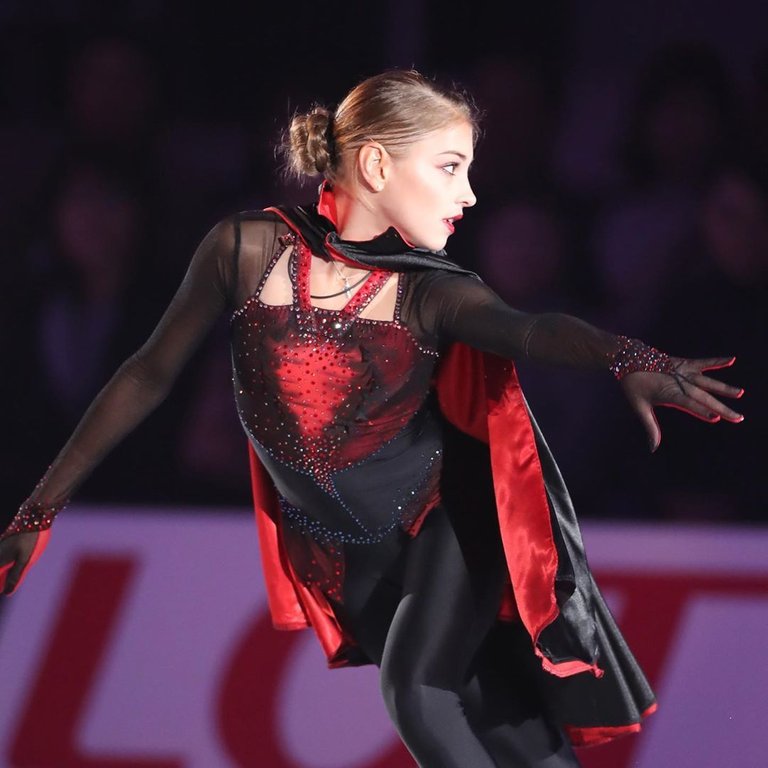 Alena Kostornaia
2021 Internationaux de France
Today was the day for women short program and I'd like to highlight two skaters who really brought skating to high level.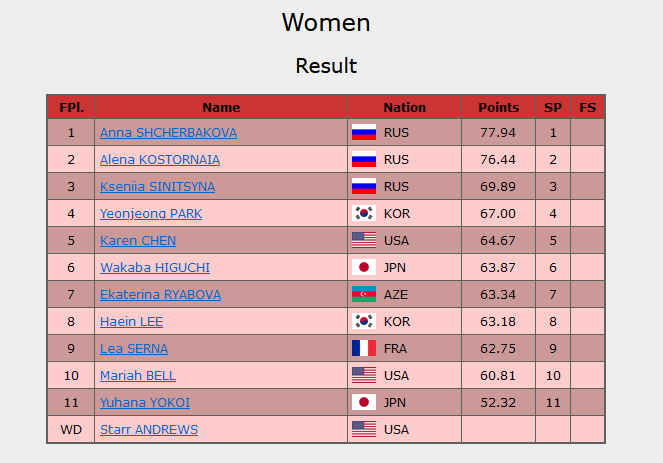 source
This is how the board looks like after today's event. Are you surprised? I am not :) Russia has been a superpower in figure skating for years and it's going to be a superpower in the upcoming years as the Russian figure skating school is one of the best, always has been. You see retired Russian figure skaters training skaters all over the wold and getting very good results.
The two names I'd like to highlight today are Alena Kostornaia and Anna Shcherbakova, two exceptional skaters that have learnt how to win the judges as well the public in only a couple of minutes.
Technicals
The figure skating we have today can definitely not be compared to what skating was twenty or thirty years ago. Mandatory elements are becoming more and more difficult and teenagers are performing jumps that were unimaginable a few years ago. Triple axel, triple lutz is not enough now, some are doing quadruples combined with triples and who knows what they will be capable of doing in a few years.
Risks
Every time a skater steps on the ice, there's a high chance something can go wrong and he or she ends up on the ground. Every time a skater steps on the ice I am afraid he or she may fall and my fear is justified. These elements are executed with speed, the ice is very slippery and one wrongly calculated move can lead to disaster. The level of risk these young skaters are taking is increasing year by year as in order to bring something new, you have to take bigger risks.
Skating At The Highest Level
Today Alena Kostornaia showed us something different. She was so sure of herself and her evolution that gave the impression that nothing can go wrong. It was like this is how figure skating has to be. She executed her program with max accuracy, smiling all the time as if this was the most natural thing to do. There was no hesitation, no rushed elements, no mistakes. Just pure joy and smile. As if we were watching a swan or a ballerina.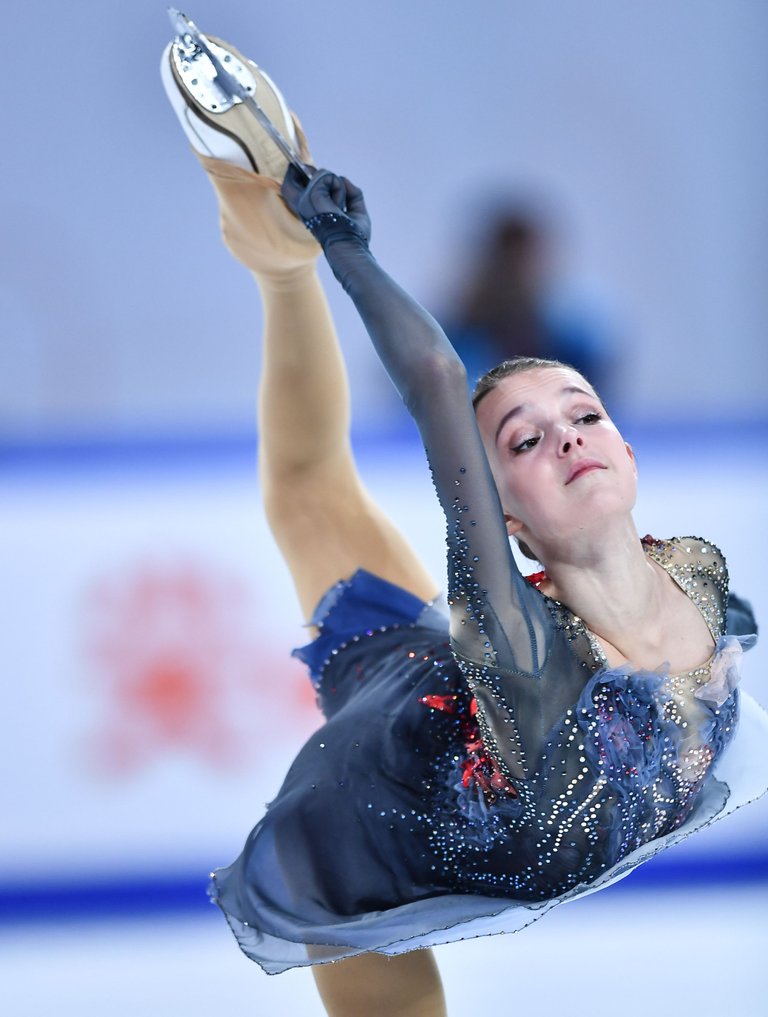 Anna Shcherbakova
Then came Anna Shcherbakova and replicated what her teammate did. She was precise in execution, gracious, executed a perfect performance with a big smile on her face and pushed Kostornaia to second place.
What Makes The Difference
Figure skating is basically a combination of gymnastics and ballet on ice. Points are given for technical and artistic as well, which means you have to be good at both if you want to succeed. What is not written in the big book is that you have to perform like an actor or in this case, like an actress, make the viewers believe you are indeed a ballerina or whatever your role requires. Dance to the music as the rhythm requires, execute the technical elements perfectly and have the required facial expression.
Not many can do all these simultaneously. Some are good at technical level, others are more advanced at the artistic part. But these two ladies are real professionals, perfect at both.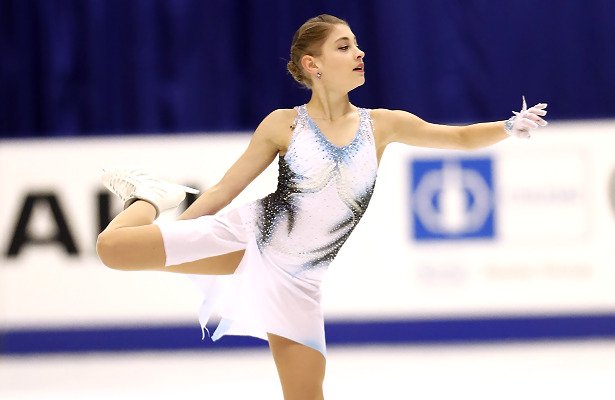 source
Alena Kostornaia
Alena is a 18 year old Russian figure skater who has already written her name in the figure skating history book.
She is the 2020 European champion, the 2019–20 Grand Prix Final champion, the 2019 Internationaux de France champion, the 2019 NHK Trophy champion and the 2019 CS Finlandia Trophy champion. Competing domestically, she is the 2020 Russian national silver medalist, and a two-time Russian national bronze medalist (2018, 2019). Kostornaia is currently the eight-highest ranked women's singles skater in the world by the International Skating Union following the 2020–21 figure skating season. source
In her two year senior career she has already managed to win two gold medals, one at the European Championships and she's the title holder at the Grand Prix Final. She came second today and tomorrow is her big day, she has to defend her title.

source
Anna Shcherbakova
Shcherbakova is one year younger than her compatriot and has an even more impressive career already. She's the current World Champion and got the silver at the European Championship, as well as at the Grand Prix Final.
What we see here is two compatriots, also rivals when it comes to competition fighting for the same medal, but only one of them can get the gold, the other has to be ok with the silver. After today's session the roles seem to be reversed compared to last year, but the final test will take place tomorrow and in this sport you never know. I'm going to watch the competition with much enthusiasm :) In tennis I'm always making predictions but this is not the case. let the best win and I hope to see both of them on the podium. It will be also interesting to see who's going to get the bronze as right now the three Russian lady is ruling the competition. I guess we'll see, right?

---
---