Barcelona Open
This week we had the Barcelona Open and I'm sure tennis fans were thrilled to see their favorites playing. This edition wasn't a usual one but then again, what is usual these days. Ever since the pandemic broke out, we don't know what is normal anymore, everything is different and turned upside down.
The Barcelona Open is an ATP Tour 500, the fourth highest tier of annual men's tennis tournament. It is an important piece of the annual tennis puzzle and was hoping to see big names on the board but that didn't happen. Apart from a few top players, the rest is missing for various reasons.
Since it's a Spanish tournament, I expected Rafa to play, for him it's kind of a must, he has to attend and play in front of his own compatriots. The current title holder is Dominic Thiem, in 2019, as last year the tournament was cancelled due to covid.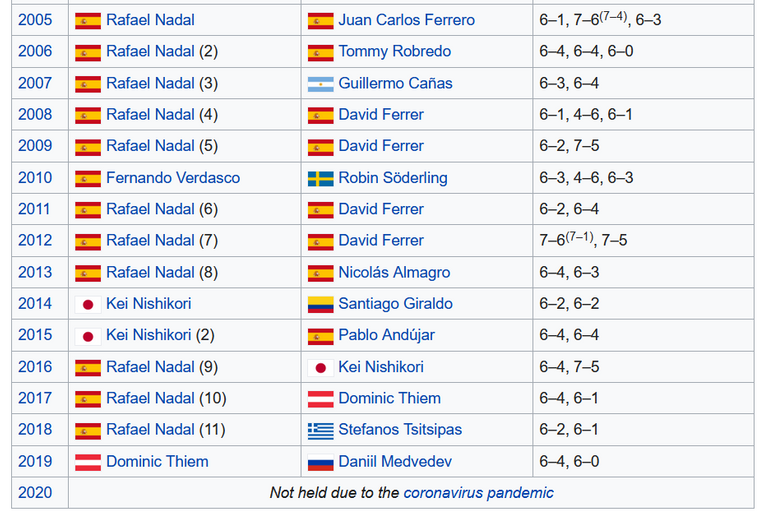 source
Nadal has 11 titles here, I can easily say he's been dominating the tournament. There were two years when Kei Nishikori took home the title and in 2019 Rafa got defeated in the semifinals by Stefanos Tsitsipas.
This year however is different as he's already in the finals and has 50% chance (in theory) to win the title.
Big names like Novak Djokovic, Dominic Thiem, Federer I don't even mention anymore as we can't count on him anymore. Zverev is also missing.
It is interesting how things turned out this time. I said I'm not expecting anything as it's better this way but still was surprised to see some very valuable players get eliminated. If you know these players and have seen them repeatedly, you know what they are capable of and it's inevitable not to create scenarios or predict the outcome.
Rublev is an outstanding player, remember he was able to defeat Rafa last time, which mans he's capable of anything. Yet, he got defeated by none other than Jannik Sinner. Sinner the young Italian is just as good as Rublev and it seems this time he was better.
Today Sinner fell victim of Tsitsipas. He's very talented but needs more experience with top level players. I'm sure in a year or two we're going to see him in top ten. It's is possible and it's going to happen.
Today was the last day for Pablo Carreño Busta. It's a nice result to get to the semifinals, but Rafa is still better. I'd have loved to see him defeat Nadal but it's not going to happen anytime soon.
Tomorrow is the final day, Tsitsipas is going to play the final with Nadal. This is the worst combination as far as I'm concerned but this is what we got. It's going to be hard to watch Nadal, honestly and even harder to digest if Nadal wins.
I can't finish this post without mentioning the clown of the tournament, which this time is not the Aussie Kyrgios but the Italian Fognini. I keep repeating he's unstable, unpredictable and this week he proved me right, again.
He was defaulted during his second-round match after he lost his temper and hurled verbal abuse that the line judge heard. And if this wasn't enough, he broke his racket at the net and threw it away as he left the court. Such behavior is unacceptable, no matter what caused it. He may be a good player but his unprofessional behavior is damaging his reputation. Players like him and Nick Kyrgios have no place in tennis.
---
---