Barcelona Open and Serbia Open - This Cant Get More Exiting

As I said in my previous sport post, there were two tournaments going on in the same time last week, overlapping each other. This may be inconvenient for some, but looking at it in the hindsight it has its good sides too.
For me it's the first time when I've been following two tournaments overlapping each other but I need to do it more often as it's a lot of fun. Obviously first I need to check the ATP schedule to see if there are any. So let's see what's happened in both tournaments.
One of the reasons why this situation was interesting is that players had to choose between the two tournaments and they only found out after, if there was the right choice they made, or not.
So let's see what happened in both tournaments.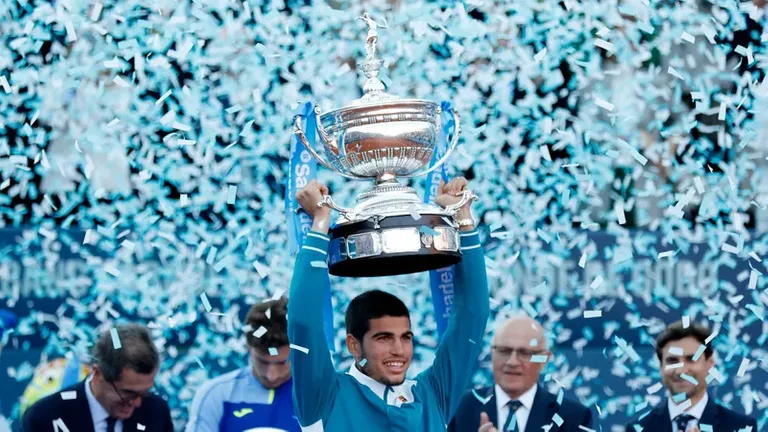 source
Barcelona Open
The match between Stefanos Tsitsipas vs Ilya Ivashka was suspended due to the rain on Wednesday and had to be resumed on Thursday. Ivashka wasn't a tough opponent for the Greek, but even so, he managed to win one set, which was not enough to qualify him for the next round, but at least it looked good.
Alex de Minaur met Ugo Humbert and defeated him in three sets. Kwon Soon-woo had the misfortune to be put against the Spanish Carlos Alcaraz Garfia and needless to say, he had no chance. The South Korean managed to win one set because at some point in the second set it seemed like Alcaraz Garfia lost focus and lowered his standards, but we all know him, there was zero chance he could let Kwon win and he didn't. He was on a mission.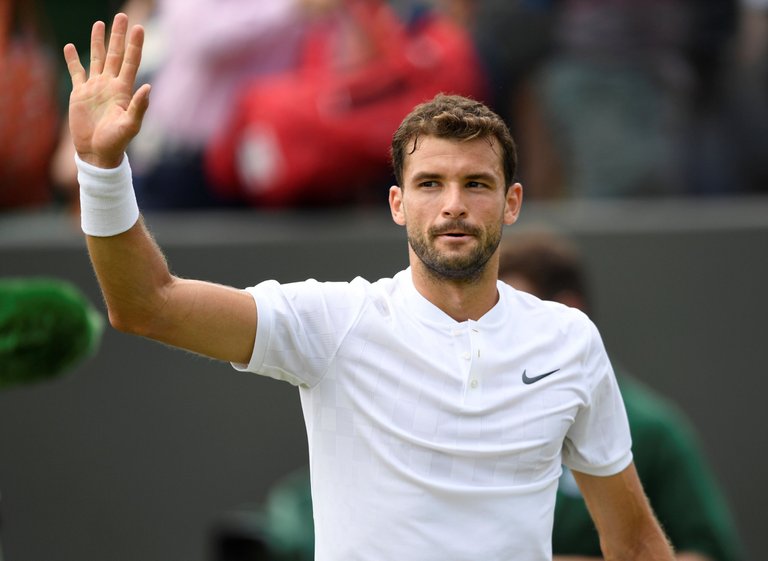 source
Federico Coria had to show Grigor Dimitrov what he can do on the court in round 32, on Wednesday. The outcome was almost predictable and at the end there were no surprises, Dimitrov won in three sets.
The bad news were not missing from the tournament unfortunately. The match between Alex de Minaur and Lloyd Harris was a walkover as Harris was playing with back pain, that at the end made him quit. It is unfortunate, but health always comes first. At this level you need all the strength you can get and playing with an injury is quite impossible. I hope it's not something serious, I hope he can recover soon and take part in the next tournament. Fingers crossed.

source
The next one that worth mentioning here is the one between Diego Schwartzman and Felix Auger Aliassime. This was a tricky one from the beginning as both players are good and predicting the result was hard for me. Schwartzman is a player with a lot of experience, while Auger Aliassime is younger and maybe more talented. However, it looks like Auger Aliassime's downtrend was not over as the Argentinian was able to win in three easy sets. Good for Schwartzman and very bad, even terrible for Auger Aliassime, to add another wasted tournament to his list. This has to end at some point as it's not doing any good for the Canadian.
Round 16 was a lucky one for Stefanos Tsitsipas but not for Grigor Dimitrov. Dimitrov is still not ready to win against top level players and he may never be ready. He's 30 years old now, which means he's closer to retirement age than to the beginning of his career and losing to 23 - 24 years old players that are already at the top of the list says everything. In any case, he did well as he reached the top 16 at Barcelona.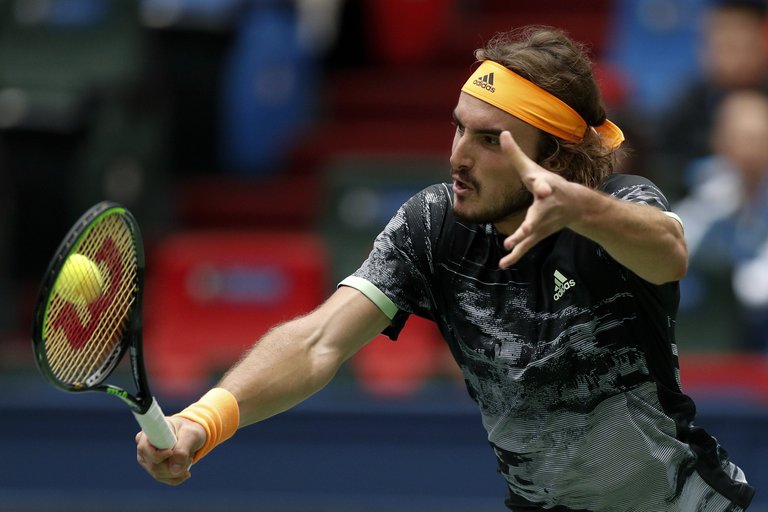 source
Then all hell broke lose and Stefanos Tsitsipas lost to Carlos Alcaraz Garfia in the quarters! Of all the players at that point, they were the ones with the most chance to win the tournament, but they met in the quarters and one of them had to go home. For me, it looked like Alcaraz Garfia had more chance to win, then the Greek. Experience matters a lot, but it's not the only deciding factor and we saw the proof of that. The Spanish was able to focus, use what he knew to win and he won.
The first two sets were somehow balanced, the second was a bit more tense and the third was a total meltdown and frustration from Tsitsipas. I was curious to see if the tensed situation can motivate him to get his game to a higher level, but it was exactly the opposite. (Tsitsipas got penalized for stalling, which made him angry and when he's angry, he can't play.)
This was not just a lost match for him, but also the clear sign that he has another strong opponent, who's not ranked higher than him yet, but he will be soon. This is a real threat and he knows it very well.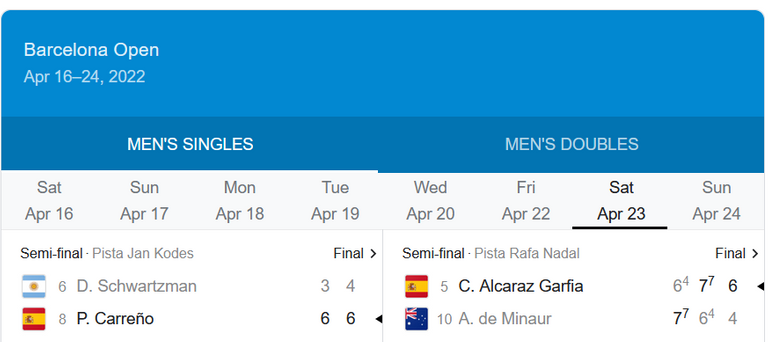 source
The semi-finals were half predictable, half not.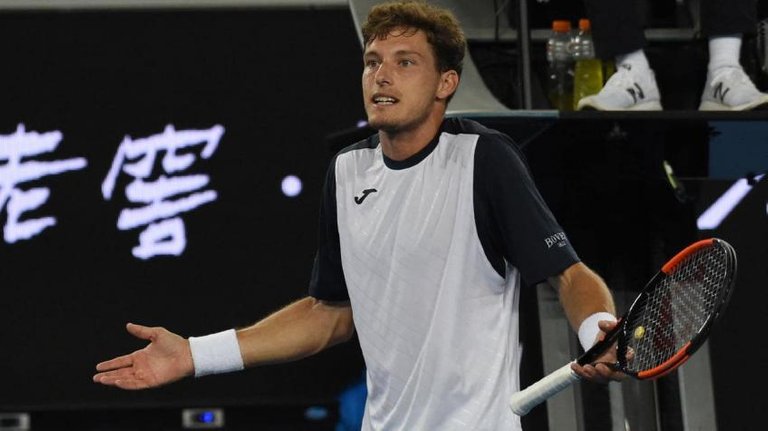 source
Diego Schwartzman vs Pablo Carreño Busta was the one that I would have said the Argentinian has more chance to win, but to my surprise Carreño Busta was able to beat Schwartzman in only two sets. I'm not sure why as I still think Schwartzman is better, but I'm really glad Carreño Busta was able to qualify for the final. He deserved it as he's one of the most solid and disciplined players.
The outcome of the other match was kind of obvious, even though it was pretty tense. Carlos Alcaraz Garfia met Alex de Minaur, who is a good player but not compared to Alcaraz Garfia. The Aussie is world No. 24 right now, so he still has a lot to learn. However, the match was a sparkling one as the first two sets ended in tie-breaks, each of the players winning one. The third one was pretty intense too, but at the end self control and the best strategy won.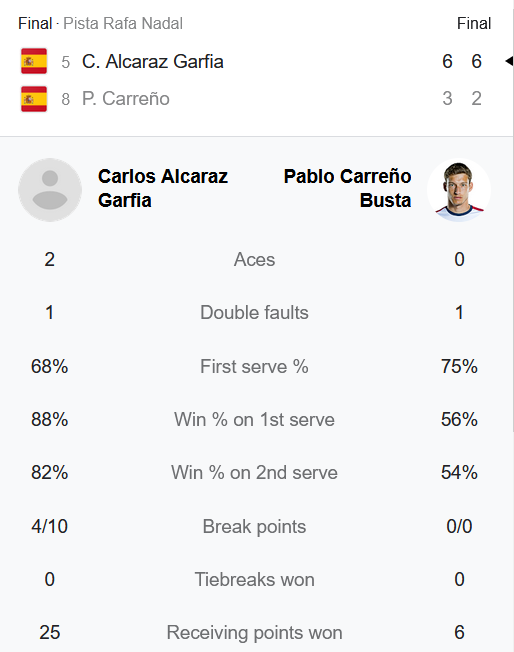 Looking at the board, I suppose Spanish people could have not been more proud. Having two Spanish players in the finals is a dream come true for Spain. Unfortunately I knew Pablo Carreño Busta has very little chance to win against Carlos Alcaraz Garfia. The only chance I could see for Carreño Busta to win was if Alcaraz Garfia would have been too tired to play at the highest level, but he wasn't. Truth to be told, it would have been a shame for Alcaraz Garfia to lose at this point.
This guy is absolutely amazing. He's not 19 yet and he has won two ATP titles this year already. I remember him a few years back playing in Barcelona against Nadal. Everyone said he's going to be the next Nadal, which at that point looked like a bit too exaggerated. Since then, he grew a lot professionally and became one of the most promising players. He is a threat to Medvedev, Zverev, Tsitsipas and Djokovic as well. In two years he's going to be in the top five, but more likely in the top three. He deserves it and I'd be glad to see my prediction become reality.
Serbia Open
The Serbia Open wasn't as spectacular as the Barcelona Open, but the final was one that many regret having.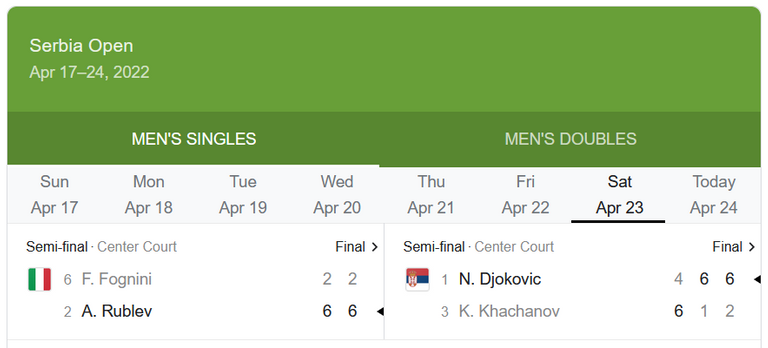 source
Looking at the semi-finals it's obvious why both Fabio Fognini and Andrei Rublev chose this tournament over the Barcelona Open. They both had more chance to get further in the tournament here and they did. Playing against each other was a different matter though. Fognini was his old self, losing to 2 - 6, 2 - 6.
Novak Djokovic had an easy job with Karen Khachanov. After losing the first set, the next two were quite easy for him.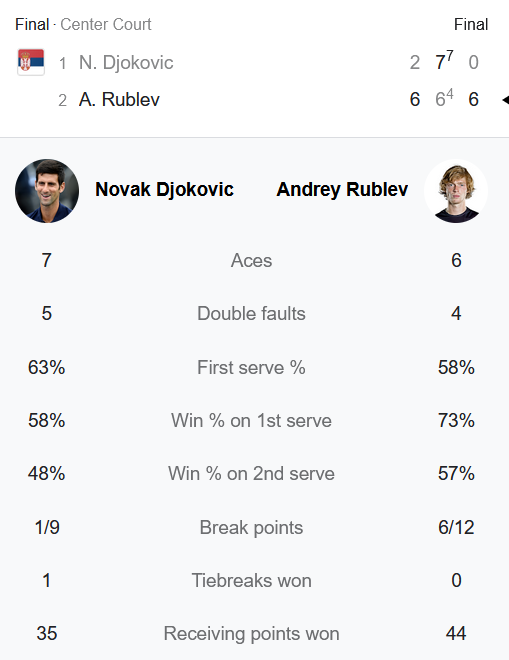 Then this happened. It looks like Djokovic is dealing with an illness that leaves him without strength. Details are not known yet as he likes his privacy, which I respect. Losing at home, where he basically had no competition must have been tough. I hope he can get to the bottom of it and recover as this is not fun.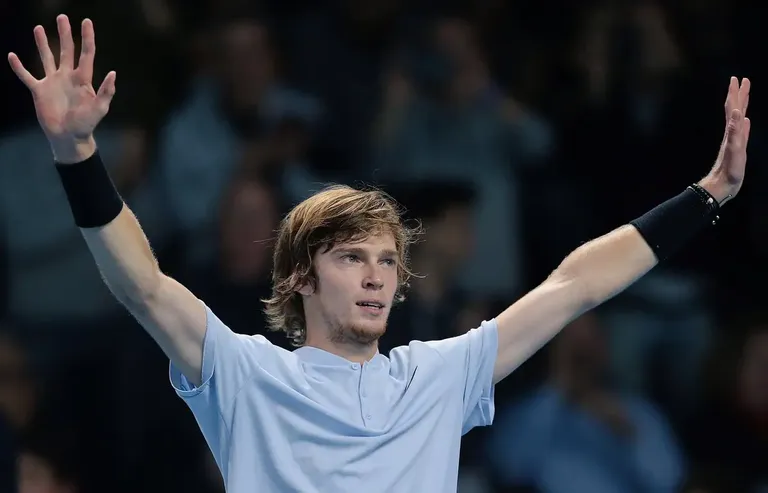 source
Congrats to Rublev as he was able to win the title, even though it is just an ATP 250 title. It is still a title and ATP points count as well.
Regarding the Serbia Open, word on the street is that Djokovic wants to buy the license and make it an ATP 500 tournament. That's the best thing he could do as upgrading a tournament can benefit the country a lot.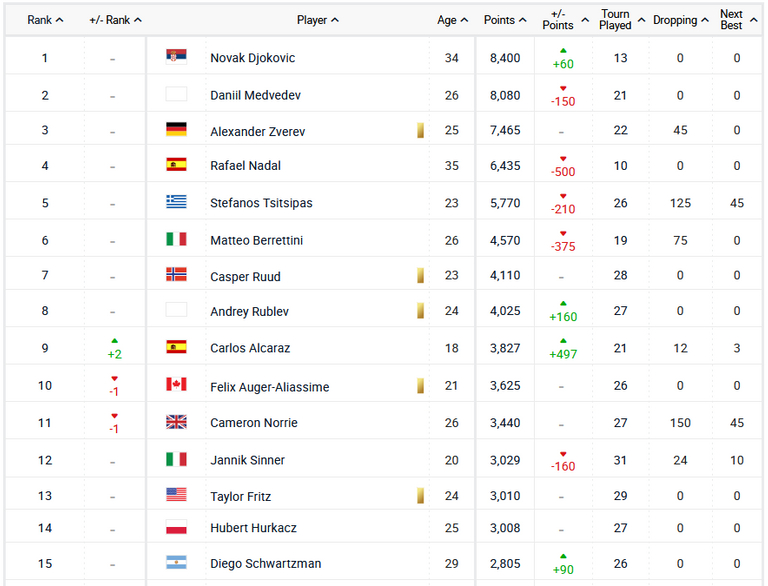 source
Having a look at the ATP ranking you can see quite some changes. Nadal is in a free fall and the free fall is going to continue till he can come back and even then, there are no guarantees he'll be able to perform at the level required.
Matteo Berrettini is also injured and just lost 375 points, which is everything but pleasant.
Alcaraz is in the top ten now and has no intention to stop. I hope he can dose his strength nicely and stay healthy.
Russian players are going to take a hit as Wimbledon made it clear they have no business there. So Medvedev and Rublev are going to lose some points and maybe drop down on the list.

---
---