European Open 2021
This is a men's ATP Tour 250 tournament, that is taking place in Antwerp, Belgium starting from 2016. High ranking players usually are focusing on other tournaments that can bring them more points, so this one usually remains for lower ranking players. This is why it is more interesting and different from the other tournaments. You get to see players otherwise you don't. They need to start somewhere, they need to prove themselves and these tournaments are perfect for that reason.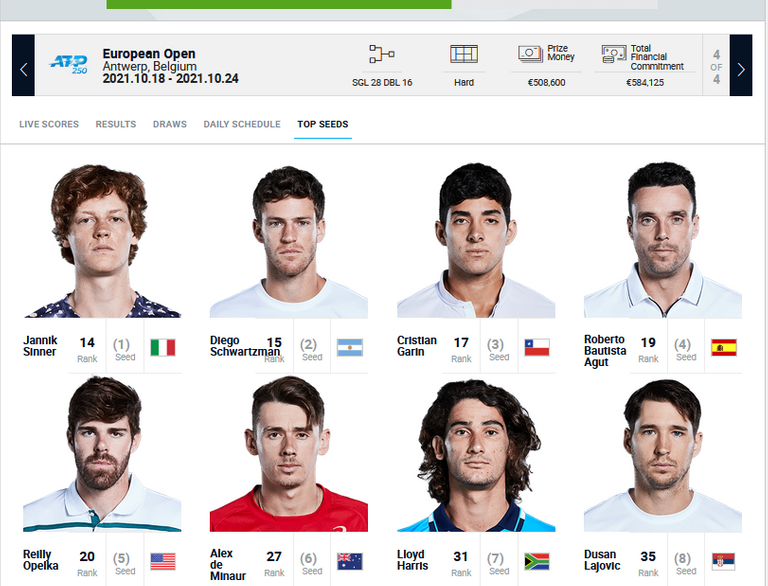 source
Let's jump into the middle and see what our favorites, or less favorites did in this tournament.
Andreas Seppi, the 37 year old Italian, who was once world No. 13 (2013), now No. 94, unfortunately had to leave the competition too early. He was 4th seed among qualifiers, but Dennis Novak had a better day when they met at round of 32, on the 18th of October. I see Seppi retiring slowly, if not next year, then soon. Italy has a lot of very good players on the board, many in top 50, so there's no shortage in good players.
Reilly Opelka was a bit of a disappointment for me here. After a good run this year in major tournament, I would have expected him to continue momentum, but he didn't as he was eliminated at round of 32. Being 5fs seed means you have some responsibilities, there are expectations and you have to deliver, but the giant American couldn't, he succumbed to Jenson Brooksby. Too bad.
Andy Murray had to work hard to obtain his victory as Frances Tiafoe didn't want to hand the victory over to him on a silver plate in round of 32. They played three sets and all three ended in tie-breaks. This is not something you see every day. Actually I don't think I've ever seen such a match. Anyway, well done both of them as the fight was real, both did everything they could but Murray was better.
Benoît Paire disappointed me again as he had to leave the competition before reaching round of 16. At some point this year, after he was banned from representing France at the Olympics, it seemed like he understood the message, got himself together and instead of chasing money, he actually played tennis for awhile, I mean quality tennis, like he cared. On Tuesday however, he seemed a bit lost against Henri Laaksonen, who I've never heard of before. Winning the first set to 4 - 6, then losing the second to 6 - 0 is not something a player at his level wants to do. I truly hope he just had a bad day and nothing more. In any case, congrats Henri Laaksonen for sending Benoît Paire home.
Alex de Minaur continued his downward spiral as if he's going backwards, seriously. Brandon Nakashima was able to beat him to 4 - 6, 0 - 6 in round of 32. de Minaur is a valuable player, I hope he can get past of whatever is holding him back as the tennis world needs him.
Alejandro Davidovich Fokina is a player I like and with to see him evolve. Cristian Garín is one of my favorites, I mean really like him for what he did so far and how he plays. In this case, when you like both players, it's hard to choose one, but you usually choose the best seeded, which in this case is Garín. Then life thinks otherwise and Garín loses in round of 16. I guess it wasn't his day as he won the first set, forcing the match into a decisive set, which he then lost. I'm still hoping he's just getting adjusted to playing with the best players and in the meantime he is getting the experience needed to become a better player. I really see him at the top one day.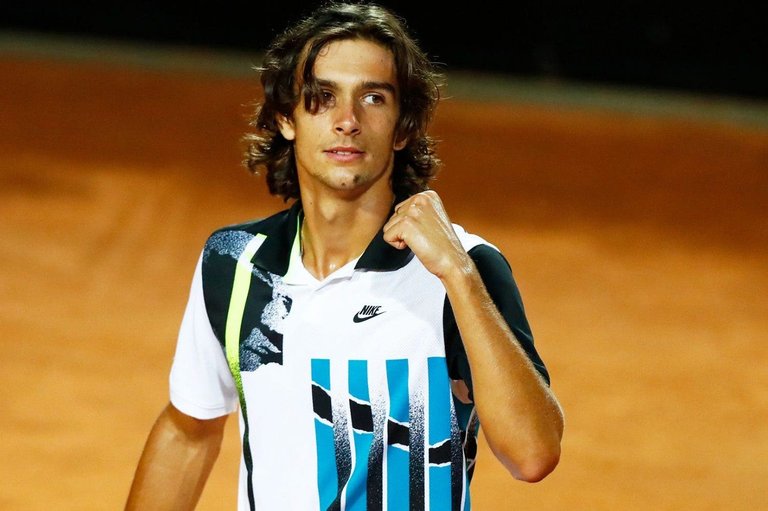 source
Jannik Sinner vs Lorenzo Musetti in round of 16, two young Italian players playing against each other. Sinner is obviously at a higher level already, even though he's the younger of the two, but Musetti is also a talent we need to pay attention to and everything comes down to the mental and physical condition they are in at that certain day. Jannik Sinner had some early eliminations this year, which gave me some concern, but he was able to play at the highest level and finish the match with only two games. Lorenzo still has a lot to learn but nothing is lost. In a year or two he's going to join the top players. Mark my words.
Roberto Bautista Agut vs Márton Fucsovics in round 16. Again, two players I like for different reasons. How can you choose who to root for? You just can't. If we look at the professional level of these two, it's obvious that Bautista Agut has a better ranking and more experience. Márton Fucsovics is usually eliminated in the first or second round, so the outcome of this meeting was kind of obvious from the start, but then life sometimes has other plans and this is how Márton Fucsovics managed to win in three sets, the last one to 1 - 6, which is huge for him. I'm really proud of him.
The other round 16 match was between Andy Murray and the Argentinian Diego Schwartzman. This was another match that could have gone either was as Murray is not a spring chicken anymore and missed most of the season last year, while Schwartzman is better and has been active all the time, participating in most of the tournaments, the meltdown he had last time made me be cautious regarding the outcome. However, it wasn't the case here. He won the first set to 4 - 6, then the second to 6 - 7 and had the mental strength to resist the pressure a tie-break can put on players. I'm really impressed.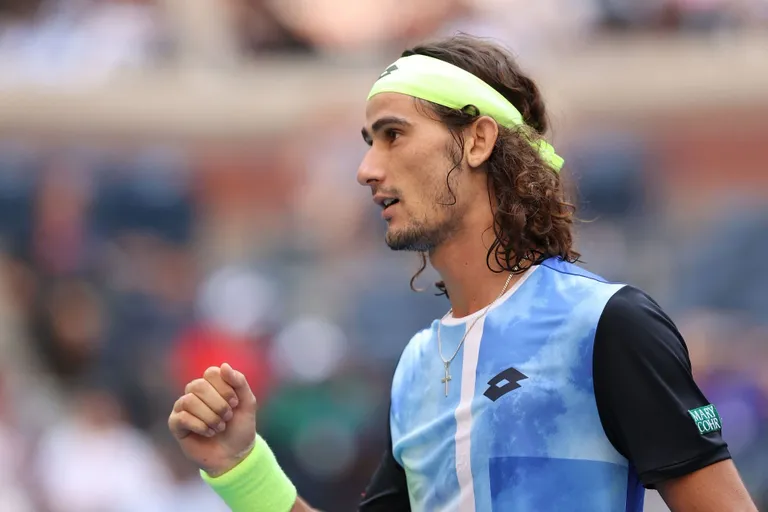 source
One match from the quarters I want to mention was between Márton Fucsovics and Lloyd Harris. Again, I like them both for different reasons but when I have to choose, in this case I choose Lloyd Harris and the outcome confirmed the reason why I chose the South African. He's an exceptional player that has a lot of potential. He's still at the beginning of his career, but confirming his talent at every tournament. In this match he was able to win in two sets. Congrats to Márton Fucsovics though as he was able to win 5 games in the second set, after losing the first one to 2 - 6. Mentally is a challenge, but it shows strength.
The two semi-finals were also interesting, if not unusual. One of it was played by Jenson Brooksby and Diego Schwartzman. The first I've never seen playin, or if I have, it wasn't remarkable. Diego Schwartzman had an easy job with him, saving one set and closing the mach to 4 - 6, 0 - 6. He really did a great job overall.
The other semi-final was not so easy for me. Jannik Sinner playing against the South African Lloyd Harris and again, only one can win. Unfortunately Harris had very little chance to win and Sinner made sure to eliminate that little chance as well. Harris lost to 6 - 2, 6 - 2, but getting into a semi-final is not something to neglect, it is already a great achievement.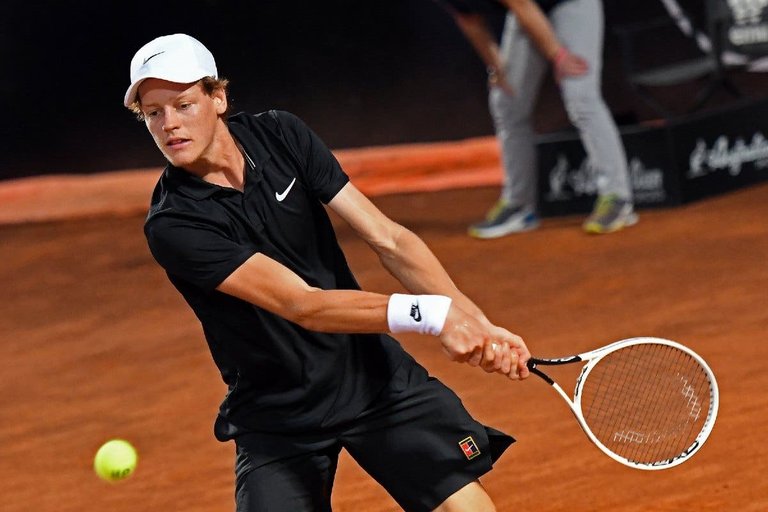 source
So the grand finale was played by Jannik Sinner and Diego Schwartzman and the Italian showed he world who deserves to take the trophy home. Two sets, 6 - 2, 6 - 2, that's all that it was. What can I say? I really felt sorry for Schwartzman as he's a special player who has to make an extra effort every time he steps into the court as he's the shortest of all, but on the other hand I was glad Sinner could take home the title.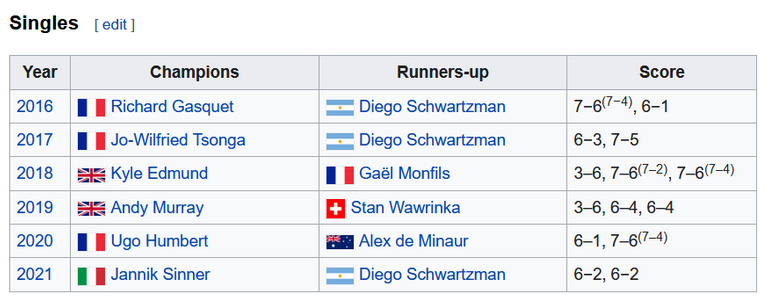 source
This is the board of the European Open for the part 5 years. After having a good look at it, you notice that Diego Schwartzman has lost three times in the semi-final, which can be mentally devastating and could mark him forever. This year he lost to a 20 year old in only two sets, which tells a lot. He's 29 years old and I'm wondering how long he can resist.
Overall it was a great tournament, the new generation got a chance to shine without being forced to stay in the shadow by the big names. Some took advantage of the opportunity, while others couldn't. Maybe next time.

---
---