History In The Making - The New Generation
The Indian Wells Masters just ended and I still can't believe what's happened. My last post was made mid competition, so let's see what's happened since then. If you haven't followed the competition, bear with me as it is interesting.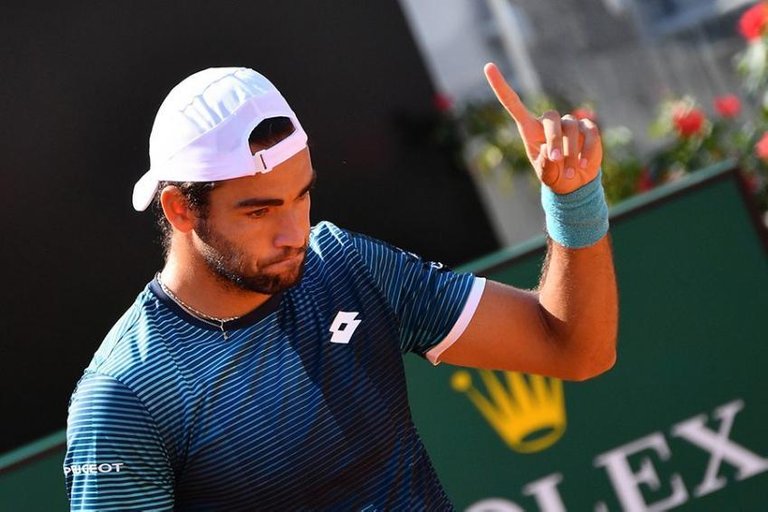 source
Matteo Berrettini vs Lloyd Harris, this was the match I was looking for with huge enthusiasm, hoping Harris could win. Well, the guy was good, no doubt about it, there were a few games won to zero on both parts, but Berrettini was better, thus you know what the result of the match was.
Unfortunately my other favorite, the giant John Isner could not get past Grigor Dimitrov and had to leave the competition on 16 March. They needed only two sets to finish as Isner was not able to win any set. Shame but understandable.
Jannik Sinner vs Nick Kyrgios was a walkover unfortunately and the Australian got a day off. He needed it honestly.
Then Reilly Opelka fell victim of Rafael Nadal. I was hoping he can send the Spaniard home, but he's game is not there yet, he needs more practice at this level.
Gaël Monfils's dreams of winning the title ended when he met the Spanish Carlos Alcaraz Garfia. I knew the French's chances are sim to none and was right. Garfia is way better than him and younger too, which in this sports counts a lot.

source
Then in the quarter finals Nick Kyrgios met his match, Rafael Nadal who showed him what tennis means. Nick Kyrgios's goal besides winning is pleasing the public, therefore usually there's a show at every match he's playing. I suppose he's feeding himself, gathering strength from the public's reaction, which is not a bad thing, but it's not enough when you're playing against one of the best players. So Kyrgios lost in three sets and what is worse, he made a scandal during the match, arguing with the chair umpire, then he smashed his tennis rocket after the match, almost hitting a ball boy. No surprise so far. He does that very often and he needs help, seriously as this is not a normal behavior.
Taylor Fritz vs Andrey Rublev was again a huge surprise. I thought Rublev can win because in my opinion he's better than Fritz but I was wrong again. Fritz clearly dominated the match and did not let the Russian win a single set.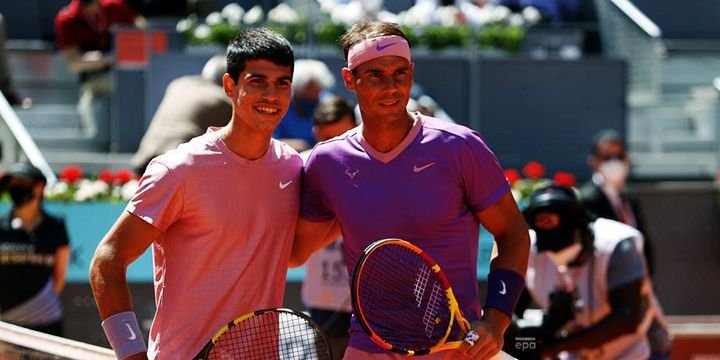 source
Carlos Alcaraz Garfia vs Rafael Nadal, the most waited for match and also one of the semi-finals. This is not the first time these two have met but the more times they meed, the better Garfia becomes. He has come a long way and I'd say he's ready to defeat Nadal, but Sunday was not the day.
After that, there was Fritz and Nadal. The only two left to play the final.
When I saw mid competition that all the highest ranking players has already been eliminated, was wondering who could still be good enough of those still in the competition, to beat Nadal. There were a few names on my list, but Fritz was not among them for sure! He is a good player, but usually doesn't get to the semis, let alone the final. Till now.
When I saw Garfia eliminated, knew there was no one who could stop Nadal and I'm so glad I was wrong.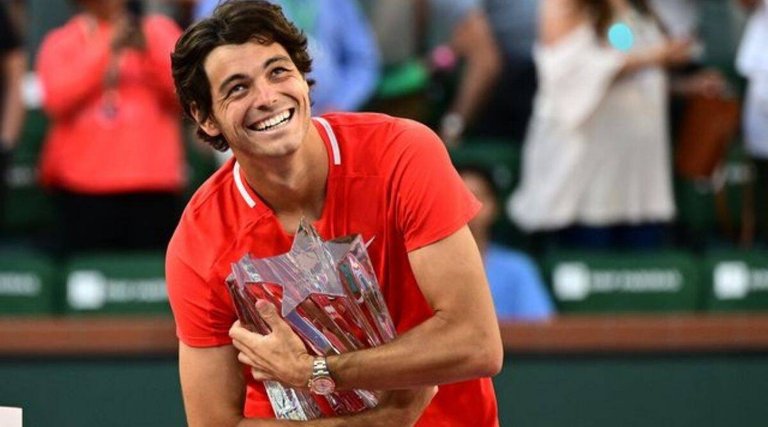 Taylor Fritz, after a well deserved victory
So Frits and Nadal got to play the final this year at Indian Wells. I suppose Nadal was expecting a different opponent, but it doesn't matter as Fritz was perfect for him.
Both players played with an injury, just a different one.
Fritz seems to have a high pain tolerance level as he's been able to compete with an ankle injury and win against one of the best players. He must also have a huge willpower to do that, knowing that the harm he can do to his injured ankle can require a long healing time or can be permanent. He did it anyway and did it well as he was able to win in just two sets.
Nadal also played with an injury, that according to him made playing difficult for him. Obviously no one knows what the outcome would have been like if he would have played without an injury and doesn't even matter. What matters is that Fritz was able to defeat him, which is a huge victory for him and I could not be happier.
Nadal's dream to get another grand slam title were shattered by Fritz. The other interesting detail is that Fritz is the first to lift the trophy since Adre Agassi in 2001. This is a huge achievement for him and for the US as well.
The title says History In The Making and I suppose that's what we're seeing here. Apart from Djokovic, all the big players have been present here and were eliminated one by one. No one would have thought Fritz would play the final, let alone win the title.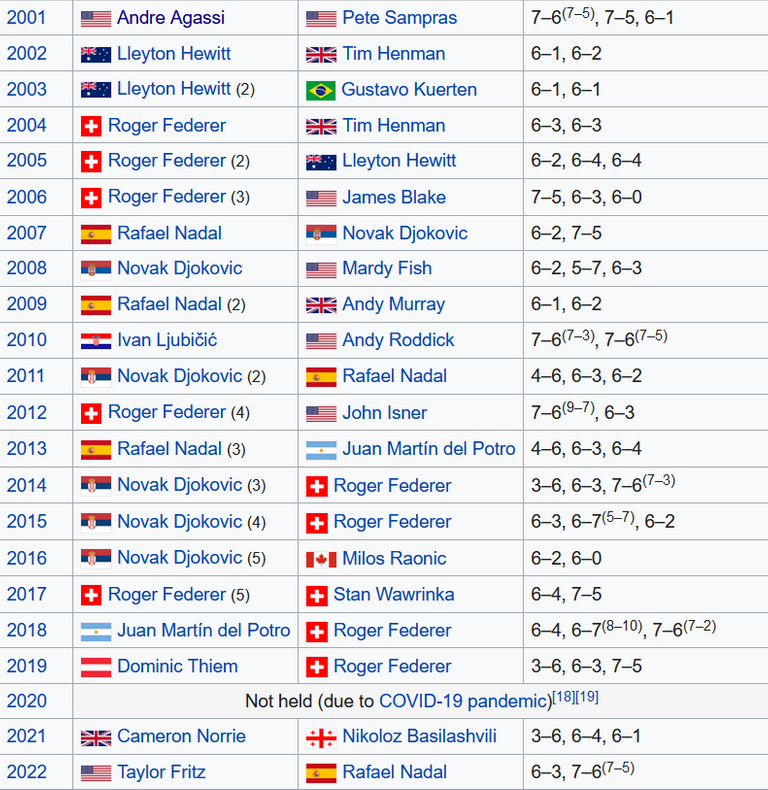 source
If you look at the past finals, you can see the big three has been dominating this tournament for awhile but things are changing. No one has a place guaranteed in the final anymore. Even the best can be eliminated and whoever wants to win the title, has to work hard.
This was the second big tournament of the year and maybe the most interesting so far. Next is the French Open, which will take place between 22 May and 5 June this year. I can hardly wait to see who's going to participate and also to watch the matches.
There's a new generation coming fast to take the lead. I'm not sure who's going to be the next long term No. 1, but we already have a few names that could be considered. Let's see what's going to happen to Djokovic, if he's going to be let to play and also how serious Nadal's injury is, as well as how will be able to cope with the pressure.
Tennis is going to be interesting this year so buckle up!
---
---