Indian Wells Masters - Finals And Final Thoughts
The tournament is over but let's see what's happened in the last days. Undeniably it was the most interesting tournament for me, because of its unpredictability. Fans always have a few scenarios before any tournament, but reality then says otherwise.
Let's see what's happened, how accurate my predictions were a couple of days ago and what has caused so many change to happen.
The truths is I could not predict any of the outcome as I had no idea who has more chance, or who is better for that matter. I had my favorites, but that's all.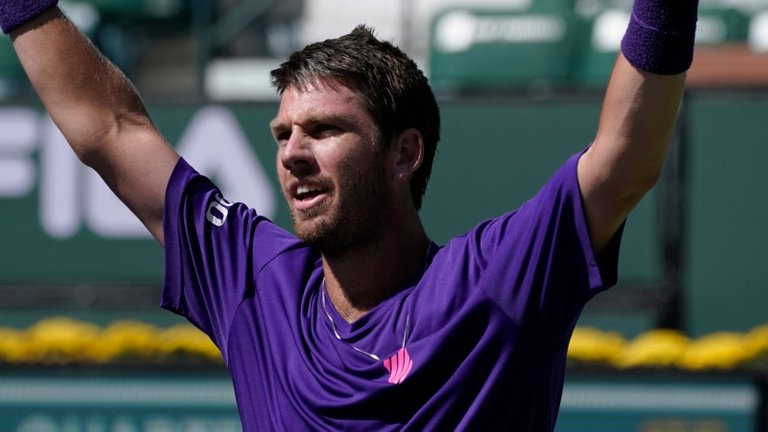 source
Grigor Dimitrov vs Cameron Norrie - Semifinal
Needless to say Dimitrov was my favorite, but that doesn't matter. What matters is that Cameron Norrie had a fantastic match, again. At this stage of the tournament the pressure is high is the stake is high as well but he was able to stay focused and find the best solution for every situation.
Dimitrov, who was able to send top level players like Medvedev, Hurkacz and Opelka home, succumbed to the Brit in just two sets, the first to 2 - 6, the second to 4 - 6.
Taylor Fritz vs Nikoloz Basilashvili - Semifinal
This match was a bit more balanced than the previous one as the first set ended in a tie-break. The result of 6 - 7, 3 - 6 is showing a fight, that ended with Basilashvili winning. Fritz had 11 aces, which is a great achievement, but he also had two double faults and if those come in crucial moments, can be fatal. I'm really sorry Fritz lost, bit I'm happy he got this far.
Cameron Norrie vs Nikoloz Basilashvili - Final
This was the final test for Norrie and he took it with flying colors. Looks like he was prepared for every situation and mentally he was able to shut out all the pressure that comes with playing the finals. The difference between the two players is not only their ranking. Norrie is No. 15 at the moment and this is his best ranking, while Basilashvili is No. 27, but was No. 16 two years ago.
Not many would have thought Norrie would be the best of the tournament but he showed us what he's capable and I'm happy with the outcome!
What's Happened?
The way things happened at the Indian Wells Mater has surprised many. So many good, top level players got eliminated too early and there's a reason for everything. Let's see what are the reasons that could have contributed.
It's the middle of October and top level players who have been present at every tournament, playing most of the matches are worn out by now, even though they don't admit it. You have to be in a very good shape to be able to perform at the best level and with age, that is becoming more and more difficult, not only physically, but mentally as well. The season ends in December, so one has to resist till the end, if possible.
Winning one tournament means winning one tournament and nothing more. A perfect example to this is the case of Emma Raducanu, the 18 years old Brit, who made history by winning Wimbledon this year. Even if you're not a tennis player, you could not escape the news as she's been all over for weeks.
Unfortunately she could not provide the same level of playing and has not made anything remarkable ever since. She fired her trainer right after winning, saying she needs a tour level experience trainer. I've read many opinion about how she handles things and no one was favorable to her. I'm not interested in WTA but still giving her time to regain balance to be able to confirm she's a real talent. It's easy to make a wrong stem and ruin everything. Emma needs to get herself together and get back on the horse, otherwise her career could finish before it started.
The Indian Wells Masters is hosted in California, in the desert. This means weather conditions are very different from other tournaments. It is hot and dry and the ball doesn't travel with the same speed the players are used to. This can be an explanation to why so many shots have been missed and wrongly calculated. It's a slow court and I guess it takes a bit of time to get used to it.
Funny enough, the balls are different from what they use in other tournaments. Balls are a bit bigger (some say the ball is 6% bigger) and heavier, therefore slow.
Every player has to adjust his game not only to its opponent's game but also to the conditions mentioned above. Adapting to the situation is a skill you learn with time, but till then, it can cost you a few tournaments.
What's Next?
The VTB Kremlin Cup has just started. Medvedev has withdrawn from the start, he has said his body is not ready and I can't blame him. He needs to focus on recovery and on getting ready for the next important tournament. I suspect Russians are not happy about his decision, but he's the only one to decide.
At the time of writing Damir Džumhur is playing against Marin Čilić. MikaelYmer, Alexander Bublik and Laslo Đere are scheduled for tomorrow. Rublev is 2nd seed and there's no other top level player taking part, so lower ranking players have a chance if Rublev is eliminated here.
The next ATP 1000 Masters is the Paris Masters that will take place from November 1st to November 7th. I can hardly wait as the cream of the tennis will be there. I'm curious to see how Rublev is going to handle the situation. Playing two tournaments in such a short period of time is tricky, if not stupid. He may have been forced to participate, once Medvedev said no, who knows. In any case, he knows what he's doing and if not, he's going to find out, maybe the hard way. We'll see.
---
---