Indian Wells Masters - Quarter Finals
I guess there are no words to describe this tournament, I've used them all, but I love it, love it, love it. Every single day there's a new situation not many have expected. Let's take my last prediction and see what's happened, how right or wrong I was.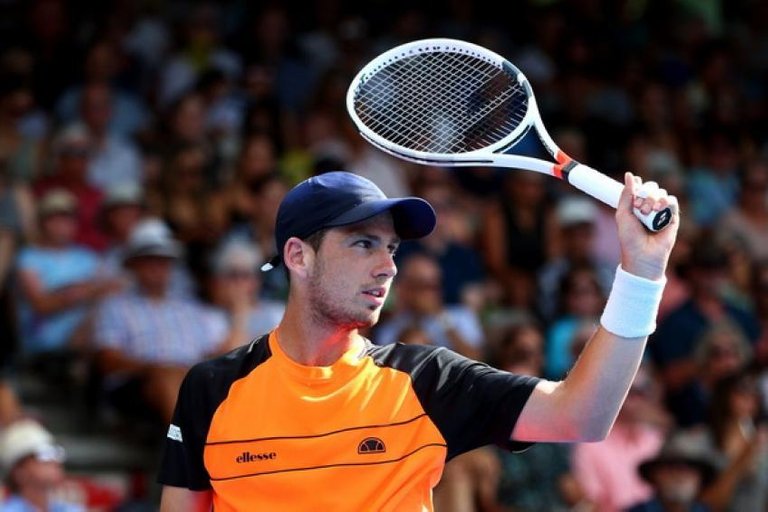 source
Quarter Finals Predictions vs Reality
Cameron Norrie vs Diego Schwartzman - In this case I would say Schwartzman is better, but what Norrie did so far is not something to neglect, so who knows, it could go either way. source
I said it could go either way and it did (how surprising, right?), but the way it did surprised me a lot. Diego Schwartzman was unrecognizable, a totally different player that we've seen so far. The first set started very badly for the Argentinian, it was like he lost momentum.
It happens to everyone, even to the best, the problem is, Schwartzman did not recover. He lost the first set to zero, which is not exactly something to write home about at this level. Nothing seemed to work for him, most of his shots did not have the expected outcome and sadly, it was the end of the tournament for him.
I don't know the details, but I'm firmly convinced something happened to him mentally. Other times he was sharp and knew what to do in every situation, now he was literally lost.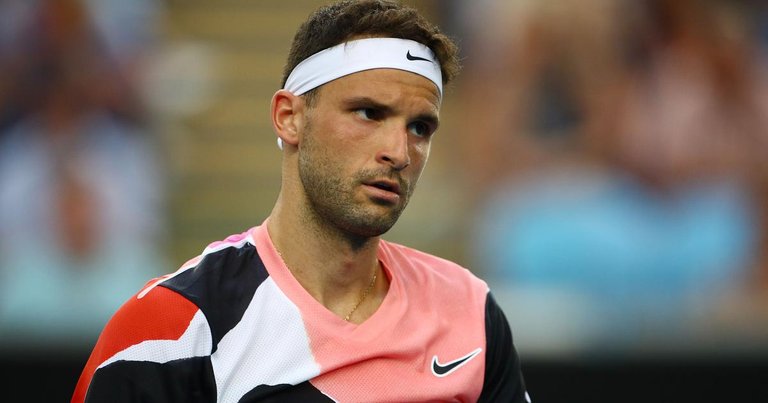 source
Grigor Dimitrov vs Hubert Hurkacz - Again, I would say Dimitrov can beat Hurkacz as he has just eliminated 1st seed, but then again, Hurkacz is also good and he's 8th seed. I don't know honestly. source
My wish came through and I'm happy. Grigor Dimitrov had the strength to continue focusing and play at the highest level that is required here. He is 23th seed here and was able to win 8th seed. He needed 3 sets to win and the third set was pretty tight as it ended in a tie-break, which is usually mentally stressful, but he did not lose focus and was the better player at the end.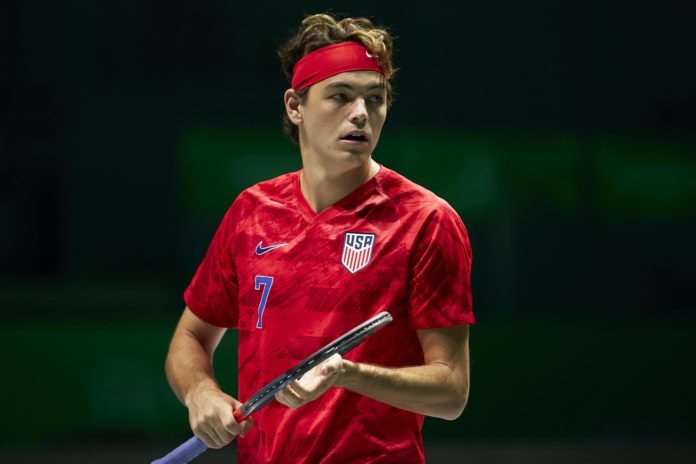 source
Taylor Fritz vs Alexander Zverev - I'm going to be fair and say Zverev has 99% chance to win. I hope Fritz will do everything in his power to win as many games as possible. source
This is actually quite funny. Looks like that 1% chance was real. I was convinced Zverev would win, who wouldn't have been? He's the new tennis star of the year, one of the best, especially after winning the Olympics earlier this year. He has been constant in his evolution, regardless of the tournament, but here something happened. He also lost momentum at the beginning of the second set and lost the set too.
I was hoping he can get back on track and continue, as it happens very often, but he didn't. Later in an interview he admitted that his game wasn't the best.
With Tsitsipas out of the way, he had a clear way to win the tournament. He was the highest ranking player and he knew very well he can win. Unfortunately he didn't. I've been following tennis for some time and Zverev as a top 5 level player, is always present in major tournaments from beginning till the end, but I've never seen him playing like this.
He got himself together in the third set, that ended in a tie-break, but Fritz was unbeatable. I can't tell you how proud I am of the American. He stayed focused and managed to win the tie-break under pressure. He has a chance to the title for sure.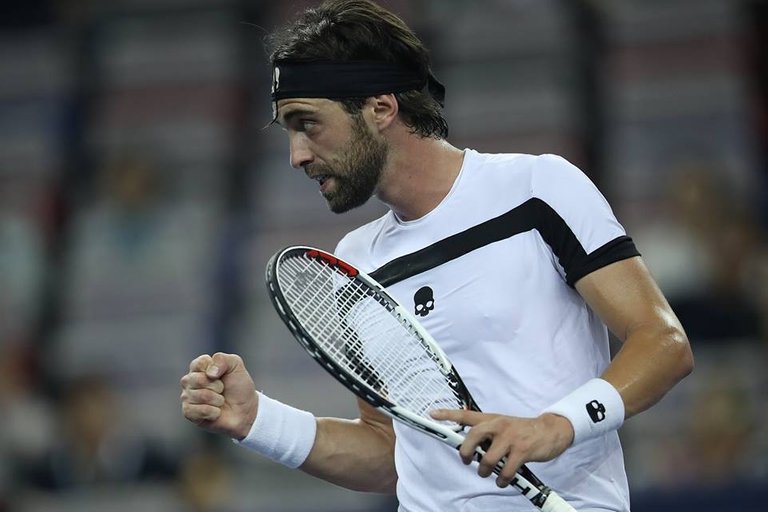 source
Nikoloz Basilashvili vs Stefanos Tsitsipas - Again, Tsitsipas has 99% chance to win, in two sets I may add. source
Again, that 1% was real and Basilashvili won against the Greek. Last year this time I would have been upset, but not now. (6 - 4), (2 - 6), (6 - 4), the result clearly shows how strong Basilashvili mentally is. He was able to recover after losing the second set to 2 - 6.
Predictions For The Semi-Finals
Grigor Dimitrov vs Cameron Norrie - I wish I knew. For me both are at the same level, although I think Dimitrov has more chance. I really don't know what to predict, except what I would wish for and that's Dimitrov.
Taylor Fritz vs Nikoloz Basilashvili - This match is kind of similar to the previous one. Two players about the same level, having about the same chance to win. I would say Fritz, but it depends on how he can focus, which basically is valid for both players.
Looking back, I can clearly say I don't think we've had a top level tournament, in which there were no top seeds in the semi-finals. This is highly unusual and it makes it more fun.
The Indian Wells Masters, is an ATP Masters 1000 tournament, which means winning here or at least getting into the final is crucial, if you want to get some points.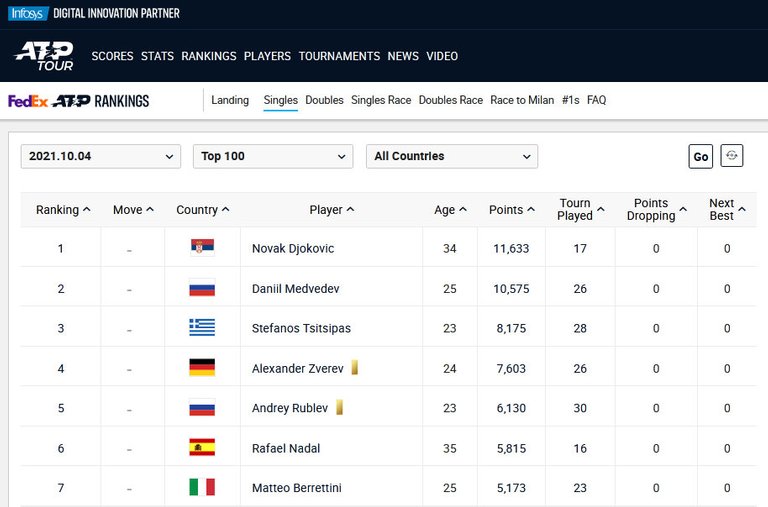 source
If you look at the current ATP ranking, some players have or had a chance to make some changes in the ranking. Medvedev is in a competition with Djokovic. The Russian needs more than 1000 points, which may be impossible to achieve but getting some point is always good.
572 points difference between Zverev and Tsitsipas, again, Zverev would have had the chance to gain some points by winning here, but that ship is gone now.
Berettini gain would have been in a position to get closer or even take the place of Nadal, as the Spanish is injured and it's highly unlikely he is coming back this year. And even if he does, who knows how fit he will be. Berettini, chance wasted. Better luck next time I guess, losing is part of the game.
---
---