Laver Cup - Day 1
The tennis season is heading towards the end, but there are still a few tournaments that have to take place. One is Laver Cup that is happening now. This is not an usual tournament as it's not part of ATP, but it's extremely interesting, bear with me and I'll tell you why.
The Laver Cup is an international indoor hard court men's team tennis tournament between Team Europe and Team World, the latter of which is composed of players from all other continents except Europe. Held annually since 2017, the tournament is intended to be the Ryder Cup of the tennis world. It normally takes place two weeks after the US Open, with the location rotating between different host cities; alternating yearly between European cities and cities in the rest of the world. source

The most interesting thing about this tournament is that unlike in ATP tournaments, players are not competing for themselves, as you can see in the quote above, there are two teams instead.
This is good as it changes everything and makes it more interesting for us viewers and more challenging for the players. Rules are also different as team captains are allowed on the court, as well as other players and coaching during the match is permitted.
This year is the fourth edition already and I must admit, it's the first time I am able to enjoy the tournament and I love it, even though it's hard to see my favorite players divided in two teams, playing against each other.
The rules are simple. There are 24 points up to grab and the first team to get 13 points is the winner. Each player can play two matches and not more.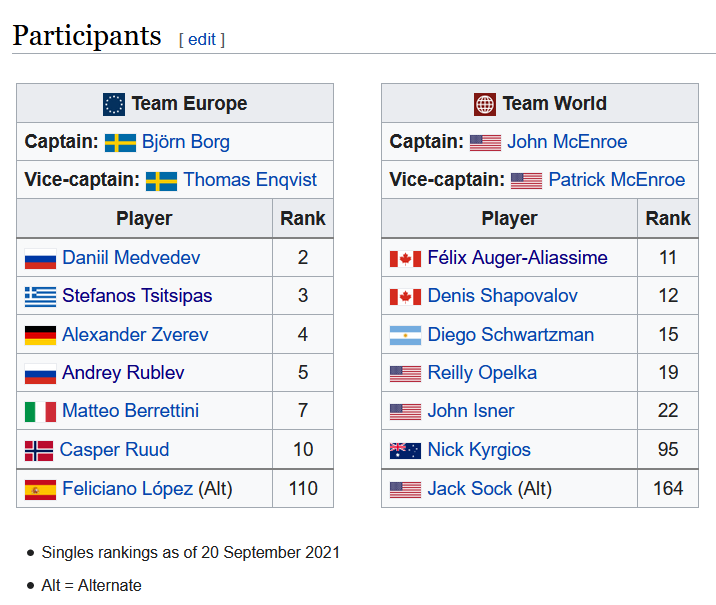 source
If you are a tennis fan and look at the participants in both teams, the winner team is obvious, it's like a done deal, it's just that there's no such thing as done deal in tennis.
Team Europe had 6 of the top 10 players, giving them a slight advantage. Team World has no top 10 players and the 6th player is Nick Kyrgios who has missed most of the season, plus we know how unstable his game is. Each team has an alt listed, but in fact they have two, I don't know why Wikipedia is not updated. Team World also the South African Lloyd Harris as alt, who's world No. 31 and Team Europe has Cameron Norrie world No. 28.
In the previous three years the winner was always Team Europe, which is not surprising as the big trio ruled. None of the giants are participating, but even so, Team Europe has the best players.
There's been some frictions between Tsitsipas and Zverev at the previous tournaments due to the Greek's long toilet breaks, which may have caused some problems but I hope they were able to get past it as we need both in the game.


source
Last night was the first night and Ruud and Opelka had the pleasure to open the tournament. Even thought the second set was a very tough one, compared to what happened in the next match, I'd say this was an easy win. Opelka tried his best, but Ruud had all the solution and pocketed a win for Team Europe.
Matteo Berettini met the Canadian Félix Auger-Aliassime, who's the highest ranking player from Team World. Having a look at the ranking of the players, one may have thought his match is going to be an easy one, just like the previous, but that's not what happened.
Félix Auger-Aliassime made Berettini work extremely hard for the victory, fighting for every point, every game. The first set lasted one hour and 25 minutes, the second set around one hour. Unfortunately it was already too late for me, so I could not watch the third set, but the first two was absolutely amazing.
Aliassime is known for his swings, but this year, in the second part of this year he has changed a lot. He can control his emotions better and resist the pressure. However, yesterday I was afraid the long match will be too much for him. It wasn't as he was able to play high quality tennis, but Berettini was better, which is not surprising. He is a more experienced player and knows what to do in every single situation.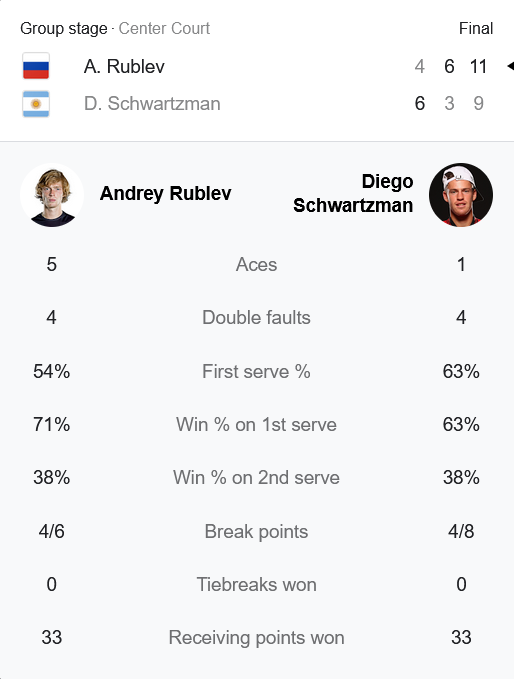 Diego Schwartzman met the Russian Rublev and unfortunately it wasn't a lucky day for him. The Argentinian is capable of miracles, but yesterday wasn't his day. He managed to win the first set, but then Rublev took over and pocketed another point for Team Europe.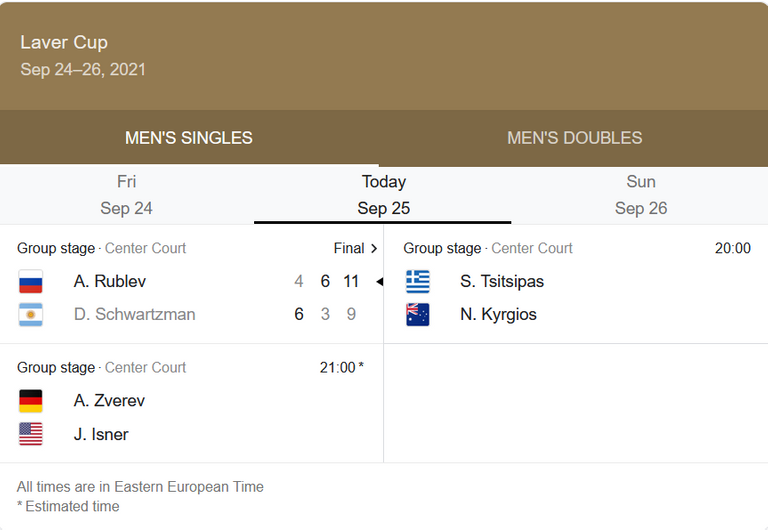 Today is the second day and two of the best are schedule to play with two very interesting players. Tsitsipas has to face Nick Kyrgios, who I'm expecting to attempt to make a real show as that's what he always does. Entertaining the public is the most important thing for him. I'm still hoping the Greek can win as it's important.
The other match, which will take place around 10 or 11 pm I suppose will be between Zverev and Isner. I'm rooting for Isner and I'm glad I have the opportunity to see him again. Being a European, Team Europe is the obvious choice, but Isner is a different story.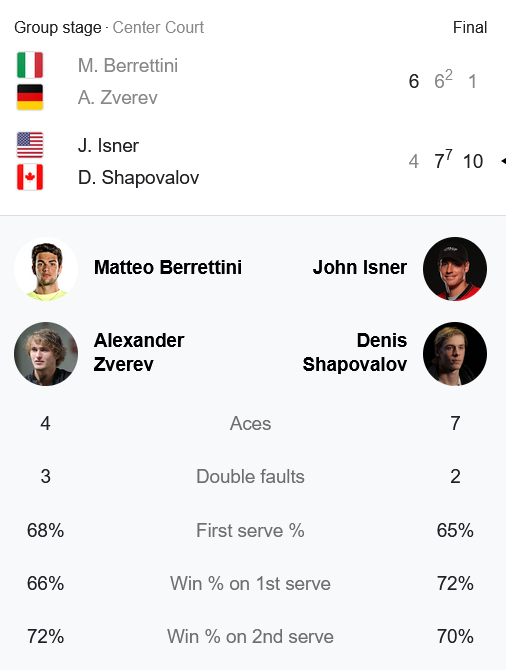 Doubles are not my favorite, but in this tournament everything counts. Isner and Shapovalov was able to defeat Berettini and Zverev, which is not a surprise as Berettini had a difficult match earlier.


source
So Team Europe has 3 points so far, while Team World has only one. Today the double will be played between Rublev - Tsitsipas and Isner - Kyrgios, which is funny as Tsitsipas and Kyrgios meet two times in one day. Let's see hos the Australian can handle his temper.

---
---