Laver Cup - Day 2
This tournament is becoming one of my favorite, even though I've seen only two days of action (our of three I may mention). It's totally different from the usual tournaments, therefore it's more fun. I'd love to see it more often, but that is out of he question as busy schedules don't allow such luxury. The other reason is that it requires some extra effort, like traveling, which brings the possibility of getting infected and injured in a tournament that does not count for ATP points.
On the plus side what you get here as a player is priceless. Bounding with other players is a huge thing as other times there's no time or it just doesn't happen because you don't bound with your opponent during the tournament and may not have time after.
The other huge advantage you have here as a player is to spend time with legends like Bjorn Borg and John McEnroe. It's not every day that you can meet and spend time with them. They are the captains of the two teams.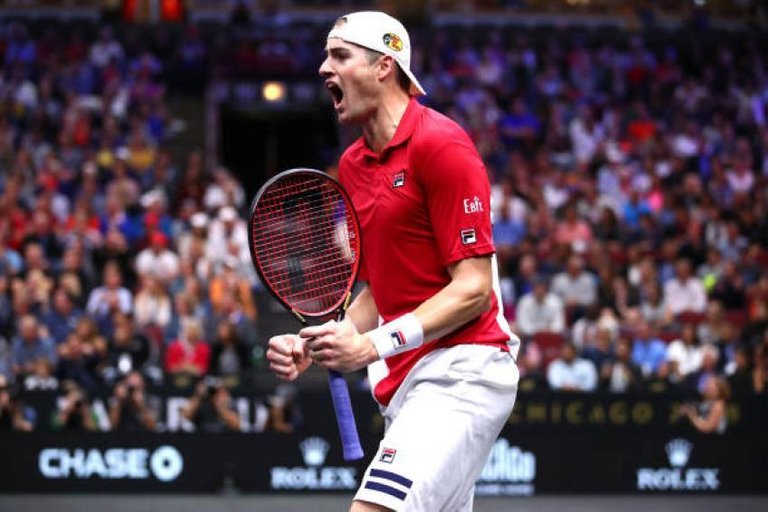 source
The Biggest Match Of The Tournament!
It's not a surprise that the giant John Isner is one of my favorite players, meaning he's No. 1 for me, even if he's heading towards the end of his career. There's no other player with this playing style right now and who know if we're going to see a similar one ever. This is why I am willing to sacrifice my sleep time to see him playing.
Last night he had to face Alexander Zverev, which was a huge challenge for the American, as the German is one off the best at the moment, third as ranking among the participants here. Zverev is coming after an excellent season, winning even the Olympics, which is not something you can neglect.
So the outcome was somehow obvious, but the match was not so easy. 7 - 6 and 6 - 7 sets, both ending in tie-breaks, plus the last set which is another tie-break here, that shows the level of professionalism of the players.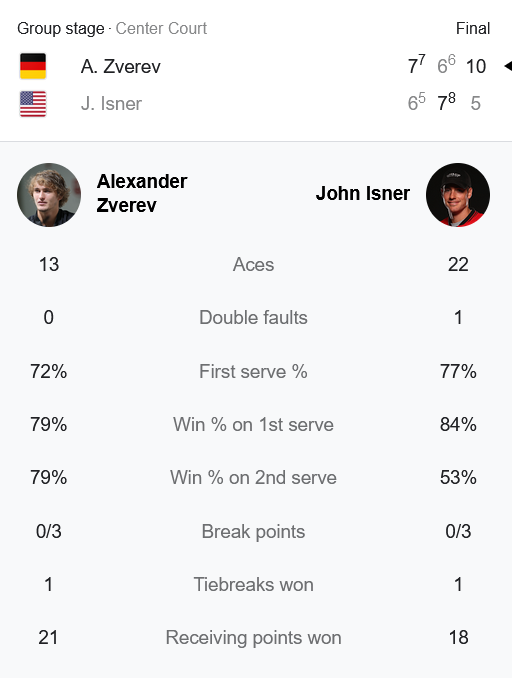 I broke the rule and was rooting for Isner in this case. Unfortunately he lost but not without a fight. He's famous for his aces and that is why many of the games ended with winning all the points. Aces work well for him and leaves the opponent without solutions.


source
Based on the chart above, Isner is the only one who played 3 matches already. This makes me believe he's the most valuable player of Team World, even though his ranking is inferior to the other four in front of him. He's the most experienced though, no one can deny it.
Right now the situation is pretty sad for Team World. Team Europe needs two more points to win and that can be achieved in the first match. Having a look at the schedule I can see the last double match is scheduled first, that will take place between Rublev + Zverev and Opelka + Shapovalov. In case Rublev + Zverev win, the tournament is correct. In case Opelka and Shapovalov can beat their opponents, we're going to see another fight between Zverev and Aliassime. For me the winner is obvious already, has been for day one, but even so, I find it admirable the dedication both teams had here.
The full disclosure of each player's earnings hasn't been published. That's because each player receives a participation fee depending on his ranking. But they also get prize money at the end of the tournament. The winning team receives $1,5 million, meaning that each member gets $250,000. source
Meanwhile, the losing team gets $750,000, meaning that each member gets $125,000. So, every player will end the tournament with different earnings. For example, in the 2019 edition, some reports stated that Rafael Nadal took home $2 million for participating. source
As about the financial aspect, I don't know what to say. It is different for each player, based on parameters mentioned above.
As a tennis fan I had the most amazing two days as I got to see matches you don't see every day. I can't tell you why, but these matches are very different from the official ATP matches, these are way better, at least that's my opinion.
Before the tournament started the press was full of articles stating that without the big trio (Federer, Djokovic and Nadal) Team Europe is in trouble, as if without them there's no tennis. This was just noise as if you look at the ATP ranking, the first 10 players are all Europeans, which tells you where is tennis most popular in the world. Now we kind of know the final result and all those worries look unfounded now.
Nick Kyrgios, the Australian player unfortunately wasn't able to shine his talent. He's an excellent showman, good at entertaining the public, having nervous breakouts and always has some interesting haircut, but his future in tennis is unclear to me. I'm curious to see what his strategy for next year is. This year he skipped a lot of tournaments, some for not accepting the covid restrictions, at least that's what the press said. I see him as a wasted talent honestly. he could have been in top 10 easily, but his temper and way of thinking stood in the way.
Even though it's not over yet, the best two players of the tournament for me are Isner (obviously) and Aliassime. He did a 180 in such a short time and turned into a real professional. I hope he can keep up with the pressure and continue growing.
---
---