Let's Talk About Playing Style
On Sunday, April 10, I had the privilege of watching the U.S. Men's Clay Court Championships final, between Reilly Opelka and John Isner. I suppose the American viewers were very happy to see two compatriots in the final and know the trophy is going to stay in the US.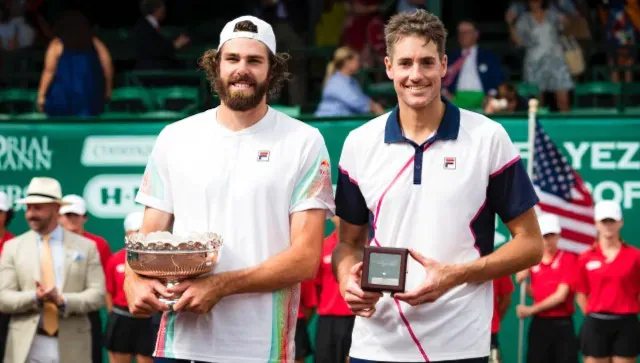 source
Apart from seeing two Americans, the final was a really interesting one from technical point of view, or should I say very different from what we are used to see in the ATP 1000 finals.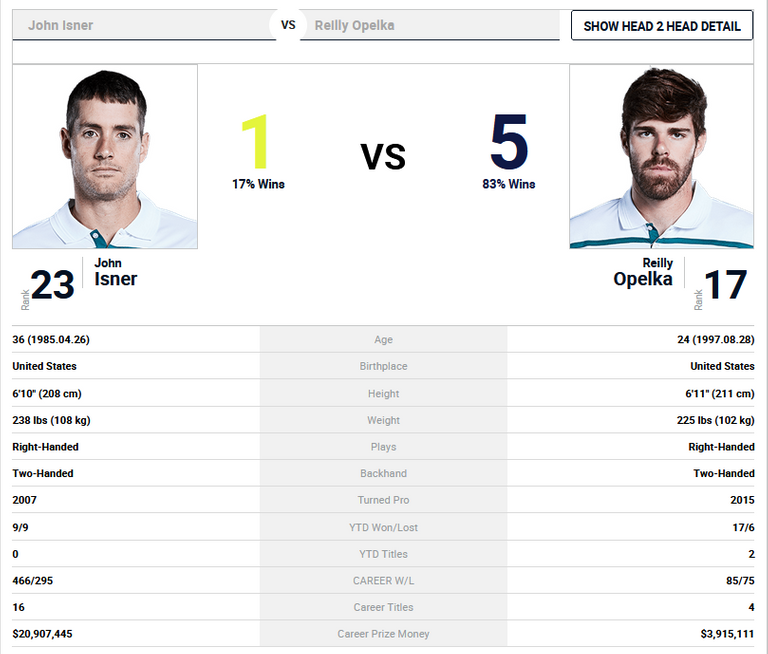 source
We had two very unusual players in the final. Reilly Opelka is 2.11m (6 feet 11 inches) and John Isner is 2.08m (6 ft 10 in) tall. Basically they are of the same height. Meeting someone of your own height in tennis is not very common. Two of the tallest player meeting in the final is also not very common. You may think being so tall is definitely an advantage in tennis but it's not necessarily true. It has some advantages, but also a lot of disadvantages and that is why you see two players this tall, you see a different playing style.
First of all, they move very differently, they are not as fast as the players that are of 1.80m or 1.9m tall. Tall players usually opt for shorting the point, usually trying to send down aces, rather than engage in long ball exchanges, that most of the time is energy consuming, even exhausting. Their movement coordination is different, they may not be able to run fast after each ball.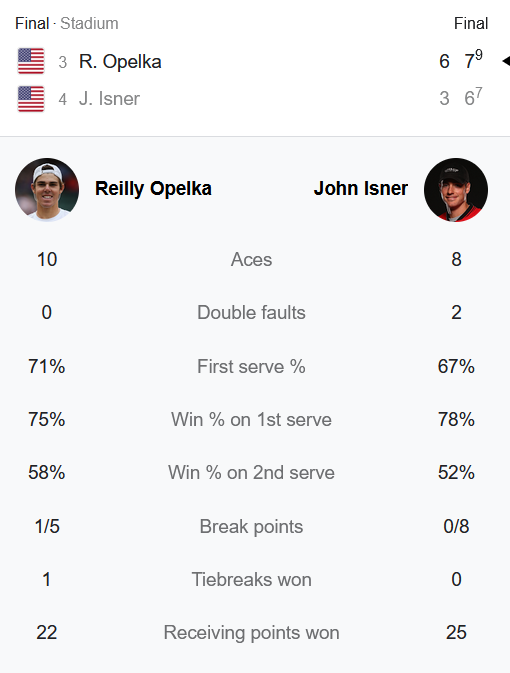 I can honestly say that I've been looking forward to this mach with a lot of excitement and what I got was a quite boring match. There was a lot of walking back and forth and only a few interesting shots.
Isner is famous for his aces, which is a strategy to win games to zero and save time and energy. Yesterday he only had 8 aces, which is far from his usual performance. Opelka had 10, two more than Isner. According to ultimatetennisstatistics.com, Isner is second on the list of top aces, with 13604. Ivo Karlovic is currently the first on the list with 13762, but he's not active anymore, so Isner needs 158 aces to be named King of Aces and he's going to do it, no doubt about that.
Yesterday unfortunately wasn't Isner's day. He was good but the first set wasn't for him as Opelka was way better.
The Longest Tennis Match
Isner was one of the players who wrote his name in the history book in 2010, being one of the payers who played the longest professional tennis match in history.
At the 2010 Wimbledon Championships, played the longest professional tennis match in history, requiring five sets and 183 games to defeat Nicolas Mahut in a match which lasted 11 hours and 5 minutes and was played over the course of three days.source
I was curious to see what a 11 hour tennis match looks like and went to search for the video. Lucky us, we have YouTube and such an epic video can always be found on that highly centralized platform.
Warning: The video is 11 hour long, so I did not watch it all as who has half a day for a tennis match, right? But watched parts of it and can honestly tell you, it was the most boring match I've ever seen in my life. Most of the 11 hours were walking back and forth on both parts. No excitement, no long ball exchanges, no interesting situations, just a few shots and a lot of walking.
What's The Ideal Playing Style?
Favorite playing style is obviously different for players and viewers. Viewers want to see nice shots, longs ball exchanges if possible, full of interesting situations. Usually these are the most energy consuming for players, but as a viewer, you can't feel that.
For players this is a totally different matter. Most of the players are capable of resisting to a game like that described above, less those who are the tallest and prefer shorter games, with as many aces as possible.
An there are those who prefer to capture the viewer's attention by creating a circus. Not me though.
My Conclusions
As I mentioned at the beginning of the post, I love Isner's stye because I consider him a very calculated player. When I see him playing, his style makes me think of snooker for example, meaning I believe at the time of serving he already has a scenario ready in his head. He knows exactly where to direct the ball in order to get the desired result and rarely let the opponent lead on his serve. This is fun when the other player has a different style, because we get to see a mix of styles and the match is not boring.
When you see two players of the same style and both are after shorting the match, you may see a boring performance. I had to realize that on Sunday. As per total, the majority of the top players are not representing this style, so no danger of watching boring matches.

---
---