Miami Open - Another Surprise Tournament
After I finished my post on Tuesday, some interesting things happened. In my last sports post I said
No one is bullet proof in tennis and in sports in general and even the impossible is possible sometimes. source
and life proved me right, right after I said it.
Stefanos Tsitsipas met the Spanish Carlos Alcaraz Garfia. I said that Tsitsipas has a better ranking and more experience, but who knows. Well, Alcaraz Garfia was able to defeat the Greek in just two sets, the second ended with a 3 - 6 score. Tsitsipas's skills were seriously lacking last night. He was able to serve 5 aces, but the win rate of his second set was way lower than of his opponent.
This is an awkward situation for Tsitsipas as he had no chance to be world No. 1 yet and there's a real threat his chances to be No. 1 will be diminished. Alcaraz Garfia has had a great journey so far and doesn't seem to want to stop until he's on the top. When it was introduced to the public at Grand Slam level, they said he's the next Nadal. It seemed a bit forced at that time as he was only 18 and although talented, he lacked experience. Here we are I believe two years later and he's beating the best players already.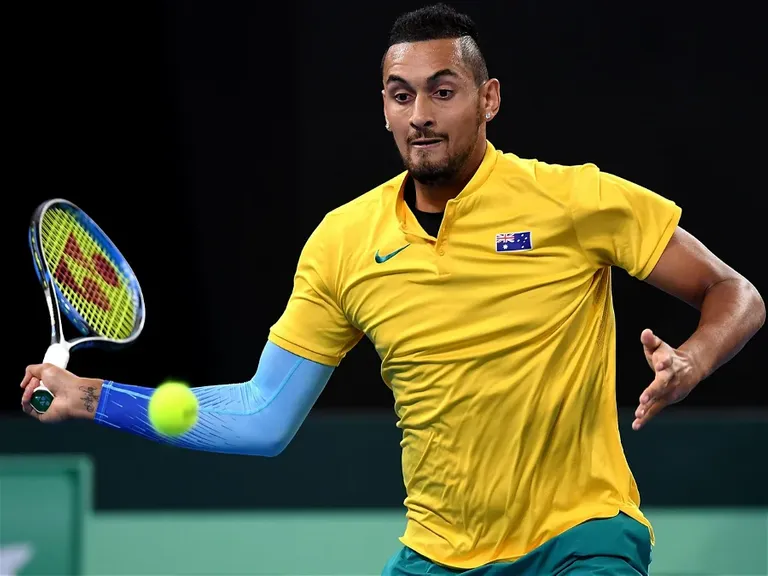 source
Last time I had to finish my post before the Nick Kyrgios vs Jannik Sinner match was over, so I could not tell you what happened during the match. I said in my post, let's see if the Aussie can keep his cool. Well, he couldn't. He started with arguing with the chair umpire, accusing him of not being able to keep the crowd quiet. Then he was started arguing again over the position of a ball and out of anger, he threw his rocket on the ground, which led to his opponent gaining one point as it happened in the tie-break. Then he got even more angrier after losing the first set, out of rage he started to smash his racket on the ground and as penalty, he lost the first game of the second set without even playing. I've been watching tennis for years now but had no idea such measures can be taken as punishment as I have never seen anyone being penalized as Nick was last night.
It is known he gets angry all the time, usually argues with the chair umpire and then he loses. This has been the case pretty often in the latest years. I was hoping he could manage his anger but that seems less likely. At this point I don't think he is willing to change. Getting fines at every tournament is the new norm for him. He's at $70k in 2022 already. $35k at the Miami Open, $25k at Indian Wells and $10k at the Australian Open, but we're only in April, so he still has time till the end of the year to raise to his 2019 level, when he had to pay $135k in total. Who knows, maybe he can establish a new personal record in 2022.
Lloyd Harris was not able to get past Hubert Hurkacz. Hurkacz is determined to defend his title at any cost and he's doing everything he can. He got past Harris is two sets, of which the first ended in a tie-break. The second set was quite disappointing from Harris's point of view. However, it is nice to see the South African get into round of 16.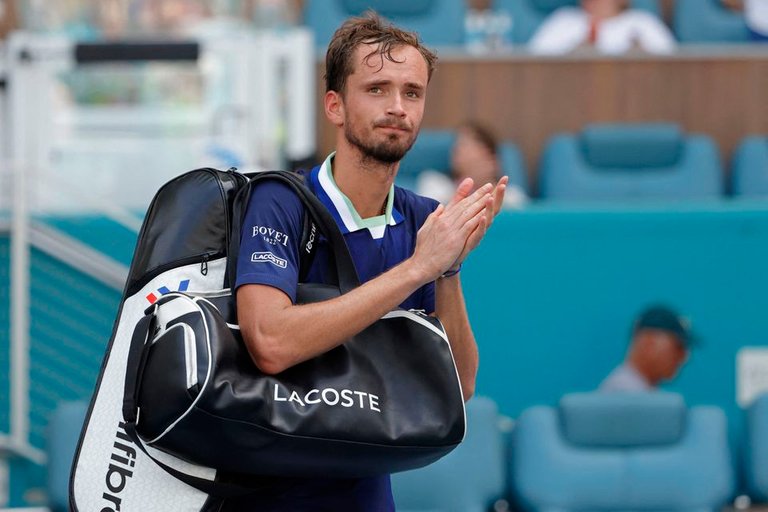 source
The next surprise cam on Thursday, when Daniil Medvedev lost to Hubert Hurkacz in two sets. The first set was balanced, ended in a tie-break, which the Russian lost and the second set ended to 3 - 6. Turns out Medvedev has been playing with hernia and he decided to undergo surgery to fix it. They estimate a month or two of pause, which means he most likely will miss the French Open, which will be held between May 22 and June 5.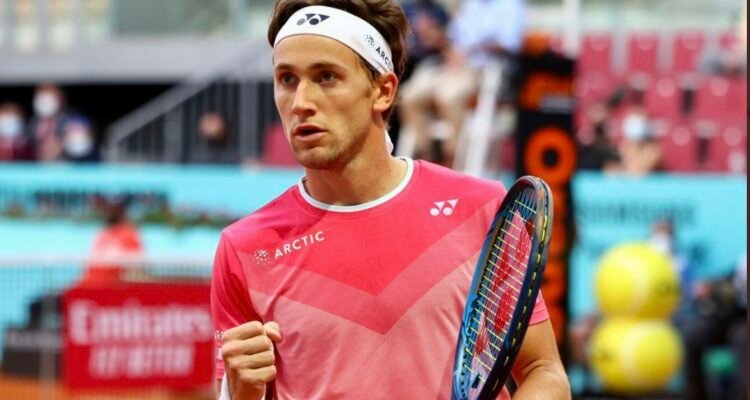 source
Another slap on the fans face was Casper Ruud sending home Alexander Zverev. With all the big guns out of the competition, Zverev would have had the chance to win the tournament, yet, he lost to Ruud in three sets. Zverev won the second set but seemed out of focus in the first and last set, which costed him dearly.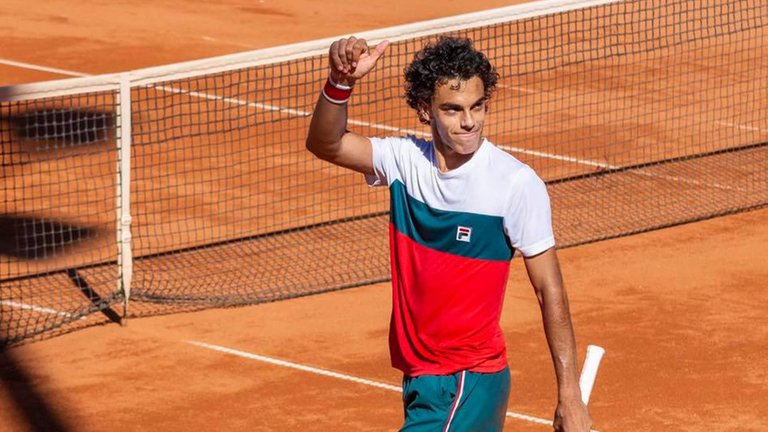 source
The biggest surprise of the tournament has been Francisco Cerundolo, who has managed to get to the semi-finals, where he met Casper Ruud. It is true that this match was his last one at Miami, but even so, it's admirable what this guy has been able to accomplish this time. There's a high chance we're going to see him more in the upcoming months. He's talented for sure, so if he can manage the pressure and keep himself healthy, the future will be bright for him.
Carlos Alcaraz Garfia sent Miomir Kecmanović home yesterday. Kecmanović is the other player that had an exceptional run in Miami. I don't think there were many believing in him as he's quite new at this level, even though he's not as young as Carlos Alcaraz Garfia. He has an ATP 250 title at the Qatar Open in 2020 but Miami Open is a different thing. His dream of winning the tournament were crashed by the Spaniard, but he will be remembered as the new talent of the year.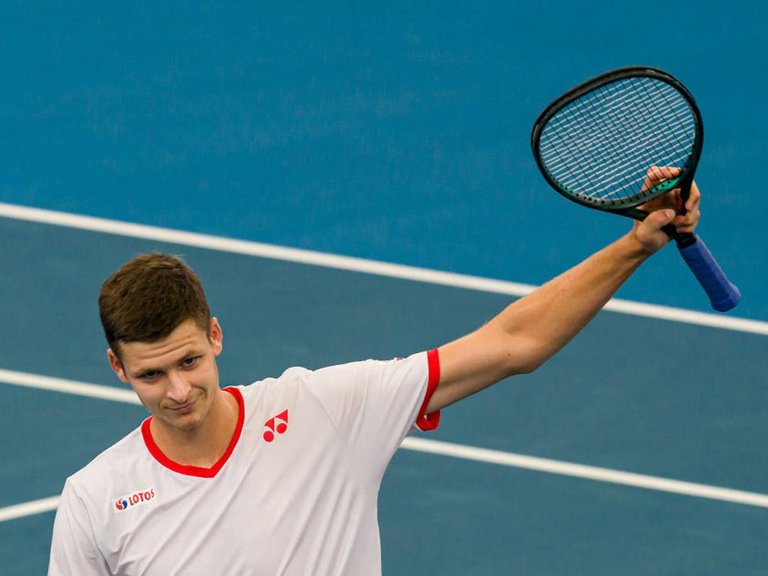 source
Hubert Hurkacz had a good chance to defend his title, till last night, when he lost to the most talented player representing the younger generation, the Spanish Carlos Alcaraz Garfia. Must have been painful to lose, especially because there were two sets played, both ended in tie-breaks. This is the type of situation in which you are so close and losing hurts a lot. I can't imagine what must have felt like seeing himself so close to winning the title for the second time and lose almost at the finish line.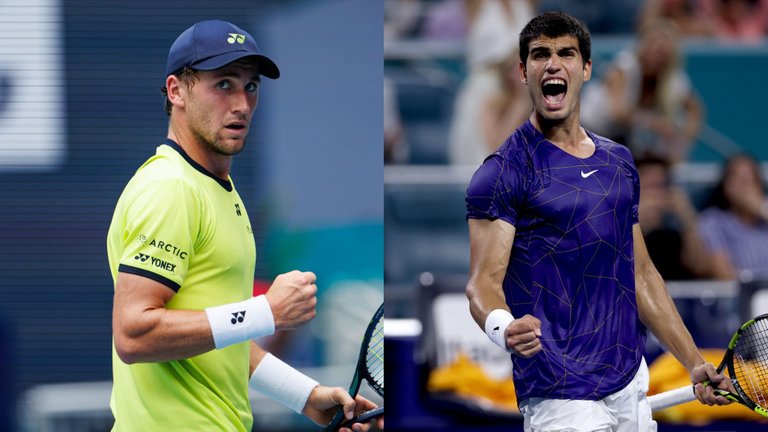 source
So the final will be played tomorrow between Carlos Alcaraz Garfia and Casper Ruud. The final result depends on a lot of things, but if I were to guess, I'd say Alcaraz Garfia has more chance. Tomorrow we'll know more :) In any case, if Alcaraz Garfia will win, he'll be one of the youngest to win the title. At 18 this is huge achievement and well deserved.
The tournament is not over yet, but I suppose it's safe to say this was again everything but usual. Two of the big players have not been present and pretty much the rest of the top 10 players have been eliminated one by one. Looks like the rest of the tournaments will be something similar, which is good as more lower ranked players will have the occasion to play more.
---
---