Monte-Carlo Masters 2022
One tennis tournament comes after another, which is great as I love tennis, but it is a bit frustrating as well as who has all day to watch tennis? Anyway, better to have a rich offer, than not have anything.
This week we get to enjoy the Monte-Carlo Masters, which is an ATP Masters 1000 tournament, therefore, one of the most prestigious of the year. Nadal is missing the event, so is Medvedev, both for medical reasons. There's Novac Djokovic present on the other hand. Covid rules have been relaxed, so he could take part at the Monte Carlo tournament.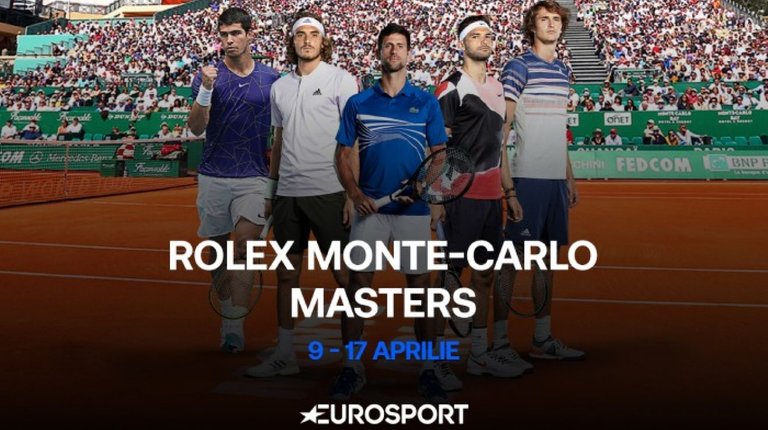 source
We're only at round of 32 and a lot of surprises has already happened, not all good though, but we know there's no tournament where everything is good, since there's only one winner and the rest goes home without a trophy.
The Sacrifice You Make And The Price You Pay
A part of the press has been focusing on Djokovic, partly because he's still world No. 1 and partly because he's been missing all the major tournaments this year. According to the schedule, there was a high chance he could meet the Spanish Carlos Alcaraz Garfia and this meeting has been labeled as crucial for obvious reasons.
Carlos Alcaraz Garfia is the new kid on the block but also one of the best not only of the new generation but in general. He has won the Miami Open this year and has become the youngest player winning the title. He's been asked in an interview, what he's going to do in case he meets Djokovic. His answer was very diplomatic and correct from every point of view. However, faith had a different scenario for both.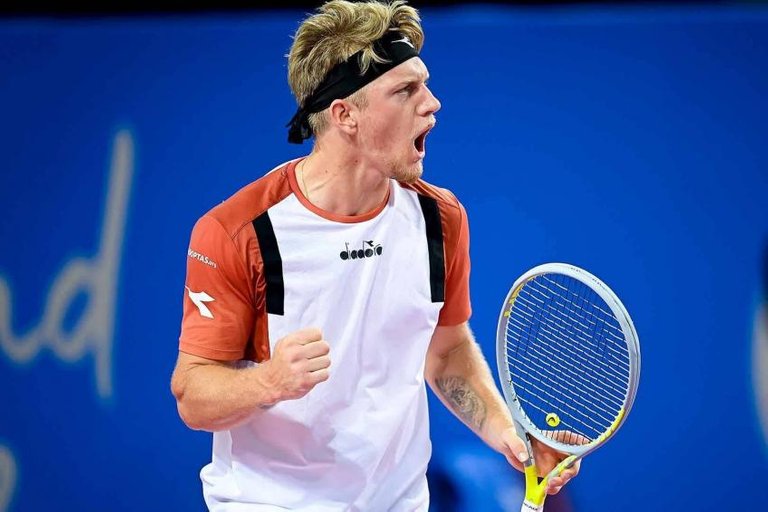 source
Novak Djokovic vs Alejandro Davidovich Fokina. Initially I did not want to watch the match because I lost respect for the Serb, but as it was yesterday, when I had some free time, I said let's see what these two are capable of. I suppose many have said, the Serb has been training like crazy during his downtown, which is probably true, therefore he must win as Alejandro Davidovich Fokina is nowhere near the Djokovick's level.
Well, we got a rusty Djokovic, who seemed lost most of the time and angry as well. I used to like him for his self control (which is very important for me on the court), but lately his self control is mostly lacking. Yesterday for example he shouted twice at the viewers behind him, once even using language that can't be written down here. Not cool at all on his behalf, even if he was mad and frustrated. There's a chair umpire who can be notified to take action if needed.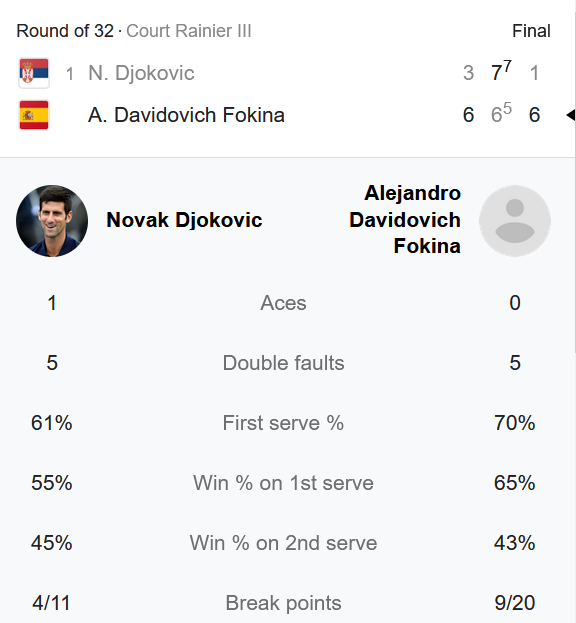 Losing the first set seemed like not a big deal, taking into consideration that he's played only three official matches this year and has happened before, when he was constantly playing. The result of the second set shows he got himself together and won the tie-break but with a lot of effort and chances of losing were very high.
As you can see from the results, the third set was again difficult for the Serb as he lost to 1 - 6. He had 51 unforced errors during the match, which at this level is unacceptable. So I'd say no matter how hard he's been training, if he's not been training or competing with players at least as good as him ... this is what happens.
Alejandro Davidovich Fokina on the other hand is a real HERO! What he did yesterday was nothing less than a work of art. He did not let himself be intimidated by the status of his opponent, fought for every single point, risking his physical integrity when there was no other choice. At some point he threw himself on the ground to save a point, hurt his hand and needed medical assistance. I've seen him play quite a few times, but after yesterday I'm going to look forward to seeing al his matches. I wish him good luck in the upcoming future and want to see him as high on the list as possible.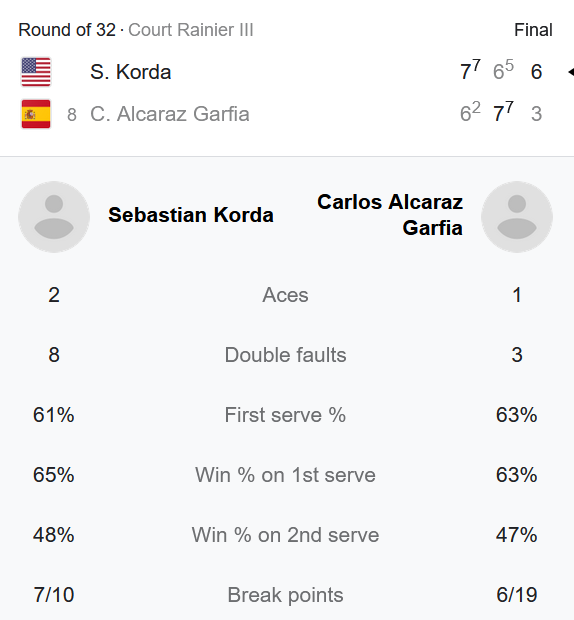 So after Djokovic was eliminated, Carlos Alcaraz Garfia must have felt relieved, that one of the toughest opponent for him is not going to be a problem anymore.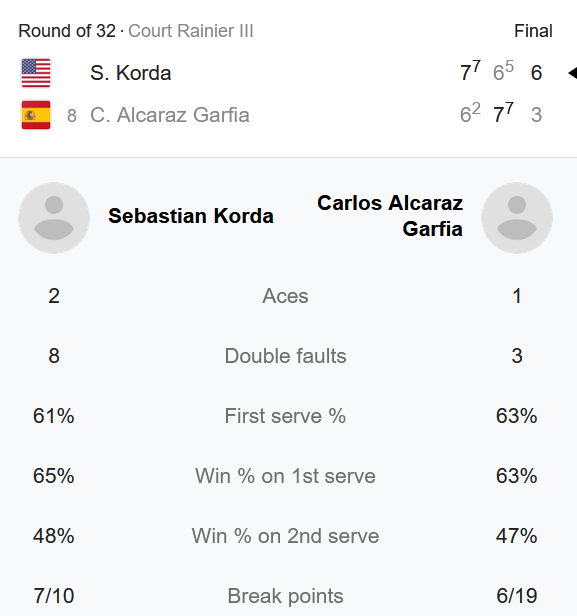 Then this happened today! 🤦‍♀ Sebastian Korda is ATP no. 41, so I don't think there was someone who has anticipated this result. The first two sets ended in tie-break, each of them won one, then the third set was a disaster for Carlos Alcaraz Garfia. I was literally shocked and could not believe my eyes. It's unbelievably sad, to see Alcaraz Garfia leaving the tournament so early, but it is what it is, I bet he did everything he could and there's nothing we can do. I hope he can have some rest as I suppose fatigue could have contributes to this result and rebuild himself for the next big tournament.
Good & Bad
Fabio Fognini had the misfortune to meet the Greek Stefanos Tsitsipas today. On his best day the Italian may have had like 1% chance to beat Tsitsipas, but it was his lazy day again, in which he lost the first set to 3 - 6 and the second to zero! His passive attitude is working against him, he knows that, but could not care less. Looks like he's satisfied with what he can achieve at this level, meaning winning one or two matches and not more. He's close to retirement age anyway, so I don't think this is a phase that will pass.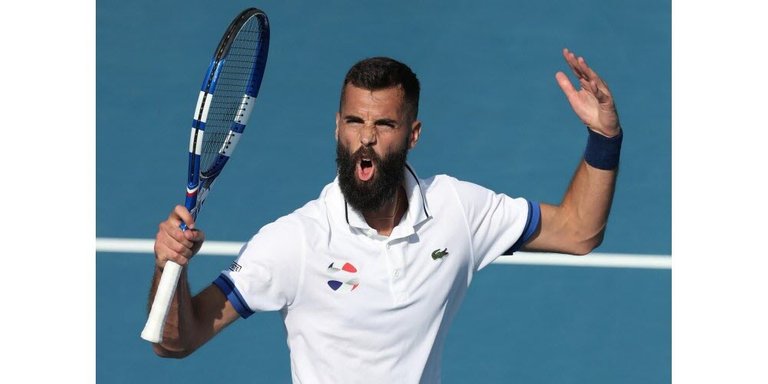 source
Lorenzo Musetti vs Benoît Paire was a nice match to watch, if you don't look at Paire's performance with harsh and judging eyes. Benoît Paire is a very controversial figure in tennis and unfortunately his attitude is working against him. At his age, a player should already have an established stye and avoid making certain mistakes, but his training style and his concept of professional tennis player is very different from the rest of the players. He's in only for the money and nothing else matters. I'm glad Musetti was able to win as he needs experience at tour level and I'd like to see him more at this level.
Márton Fucsovics vs Lloyd Harris was a painful match to watch on Sunday. Both players are my favorite, but when it comes to picking a winner, that would be Harris in this case. It was a very nice match as there were very interesting points, but unfortunately Harris could not get the best out of himself. He lost the second set in a tie-break and I suppose it affected him mentally, maybe physically as well because he's come back after an injury as he could not do much in the third set. Painful for me to see Harris go home, but I must admit, Márton Fucsovics deserved to win, he was better.
Today however was different day for Márton Fucsovics as he had to play against Diego Schwartzman and lost the first set to zeroooo!!! He's better than that, but something did not work well for him today. I've seen him playing plenty of times, losing too but never to zero. Looks like Schwartzman's game confused him a lot. He was able to up his game in the second set, but Schwartzman is not someone to beat so easily. I suppose if Harris would have won against Fucsovics, he would have had the same faith with Schwartzman, maybe with some different numbers on the board. Who knows.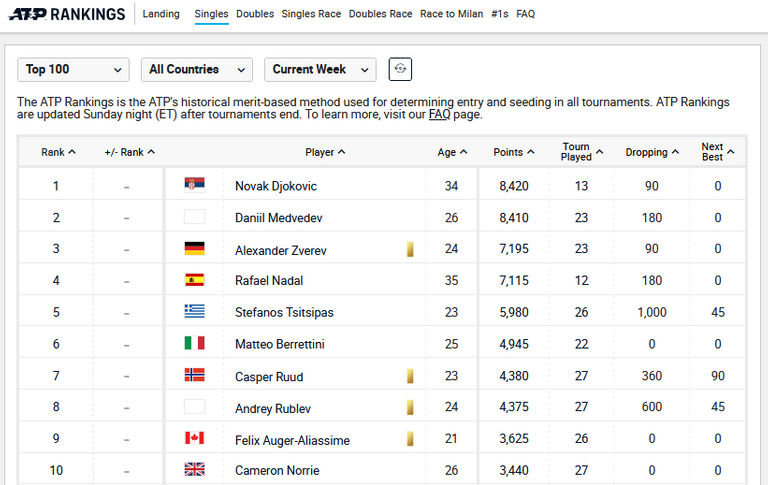 source
Djokovic And The ATP Ranking
Things don't look good for Djokovic at the moment. He is still the leader, has been able to keep his position so far, but his advantage is a fragile one at the moment. Medvedev is missing from Monte Carlo for an injury (hernia surgery), this could have been Djokovic's chance to distance himself from the Russian. I don't know how many points he will get here, probably none as he did not win a single match, so he lost a good opportunity to improve his position.
Medvedev is in no danger from Zverev as he has a comfortable advantage for now.
Some surprises can be expected at No. 7 and No. 8 as the difference between Casper Ruud and Andrey Rublev is just 5 points. We'll see after the tournament ends.

---
---