Monte Carlo Open 2022 - The Biggest Surprise
Yesterday was the final match of the Monte Carlo Open and even though the final did not end as I wanted to, I still have to admit the whole tournament was amazing and the best of the season so far.
The best thing about the tournament was the fact that no one knew who's going to win. Other times there have been high chances for the big three to get the podium. That domination is over now, actually it was over when the covid lockdown began. We've got another smaller three, Medvedev, Tsitsipas and Zverev, but they are not ready to rule the world yet.
As I said in my previous post, this tournament is a Masters 1000 one, which means every single tennis player is dreaming of winning it, plus it counts a lot because of the ATP points you can collect after winning every match.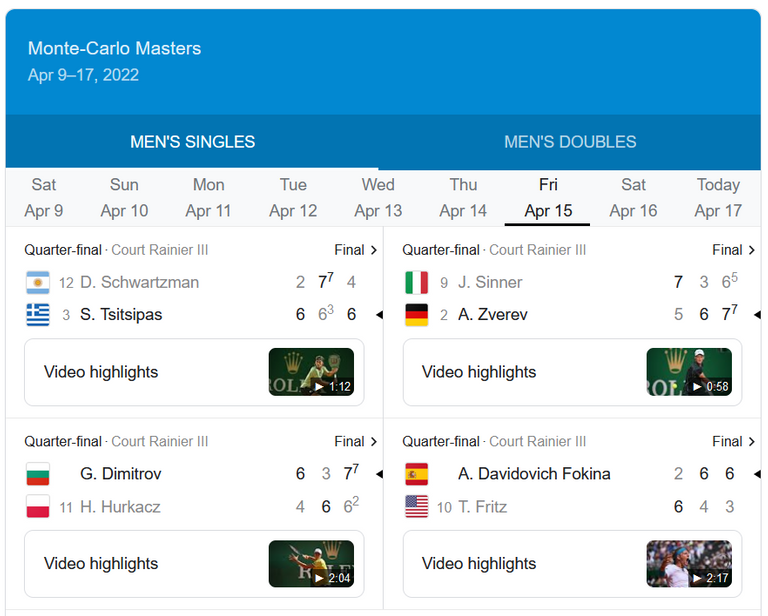 source
Quarter-Finals
The quarter final board looked unusual as there were only three top ten players on it and world No. 1 was missing. Not due to an injury though, but because he was eliminated after his first match.
These are the best setups as chances for the players to be at the same level are not so high and lower ranking users tend to have a more exciting performance as they are eager to prove themselves, work harder and do everything in their power to win.
Diego Schwartzman vs Stefanos Tsitsipas
When you see Diego Schwartzman's name on the board you should always know, he is an exotic player who's facing huge challenges every day due to his height. He is the shortest player at this level, so no matter who he is playing against, they all are taller than him. This can be a huge disadvantage, but he got used to it over the years and have learnt to cope with the challenge. I have a huge respect for him as he must have been working twice as hard to get where he is now.
Playing against Tsitsipas was a challenge as the Greek is No. 3 right now and one of the best. The first set was kind of like getting accustomed with to the other player's style I suppose as Schwartzman did not do well, losing it to 3 - 6. Losing the first set can have different effect on every player. Some get demoralized and lose the next one, while others get motivated by it, get themselves together and play better in the upcoming sets.
Schwartzman fell in the second category on Friday as he showed the world what real tennis is like and made Tsitsipas work hard for every point. The Greek was in difficulty many times and frustration could be seen on his face. The third set was even worse for the Greek at the beginning, but his experience made him be better than the Argentinian and he was able to win.
This match was everything but boring, it was full of excitement, with a lot of interesting situations and the suspense was present in the last two sets.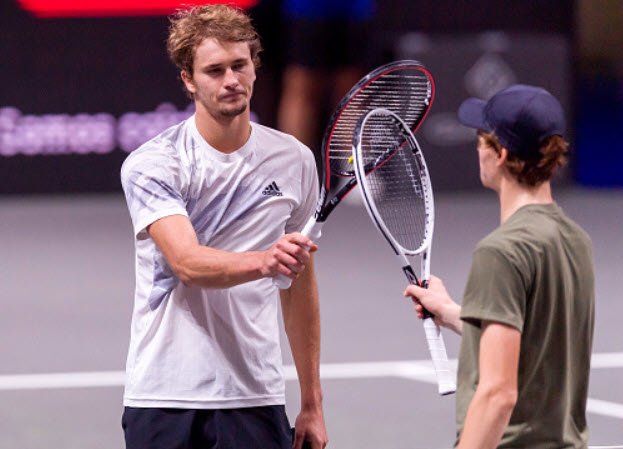 source
Jannik Sinner vs Alexander Zverev
This was the match I was looking for, hoping my favorite can win to qualify for the semi-finals. In my eyes both players are as good and valuable, the difference between the two is age. Zverev is a few years older, therefore he's had more chance to play and that reflects in his ranking as well as he has more ATP points. I see Sinner overtake Zverev in the near future. Mark my words.
Friday however was not the day for that to happen. What we saw on Friday was the most exciting match of the tournament. After the nice fight between Diego Schwartzman and Stefanos Tsitsipas, I thought the show was over for the day but I was so wrong. There was not a boring minute during the match. These two stars made sure to keep us on our toes from the beginning to the end. Looks like Zverev's experience had something to say at the end as he was able to win but wasn't easy at all.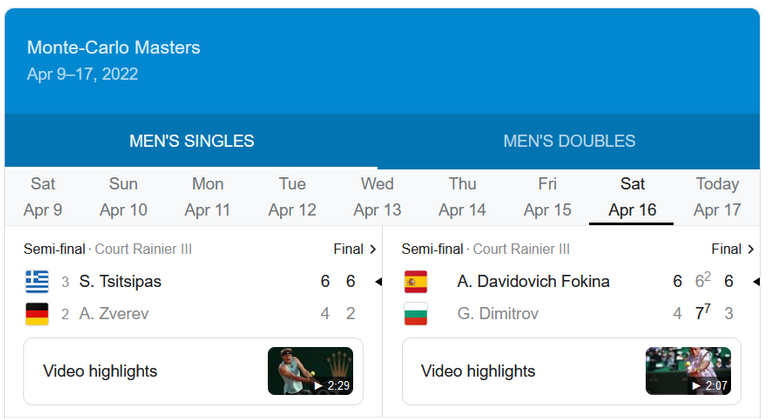 source
Semi-Finals
One of the semi-final was also unusual as we got to see two players that were not seeded.
Stefanos Tsitsipas vs AlexanderZverev
After the extraordinary match between Zverev and Sinner, I was expecting to see something similar between Tsitsipas and Zverev. They are the best at the moment (with Medvedev missing), at least they were the highest seeds at Monte Carlo and both wanted the title. Who wouldn't, right?
Instead of an exciting match, we got to see a pretty boring one I must say. I'm not sure what made Zverev not fight like there's no other chance for him. It's possible he has spent much more time on the court than others and maybe he was tired, but what I got was definitely not what I expected. Two sets, none of which ended in tie-break, does not suggest a hell of a fight. It was very boring, trust me.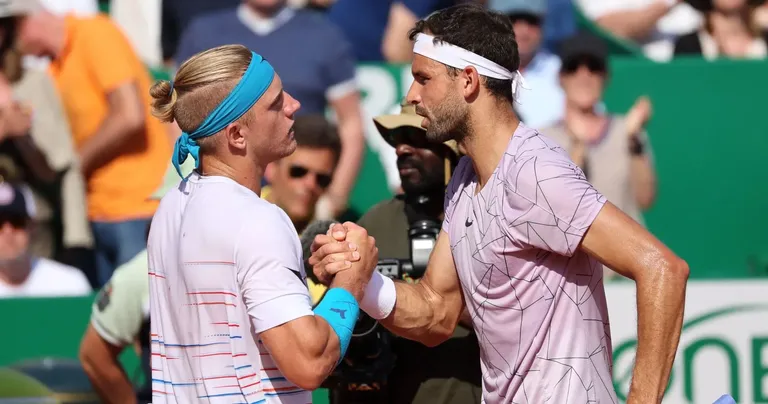 source
Alejandro Davidovich Fokina vs Grigor Dimitrov
I've seen Davidovich Fokina playing before but he hasn't done much to capture my attention, till now. What I've seen from him in Monte Carlo made me remember him from now on. He is a fighter, full or resources and the tricks I've seen from him makes me think he's going to reach the top very soon.
Dimitrov is not any less as he put up a fight in an attempt to beat the Spaniard, but it wasn't his day on Saturday. He won the tie-break in the second set, but lost the third one to 6 - 3. Davidovich Fokina was constant in his game, he won 6 games in each set, which indicates how good he really is. I'm glad I was able to see him playing in Monte Carlo as he's a pleasant player to watch.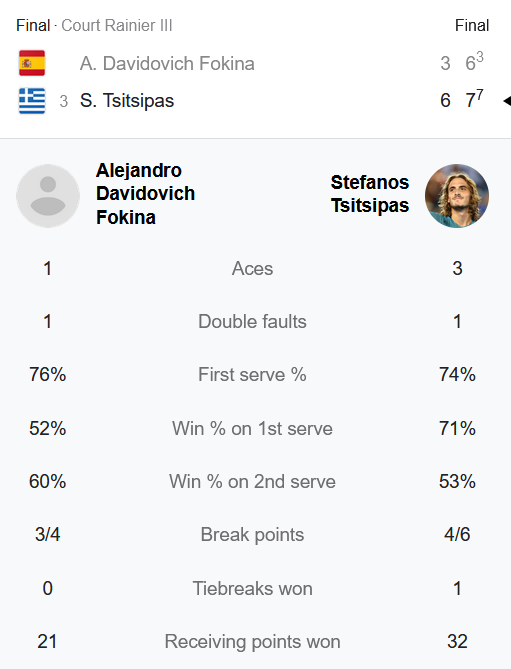 The Final
Needless to say this is not the outcome I was looking for but I'm not the one deciding what happens in thee final. All I can say that Davidovich Fokina did everything in his power and left with his head held high as there was nothing to be ashamed of. They played two sets, of which the second ended in a tie-break. He's still young as he's only 22, so he needs more experience at Masters level but after this tournament I have no doubt about his capabilities.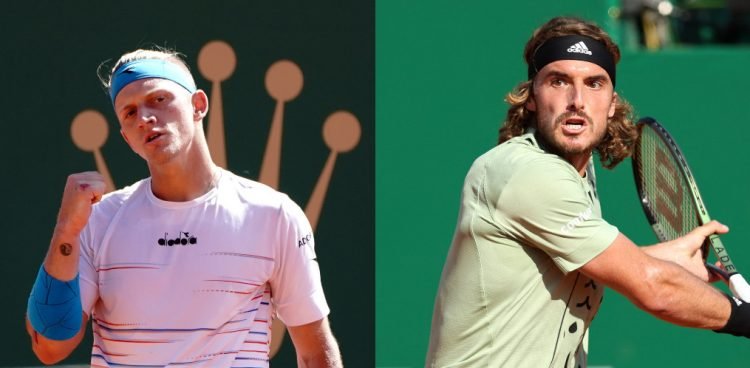 source
I can not end my post without mentioning Felix Auger Aliassime, who's continuing his downward trend. Last year he had a spectacular year, this year it seems like he can't find himself or the rhythm that is needed to evolve. I was so glad to see him last year break his bad cycle but it did not last long. There's still time for a nice comeback as we're not even at the half of the season, so I hope he can get his act together and do something.
---
---