The Change Is Happening - Buckle Up!
We're approaching the last phase of the Australian Open and things could not be more interesting. Yesterday we had the quarter finals and the best four are qualified for the semi-finals, that will take place tomorrow.
It's been visible from last year that some big changes are to come and this tournament brings us the confirmation. With the world No. 1 missing from the competition, it's been obvious things are not going to look the same anymore and maybe there will be chances for someone new to win the tournament.
Ranking counts a lot, but at the end of the day what counts is what players can do in key moments. As every sports fan, I have a lot of favorites in tennis and I'd love to see everyone winning, but we all know that's not possible.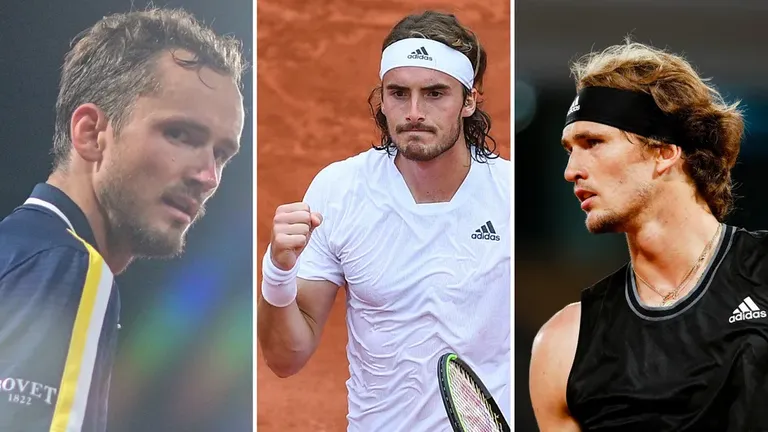 souce
When the tournament began I had a few scenarios in my head regarding the winner. In my opinion four players had the most chance, Medvedev, Zverev, Tsitsipas and Nadal, not necessarily in this order. There was another scenario, in which a (relatively) new player takes home the trophy.
With Zverev out of the picture so early (I'm still shocked, don't know what's happened, I mean I know as I saw the match but still can't understand how could Zverev lose), the chances for the other tree has increased.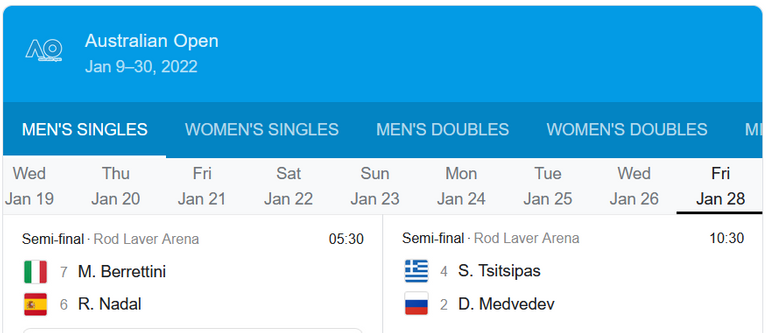 source
Tomorrow is the big day, we're going to find out who are the two players to play in the final. Right nw it's hard to anticipate anything, your guess is as good as mine. We can speculate about who is the better player among these four, but things don't always work that way.
Experience
If we're looking at the level of experience the four have, obviously Nadal is leading. No doubt that he has more time spent on the court, especially of this level. The other players are pretty much of the same age, so they may have max 5 year experience at Grand Slam level.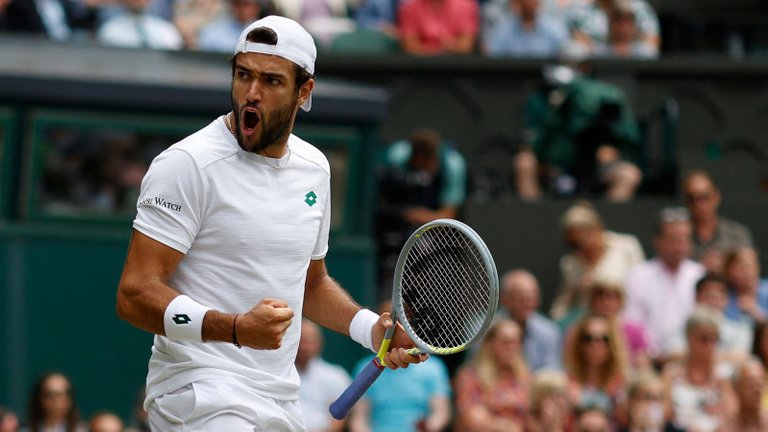 source
Age
This is a factor that can influence the outcome heavily. At this category Nadal has a huge disadvantage as he's the oldest of all, the others are 24 - 25 years old, while Nadal is ten year older. 35 would not necessarily be an impediment in tennis, but it's not always an advantage either.
Time Spent On Court
This is also a factor that I think will count a lot. It will come down to how much each of them has spent on the court so far and how fast they are able to recuperate. Some of them have been lucky to have three set matches, finishing in two hours or so, while other were forced to play four or five set matches, that can last up to five hours. Having only one day to recuperate, there's always a chance one can not give 100% at the next match, or be less effective, which obviously could cost dearly.
Nadal is a special case here as he's coming back after some serious injury, that kept him away from the court half a season. This is his first major tournament and no one knows how he's going to react to the pressure. He had a tough match two days ago with Shapovalov, which could have ended differently if Shapo could have controlled his temper better and then we would be talking about a totally different setup. Toni Nadal, his uncle is surprised Rafa has been able to reach the semi-finals.
It looks like we're going to see the younger generation trying to take over and they have a real chance here, without any exaggeration.
Players To Keep An Eye On
There are a few players that have impressed me a lot this season and I'd like to nominate Felix Auger Aliassime and Carlos Alcaraz Garfia.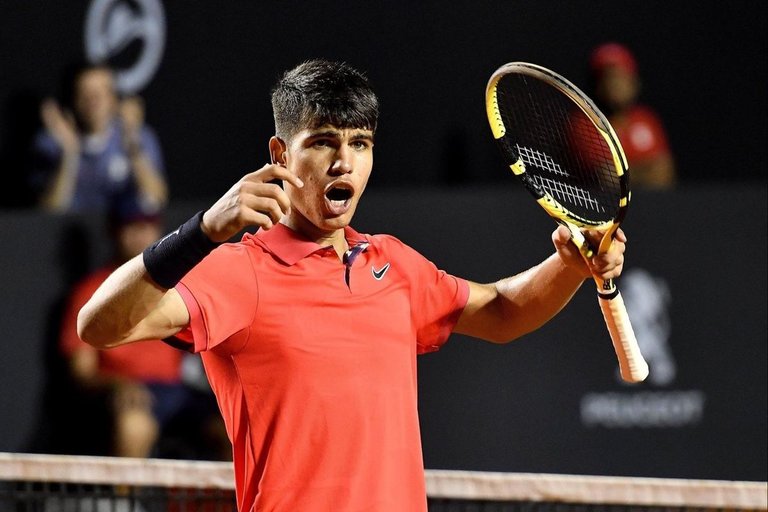 source
Carlos Alcaraz Garfia has almost eliminated Matteo Berrettini. No joke! It was a matter of very last minute decision and maybe the Italian's experience decided the winner last Friday. This time it was Berrettini but next time maybe it will be Alcaraz Garfia. It's unbelievable how this kid could resist the pressure and be as good as the fifth seed.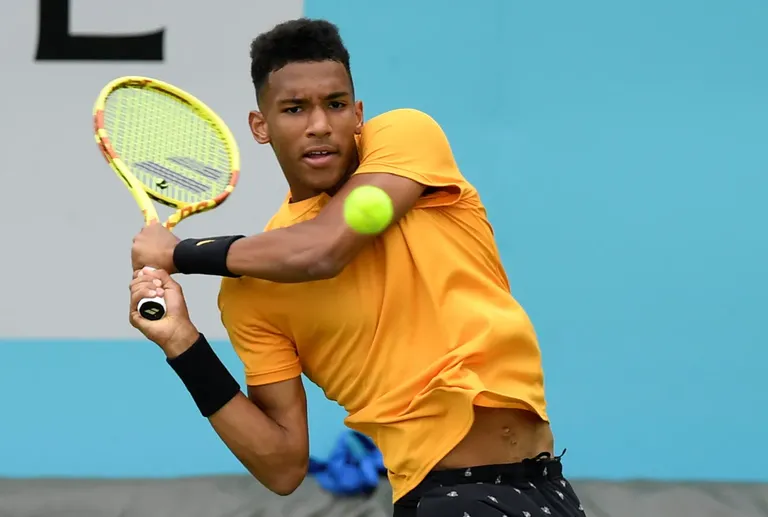 source
Felix Auger Aliassime was also fantastic. Playing against the world no. 2 is never an easy job, let alone when you're new. I've never seen Medvedev suffer like he suffered yesterday, except once, when he was so frustrated that he lost. I suppose he did not expect Aliassime to play at this level. He put the Russian in great difficulty and there was a real chance for the Russian to lose, which wouldn't have been a problem for me at all, but only to a certain point.
Compared to what we were seeing one year ago, I'd say the Canadian is a different player. He has worked on his self confidence, knows how to control his emotions in key moments and the results are speaking for themselves.
These two players are definitely contestants to the throne in a few years. They obviously have to battle with the new trio that is forming already, which is Medvedev, Zverev and Tsitsipas. In my opinion these three are the one to take over in a year or two.

Djokovic's future seems to be decided, he (maybe) has a chance at the French Open as rules say he can participate as he has covid in the past six months but rules can chance. Even with one Grand Slam participation his position is not secured at all as No. 1. He's losing ATP points and winning another title this year is not guaranteed. Medvedev can take over this year.
Even if he's coming back at full capacity, Federer can't make changes. It's highly unlikely he'll be able to compete with the top players.
Nadal is a question mark in my book. He did well so far but the tournament is not over yet, no one knows how he's feeling and if he'll be able to keep up. The year is long and he needs to do 100% in order to get a higher ranking, which is never easy.
---
---