The Novak Djokovic Circus
For the past few days the whole tennis world has been brewing over the Novak Djokovic case and at the moment of writing, the matter is not closed yet.
I've been following the events as just like millions of others I'm curious to see how it's going to end.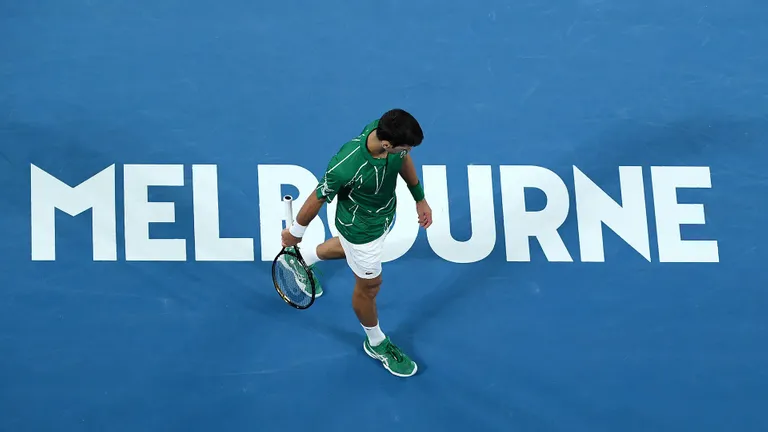 source
For those of you who are not familiar with the case, let me tell you as briefly as possible, what has happened till today.
The Australian Open tennis tournament is due to start at the 17th of January 2022. The Australian Government has made it clear that only vaccinated players are allowed to play.
Tennis Australia has sent a memo to players in December, in which there has been specified the conditions each player needs to meet in order to get a visa.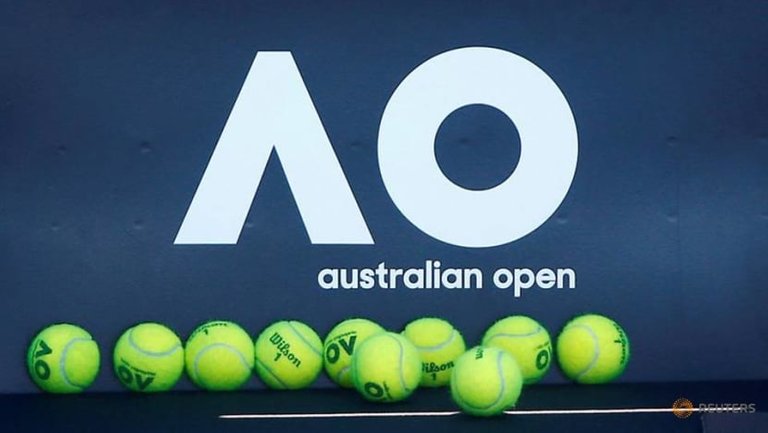 source
The guessing about whether Djokovic is vaccinated or not has been going on for months. He has been avoiding the answer, but it has been known he's against vaccination. It is his right, no problem with that.
Long story short, because Tennis Association has said in that memo, that exemption to vaccination can be obtained, if the player has got covid and can produce a positive covid test. A few days after the memo, miraculously Djokovic got covid, so based on the test he got the exemption and the visa, which was cancelled upon arrival to Australia.
He's been held in a hotel for a few days and today a judge cancelled his visa cancellation on some technicality, saying he has not been given enough time to provide evidence of his medical exemption.

source
At the moment of writing, Djokovic is free, he said he's going to address the public in 2 hours, but he's not out of the woods yet as the Immigration Minister still has the power to cancel the Serb's visa.
This is a highly controversial matter that is dividing the world. Everyone has an opinion, some say he should be let to play, others say he should be sent home as the rules are clear.
At the end of the day, if you have a bit of knowledge about how things work in the legal field, you know that what counts the most is what you can prove. This is now a high profile legal matter, Australia is in a difficult position as even last year the pubic was outraged about tennis players being allowed in the country while Australian citizens were stuck abroad because of the travel restrictions.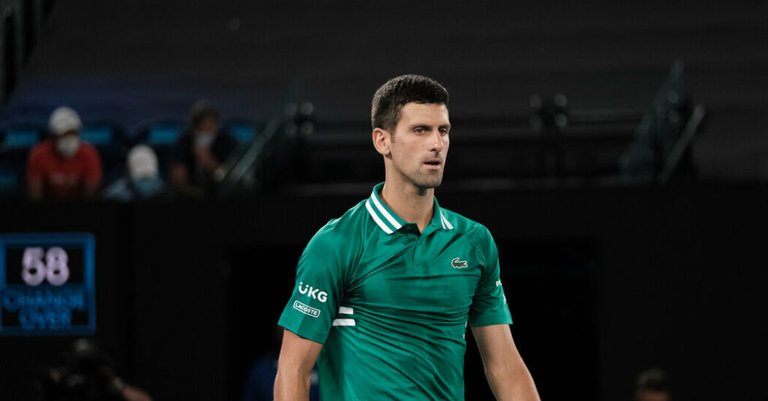 source
Now here is what I think. Djokovic got a visa, which turns out is not valid as he doesn't meet the requirements. It is not his fault after all as the responsible in this case is the person who has granted him the visa. As far as I'm concerned, they can cancel his visa and send him home if he can't meet the requirements. I don't see why anyone should get special treatment.
But what bothers me is the details that have come to light since the whole scandal has broken out.
According to the documents, Djokovic got covid on the 16th of December and there are social media posts from December 17 of Djokovic attending an award ceremony for children. There were no social distancing at the event, the Serbian tennis star is shown without a mask on the photos, hugging people.
As far as I know, each country requires a 10 to 14 day isolation in case of a positive test. Does those rules not apply to tennis stars in Serbia? So where is the responsibility in Novak's actions? When I first heard about his positive covid test, I knew something was not quite clear here and he has proven me right. Anyone could fake that test as the stake is high here and I don't think there has been a way to verify if the test is valid or not.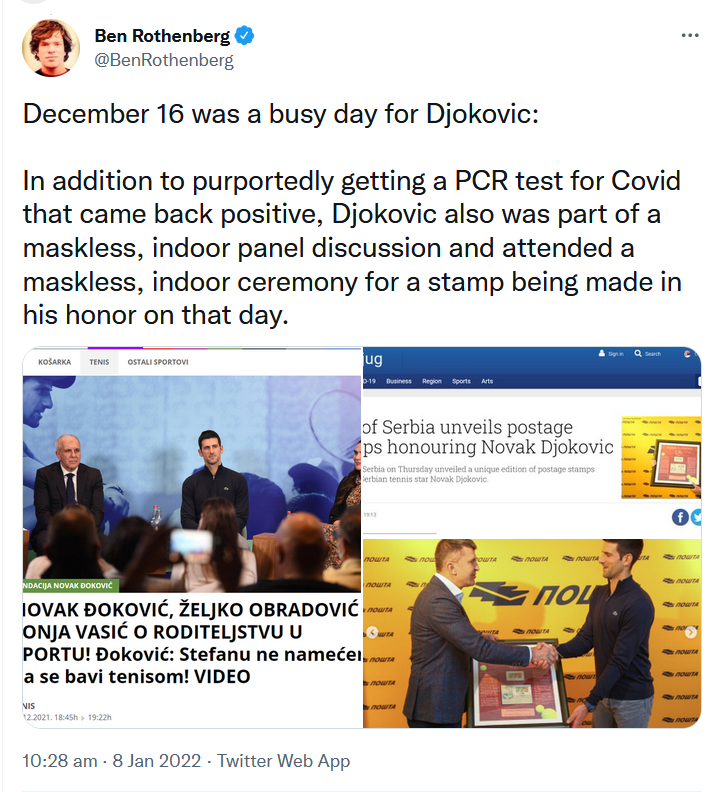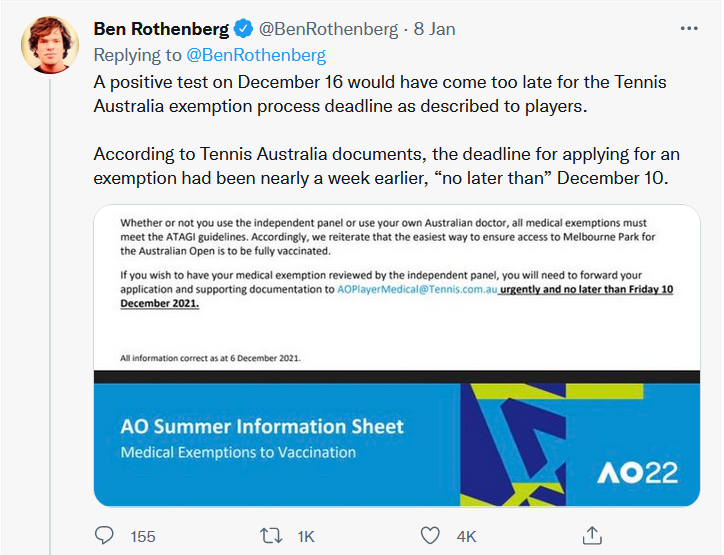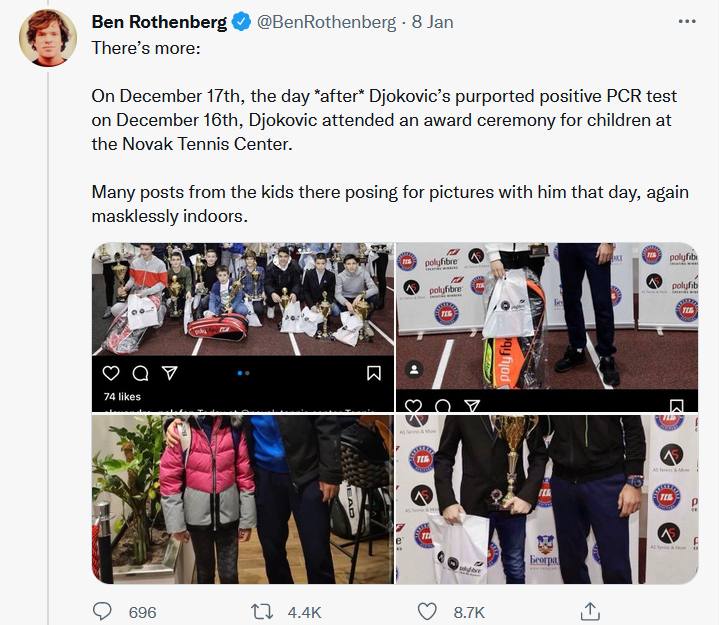 source
What I don't understand is what was he thinking? In the era of technology, anyone can trace back your steps easily, especially if you are a star like him and you are stupid enough to attend public events, pose for the press and your photos hit the internet with a breakneck speed. How stupid is that?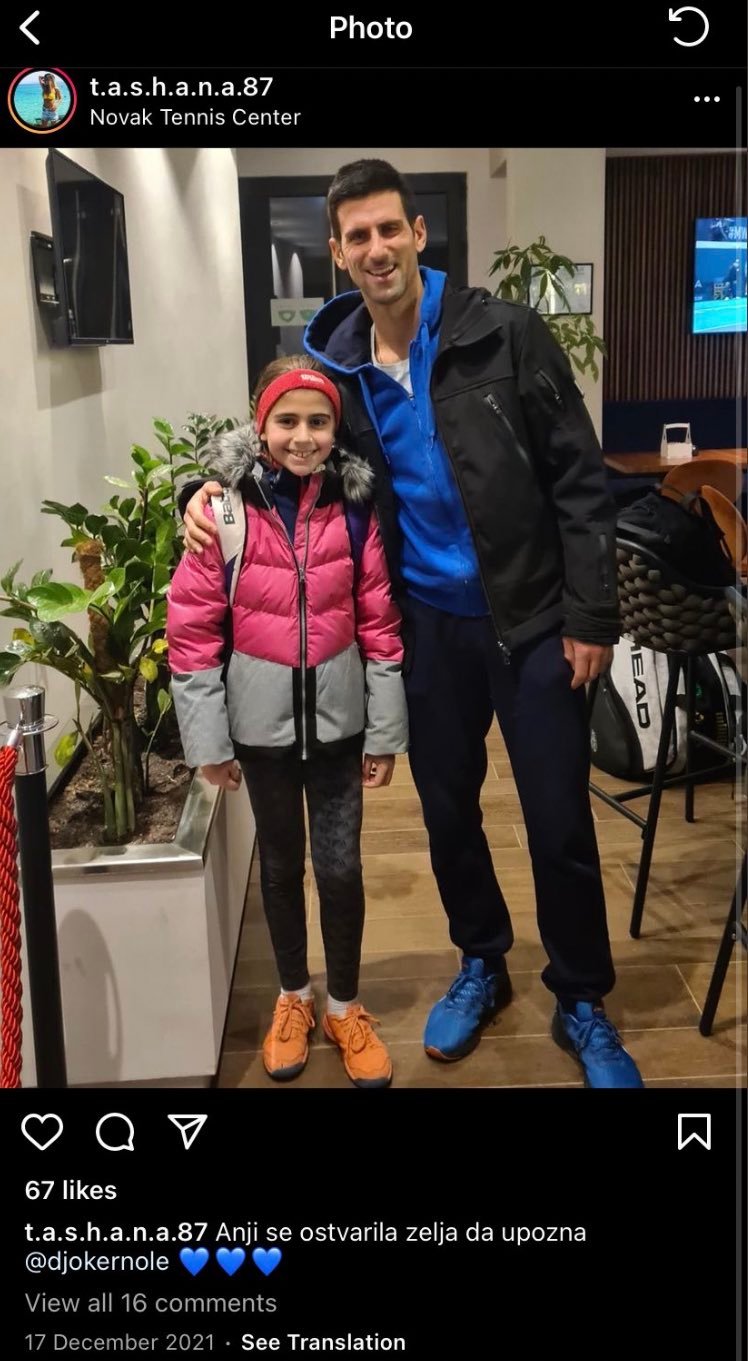 source
He's been one of my favorite tennis players for his conduct on the court and outside the tennis court. My admiration started to weaken last year, when he had some outbursts that were not exactly nice of him. Now with this whole charade he is doing, he lost me completely. As I said, granting him a visa was not his fault. But providing a (most likely bogus) positive covid test to get a visa does reflect poorly on him. And where is the Serbian Health Ministry on this? Is it ok to escape isolation over there? Or fake covid tests for that matter?
What's going to happen next, no one knows. If he's let to continue his journey, he may face some resistance on the court as I'm not sure everyone will be happy with the decision. Will he be able to put aside all that's happened to him and be at the highest level mentally? No one knows but till then, there's the last decision we're waiting for, from the Immigration Minister.
Last year there were special rules for players, there was no need for vaccination back then, but most of the players were placed in a 14 day quarantine, in a hotel and the possibility of training was limited. I remember the Australian Government said there will be no exceptions and they kept their word. Novak Djokovic made a request to be placed in a residence whit a tennis court to be able to train, which was rejected. This year I suppose there will be no quarantine, that's why they has asked for vaccination.
This is the matter of the moment and all the eyes are on Australia right now. I guess it's safe to say the Australian government is playing with its political career right now. Elections are due in four months or so. How this case plays out can count a lot at the next election.
---
I've watched the press conference organized by the Djokovic family, which was a total waste of time. What is worth to note is that when someone asked them about Novak attending public events a day after his positive test, Novak's brother said this conference is adjourned. What a surprise!
BBC said Novak is already at the tennis court training, as he has missed more than 5 days already.
Well, tomorrow will be a crucial day. Let's see what the Immigration Minister is going to do. The tournament organizer also needs a clear answer on whether he's going to play or not as schedules have to be made.
---
---