U.S. Men's Clay Court Championships 2022
This is an ATP Tour 250 event played on clay and not of the utmost importance for every player. ATP Tour 250 tournaments are usually where lower ranking players get a chance to get into the quarters, semifinals and maybe win the tournament as the top ranking players don't attend the event.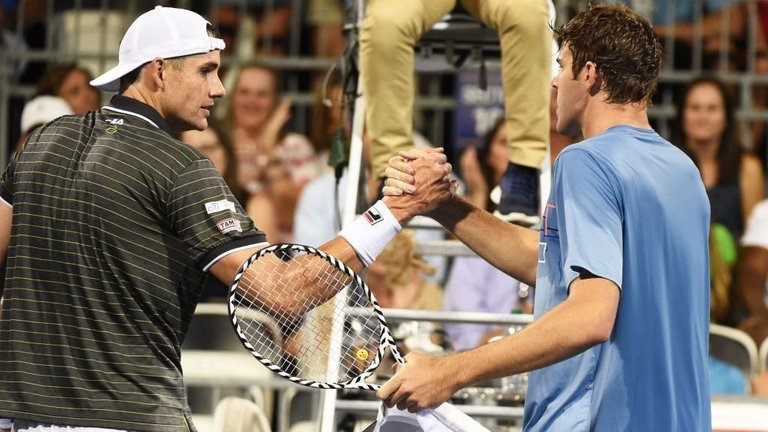 source
Cristian Garín was the title holder, he won in 2019, which was the last edition as in 2020 and 2021 there was no tournament held, I suppose due to covid.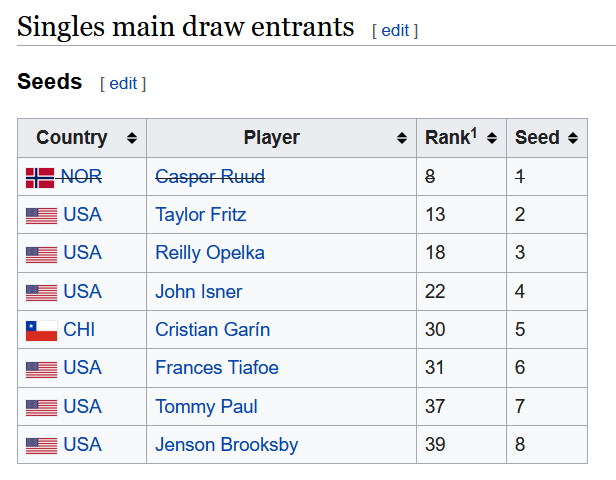 source
The seeds list already looked interesting as the highest ranking player, Casper Ruud, who is world No. 8 at the moment had to withdraw and nest on the list was Taylor Fritz, who's world No. 13. There were only two non US players on the list, out of the 8. The Australian Nick Kyrgios got a wildcard from the organizers and he did not have to go through the qualifiers. The two South Africans had to withdraw before the tournament, which is a shame but health should always be first, so I can't blame them.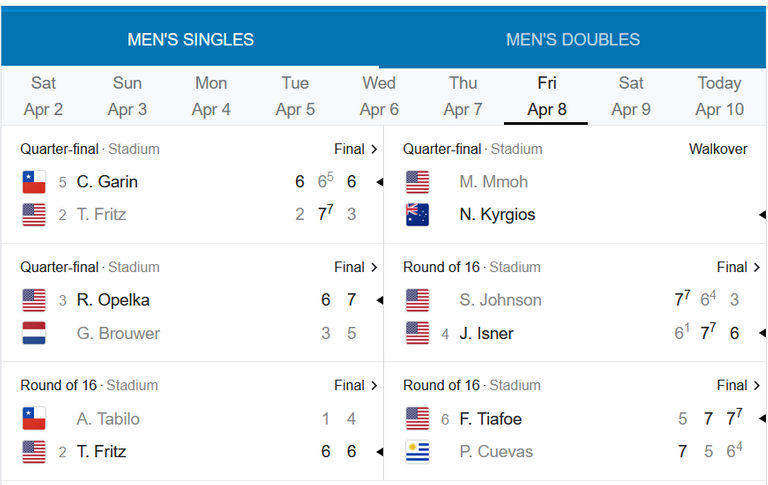 source
Quarter Finals
Because this is an ATP 250 tournament, the qualifiers are boring to say the least. The quarter finals were where things got interesting.
Nick Kyrgios got a free day as the match with the American Michael Mmoh was a walkover. A free day can be very precious, especially for those coming from the qualifiers, but it wasn't the case here.
Taylor Fritz met the Chilean Cristian Garín on Friday. It was a meeting or utmost importance for both. Cristian Garín was the title holder, so obviously he wanted to defend his title and Taylor Fritz, who was playing at home if I can say that, also wanted to show his fellow Americans that winning the title in Miami a couple of weeks ago was not by mistake.
I like them both for a different reason and would have loved to see them both qualify for the net round, but this was obviously not possible. The first set was a bit bumpy for Fritz as losing to 6 - 2 is not an ideal situation, but he was able to get himself together and send the second set in a tie-break and win. Unfortunately the third set was not what he was expecting. It is not the end of the world as coming from the Miami Open, a tournament at which he played every single match beating the best players, can be tiring.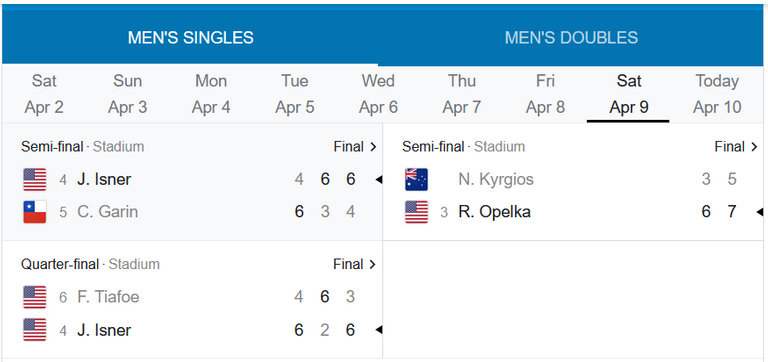 source
John Isner vs Cristian Garín. This is the match about which at an ATP 1000 tournament I would have said Cristian Garín would win 99% and yet, here we are. Again, I love them both as both are very valuable players and it would have been hard to choose but life made the choice for me, or better yet, Isner was better.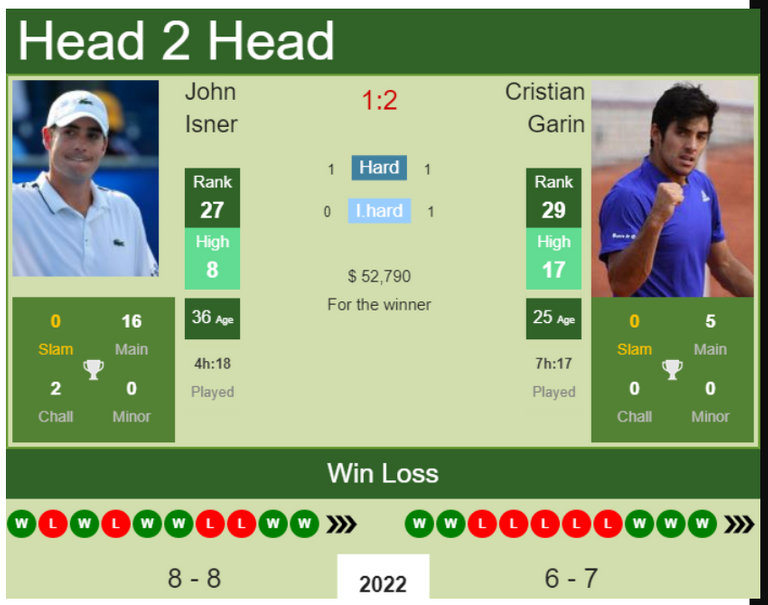 source
I suppose this statistics was made before the meeting, but it clearly shows the major differences between the two players. At Ranking they are almost at the same level, so no surprise there. Highest ranking ever is not really relevant in my opinion and the next category explains why. Age is where things get interesting. Isner is a senior and 11 years older than his opponent, which means 11 years experience more. But it also means he's towards the end of his career as being 36 years old makes it harder to keep up with a 25 year old.
Ye, Isner was able to defeat the Chilean in three sets. This comes as a huge surprise, but I'm glad he was able to, as he has a couple of years left of his career. He sent down 17 aces, which helps him a lot to shorten the games and save energy. Garín needs to do better.
Frances Tiafoe vs John Isner, another match that caught me by surprise. Isner's aces came in handy again and even though there were three sets needed for Isner to win, he was able to beat his fellow American player. Lately I started to doubt Tiafoe's capabilities as he's been making rookie mistakes that at this level can be fatal.
Finally Nick Kyrgios vs Reilly Opelka. Everyone knew it's not going to be a boring one, which not necessarily refers to the technical level of the match. When Kyrgios is playing, there's always a show and most of the times it's not a pleasant one.
Even though the Aussie lost the first set, it was still civilized. The second set was good as well, till they got to 5 - 5, when Kyrgios lost his temper. He started to accuse the chair umpire and use inappropriate language for a human mistake, which resulted in him being penalized.
It is a pattern already that when Kyrgios gets mad, he always loses. It is visible with the naked eye but he's the only one that can't see it. I keep saying he is his own enemy and he keeps proving me right. For me it looks like he doesn't want to win anything, the only thing he's looking for is the get into a fight with the chair umpire. Every player get frustrated from time to time but what he does is not healthy.
Opelka on the other hand was great. He sent down 21 aces and was able to keep his focus. I suppose it's not easy to play when your opponent has an unprofessional behavior.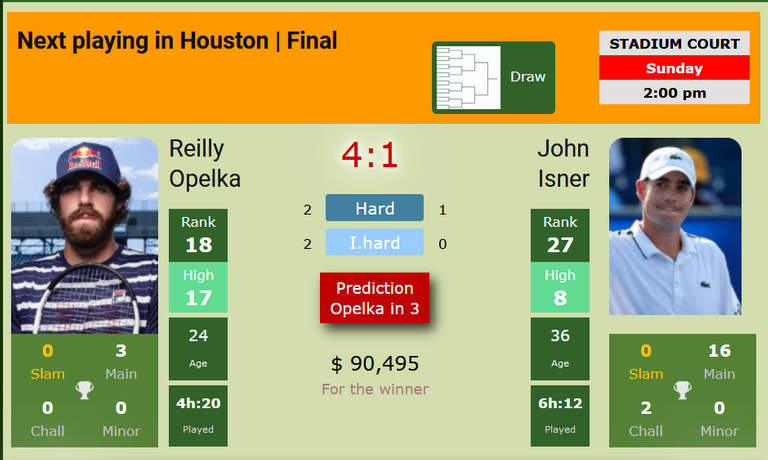 source
Tonight is the final, which will be played by Reilly Opelka and John Isner. The odds for Opelka to win are 4 to 1, which I'm obviously not happy about as I want Isner to win. I suppose it all comes down to precision in this case. If Isner will be able to bombard Opelka with aces and shorten playing time, he may have a chance, but who knows. Opelka is younger and has played less, which means he may have more energy but then again, Isner is a very technical player, so I'm keeping my fingers crossed to be able to do his magic.

---
---