Vienna Open
As usual, one tournament ends and the another one begins. After the European Open, now we have the pleasure to enjoy the Vienna Open, which is a prestigious one of the season.
I've been watching it for a few days now and can confirm, this is another unusual tournament that is giving the opportunity to lower ranking players to shine.

source
Seeds
The list of top seeds lacks top players to begin with. Novak Djokovic, Daniil Medvedev, Rafael Nadal and Andrei Rublev are missing. The Russians Andrei Rublev has chosen the VTB Kremlin Cup and unfortunately has lost the chance to get the title, as the other Russian, Aslan Karatsev won the tournament.
The Austrian Dominic Tiem is banned from both competing and watching the tournament on the scene due to lack of vaccination. According to the media, he's waiting for the Novavax vaccine to be approved to get it before the Australian Open.
Daniil Medvedev had to withdraw from both competitions due to "fatigue". I can fully understand that and he did he right thing I believe because there are important competitions coming, which he must want to attend and playing every single competition is just humanly not possible.
With the big names out of the way, again, just like at the European Open, small fish have a bigger chance.
Round Of 32
Alexei Popyrin vs Matteo Berrettini
As strange as it sounds, sometimes you need luck in the tournament, besides technical knowledge, experiences and strength. Popyrin had the bad luck to meet Mateo Berettini right at the beginning. The Aussie fought hard as the first set ended in tie-break, which he lost by the way. Then in the second set he had no energy to keep up with the Italian. He could have played a couple of rounds more if faith would have given him a different start, but this is life, this is how things work in tennis, you have to be ready for every player, regardless of their level or rank, there are no exceptions.
Alex de Minaur vs Kevin Anderson
The South African Kevin Anderson is one of the players that unfortunately we're not going to see playing for long. Therefore I'm always hoping he can have a tournament in which he can advance to the quarter finals at least, but that seems to not happen. He had a tough year in 2020, with injuries and surgeries. This year seems to be better, but at his age and with his medical history, keeping up with the younger generation seems impossible.
In this game he had 19 aces, which proves professionalism but I think strength is missing. So de Minaur had an easy 1st set that ended with him winning to 6 - 3, but the second set was not so easy anymore but he was able to win the tie-break.
Hubert Hurkacz vs Andy Murray
Andy Murray also had a difficult last year, something similar to Anderson as he missed most if not all of it. This year however he came back renewed and showed the world he's the same as before, well, kind of. I have to say hats off in front of him as Hubert Hurkacz also had a very good year and knocked out a few good players in prestigious tournaments. However, on Murray was able to find solutions in every situation and Hurkacz was sent home. I don't know if he expected to end the tournament this early, being 5th seed must have meant something but after all, all that counts is what you do on the court. Rankings don't work on the court.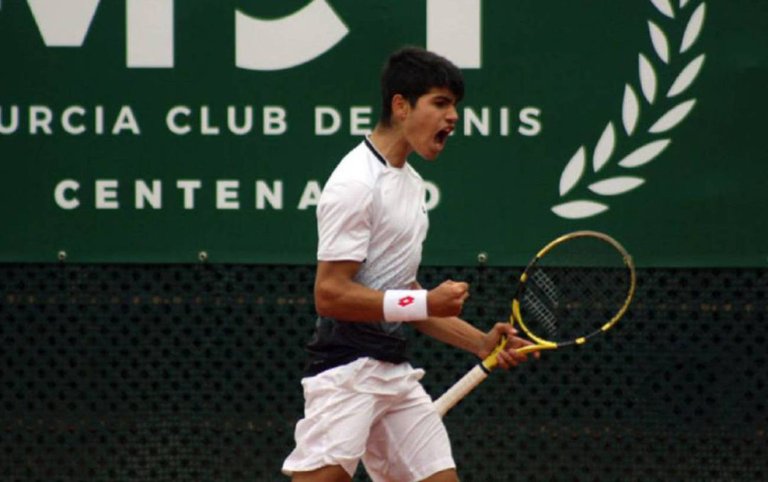 source
Carlos Alcaraz Garfia vs Dan Evans
One of the players from the new generation I'm following is the Spanish Alcaraz Garfia. He's considered to be the new Nadal, labeled by the press obviously, which is a very bad thing as you have to fill someone else's shoe, like it or not. Everyone is expecting him to deliver and if he fails, God save him from the bad press. Calros on the other hand is not just a spoiled kid, he is really talented and capable of becoming No. 1 one day.
Before the match I really didn't know what to expect as Evans is perfectly capable of winning against the Spanish, but so is Alcaraz Garfia, so I just watched the match without expectation. I must admit, Alcaraz Garfia was way better than the Brit and deserved to win and qualify for the next round.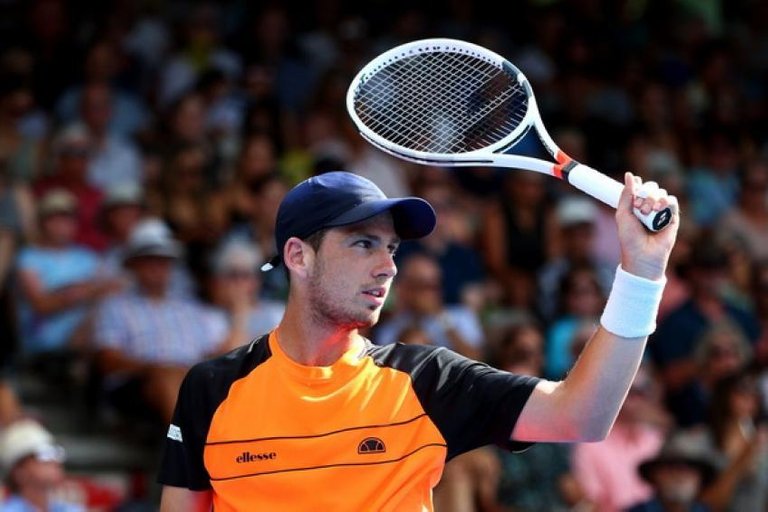 source
Cameron Norrie vs Márton Fucsovics
Ficsovics is continuing his usual pattern, leaving the competition after the first or the second round. No mater who he meets on the court, he's rarely capable of doing more. On Tuesday for example he lost the first set in a tie-break, which is not good but certainly admirable, then he lost the second set to 6 - 1. What is there to say? Better luck next time? Maybe, although I don't think so.
Casper Ruud vs Lloyd Harris
This one hurts a little as I was hoping to see Harris get to the semi-finals at least, but that's not going to happen. 7 - 5, 7 - 6, the last set ended in a tie-break that gave me hope the South African can win but Ruud was better, I can't deny that. What is important to mention is that Harris served 10 aces, while Ruud only had 5. Serving is Harris's strong suit, no one can deny that.
Round Of 16
In this round surprises started to appear and not every one of them was good unfortunately.
Andy Murray vs Carlos Alcaraz Garfia
This is where the road ended for Andy Murray. It was a fair fight, with both giving the best they could, but when you're up against a player half your age, at some point fatigue is going to kick in and no matter how good and experienced you are, your opponent will be in a better position, less tired. This is what happened here. Alcaraz Garfia knew Murray will not resist and he made him run from one end to the other till he was too far to be able to reach the ball. I felt sorry for the guy really. On the other hand, well done Carlos and he knew how to take advantage of the situation and used it to win.
There comes a time in every player's career when a situation like what I've just described above happens and forces the player think about the future. Andy Murray will have to as well very soon.
Fabio Fognini vs Diego Schwartzman
This was another match that I didn't know what to expect from. We all know Fognini is fluctuating, sometimes he's brilliant, other times is too bored to play right. Schwartzman on the other hand is quite the opposite, he is always doing everything possible to win and loses only when his opponent is way better than him.
Fonigni had a bad start and therefore lost the first set to 2 - 6, which is not eactly something to write home about. Then he woke up in the second set and did what he could, but it was too little too late as he lost to 5 - 7.
Reilly Opelka vs Jannik Sinner
The road ended for Opelka too in round of 16 as he met one of the best players representing the younger generation and could not keep up with him. I have to mention that Opelka is maybe the tallest player now and as much as it seems an advantage, it can as well be a disadvantage. He lost to 4 - 6, 2 - 6

source
Stefanos Tsitsipas vs Frances Tiafoe
Last but not least, THIS! Most likely it wasn't a shock just for me. I don't thin anyone would have expected Tiafoe to win. It is true, he needed to work for the victory as three sets were played. 6 - 3, 3 - 6, 4 - 6, this was how the board looked like at the end. Not even one tie-break in three sets, to be able to say there was a hell of a fight.
I don't know what's happening with the Greek but losing too early to low ranking players is becoming a pattern already. Something is not right and I think it's a mental thing. He may be too tired mentally.
I'm going to finish my post here and write about the rest tomorrow, so I can't give out more details, but so far it looks like this tournament is going to be something like the European Open. Stay tuned for the next episode.

---
---