Vienna Open - Final Thoughts
I've started drafting this post this morning, before the finals and I'm already not happy about how things have worked out so far. As I stated in my previous post, it became obvious from the beginning of the tournament that it will not be an usual one and lower ranking players may have a good chance to shine.
A good part of the top ranking players have decided or have been forced not to participate and the rest had to leave early, but let's see what's happened.
Quarter-finals
Casper Ruud vs Jannik Sinner
I was expecting a tough, balanced, three set match between these two young talents and what I got was a two set, unbalanced match, in which the youngest had a brilliant performance. It was obvious before the match started that Sinner has more chance and the young Italian showed us why is that. He was able to stay focused the whole time, avoid double faults and he also served 10 aces, which helps a lot to save time and energy. There are players that are masters in aces and playing against them must be a real challenge as it's difficult to catch them. These players usually have very short games as serving aces constantly leads to reducing playing time.
Ruud unfortunately is not ready yet, he had no solutions is the second set, losing to 1 - 6. He's a good player, he's been able to defeat top level players, but he's fluctuating sometimes and I suspect his elbow injury also had something to do with him losing like that. However, I'm not disappointed in the result as Sinner deserved the victory.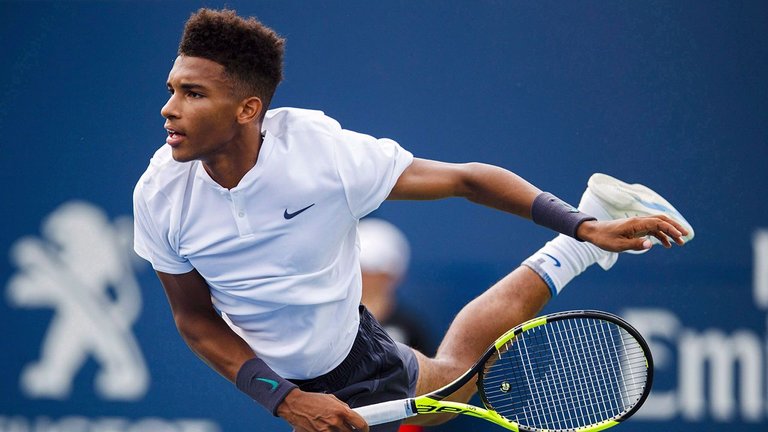 source
Felix Auger Aliassime vs Alexander Zverev
This match was a real gem, rarely we've seen such an exciting one. At the beginning of the year Aliassime made the news for getting Toni Nadal as his trainer. Then he made the news for losing in the first round repeatedly, even though everyone was saying he's a huge talent. I've been following him, waiting to see a change, a shift in his game to see if he really is a talent of they just want to sell him to us as one. Results has been lagging till now.
Aliassime started to show results a month or two and on Friday he really put the German in great difficulty. The Canadian's problems were not technical, but mental and emotional. It looks like whoever is working with him now on that front knew very well where to start and what to do as he was able to handle the pressure of playing against one of the best extremely well, even though he lost.
There were many beautiful games in this match, in which both players had to work magic to get to the ball and that is what tennis is all about. At the decisive Zverev was put into great difficulty, at some point there was a chance he could lose but experience had a word in this and he was finally able to finish the match in his favor, but with a lot of effort though.
The Canadian has really evolved this year and next year I see him getting in the semi-finals more often. He has a lot of potential and with the right guidance and mindset, there's no obstacle in front of him. I really believe he is capable of getting into top 5 soon.
Carlos Alcaraz Garfia vs Matteo Berrettini
When I saw the drawing, I knew this is going to be a real test fr the young Spanish. He's a real talent even though he's only 18 and has entered this level recently. However, Berettini is world No. 7 with ATP level experience.
Well, Alcaraz came prepared for every possible situation and even though he had to play 3 sets to win, he did it. He shocked the Italian in the first set, leaving him only one game to win. Losing the first set as a top level player happens often, but losing it to 6 - 1 is not something to be proud of.
Berettini got himself together in the second set and was able to win but a tie-break was needed in order to get it done. The third set also ended in tie-break but this time Berettini wasn't able to keep up with the Spanish.


source
If we look into the details, this is where the faith of the both players was decided. Usually the win rate of the second set is lower for every user, but it's still important to keep it high and close to the first set winning rate, which Alcaraz did. I'm really impressed how he was able to control his emotions in key moments and turn every situation to his advantage.
Before this match I was expecting the semi-finals to be played by Zverev, Sinner, Berettini and a lower ranking player, maybe Schwartzman. That obviously did not happen in the end.
Semi-finals
Carlos Alcaraz Garfia vs Alexander Zverev
Alcaraz had a good run so far, being put to the test all the time and in the semi-final he was put to the test with Zverev. After the shock with Berettini, a chance for him to beat Zverev could not be excluded but still thought Zverev will make everything possible to get into the final. He's net superior, but a bad day can change everything. It didn't though. Looks like those tough matches were a bit too much for Alcaraz as he lost in two sets, 3 - 6, 3 - 6. He had a good run though and the experience he gained will help him be better in the next tournament.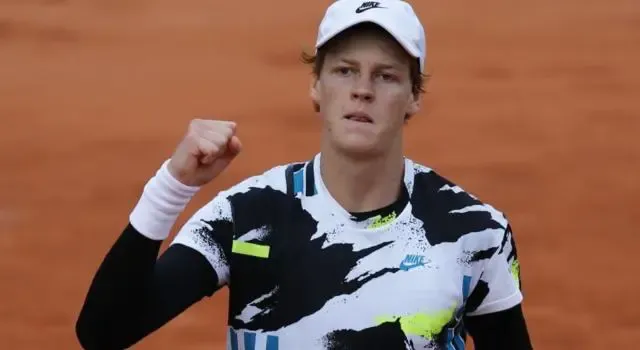 source
Frances Tiafoe vs Jannik Sinner
This still hurts. I wanted Sinner to get into the final and now that is gone. It was a hell of a fight and after the second set I still saw a chance for the Italian to win, but unfortunately the level of his performance was not the same in the decisive set. Tiafoe took advantage of that and won. I'm not impressed.
The final is set to start in a few hours, but I'm not going to write about it. Whatever happens happens, let the best win. However, I hope Zverev can pocket the title as he has worked hard for it. On the other hand, let's see what the big Foe is capable with Zverev.
Final Thoughts
The season is getting close to the end and I can say we had a very good season, full of surprises, both good and bad. This tournament is another proof that no one has a place secured, no matter what tournament we're talking about. You have to fight to get the title and there's no easy way.
A few players have stood out and deserve appreciation. These are Jannik Sinner, Carlos Alcaraz Garfia, Frances Tiafoe and Felix Auger Aliassime. These players deserve every appreciation for getting this far.
There's no dominance, there's no big trio. Top level players can get eliminated and are eliminated all the time because the younger generation that is coming is extremely good. Of the big three only Djokovic can keep up with them and this year he had difficulties, especially after the Olympic failure.
Next year it's going to be an interesting one, with a lot of changes. Nadal most likely coming back and trying to secure a few title to be able to end his career the way he has been dreaming about. I see Federer retiring as the price he has to pay for winning a few matches is too high. Djokovic is still standing but he has to work three times harder for the same results and nothing is guaranteed.
Zverev and Medvedev are the new stars already. I think they are at the same level, even though if we look at consistency, Zverev is superior. Medvedev needs to lose his attitude if he wants to stay on top. There's no other way. Tsitispas needs to revise his strategy and also lose the attitude as it's working against him. He has lost a lot this season and this path he's on is taking him off the court.
It was just about time to have some new players stepping in the footsteps of the old ones and make the tennis life more interesting.

---
---